At a glance
Expert's Rating
Pros
Powerful suction
Lightweight and easy to maneuver
Illuminates dirt the naked eye might miss
Cons
Short runtime
Small dustbin capacity compared to corded vacuums
Our Verdict
The Proscenic P12 is a lightweight and nimble cordless vacuum ideally suited to daily dust busting.
Price When Reviewed
$199.98
Best Prices Today: Proscenic P12
Smart-appliance company Proscenic makes a variety of robot, wet/dry, and cordless vacuums. Its model P12 is its latest offering in the last category. It's a lightweight, easily maneuverable floor sweeper that can be converted into a hand vac, making it an ideal tool for light-duty maintenance cleaning.
Although it doesn't come with an app, as the Proscenic P11 Smart does, the Proscenic P12 improves on some key specs over that more-expensive model, with a larger 1.2L dustbin, an impressive 33,000Pa of suction, and a five-stage filtration system. The last uses inlet and outlet HEPA filters, stainless steel mesh, a sponge filter, and cyclonic dust separation to capture, according to the manufacturer, 99.99 percent of dust particles before expelling purified air. A 2500mAh rechargeable battery enables up to 60 minutes of runtime depending on the vacuuming mode you use; that's about the same as the P11.
Setting up the Proscenic P12 for first-time use involves assembling its component parts. The main ones are the body—which includes the motor, removable battery, dustbin, and filter assembly—a metal extension tube, and a motorized floor brush. The floor brush can be swapped out for the included crevice tool or dusting brush to clean furniture, shelves, and ceilings.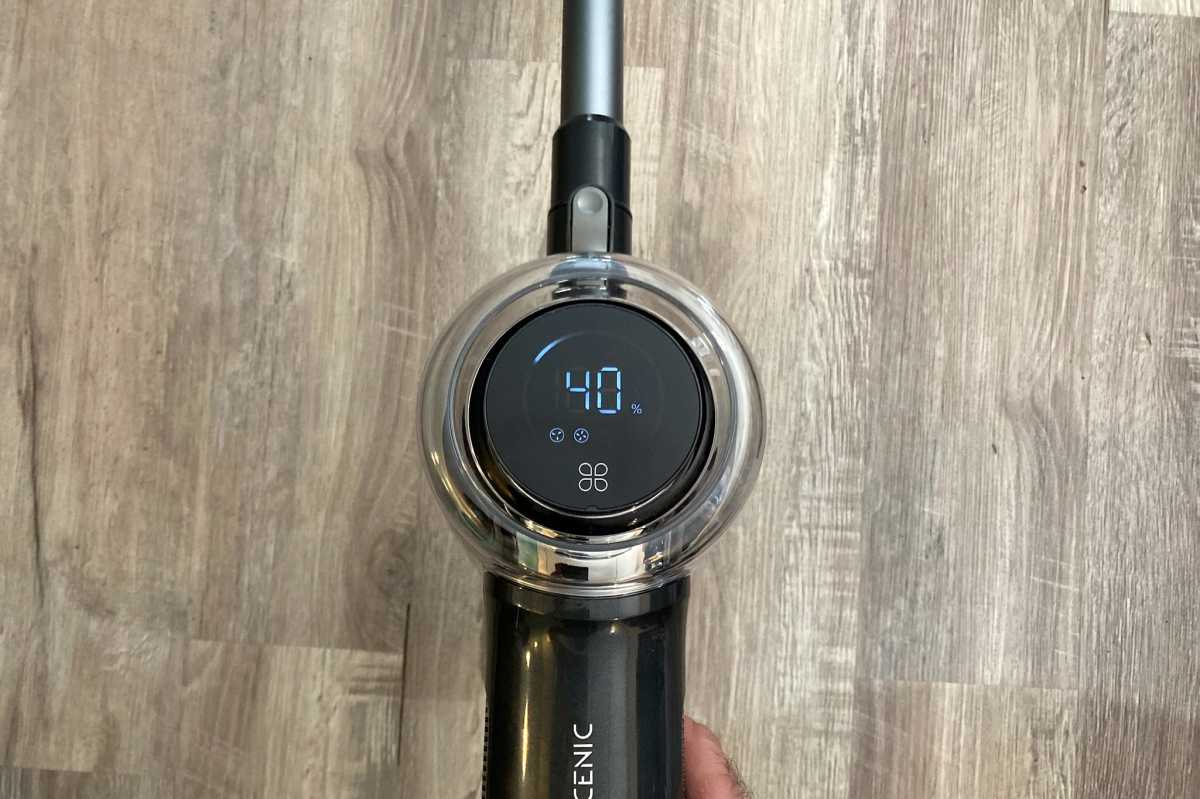 Michael Ansaldo/Foundry
The Proscenic P12 also comes with a wall hanger and some screws to mount it. That's worth using, as the top-heavy vacuum tends to slide down the wall if you just prop it against it. Ideally, you would mount the hanger near an electrical outlet, so the vacuum can be charged when it's not in use. If that's not possible, you can simply remove the battery and charge it where it's convenient. As a bonus, the hanger has a pair of posts on top to hold the accessories.
After charging the battery for about three hours, I used the Proscenic P12 to vacuum my downstairs level, which is primarily hard floors with a couple of area rugs. It glides easily over hard floors but requires a bit of prodding to move over carpet. Maneuvering under and around furniture is easy work thanks to the extension tube's ability to rotate 180 degrees and tilt 90 degrees up and down.
The vacuum is trigger operated. To start vacuuming, you simply squeeze it once to turn it on, then tap the mode button on the touchscreen display to select one of the four suction levels. The screen displays the current suction level, as well as the battery level, as you clean. Additional LED indicators alert you when the floor brush is blocked and when the dustbin is full. To shut the Proscenic P12 off, you squeeze the trigger a second time.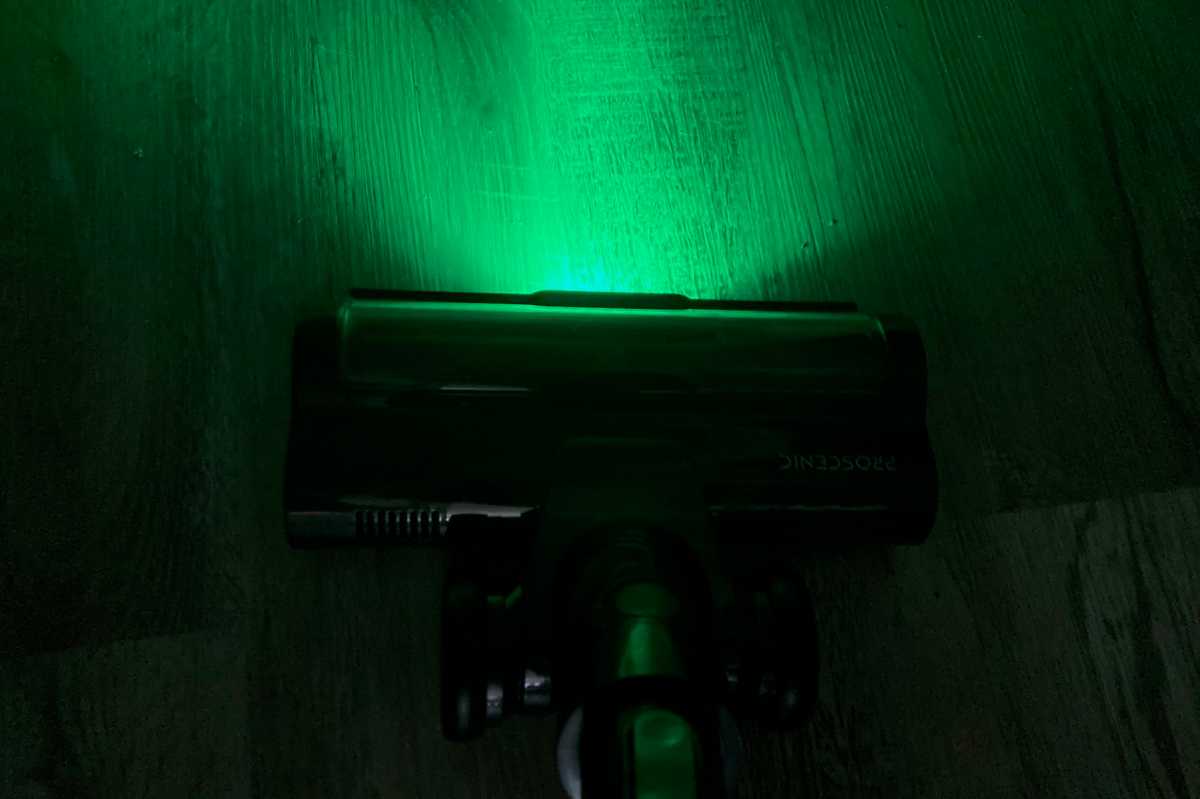 Michael Ansaldo/Foundry
Proscenic touts a couple of innovative features in its floor brush: The first is Vertect Light, a row of small LEDs that run the width of the brush and emit a green light to illuminate dirt you might not notice with the naked eye. You must darken the room for best results—too much room light negated the effect, I found—but it works well. I found the light particularly helpful in spots room lighting doesn't reach, such as under the couch and in the toe spaces under cabinets.
The other feature is an anti-tangle roller brush. It combines a V-shaped bristle with an internal comb to separate hair strands as they're sucked up. I have a long-haired dog whose shedding often clogs my canister vacuum, but I had no such problem with the Proscenic P12. I suppose it's a measure of Proscenic's confidence in this feature that it didn't include a separate brush-cleaning tool.
To empty the vacuum, you just hold the body over a trash can, press the dustbin cover release button on the dustbin, and gently shake the contents out. You might need to reach in to remove pet hair and cobwebs, which tend to clump together in the bin. Proscenic recommends you clean the filter components once a week. The sponge and HEPA filters can be washed with cold water and air dried, and the user manual illustrates how to remove and reinstall the filter assembly.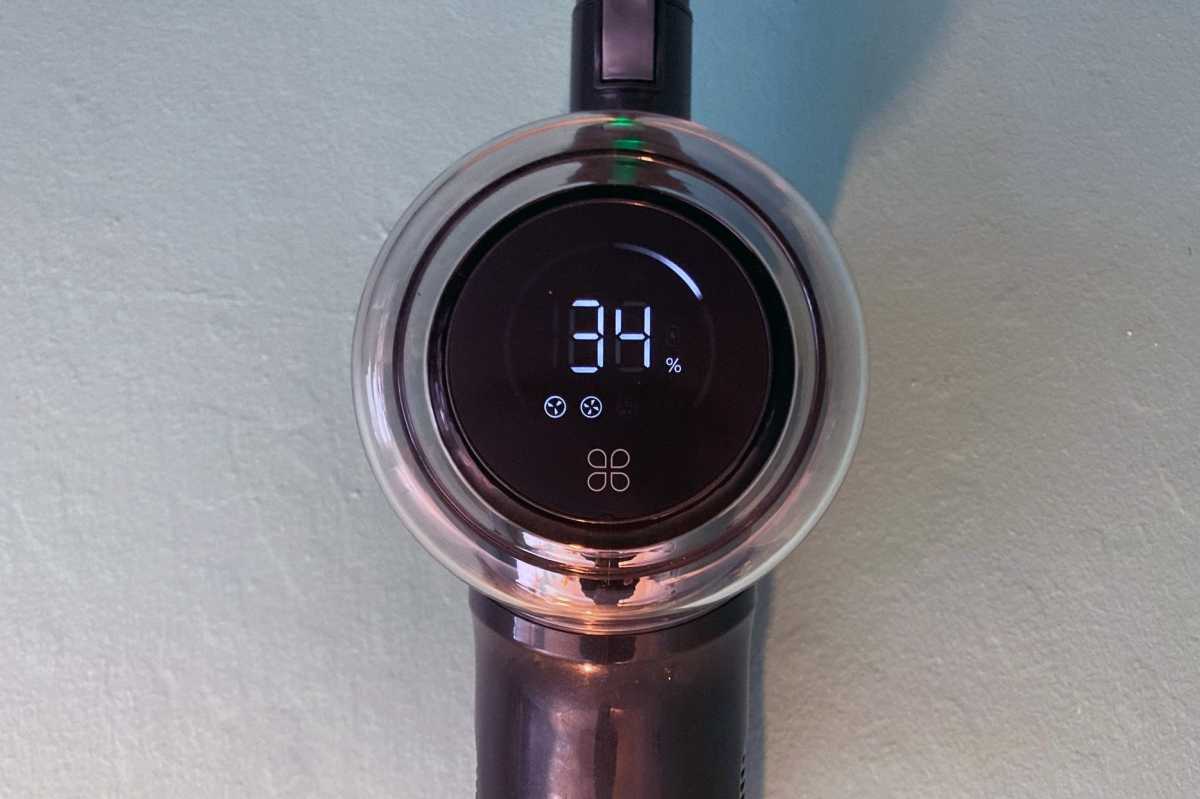 Michael Ansaldo/Foundry
If your floors see a lot of foot traffic, the Proscenic P12 offers an easy way to sweep them daily. The only shortcomings I encountered are its short battery life and small dustbin capacity, but these are endemic to cordless vacuums as a whole. If you understand its limitations, the Proscenic P12 can be an excellent supplement to your regular vacuum, providing an incentive to keep up with daily floor maintenance and reducing how often you need to break out your big guns.
Best Prices Today: Proscenic P12