At a glance
Expert's Rating
Pros
Provides two camera feeds at different viewing angles
Sharp video quality
Auto tracks detected objects
Cons
Will require the additional purchase of Reolink solar panel for most installations
Cloud storage subscriptions add additional cost
No AC power adapter included
Our Verdict
The Reolink TrackMix dual-lens technology offers a solid security solution for anyone who wants to monitor large outdoor areas.
Price When Reviewed
$257.59
Best Prices Today: Reolink TrackMix (Battery)
Security cameras with a narrow viewing angle—the type typically used indoors—provide a lot of detail about what's happening in front of the lens but omit the periphery of the scene, while wide-angle outdoor cams provide the necessary scope to view the broader expanses outside your home, but usually at the expense of image quality and detail. Reolink's TrackMix cleverly circumvents this conundrum by integrating both types of camera in a single body, with impressive results.
The TrackMix is a pan-and-tilt camera that uses two different lenses to capture both a broad overview and a closeup of outdoor areas simultaneously. First, there's a 2.8mm wide-angle lens that captures 2K video, while the second lens is an 8mm telephoto version that records in 1080p. Essentially, you get a zoomed-out view and a zoomed-in view of the scene for a greater amount of context and detail.
This review is part of TechHive's coverage of the best home security cameras.
How does the ReoLink TrackMix track objects with its dual lenses?
Reolink has paired this dual-lens approach with multiple modes of auto-tracking–hence, one assumes, the name "TrackMix".
In Digital Tracking mode, the camera stays fixed when motion detection is triggered, and the wide-angle lens records the full scene while the telephoto lens digitally tracks the object. In Digital Tracking First mode, the telephoto lens will digitally track the object until it reaches the edge of the wide-angle lens's frame, then the camera will pan and tilt to follow it. In Pan/Tilt Tracking First mode, the TrackMix will pan and tilt as the object moves to keep it centered in the frame of the wide-angle lens.
The rest of the TrackMix's features are fairly typical for an outdoor security camera. It includes intelligent motion detection that can distinguish between people, pets, and vehicles, and supports two-way audio so you can communicate with visitors or trespassers. It offers two night-vision modes: standard infrared-LED-enabled black-and-white, and spotlight-enabled full color. And it captures event-triggered video clips, which can be saved locally to a microSD card (up to 128GB) or Reolink's cloud storage (more on this in a bit).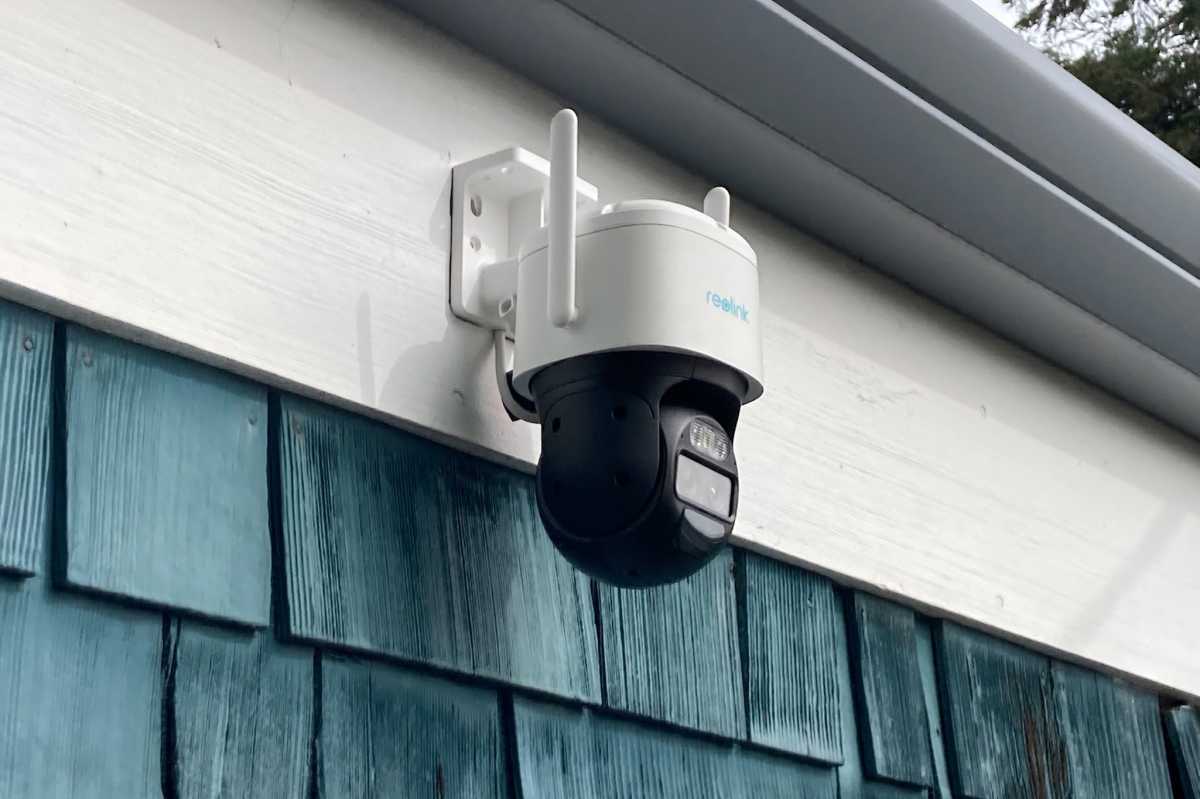 Michael Ansaldo/Foundry
How do you set up and mount the Reolink TrackMix?
The TrackMix runs on a 10400mAh rechargeable battery and connects via Wi-Fi (both 2.4GHz and 5GHz frequencies are supported), allowing you to install the unit virtually anywhere you can get a strong signal from your wireless network.
The camera is attached to an L-shaped bracket that can be secured to a wall or ceiling using the accompanying screws, wall anchors, and mounting template. A pigtail-style USB Type-C port extends from the back of the bracket.
If you mount the camera within reach of an electrical outlet, you can connect one end of the supplied USB cable to this port and the other end to an AC adapter (not included) to provide continuous power. If not, you'll need to purchase a Reolink Solar Panel (a bundle with the Reolink TrackMix and the solar panel costs $275.99) to mount adjacent to the camera to keep the battery charged.
Once you connect the camera with the Reolink app, you can view both live video streams and you can configure how they're presented—stacked, side by side, or individually. During live streaming, you can record video or snap a screenshot from both simultaneously with the press of a button. Recorded video clips can be viewed in the same pane as the live feed by pressing the "playback" button.
You can manually operate pan/tilt using a directional pad in the app. The pan/tilt motor is smooth and barely audible, so it won't introduce extra noise in recorded video. The camera takes about 16 seconds to pan a full 350 degrees and 6 seconds to tilt 90 degrees up or down. You can set multiple waypoints within the app as well as a monitoring point to which the camera will automatically return.
What's the resolution of the Reolink TrackMix's dual lenses?
Because the two lenses are different resolutions, there's a stark quality drop-off between the 4K wide-angle image and the 1080p zoomed one. In practice, this is of little consequence. The telephoto image is sharp enough to accurately see facial features, license plate numbers, and other forensic details. Each night vision mode provided clear illumination in both low daytime light and after dark conditions.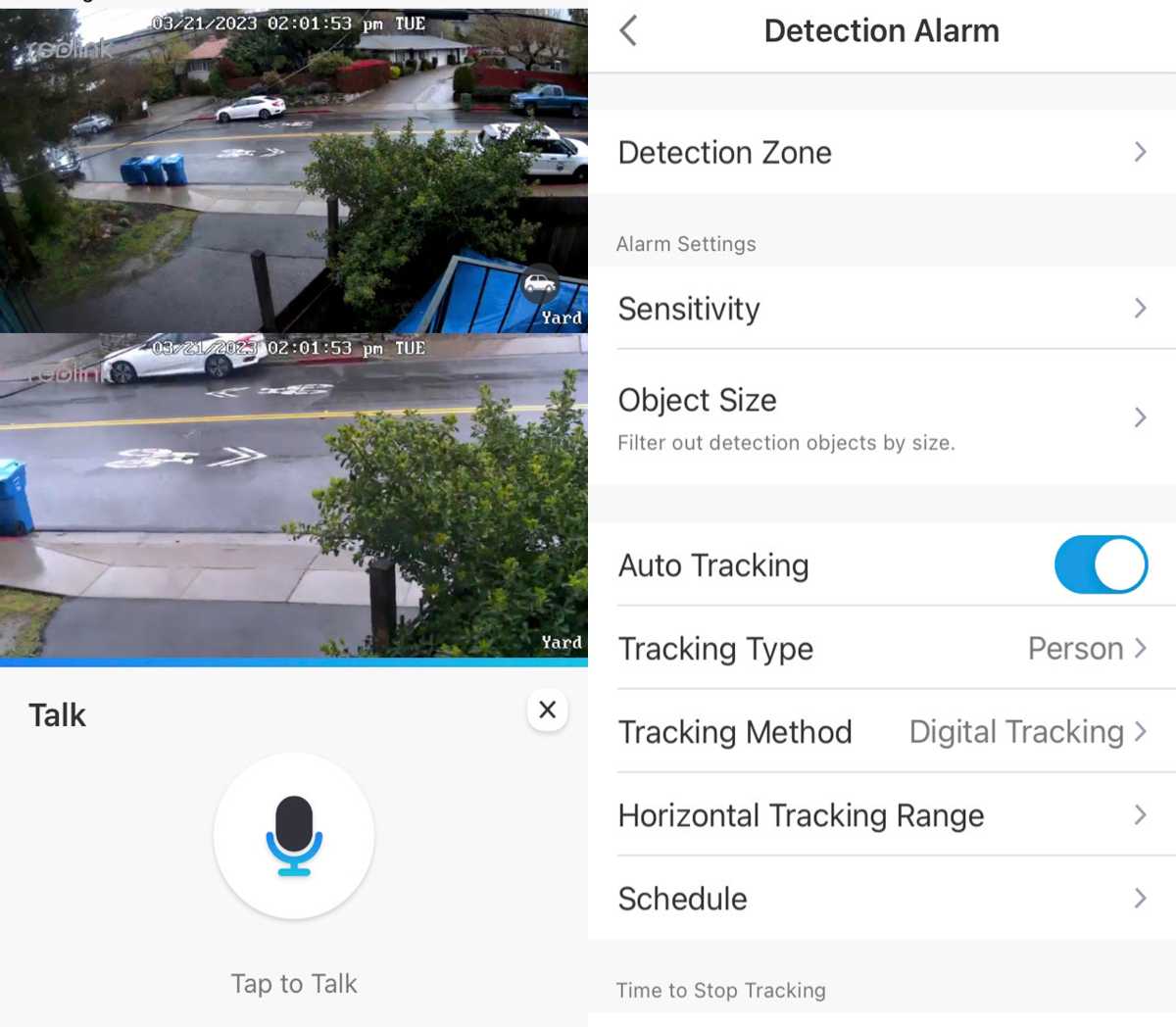 Michael Ansaldo/Foundry
The Reolink app provides a raft of options for customizing the camera's operation. You can reduce the occurrence of false alarms by calibrating motion detection sensitivity, filtering detection objects by size, and creating motion detection zones for each type of object (person, pet, vehicle). You can configure auto-tracking for any or all of those same object types. You can also schedule event recording by object type and set the video clip duration to 8, 15, or 30 seconds.
Does Relink offer a subscription cloud storage plan?
While saving video clips locally will save you the additional cost of a cloud subscription, there is always the risk that an intruder can make off with the microSD card or the camera itself. That makes a Reolink Cloud Storage plan at least worth considering.
Reolink's basic plan offers 1GB of storage and 7 days of video history for a single camera at no charge. Paid plans run $6.99/month or $69.99/year month for 30 days, 30GB, and 5 cameras; and $10.99/month or $104.99/year for 30 days, 80GB, and 10 cameras.
Is the Reolink TrackMix worth the cash?
For anyone with a large parcel of land, a big backyard, or any other expansive outdoor area, the Reolink TrackMix is a solid solution for securing it. It will let you keep your eye on the big picture while capturing the details that make the difference in preventing or solving a property crime.
Best Prices Today: Reolink TrackMix (Battery)