At a glance
Expert's Rating
Pros
A promising smart home hub via HomeKit and Matter
Two can form a stereo pair
Supports AirPlay 2 for multi-room audio
Supports Dolby Atmos
Cons
Lots of other speakers sound better and cost less
Limited support for high-res music-streaming services beyond Apple Music
You need two for the best audio performance
You can't add a subwoofer or rear surround channels
Our Verdict
Apple's second-generation HomePod is an improvement over the first and it costs less, but it will only be of interest to iOS users. Even then, it's not the strongest smart home hub, nor is it the best speaker for music and movies in its price class.
Price When Reviewed
$299
Best Prices Today: Apple HomePod (2nd generation, 2023)
The new Apple HomePod is built for Apple users first and smart-home dwellers second. Yes, it supports Matter, the standard that promises to unify the smart home, but you must have an iOS device just to set it up.
That bothers me less than it used to, now that I'm an iPhone convert, but there's a whole class of people living in smart homes for whom the HomePod is entirely useless. It also doesn't alter the reality that Amazon Alexa and Google Assistant remain stronger and more widely supported smart home assistants than Siri, or that unlike Amazon and Google, Apple doesn't currently offer any kind of smart display. For those reasons, plus the fact that my Vivint smart home system offers tight integration with Alexa and Google Assistant, but not Siri, I'm sticking with Alexa.
This review is part of TechHive's in-depth coverage of the best smart speakers.
People who do want to build their smart homes around Siri would be better served by the less-expensive HomePod mini, or just use an AirPlay-compatible speaker—smart or not—for listening to music, because there are many, many superior offerings from the likes of Bowers & Wilkins, KEF, Sonos, and other manufacturers.
As I'll discuss, the 2nd-gen HomePod is a slightly better-sounding speaker than the first, but it's far from being the best AirPlay speaker on the market. As for owners of the first-gen HomePod wondering if they should upgrade, the short answer is no.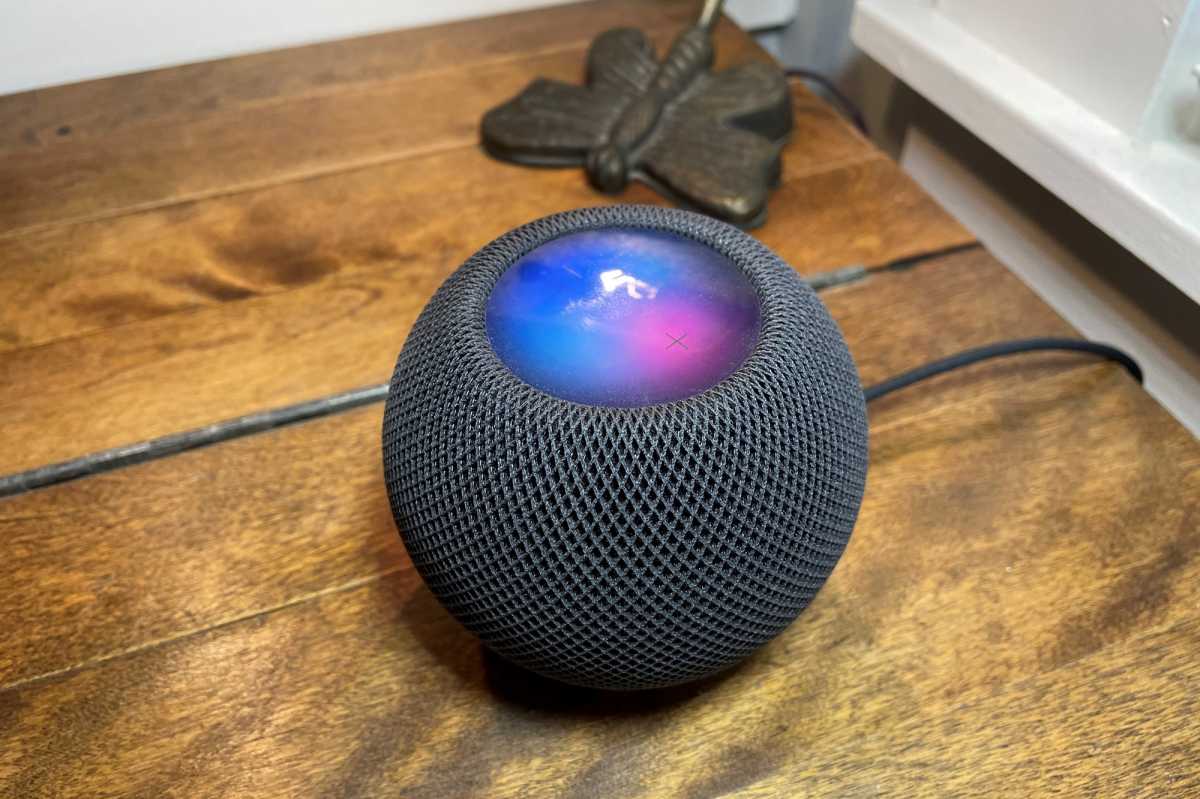 Michael Brown/Foundry
But before we discuss audio performance, let's go over Apple's design changes that make this a better product than the first-generation model.
How does the second-gen Apple HomePod differ from the first?
Externally, the new HomePod isn't appreciably different than the first one. Its cylindrical enclosure is covered in a similar cloth mesh—your choice of white or black—and it has basic touch controls embedded in its color-changing (when you speak to Siri at least) top panel.
The HomePod doesn't have a switch to mute its microphones when you don't want Siri to listen, but saying "Hey Siri, stop listening" will do the trick. You can press and hold the HomePod's touch surface to activate Siri when you do want to use a voice command, whether you've muted its onboard microphones or not. To unmute the mics, you must launch the Home app on your iOS device, navigate to the speaker's settings, and toggle the "Listen for 'Hey Siri'" button.
Michael Brown/Foundry
When you're listening to music, tapping the top of the speaker once toggles between play and pause, a double tap moves to the next track in your playlist, and a triple tap plays the previous track. You can adjust the volume up or town by touching and holding the "+" or "-" buttons respectively. Those indicators are printed on the new speaker, so they don't disappear.
The changes inside the new HomePod are more significant. Apple uses its own S7 system-on-chip (SoC), which integrates a custom 64-bit, dual-core CPU running at 1.8GHz; a Wi-Fi 4 (802.11n) Wi-Fi adapter; and an ultra-wideband chip that lets you "hand off" a song, podcast, or phone call from your iPhone to the HomePod just by bringing the phone in proximity to the speaker. It's a cool feature, one that Amazon and Google don't have an answer for.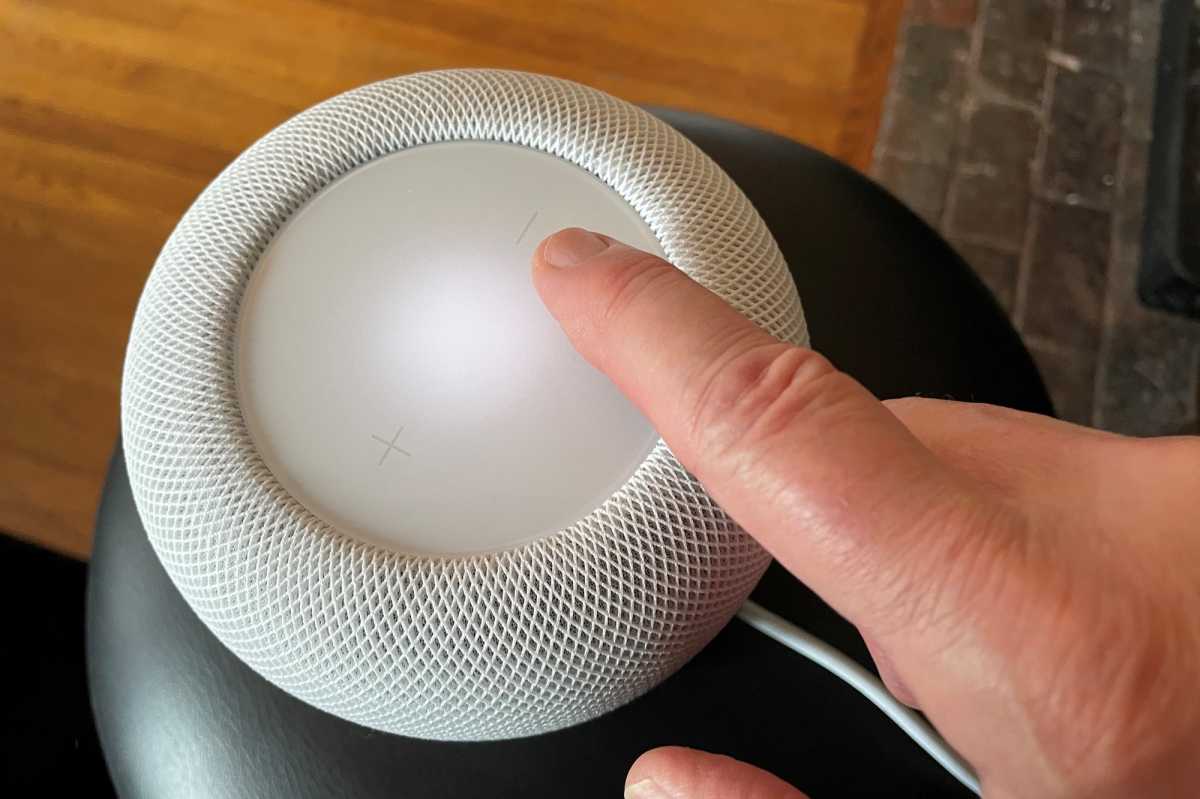 Michael Brown/Foundry
The S7 SoC, coupled with an onboard microphone, powers room-sensing technology that measures sound waves bouncing off nearby surfaces to determine if the speaker is next to a wall or resting on an open table. It then adapts the speaker's audio performance accordingly. This should be particularly useful when playing immersive audio, such as tracks encoded with Dolby Atmos—another feature Apple's original smart speaker didn't support.
The second-generation HomePod still has a single high-excursion woofer at the top of its enclosure, but it has two fewer horn-loaded tweeters encircling its bottom (five versus seven) and two fewer far-field microphones (four instead of six). Despite those smaller component counts, Siri had no trouble hearing me over moderately loud music, and the HomePod itself sounds very moderately better than the original.
Apple
Apple corrected a major flaw I noted with the original: the new speaker uses a removable power cord. Should the power cord become damaged, you'll probably still want to buy an authentic Apple replacement cord, not only because it's covered in a pretty color-matching fabric, but because the end that plugs into the speaker neatly fills its socket. Still, it's nice to know that's a choice and not a requirement.
Is the 2nd-gen HomePod a good speaker for music?
I listened to a single HomePod first, and then created a stereo pair using the second speaker Apple sent for my review. To do that, both speakers must be the same model; you can't mix first- and second-generation HomePods, though you can operate them independently on the same network. Once you've created a stereo pair, Siri–and her accompanying light show–will only respond from one of the of the speakers. Likewise, only one of the two speakers will play alarms or be able to act as a speakerphone.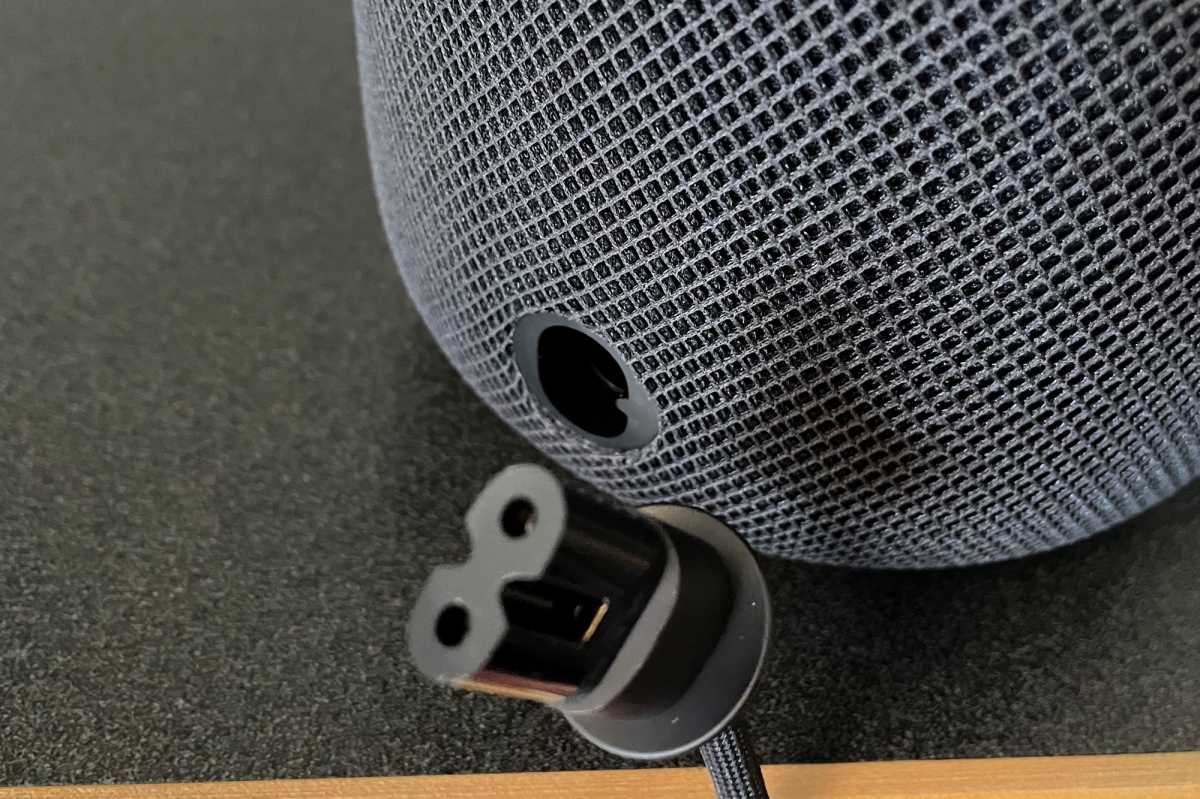 Michael Brown/Foundry
To its credit—and surely to its benefit—Apple has opened the gate to its walled garden a crack in terms of the music-streaming services you can use with a HomePod. In addition to Apple Music, you can now choose Deezer, Pandora, and a few others as your default. Support for other services, including Qobuz, Tidal, and YouTube Music, is much more limited. You can use those other services to a degree, thanks to AirPlay, but not entirely with voice commands. Apple Music is one of our favorite services—and Deezer is pretty good, too—but Qobuz and Tidal are my personal favorites. While we're on this topic, don't miss our picks of the best music streaming services.
If you have multiple HomePod (or HomePod mini) speakers on your network, you can also specify which speaker(s) you want the music to play on by adding it to your command: "Hey, Siri. Play The Police in the bedroom." You can also ask Siri to play music in more than one room at a time, by saying something like "Hey Siri, play Joni Mitchell in the bedroom and in the living room."
Michael Brown/Foundry
The workaround for using non-supported music services is to open the service's app, start playing the music on your iPhone, and then either tap the AirPlay logo in the app to transfer the music to the speaker(s) by selecting them or by bring your phone into proximity to one of your HomePods and transferring playback that way.
You can use voice commands to change the music that's playing on all the AirPlay-compatible speakers in a group, pause and resume music, adjust the volume, and so on. I created an AirPlay 2 group with the HomePod, a HomePod mini, and a Sonos One and they all played together in sync and without audible lag. Volume changes affect both HomePods in a stereo pair, whether you use a voice command or the touch controls on either speaker.
Once you've grouped speakers together, you can no longer use voice commands to control them individually. You can't pause playback on an individual speaker, for instance; tapping on any speaker in the group pauses the music on the entire group. If you want to adjust the volume level on an individual speaker, you'll need to use its physical controls or the music service's app.
What do movies and music sound like on the 2nd-gen HomePod?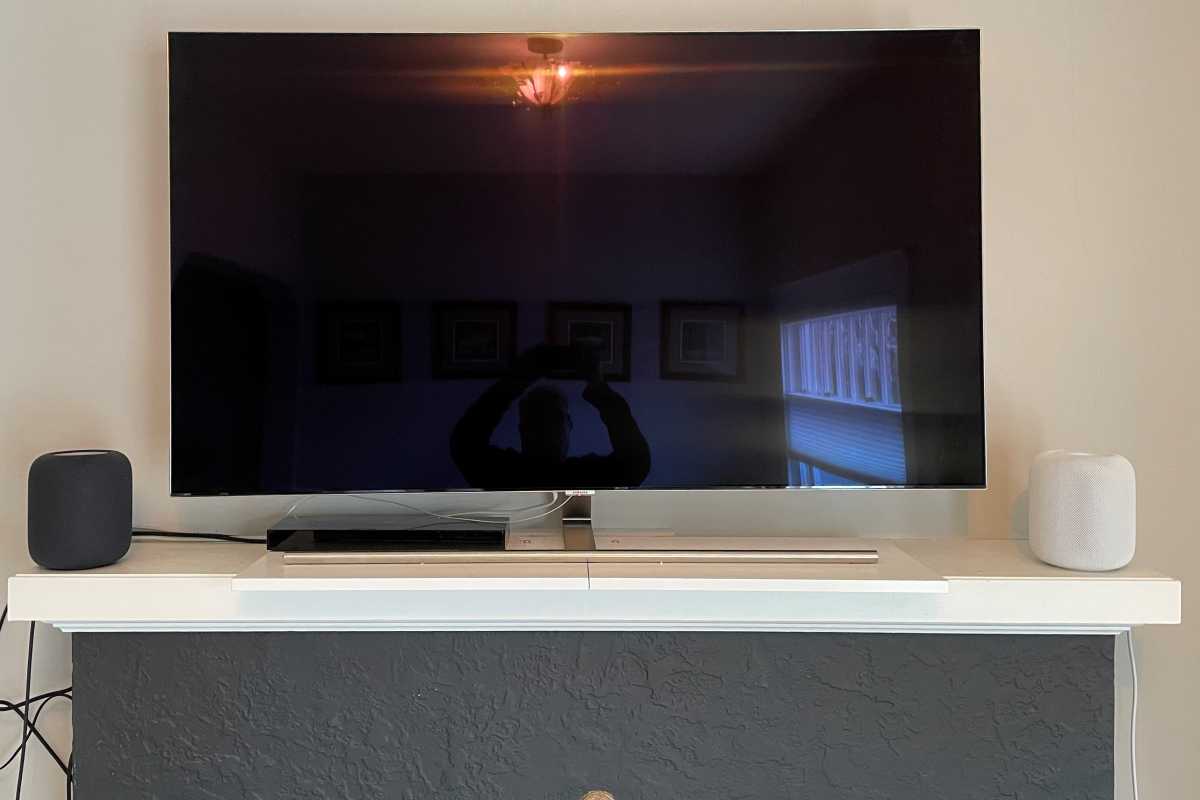 Michael Brown/Foundry
I set up a single HomePod on a table in my small living room and streamed music from both Apple Music and Tidal, listening to lossless tracks as much as possible. As small as my listening room is—9 feet wide by 18 feet deep—a single HomePod struggled to fill it. Adding a second HomePod to create a stereo pair largely solved that issue, but now you're talking about a $600 investment. A pair of Amazon Echo Studio smart speakers would cost $200 less, and a pair of Sonos One smart speakers would be $162 less than two HomePods (a pair of Sonos One SL dumb speakers would cost the same as the Echo Studio pair).
My biggest criticism of the new HomePod for music listening is its overemphasis on bass. Bass lovers might think that's a good thing, but there's big difference between a lot of bass and a lot of tight, well-defined bass. Listening to Paul Thorn's "Fabio & Liberace," from his album Ain't Love Strange, the kick drum that opens the track sounded muddy and sloppy, as did the electric bass when it comes sliding in at the 28-second mark. High frequencies, meanwhile, lacked sizzle and the mid-range didn't deliver the definition I expect from a speaker at this price.
I've never been a big fan of immersive audio for music, with a few exceptions for recordings that were intended to be heard that way, with Frank Zappa's Quadiophiliac being one such an example. When I listen to most music, I want the traditional stereo experience. It's one thing to have instruments and voices placed stage left, stage right, or in the center, but in front of me, as it would sound if the band was on a stage and I was in the audience. I don't want to be on the stage with the music swirling all around me. That just doesn't feel natural.
But the HomePod supports Dolby Atmos and so does Apple Music, so I listened to several tracks encoded in that immersive format, including—at Apple's suggestion—the Eagles' classic "Hotel California" (the live MTV recording from 1994, during the band's Hell Freezes Over tour). This track is known for being a great recording, but I didn't get any sensation of being immersed in the music as it played on the dual HomePods.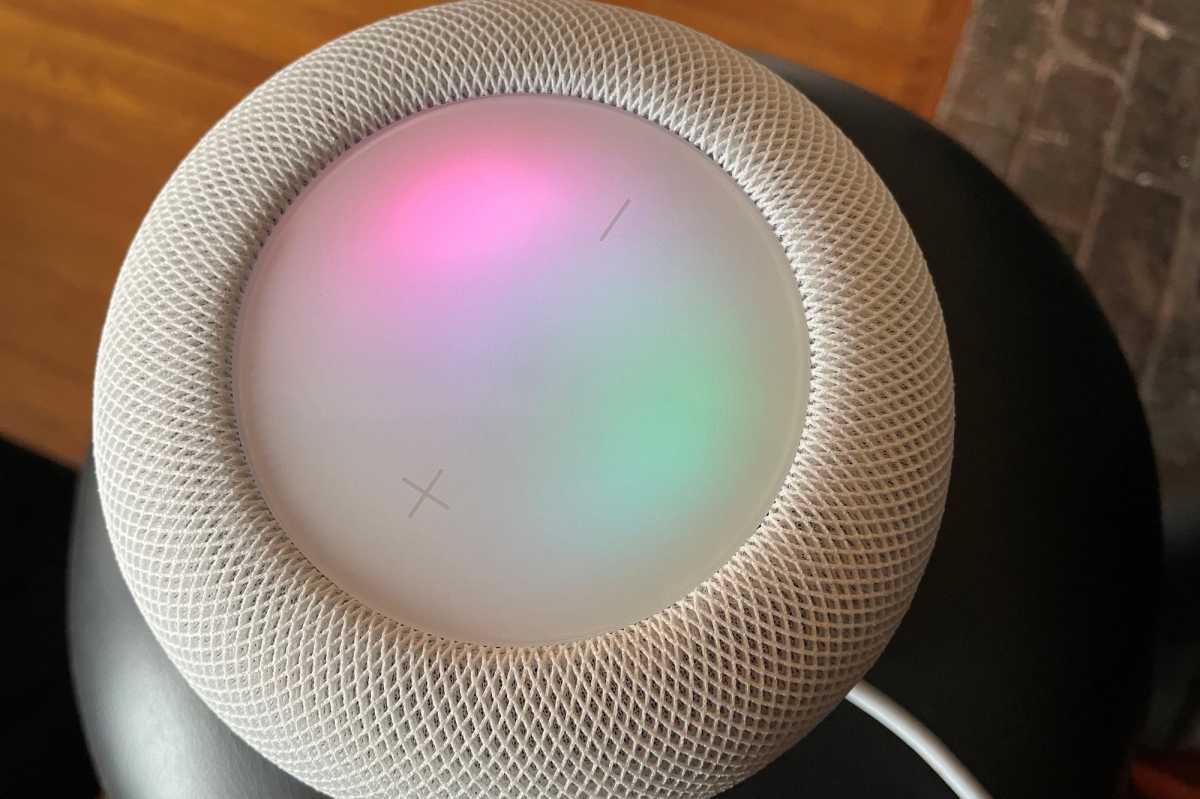 Michael Brown/Foundry
Surround sound in movies and TV shows, of course, is a whole different thing. And while it's great that one or a pair of HomePods can operate as the default speakers for an Apple TV, even a pair of HomePods failed to excite me. I never felt immersed in the action of the HBO series The Last of Us with two HomePods in the same way I did with a Sonos Beam soundbar. That could be because the soundbar was reinforced by a pair of Sonos One SL speakers configured as rear surrounds and a Sonos Sub Mini handling the low-frequency effects. Yes, that configuration costs more than twice as much as two HomePods, but my point is that Apple doesn't offer any way for you to get to a true 5.1 surround system.
What smart home features does the 2nd-gen HomePod have?
Apple is a generally weaker smart home player than either Amazon or Google, but its HomeKit smart home technology has improved by leaps and bounds over the years. Like the smaller HomePod mini, the second-generation Apple TV 4K, and the third-gen Apple TV 4K with ethernet, the third-generation HomePod can operate as a full-fledged smart home hub. While Apple describes the original HomePod and the Wi-Fi-only third-gen Apple TV 4K as also being capable of acting as smart home hubs, those products do not have Thread radios.
Like Amazon and Google, Apple is a member of the Connectivity Standards Alliance responsible for the Matter smart home standard. Interoperability, however, is one of Matter's central tents, and as I've already mentioned, you can't set up a HomePod on anything other than an iOS device. That said, second-gen HomePod users with an iPhone or iPad running iOS 16.1 or above should be able to add any Matter-certified device to their smart home and manage it via the Apple Home app.
Michael Brown/Foundry
Apple has a strong record of protecting its customers' privacy. In that regard, it's vastly superior to either Amazon or Google. Using Siri doesn't require you to sign into your Apple ID, and the device you're speaking to when you ask Siri for help does all the processing. That means your voice isn't recorded and uploaded to the cloud. When Apple does store information on its servers, it's associated with a random identifier and thus cannot be traced back to you.
If you use a security camera or video doorbell that's compatible with Apple's HomeKit Secure Video technology and sign up for an iCloud+ subscription, all video processing—including features such as facial recognition—is performed locally, on the HomePod. Apple also uses end-to-end encryption, and you are the only one with the encryption key.
An iCloud+ subscription is not at all expensive: 99 cents per month for 50GB of storage (although you're limited to one camera), $2.99 per month for 200GB of storage and up to five cameras, and $9.99 per month for 2TB of storage and an unlimited number of cameras. The number of cameras supported is more important than the amount of storage you get with each tier, because camera recordings don't count against those limits.
A Thread radio enables the new HomePod (or a HomePod mini) to act as a Thread border router. In that role, it acts as a bridge to connect low-powered Thread devices to your Wi-Fi network and from there to the internet. Google's second-gen Nest Hub and Nest Hub Max can also operate as Thread border routers, as can Amazon's fourth-gen Echo.
Finally, the new HomePod has temperature and humidity sensors, which can be used to create automations to trigger actions on compatible devices. Those sensors were also built into the earlier HomePod mini, but they were dormant until Apple released a firmware update that activated them.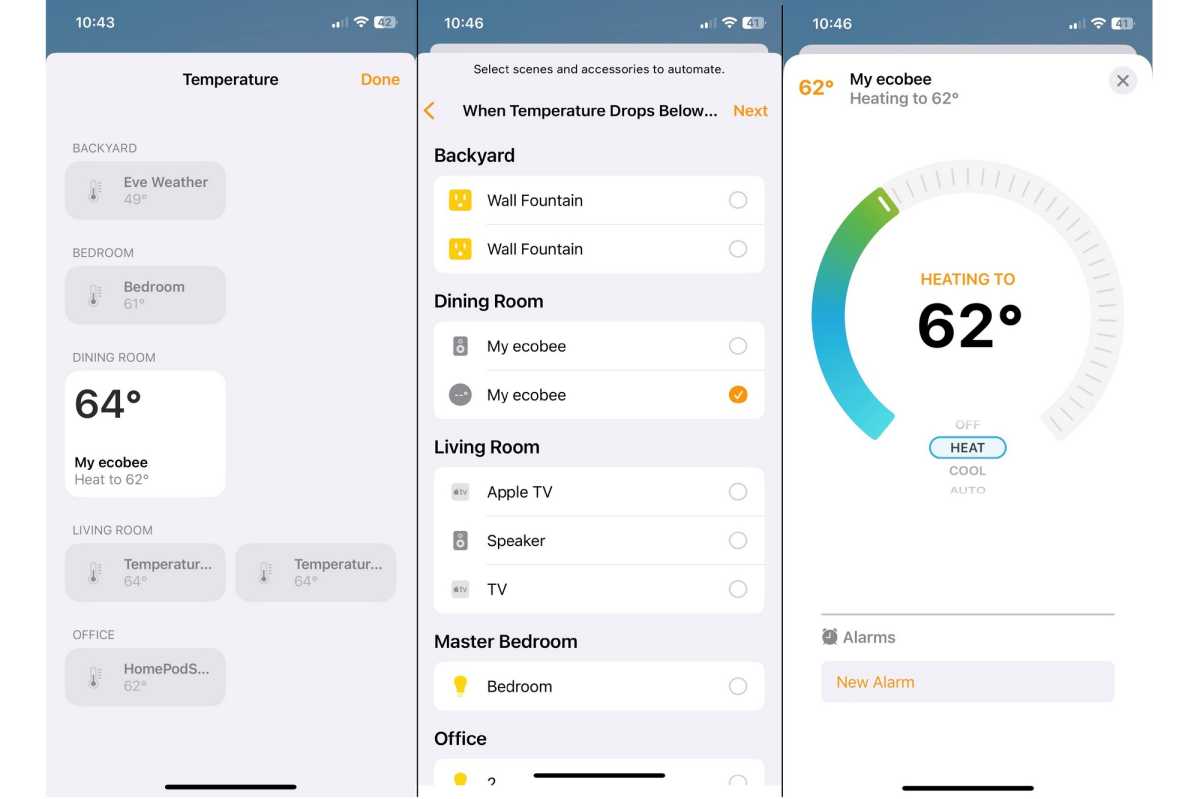 Michael Brown/Foundry
If the temperature in the room where the HomePod (or HomePod mini) is located drops below the minimum you feel is comfortable, for example, you can program those smart speakers to trigger your thermostat to turn on your furnace. The best smart thermostats—including our top pick, the Ecobee Premium—support remote sensors on their own. But smart thermostats that support HomeKit—here again, including the Ecobee—can take HomePod sensors into account in addition to their own, averaging the readings from each sensor to eliminate hot and cold spots in the home.
If you set up two HomePods as a stereo pair, you'll see two temperature and humidity readings for that room. If you find that confusing or just annoying (they'll likely give the same readings, after all), you can suppress any HomeKit sensor from displaying its readings in Home Summaries.
Apple plans to release a firmware update later this spring that will enable the HomePod to listen for the sounds of smoke and carbon monoxide alarms sounding off. The HomePod will send a message to your iPhone if those sounds are detected. Amazon and Google offer similar features for their smart speakers, although Google charges a subscription fee for the service, which unlocks several other features. Amazon offers the service for free, or you can pay for a subscription that includes that service plus several others.
Should you buy a 2nd-generation Apple HomePod?
The new HomePod is an improvement over the original, and it costs less, but it's still far from being the best-sounding smart speaker on the market. And at $300—$600 for a stereo pair—it's just too expensive. If you want a great-sounding speaker to go with your TV, spend $600 (or less) on a soundbar—one you can expand with a subwoofer and true surround speakers for truly immersive movie experiences.
If you're looking for a Matter-compatible smart home hub that supports HomeKit, HomeKit Secure Video, and Thread, buy the much-less-expensive HomePod mini and save yourself $200.
Best Prices Today: Apple HomePod (2nd generation, 2023)