At a glance
Expert's Rating
Pros
Comfort food TV and classic reruns for cheap
Cloud-based DVR is easy to access and manage
72-hour lookback for all live TV channels
Cons
Can't watch recordings still in progress
Lack of a mini-guide makes channel surfing a chore
No apps for Samsung, LG, or Vizio TVs
Our Verdict
Frndly TV offers lots of cable channels for not much money, but the service could use more polish.
Price When Reviewed
Basic: $7/mo; Classic: $9/mo; Premium: $11/mo
Best Prices Today: Frndly TV
Frndly TV is the kind of streaming service you can't help but root for.
Starting at $7 per month, this bundle of live cable channels caters to fans of classic TV, reality shows, faith-based programming, and other forms of TV comfort food. It's the cheapest live TV streaming service on the market, and a refreshing counterpoint to increasingly bloated options such as YouTube TV ($65 per month, $73/mo starting April 18) and Hulu + Live TV ($70 per month).
Still, Frndly TV's value is undercut by its clunky interface and a couple of annoying DVR limitations. While it's still worth a look for a subset of cord-cutters, the experience isn't as enjoyable as it ought to be.
This review is part of TechHive's in-depth coverage of the best streaming TV services.
What's included with Frndly TV?
Frndly TV offers three price tiers, all with the same lineup of channels:
Basic ($7 per month or $70 per year): Standard-definition video, no DVR, one stream at a time
Classic ($9 per month or $90 per year): High-definition video, three months of DVR storage, two streams at a time
Premium ($11 per month or $110 per year): HD video, nine months of DVR storage, four streams at a time
As of March, 2023, the service includes 45 live channels, with a big focus on lifestyle channels and classic TV. Its most popular channels include History, Ion, Lifetime, Hallmark Channel, and the Weather Channel–and Frndly TV is the cheapest way to get them. The service also includes several channels that are otherwise free with an antenna, such as MeTV and Decades.
Frndly TV
What you won't find, however, are major broadcast networks, sports channels, and the biggest cable news channels. Those are among the most expensive channels on TV, and Frndly TV steers clear of them to keep its prices low.
You can find a complete, up-to-date channel list on Frndly TV's home page.
How does Frndly TV's DVR work?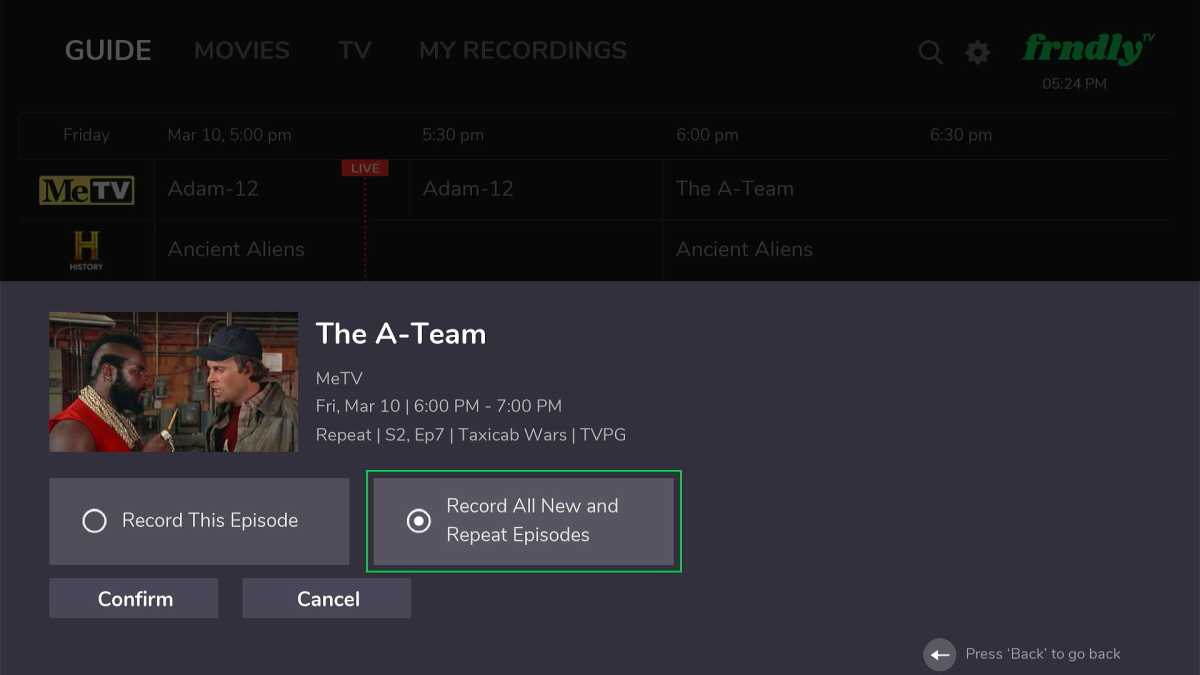 Jared Newman / Foundry
For Frndly TV plans that include DVR service, you can record an unlimited number of TV shows and movies. The $9-per-month Classic plan stores each recording for three months after its air date, while the $11-per-month Premium plan stores recordings for up to nine months. Once you've recorded a show, you can watch it on demand from any device and skip through the commercials.
The ad-skipping does come with a couple of caveats, however; recordings don't become available until five minutes after the live airing, so you can't tune into a recording that's still in progress and skip through commercials. For completed recordings, Frndly TV lacks a visual preview when you fast forward, so it's tricky to tell when a commercial break is over.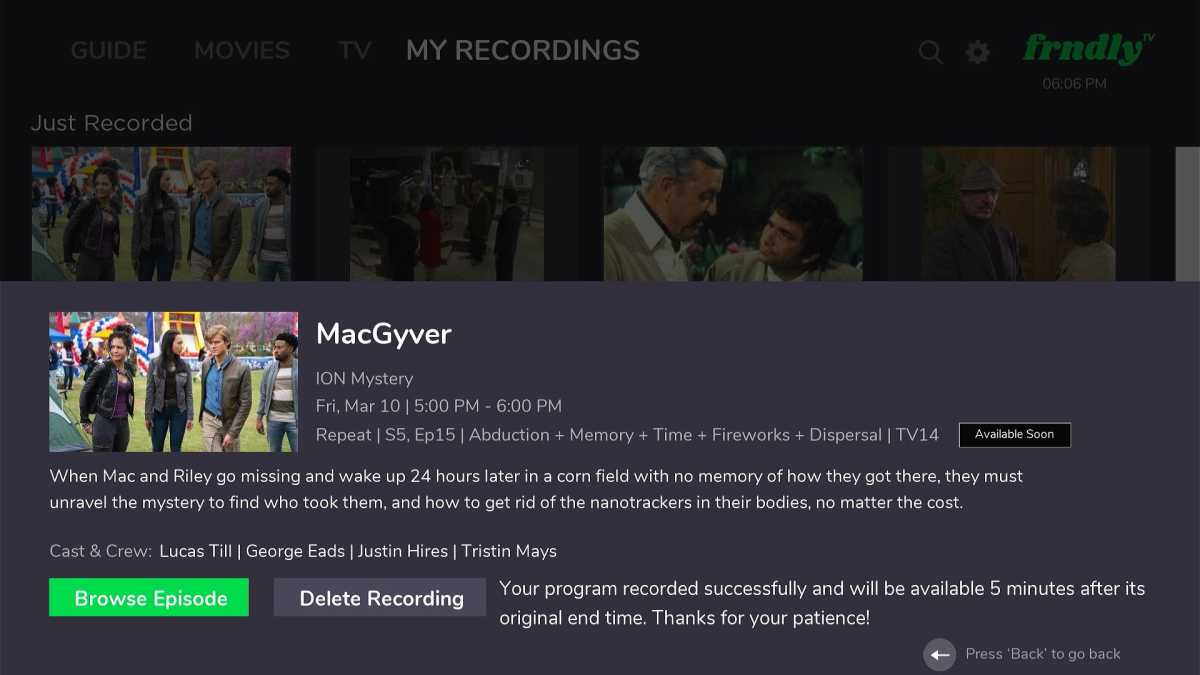 Jared Newman / Foundry
Frndly TV also offers a look-back feature that lets you watch any program on demand if it has aired in the last 72 hours, and it includes an on-demand library of movies and shows. These options are available even on Frndly TV's $7-per-month Basic plan, but unlike with DVR recordings, they don't support ad-skipping or even fast forwarding through unwatched content.
Frndly TV device support and viewing experience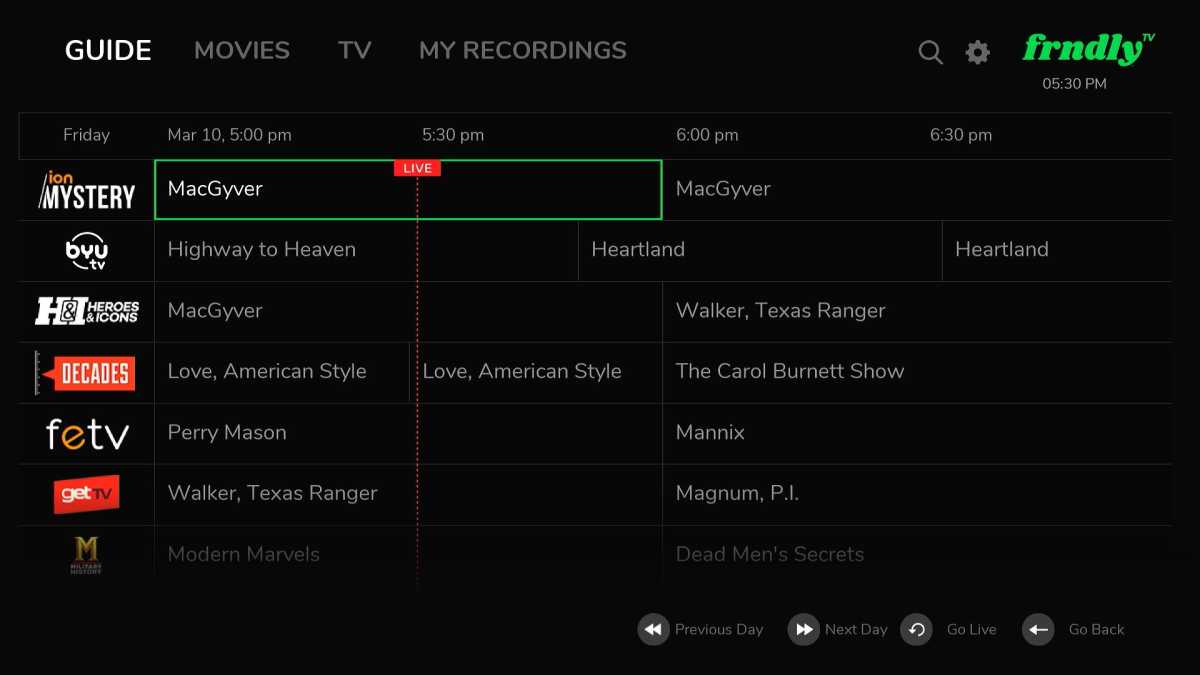 Jared Newman / Foundry
Frndly TV is available on Roku, Amazon Fire TV, Android TV/Google TV, Apple TV, Chromecast, iOS, Android, and the web. Unfortunately, it doesn't offer apps for Samsung, LG, or Vizio smart TVs, so the only way to access the service on those devices is with an external streaming player.
No matter which device you choose, the experience is identical. Frndly's app launches straight into a grid guide of live channels, with additional tabs for TV shows, movies, and recordings.
It all feels pretty bare-bones, especially with live TV. There's no way to mark channels as favorites or filter the grid guide by genre, and if you return to the guide, live TV stops playing entirely. Although Frndly TV does offer a list of channels to browse while you're watching a program, it doesn't show any information about what's airing on each one. Channel surfing feels cumbersome as a result.
Jared Newman / Foundry
On the upside, the DVR menu is straightforward and easy to manage, with quick access to recently watched programs and new recordings. Within each show page, you can sort by recording date, air date, or expiration date, and you can delete individual episodes to keep them from cluttering your recording list. (Just one nitpick: The DVR menu offers no way to remove entire shows. To find that option, you must locate the show through the grid guide or the search menu.)
Jared Newman / Foundry
Unlike other live TV streaming services, Frndly TV offers no unique integrations with any streaming platforms. That means you can't launch live channels by voice or access content directly from any streaming device home screens.
Does Frndly TV stream high-quality video?
Frndly TV streams at up to 720p resolution at 30 frames per second, and users can choose standard definition video to deal with limited bandwidth or data caps. Given that the service is bereft of live sports, the absence of 60-frames-per-second support isn't a dealbreaker; unfortunately, there's no surround sound either.
Is Frndly TV worth it?
Frndly TV fills a certain niche due to its low cost and unique channel lineup. It offers a treasure trove of classic TV, for instance, and unlike the rerun-heavy fare of free ad-supported streaming services, Frndly TV actually lets you skip the ads. It's also the cheapest path to certain popular cable channels, such as History and Lifetime.
It's just too bad Frndly TV's apps aren't more polished, and that its smart TV support is so limited. As such, it's a tougher sell for folks who aren't sure if they need Frndly TV's channel bundle in the first place.
Best Prices Today: Frndly TV