At a glance
Expert's Rating
Pros
Unparalleled depth and breadth of information
High-quality app
Excellent user experience
Cons
Expensive
Some information won't mean much to the user
Our Verdict
Withings's Body Scan has outpaced rivals to the point where it has no competition, but the huge amount of information it delivers might be overwhelming for some users.
Price When Reviewed
Not yet available in the U.S.
Withings' latest flagship smart scale, the Body Scan, was announced at CES in January 2022. It sparked a fair bit of excitement as it promised a huge upgrade in both the quality and quantity of information delivered about the user's body.
It has now arrived in the U.K. and Europe–with a U.S. release pending, once Withings has obtained FDA clearance for the scale, which sits somewhere between fitness tool and medical device.
We've tested it. Simply put, no other scale can offer what the Withings Body Scan does.
Not only will you get the full suite of metrics you'd expect from a high-end smart scale, but the Body Scan also delivers data on nerve activity, heart rhythm analysis, and segmental body composition.
Pretty impressive, but can you actually do anything with all that information? Some users may find the avalanche of data to be overkill, and for them, a less powerful–and less expensive–scale might be a better option. But for those who are serious about their health, the Body Scan offers a comprehensive view of your vitals that none of its competitors can match.
What comes in the Withings Body Scan's box?
If you're accustomed to budget-friendly smart scales, the difference in the Body Scan experience begins with the luxury packaging.
And that's as it should be. At almost £400, and with a similar U.S. price expected, this scale is double the price of the Body Comp ($209.95/ £199.95), Withings' next most expensive scale.
In the box, along with the scale, you'll get a wall handle mount, which you can stick to a wall to prevent you from having to stoop each time you stand on the scale and take hold of the handle. There's also a USB charging cable.
Withings says that a full charge will last up to a year. Our testing period was obviously not long enough to verify that estimate, but from using Withings's products before, we have no reason to doubt it.
The design is visually similar to Withings's previous scales apart from the Body Scan's USP, and the thing sets it apart from other models: its retractable handle.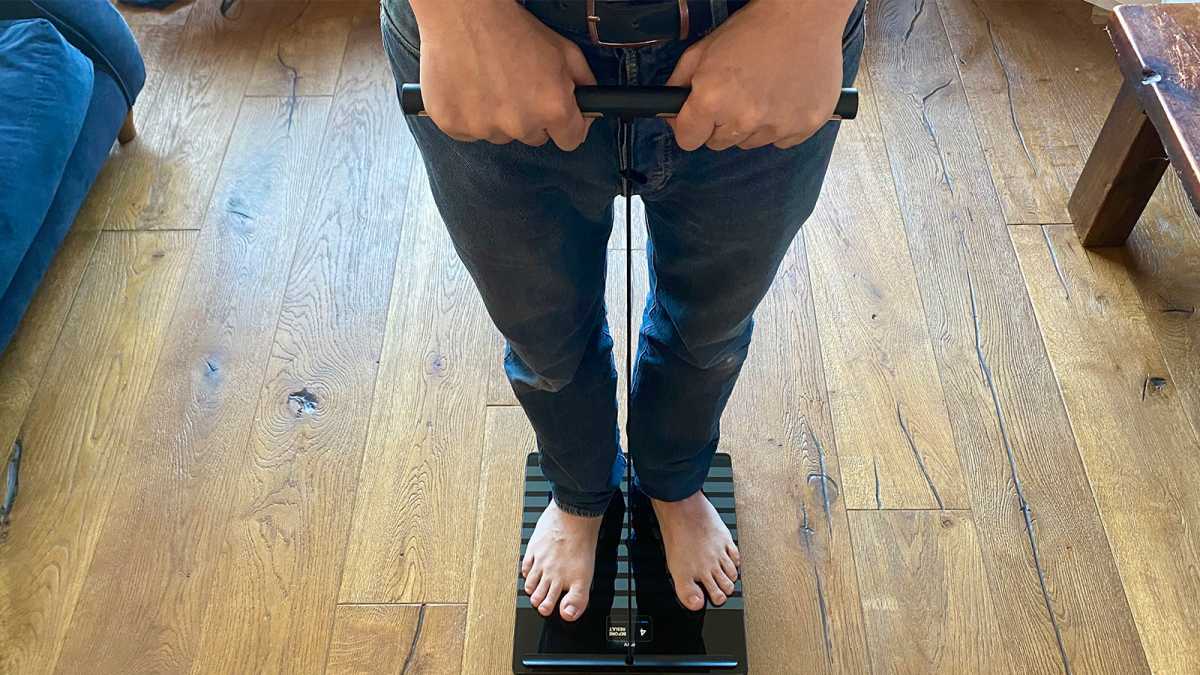 Emma Rowley / Foundry
The scale itself is 12.5 x 14 inches (WxD) and is thicker and heavier than most rivals from other brands, with a striped tempered glass plate that sits on top of a plastic base. It has a large, bright, full color display.
What you can't see are the 14 ITO (indium tin oxide) electrodes in the scale itself. These send a mild, painless current up into your body and measure your resistance to it. In the handle, there are an additional four stainless steel electrodes, which allow for the more accurate segmental body composition analysis.
There's one slight issue with the hardware design that we noticed right away, which is the lack of non-slip feet on the base. This means the scale can skate a bit, depending on your flooring.
Withings specifies that, for the most accurate reading, you should use the Body Scan on hard flooring. We tested it on wooden floorboards and bathroom tiles, and on both surfaces it was a bit easier to shift around than we would have liked.
How do you set up the Withings Body Scan?
Setting up the scale is a straightforward process: just take it out of the box and charge it. You then download the Withings Health Mate app, which is free to use and available for iOS or Android.
Once you've set up an account, you can pair your scale via your home Wi-Fi network. In our test, it paired easily, but sometimes Wi-Fi onboarding feels like a matter of chance, and there's no guarantee that you'll have the same experience. All you can do is set the Body Scan up in a spot where there's a strong Wi-Fi signal. If this isn't an option, you can choose to connect via Bluetooth.
The Body Scan can support up to eight users. All users will need their own profile, but you can set up all family members on the same account. The scale makes an informed guess as to who's standing on it, but if it guesses wrong, you can remove weigh-in measurements from a profile, or add them to one.
Using the Body Scan is just like using any other smart scale, except that when you step on it with bare feet, you should also take hold of the handle. Withings claims that the scale can measure in increments of 0.1 lbs, which is extremely precise. Of course, it's also very difficult to test this claim outside of lab conditions.
If you're using the recommended settings, the first thing you'll see is your weight displayed in large, clear digits. You can opt to see your weight in pounds, or kilograms, or (for U.K. users) stone, and you can change the unit of measurement using a button on the back of the scale.
When the scale identifies you, you'll see your name pop up underneath, along with a weight trend graph. Next, the scale runs the body scan, performs an ECG (which takes roughly 30 seconds), and displays your sinus rhythm and heart rate–hopefully, alongside a big red heart icon. You'll then see your pulse wave velocity measurement (more on this later) and vascular age.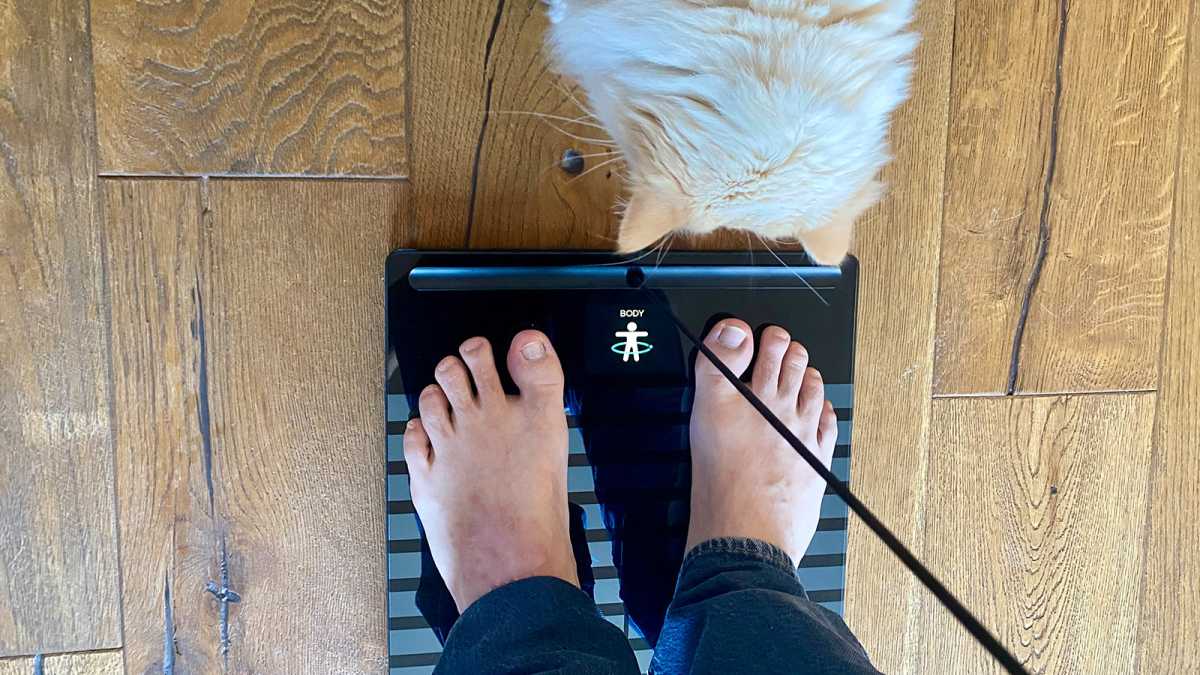 Emma Rowley / Foundry
Next, a nerve health reading will flash up (again, we'll come back to this). To round it off, much like a news broadcast, there's a weather forecast and air quality indicator.
If all of that sounds like a lot of data, it is. You'll need to stand on the scale for a bit longer than you might expect; it takes around a minute and a half to take those readings. Luckily, you can tailor which measurements are shown on the screen. During our test, the first things to go were the weather and air quality info, which we replaced with BMI.
Does the Withings Body Scan come with an app?
The Withings Health Mate app is another extension of the high-quality Withings experience. The app is well laid out and data-rich, and it gives you a number of personalization options. It's a far cry from the basic apps that accompany budget scales, with two trend graphs and traffic light-coded measurements.
Your home page will display your latest measurements: weight, vascular age, pulse wave velocity, nerve health, and body composition. Once you have a few measurements under your belt, you'll also get some chatty feedback from the app about any changes to your stats.
If you click on any of your measurements, you'll be able to access further information. For example, under the weight metric, you can see trend graphs by week, month, quarter, year, or all of the above. You can also see your BMI and its associated trend chart.
The home page measurements are very much geared towards heart health, with four measurements–vascular age, pulse wave velocity, ECG and heart rate–shown. Pulse wave velocity, one of the readings unique to Withings, shows the propagation speed of the heartbeat along the arteries. A higher speed could indicate increased arterial stiffness.
If it sounds like I'm just transcribing what I read in the app, that's because I am. I wouldn't know a healthy PWV measurement from a disco beat. That said, a scary Health Mate result could inspire a trip to the doctor.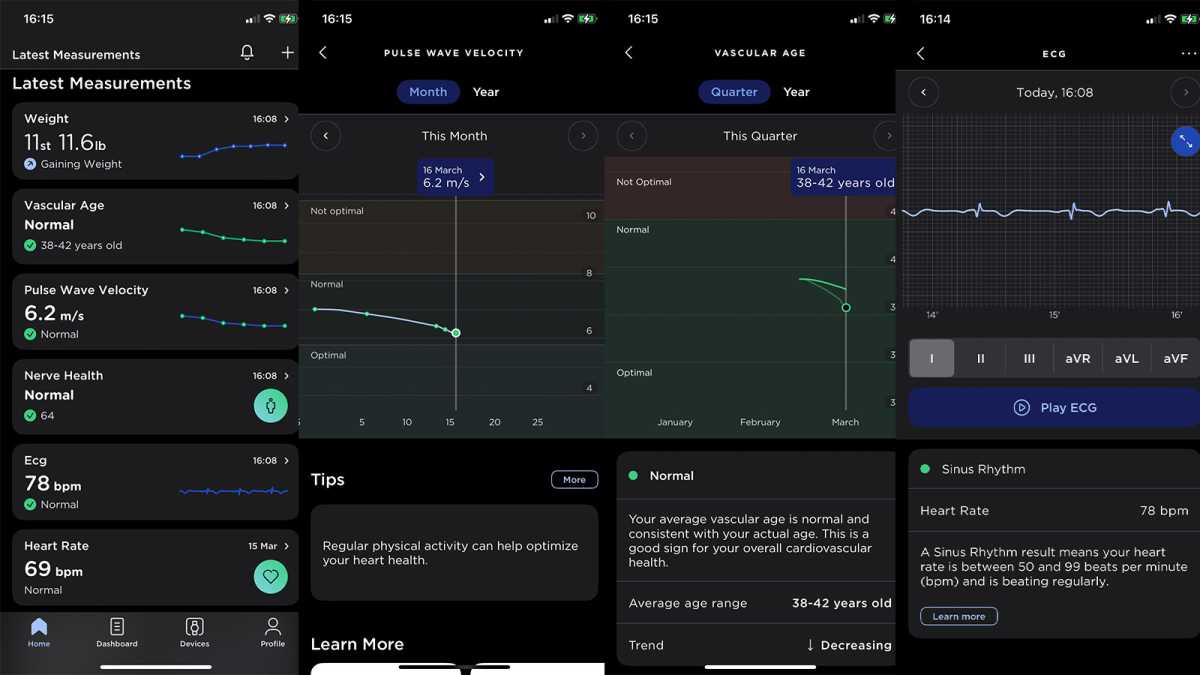 Foundry
The same goes for the nerve health measurement, which takes a reading of the sweat glands on your feet. According to the scale, our tester's nerve health is normal. Again, an abnormal reading might have us scrambling for a doctor's appointment (although I'm not sure what we'd say when we got there) but a normal reading leaves us none the wiser.
But providing a background sense of reassurance for most people and an early warning system for the few who need it could well be a sign of things to come–or, as in the case of Apple's crash-detection functionality, technology that's already here.
The other key feature of the Body Scan is, as the name suggests, body scanning. This feature could well be a must-have for body builders, runners and serious gym goers who've already made a significant investment in their body composition.
Foundry
Tap on the body composition measurement on your home page and you'll find an annotated figure showing the fat and muscle percentage of your arms, legs and torso, as well as how those results compare to the majority of Withings's users.
Segmental body analysis is a huge improvement over rival products, which can only give you an overall fat or muscle percentage. But we must confess to being slightly disappointed at the lack of trend graphs for these measurements.
The figures are updated at every weigh-in, so people on a fitness journey will get the satisfaction of seeing the readings change–but only if they take a snapshot of previous weigh-ins and compare them outside of the app.
You can also find out your visceral fat index (the more dangerous type of fat that's wrapped around your organs), lean mass, and water mass. This is a solid feature, but many competitors offer the same.
You can export your data to a number of other health apps, but the polished Withings user experience will likely mean you won't want to, especially if you have a Withings tracker or smartwatch.
How much does a Withings Health+ subscription cost?
If you want more help on a fitness journey, there's the option of investing in a Health+ subscription. The first three months are free; after that, it costs $/£/€9.95 per month or $/£/€99.50 per year. When you buy and register a Body Scan or Body Comp scale, you'll get the option to join.
At this stage, the subscription is optional and isn't really core to the Withings experience, but we suspect this may change in the years to come.
Health+ focuses on what Withings calls "habit builders": six-week modules centred activity, nutrition, sleep management and other subjects. The idea is that you take one module at a time, and complete it before moving on to the next.
If you're looking for more structure to improve your health or fitness, Health+ could be something to consider–and in any case, the trial period will give you time to find out if the subscription's relatively high cost is worth it to you.
Should you buy the Body Scan?
As you might expect, given the fact that the Body Scan has no rival in terms of its feature set, it is far and away the most expensive widely available smart scale. It costs £/€399.95 in the U.K. and Europe and is available from Withings.
We expect the U.S. price, similarly, to be around $399.95. It was originally forecast to be approximately $100 less, but Withings has raised the planned price, blaming the semiconductor shortage while arguing that the Body Scan is a unique product offering that will "reinvent" its category.
So, the Withings Body Scan a big outlay. But health is such an individual thing that it's very difficult to say whether the Body Scan constitutes good value. Those who are just looking for a smart scale as a way to keep track of a fitness journey will be more than satisfied with something much more wallet-friendly, like the Eufy P2 Pro or the Renpho Elis Solar Scale (the latter of which doesn't even need batteries).
We would guess that for most largely healthy people, the nerve health readings and pulse wave velocity measurements will just remain puzzling figures within the app. But for those who get an early health warning from the Withings Body Scan–well, then it'll be worth every cent.