At a glance
Expert's Rating
Pros
Excellent color
Good brightness and screen uniformity
HDR10+ and Dolby Vision
Bluetooth headset support
Remote control with voice recognition
Cons
No judder reduction
Best Buy exclusivity limits competition on retail price
Our Verdict
We like the color and overall picture of Roku's new QLED TV, and Roku's smart TV operating system is one of our favorites. But there are several TVs in the same price range, and some offer more granular backlighting and judder reduction.
Price When Reviewed
$649.99
Best Prices Today: $799.99
When you say "Roku TV," you're probably thinking of a TV with the Roku user interface, not one branded by the company itself. The former still exist, but Roku is now selling TVs all its own, including the Plus Series 65-inch QLED (Roku model 65R6A5R) reviewed here.
This review is part of TechHive's in-depth coverage of the best smart TVs.
What features does this Roku Plus Series TV have?
At launch, Roku Plus Series QLED TVS are available only from BestBuy. In addition to this model, which retails for $799.99, there's a smaller (55-inch) model that retails for $649.99 and a larger (75-inch) flavor that goes for $1,199.99. Those prices put these TVs squarely in the arena of TCL's mini-LED 6-series (at least when it's on sale), Hisense's U7-series, Samsung's Crystal-series, Sony's X80-series, and LG's Nano80-series smart TVs. That's not exactly lightweight competition.
Each of the Roku Plus series TVs feature a 4K UHD (3840 by 2160 pixels) panel with a 60Hz refresh rate surrounded by a thin bezel. The model 65R6A5R reviewed here is a handsome-looking TV to be sure, but there are small signs of cost cutting: There's only one set of widely-spaced mount points for the stands, and the rechargeable remote relies on a micro-USB port instead of the modern USB-C. Also, one of the three screws for each stand is considerably more difficult to screw in than the other two. This could be a deliberate design decision in the name of stability, but it feels as though you're forcing those two screws into bare plastic.
Due to the positioning of the stands, you'll need a very wide surface to set the 65-inch Plus Series on. Your other alternative is to wall-mount it using its 400mm x 300mm VESA mount point. The 48-inch table I normally use was about 6 inches too short.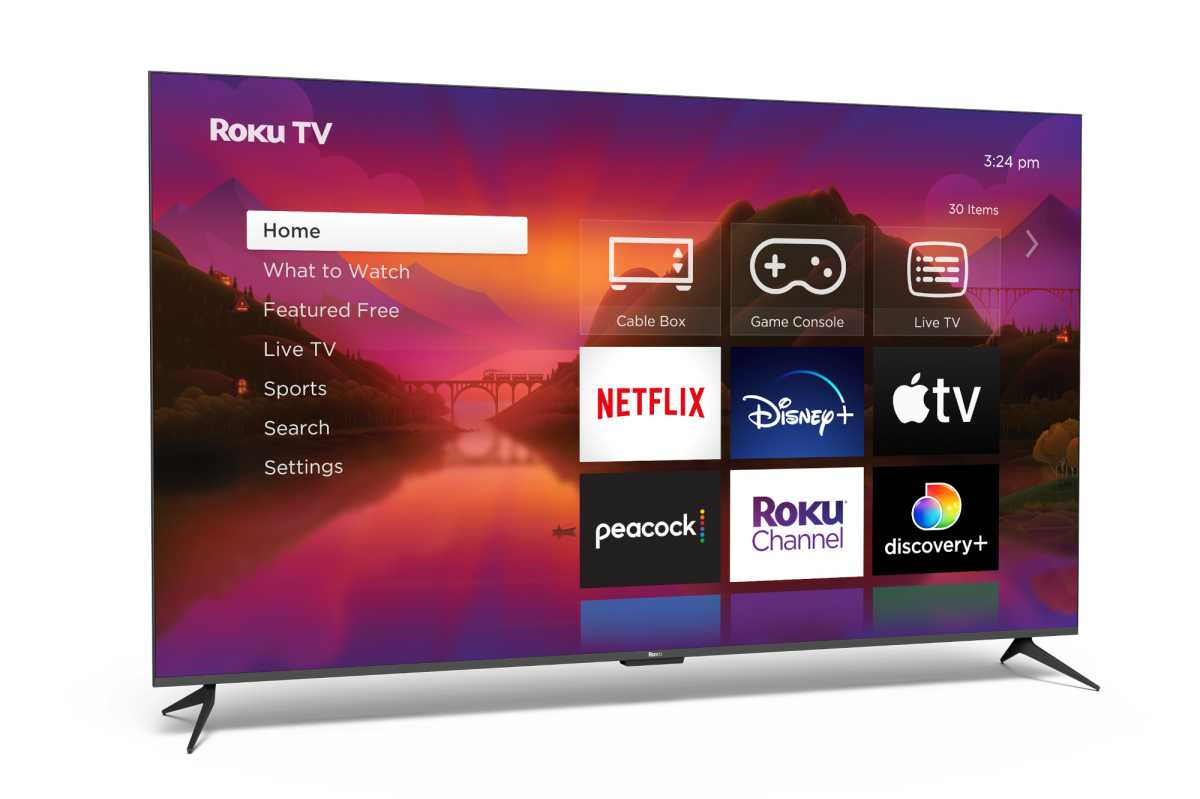 The Plus Series port selection is a mixed generation, but quite competent: There are four HDMI 2.0 ports, with one implementing eARC; a single USB 2.0 port, coax for cable and antennas; digital (Toslink) and analog (3.5mm) audio outputs, and 10/100 ethernet. There's also Wi-Fi 6 (802.11ax) connectivity and a Bluetooth 5.2 radio.
That last feature is kind of a big deal, as it addresses one of my long-standing complaints about Roku products: onboard support for Bluetooth headphones. I tried several pair and got very good results. The company said that this feature is now available to any of their partners, although it might not be backward compatible if your existing Roku OS TV doesn't have Bluetooth onboard; even if it does, there's no guarantee it will work.
The USB port is very difficult to reach, facing down in a recessed area about a foot from the side, on the back of the TV. That's hardly convenient for anyone who wants to make use of it.
The Plus Series, with its 4.1-channel sound (less-expensive Roku Select TVs are 2.1) supports Dolby Atmos immersive audio. Supported high dynamic formats including Dolby Vision, HDR10/HDR10+, and HLG.
Roku provides a range of curated free content, including various streamed TV stations. Roku also supports a plethora of third-party streaming services, including Apple TV, Netflix, YouTube, and many more. There's also a handy local version of the integrated-content channel guide for those, such as myself, who've discovered the vast amount of over-the-air content available these days.
Roku TV remote and user interface
As mentioned, the Plus Series remote is rechargeable; it's also capable of hands-free voice control. There's a switch on the side that allows you to turn this feature on and off. There's also a fabric tag on the bottom like those you find on clothing. I'm not sure of it's purpose beyond branding, but you might be able to slide a thin lanyard through it if you wish to leash it to your couch or some such.
Beyond that, there's the familiar and highly efficient layout found on other Roku remotes, featuring a four-way rocker/select button, simple transport controls, and buttons for settings and other common needs. There's a 3.5mm headphone jack for private listening as well.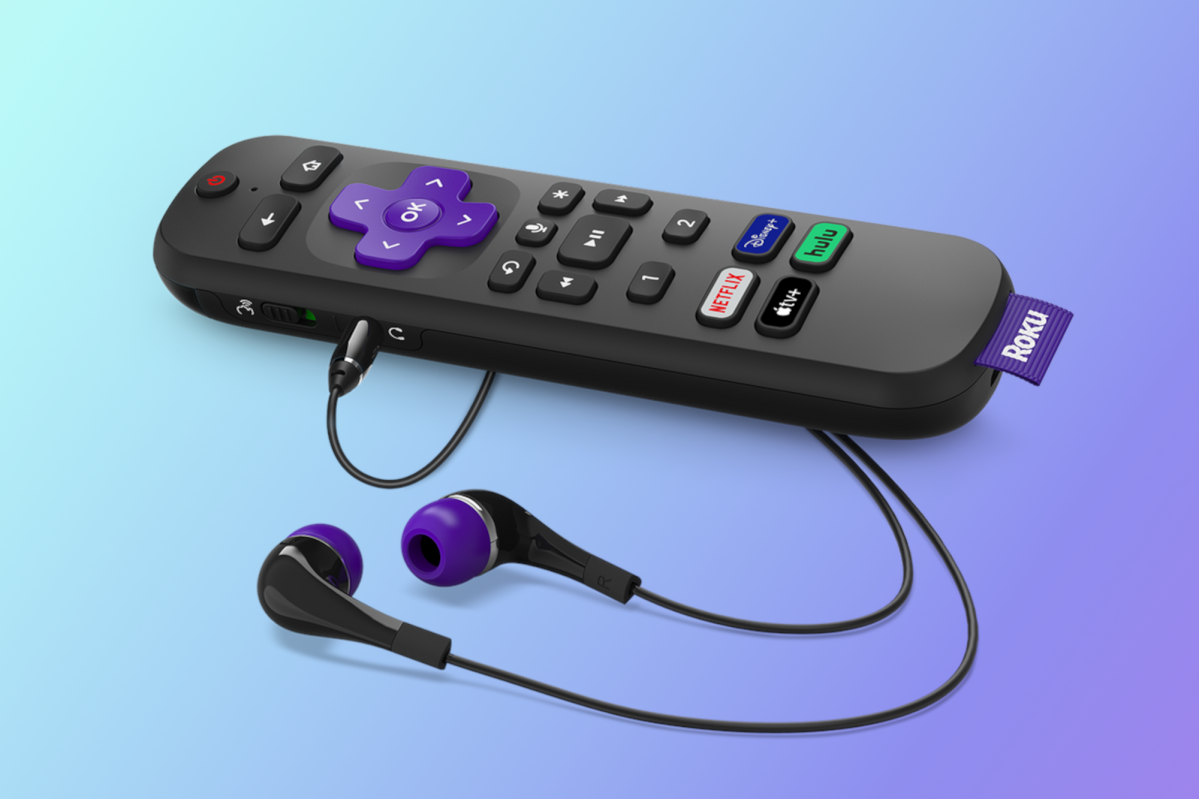 All-told, the Plus Series remote synergizes nicely with the Roku on-screen interface, which is also one of my favorites. A supposedly much improved version 12 is on the way, but the version 11.5 that I tested is still arguably the easiest to use graphical user interface available for a TV.
One feature that I've grown to appreciate is the "Picture off" setting, which allows me to play music or generate white noise as a sleep without the screen lighting up the room.
Evaluating the Roku Plus Series picture and sound quality
Overall, I quite enjoyed my time viewing the Roku Plus TV. Quantum dot color will do that for you. The TV also did quite well in the Spears & Munsil torture tests. There were minimal artifacts in nearly all the tests, which is not something I can say about many TVs–even those costing quite a bit more.
The one oddity I did spot was that during the Spears & Munsil full-screen sync test, the screen never fully strobed to white; i.e., it either didn't react to the signal quickly enough, or it tamped down exceptionally quickly. The good news is that this didn't seem affect any real-life material.
Contrast is very good, if not OLED- or even mini-LED-like, and despite the model 65R6A5R having only 64 dimming zones, there was minimal blooming and other backlighting array disturbances. In fact, since I try not to read spec sheets before I've run all my benchmarks, I was surprised to discover there were so few zones. I would not have guessed that after watching a host of videos designed to reveal said disturbances. It was far more adept with the Sony Las Vegas night-time sky contrast video than 64 zones have a right to be. Peak brightness isn't exceptional, but it's good enough for convincing HDR.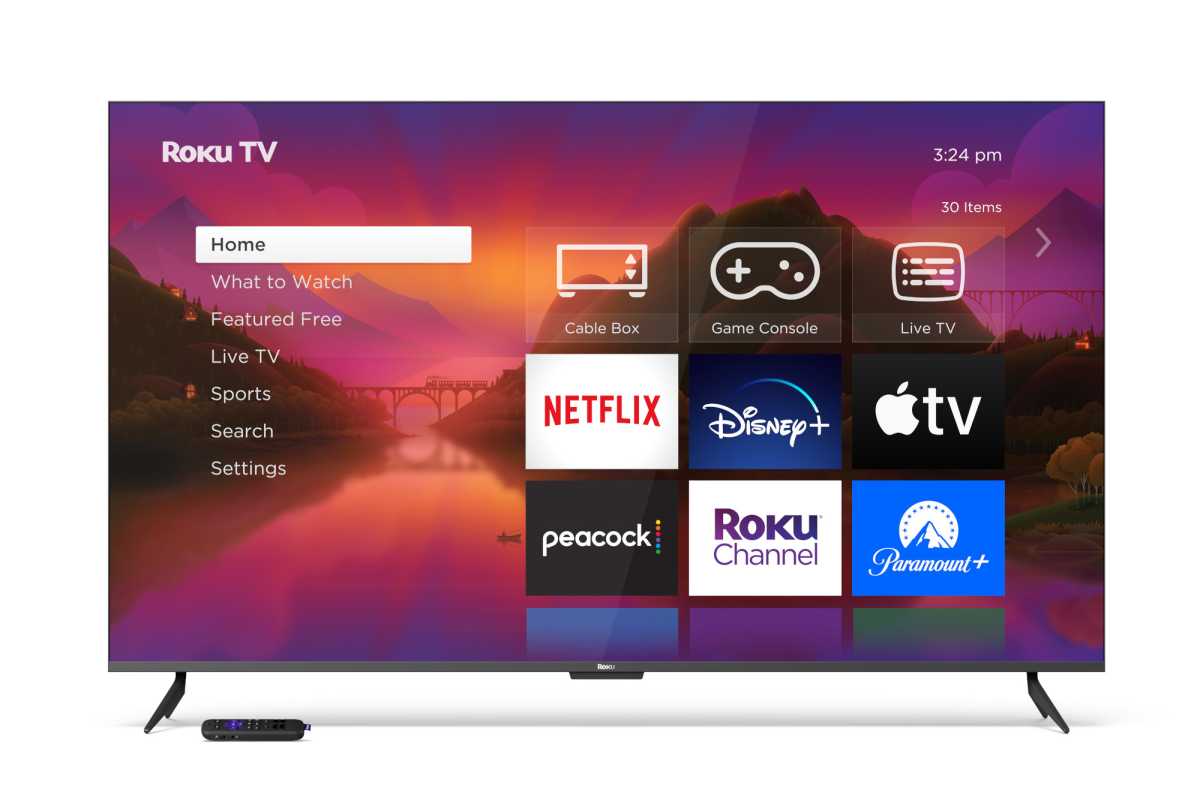 Much to my disappointment, however, the Roku 65R6A5R has no judder reduction or motion smoothing of any kind. While you don't need motion smoothing all that often often, it really helps certain types of on-screen action. That's especially the case on a 60Hz TV like this, because it doesn't produce the extra in-between frames that a panel with a 120Hz refresh rate offers.
Some Hollywood types have called out this feature for causing "visual diarrhea," but I have no idea what they're viewing to arrive at such a conclusion. To my eyes, judder reduction only reduces the jerkiness in action or pans, messing with my suspension of disbelief. I like judder reduction, and I'm not alone among reviewers.
Comparing total performance with the competition, the Plus Series really only fell short for me in that one area. But full disclosure: I live with a TV that lacks it as well, making me a bit of a hypocrite.
Is the 65-inch Roku Plus quantum dot TV a good value?
The 65-inch Roku Plus quantum dot TV delivers impressively accurate color and a great picture overall, but it's up against stiff competition. Put another way, it's a very good TV, but it's not an exceptional one. On the other hand, the Roku operating system is one of the best, easiest-to-use smart TV interfaces I've experienced.