At a glance
Pros
7 days of free cloud-based storage for motion-triggered clips
Smooth pan and tilt operations
Generally great video quality
Doesn't need to be hardwired to a home's electrical wiring
Cons
It's more of a camera than a floodlight
Mi Home app is often confusing and buggy
No sentry mode
Our Verdict
While the $130 list price is probably too high, if you can find the Imilab EC5 floodlight cam on sale, its value outweighs its flaws.
Price When Reviewed
$59.00
Best Prices Today: Imilab EC5 Floodlight Camera 2K
Melding a floodlight with a security camera isn't a new idea, but the Imilab EC5 Floodlight Camera 2K puts a unique twist on the concept: The housing containing its lights and camera can pan and tilt, delivering a wider and taller field of view than anything else on the market. That feature, and this camera's extremely low street price, makes it easy to overlook the poorly done software that comes with it.
The all-white (and largely plastic) device is designed for outdoor wall or ceiling mounting, and its IP66 weatherization means it's very well protected elements (we'll tell you everything you need to know about IP codes at the preceding link). In pinch, it can also be used upside-down on a tabletop or shelf. Like other Imilab cameras we've reviewed, it comes with a single cord that splits to reveal an ethernet port if you'd like to hardwire it to your network instead of relying on its 2.4GHz Wi-Fi connectivity. Unlike most cameras in this class, it draws power from an AC adapter instead of being hardwired to your home's electrical wiring. That gives you much more flexibility when choosing a location to install it.
This review is part of TechHive's in-depth coverage of the best home security cameras.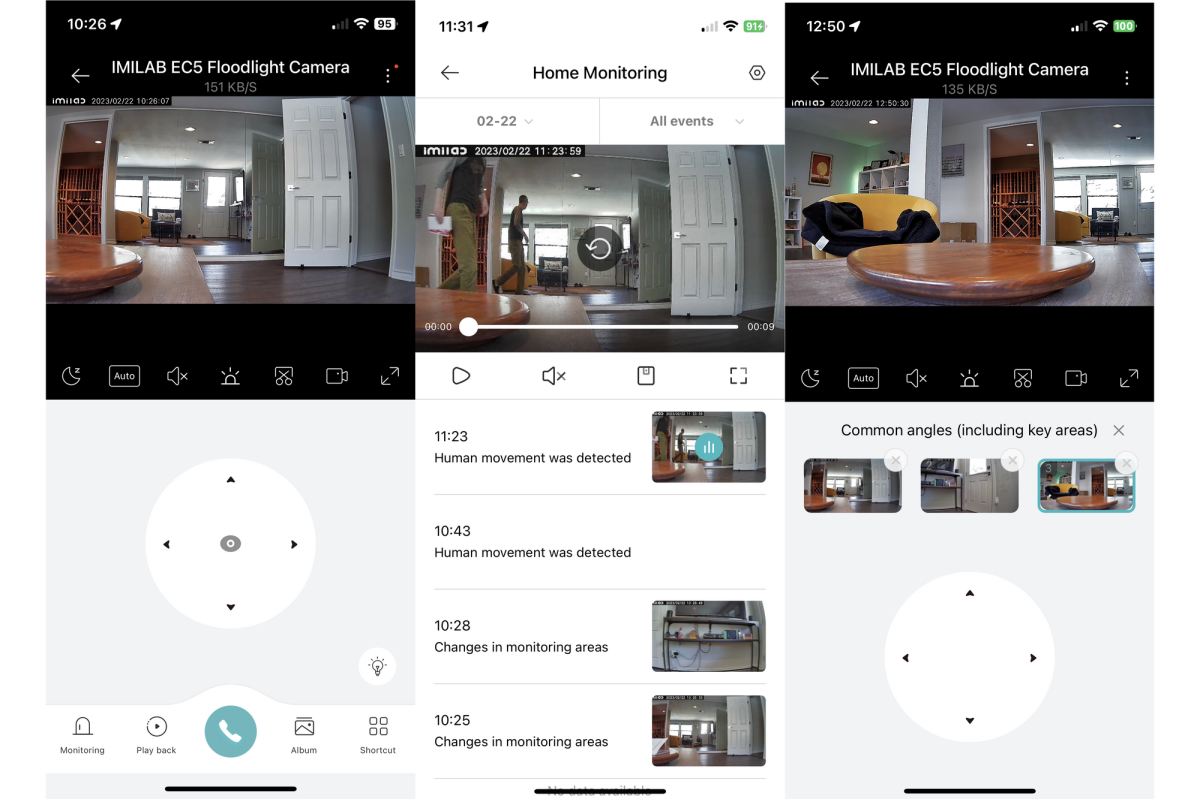 Christopher Null/Foundry
The camera captures video with 2304 x 1296 pixels of resolution. Two sizeable floodlights are on either side of the lens. The lights aren't nearly as big as you'll find on permanently wired floodlight cameras like the Blink Wired Floodlight Camera or the Ring Floodlight Cam, but they do an effective job of lighting up a space at a range of 30 to 40 feet. (Imilab does not specify the luminosity of the lights.) The spotlights can be activated in real time or set to fire up based on motion; you can even have the lights turn on if a human is detected, so video is recorded in color, but rely on infrared night vision if other types of motion are detected. Two-way audio and a 100dB siren area also in the mix.
The big selling point here, of course, is the ability to pan and tilt both the camera and the floodlights. It's capable of panning 350 degrees and it can tilt over a 100-degree arc. The unit responds quickly to manual commands in the app, and it includes a mode that will automatically track human figures when detected. That mode doesn't work with other types of motion, so there's no way to track your cat or a passing car, nor does the unit include a sentry mode that periodically scans the area. Video quality looks good by day or night with either infrared or under the spotlight.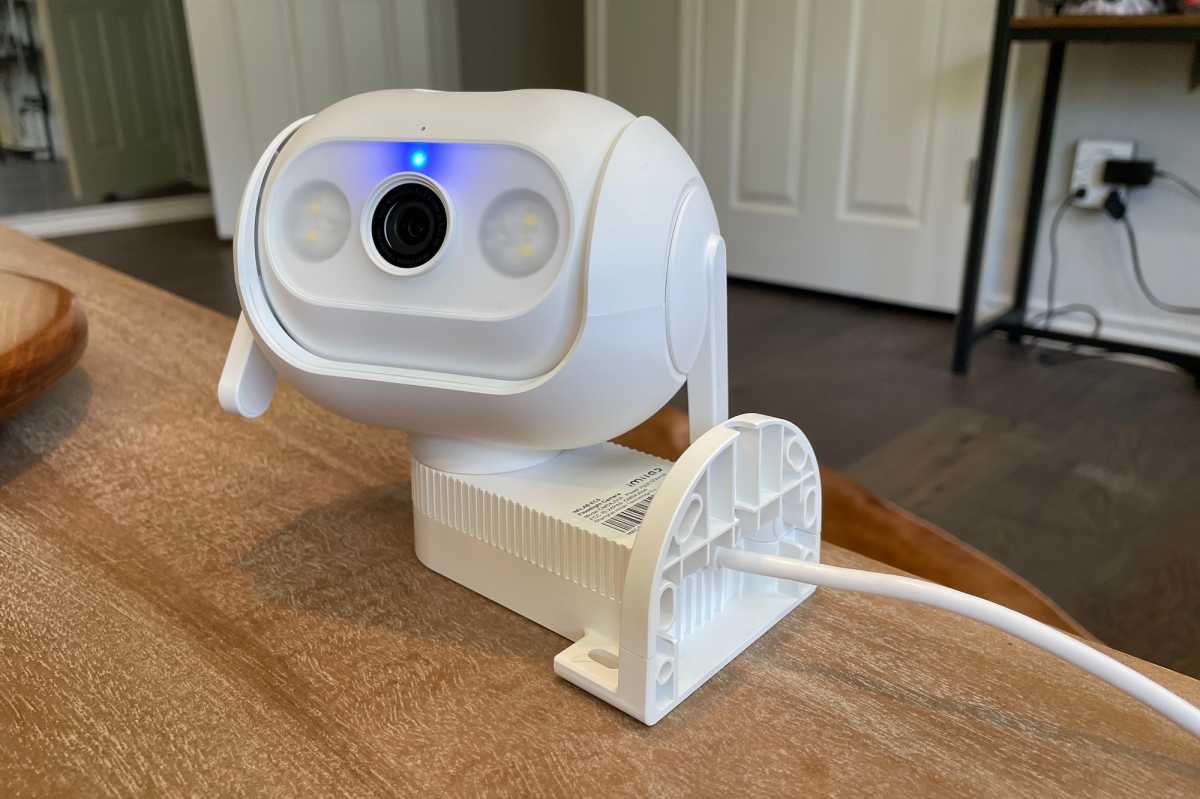 Christopher Null/Foundry
It's important to note that the Imilab EC5 does not work with Imilab's app, but rather the generic Mi Home app developed by Xiaomi. It's not my favorite management system, in large part because its settings are unintuitive and poorly documented. Cloud-based storage, for example, is located under the "Home monitoring" menu. Motion-detected clips are stored here automatically, as long as you have "Home monitoring" turned on. On the plus side, cloud storage—a rolling 7 days of events—is free.
If you drop a microSD card (up to 256GB) into the unit, it will record everything, 24/7. This feature isn't well-documented, and when I tried installing two different cards in the unit, both showed unusable within the app. Strangely, the app would play back the video via a daily timeline interface, and when I connected the cards to my computer, the video was indeed stored on them (unencrypted). Another small beef: The microSD card slot is found beneath a hatch on the camera that's held in place with two minuscule screws, one of which I immediately lost upon removal.
Motion sensitivity is good overall, although the Mi Home app includes only two modes: high and low. I left it on high throughout my testing and found it worked well. The tracking feature was also generally spot on—I had to do some fancy footwork to outsmart the auto-panning mode—and video playback was quick when playing either from the cloud or local storage. The default cooldown between clips is an awfully lengthy five minutes, though this can be reduced to three minutes as a minimum. Push notifications arrived quickly after motion was detected, normally within a second or two. The Imilab EC5 lists for a hefty $130, but it's currently available for as little as $59 at Walmart.com. At that price, even with its various flaws, it's a very attractive purchase, particularly given the free cloud storage feature.