SLIDESHOW
Photo Contest: Hot Pics for January
Subscribers to Dave Johnson's Digital Focus took these shots.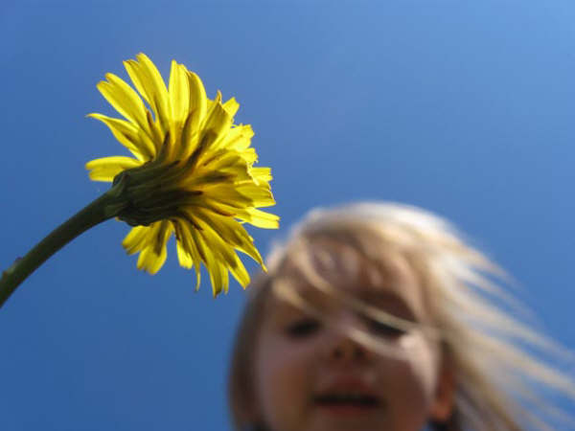 1/6/09 Hot Pic: "Picking Dandelions," by Misty C. McMillan, Laurinburg, North Carolina
Misty writes: "My daughter was picking the dandelions in our yard. The sky was such a great blue that I decided to lie down on the ground beneath the flower and let her come pick it. I focused on the dandelion and let her blur into the background."
1/13/09 Hot Pic: "Row Boats," by Jolene McAlister, Allison Park, Pennsylvania
Jolene says that the array of colors caught her eye as she walked on a dock in Bar Harbor, Maine.
1/20/09 Hot Pic: "Canoe," by Jean Ehler, Saint Matthew, South Carolina
Jean took this photo of a canoe at Old Santee Canal State Park in Monks Corner, South Carolina, using a Canon PowerShot A630.
1/27/09 Hot Pic: "Tree Bark," by Kathy Olding, Tok, Alaska
Kathy writes: "I have been taking pictures of her and the rest of my dog family all their lives. They have become so accustomed being photographed that when they hear my camera start up they run to get in front of it so I can take their pictures." She took this photo of her dogs--a pair of Chesapeake Bay Retrievers named Otter and Journey--with a Canon PowerShot A550.
1/6/09 Runner-Up: "Landing Gear Down" by Mike Schaper, Glendora, California
Mike says that he took this photo with a Canon EOS 40D at dusk, setting a fast shutter speed and an aperture that would deliver a shallow depth of field.
1/13/09 Runner-Up: "Ladybug" by Robert Specht, Los Angeles
Robert got this shot with a Canon Digital Rebel XTi.
1/20/09 Runner-Up: "Leaf in Pond" by Paul Bild, Vancouver, BC.
Paul says that he shot this photo with a Canon G6. "The leaf was floating on a pond and I noticed that it had lost all its chlorophyll. The only editing I did was to remove some noise with the median filter in IrfanView."
1/27/09 Runner-Up: "Penny Found," by Peter A. Jensen, Kenmore, Washington
Peter writes: "I took this photo after getting a lecture from my youngest son on how I shouldn't discount his good fortune in finding a penny on the playground." This photo's unique look comes from the ultra wide angle 22 mm lens, mounted on Peter's Canon EOS 20D.
Next Up: Check out these related slideshows
Today's Best Tech Deals
Picked by TechHive's Editors