After selectively leaking the news, Sonos gathered the press at an event in New York City last week to unveil its latest generation of speakers: The $249 Sonos Era 100 and the larger Sonos Era 300 ($449), both of which will be available worldwide on March 28.
Sonos is looking to raise the bar on multi-room audio and, with the Era 300, fulfill the promise of spatial audio, the hot new trend in immersive surround-sound music. Sonos describes the Era 100 as a "re-mastering" of its Sonos One smart speaker, first introduced in 2017, and the earlier Play:1 that came to market in 2013.
The Era 300 is Sonos' first speaker to support spatial audio, either all by its lonesome, in a two-box (stereo-plus) setup, or as the surround channels in a Dolby Atmos home theater setup with a Sonos Arc or Sonos Beam (Gen 2) soundbar up front and, if you wish, a Sonos Sub or Sonos Sub Mini to deliver low-frequency effects.
The new speakers will answer to Alexa commands as well as Sonos' own Sonos Voice Control, but it looks as though Google Assistant support is being dropped. Sonos and Google have repeatedly tangled in court over patent-infringement claims on both sides.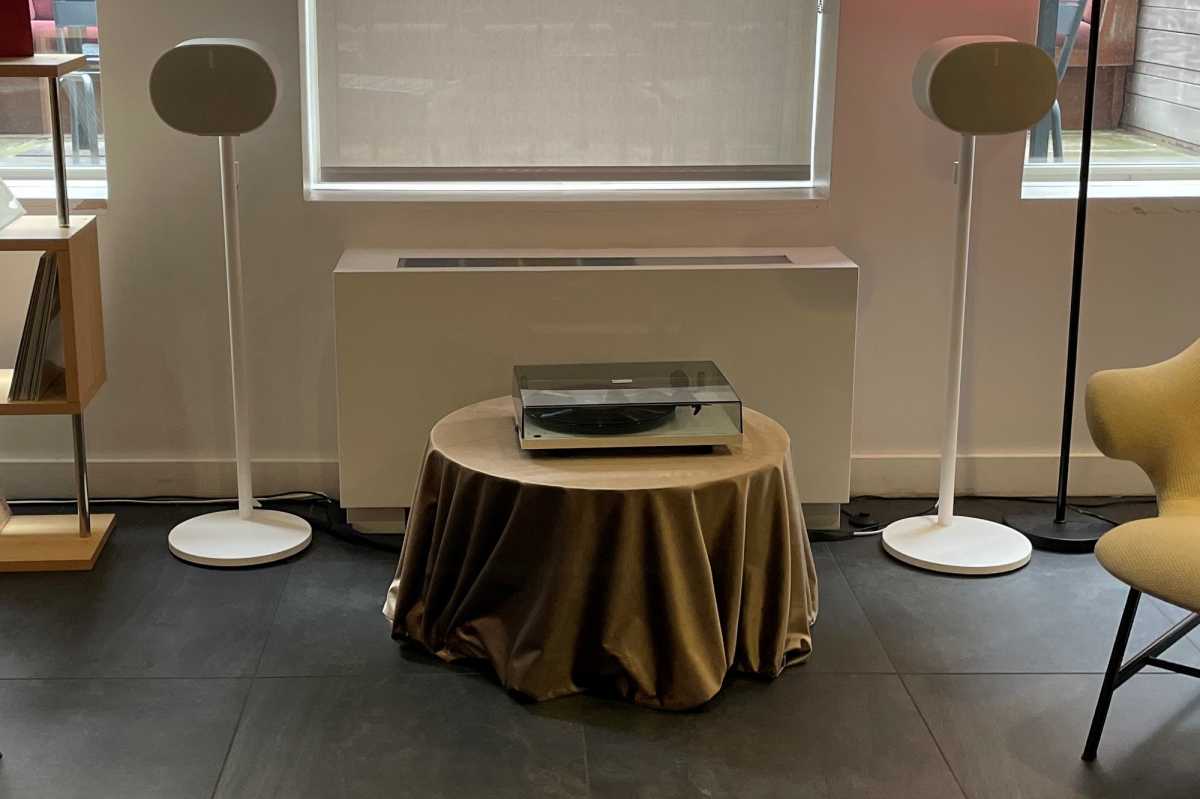 Jonathan Takiff/Foundry
On the other hand, Sonos has expanded its Trueplay room-equalization technology to support Android devices for the first time. In the past, this technology relied on the microphones in an iOS device to evaluate the acoustics of a listener's room; as such, Trueplay was useless to Android users. With the Era series, Android aficionados using Trueplay will rely on the far-field microphone arrays built into the speakers themselves. iOS users can either do the same or continue to use their mobile devices for room tuning.
Sonos says its speakers have improved touch controls and new USB-C connectivity, with two optional adapters: One has a 3.5mm analog line-level input and the other has both a 3.5mm jack and an ethernet port, so "people can get whatever content they want into their systems," said Ryan Moore, Sonos product manager for the plug-in category.
The Era series is more eco-friendly, promising to consume less power—just 2 watts—while on standby. The new speakers are manufactured using "post-consumer" recycled materials and are assembled with screws instead of glue, to make them more likely to be repaired then tossed if something ever goes wrong.
Sonos Era 100: Sonos' new entry level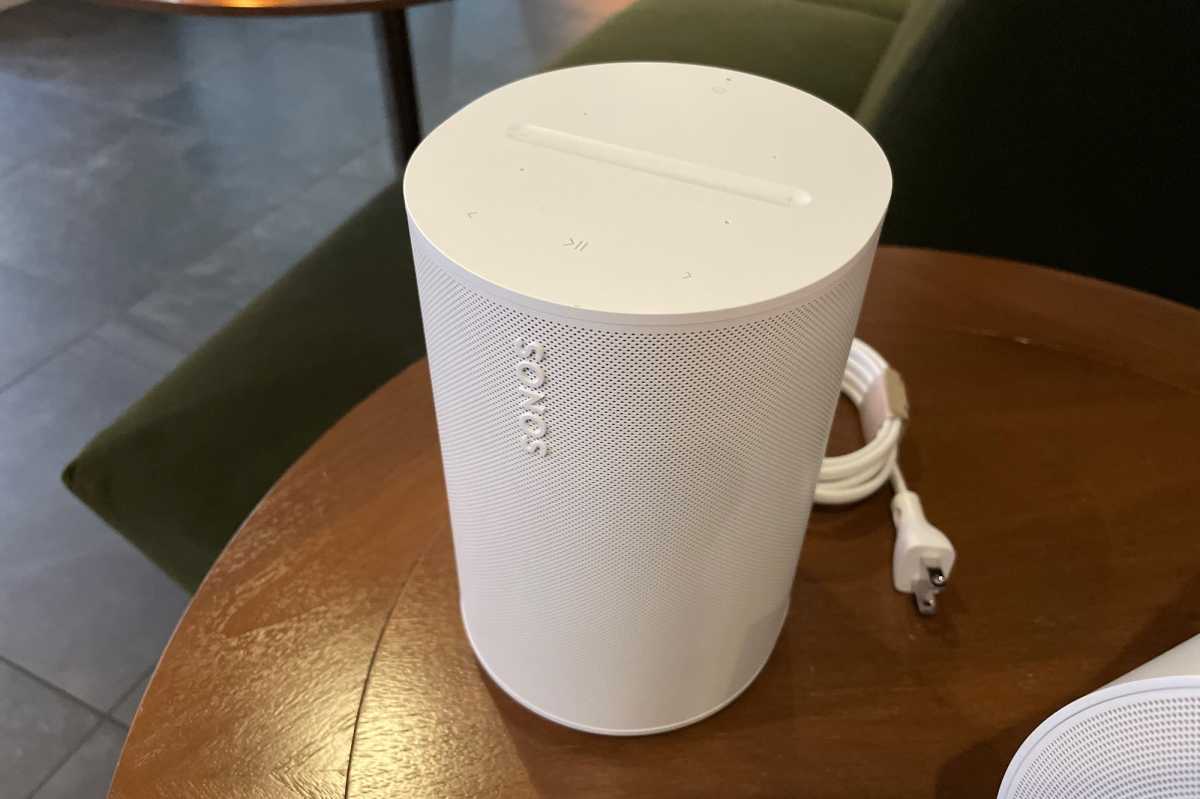 Jonathan Takiff/Foundry
At first glance, the Era 100 looks remarkably close to the Sonos One. It has a similar footprint and weight and is just an inch taller, but it's a bit more oval in shape. Its $249 price tag, however, is 15 percent higher than the Sonos One it replaces. Moore said Sonos aims to "respect the heritage" of the Sonos One, delivering "a kind of magic combination of a low-enough price point, great sound, and a small-enough size that it fits anywhere you want in your house."
In reality, there's not a single part in common between the One and the Era 100, and much that's been re-thought and improved on. The Era 100's elliptically shaped woofer is 25 percent larger in surface area, and the new speaker has two outward-canted silk dome tweeters with neodymium magnets, where the Sonos One had a single tweeter. Well-situated listeners will be able to relish a stereo experience as well as significantly more bass.
Jonathan Takiff/Foundry
"When you crank it up," said Sonos system designer and engineer Kylie Muntean, "we no longer have to protectively tamp down the bass with DSP, so the driver doesn't fry." While unwilling to share power ratings on the speaker's Class D amplifiers—standard operating procedure with Sonos—she intimated enhanced robustness. "The woofer design is complicated," she said, "with 10mm of excursion. And we also worked hard to improve heat dispersion."
With two tweeters instead of one, Sonos' senior vice-president of sound design Giles Martin added that there's more clarity to vocals and instruments and better all-around spaciousness. What hasn't changed, according to Martin, is Sonos' "dedication to honest, uncolored sound. To not imposing a personality. We want you to forget you're listening to speakers and just appreciate the music."
Jonathan Takiff/Foundry
First impressions during my demo session gave me no reason to dispute that characterization. I became an instant admirer of the Arkansas singer-songwriter Yebba, drawn in as the Era 100 intimately rendered her track "October Sky," from her debut album Dawn. I could practically see her fingernails plucking the strings of her acoustic guitar in accompaniment to her achy-breaky vocals. Lizzo's "It's About Time" played through the Era 100, meanwhile, really roused the joint.
The Sonos Era 300: An immersive step up
The Sonos Era 300 houses six drivers inside its distinctive enclosure, a box with an indented mid-section—almost like an hourglass that's been flipped on its side. The driver setup consists of a single horn-loaded tweeter firing up to bounce frequencies off the ceiling when playing Atmos content; a front-firing mid-tweeter acting as a center channel; and two additional mid-tweeters that point left and right for stereo output. A pair of woofers at the bottom sides of the speaker point left and right, also for stereo.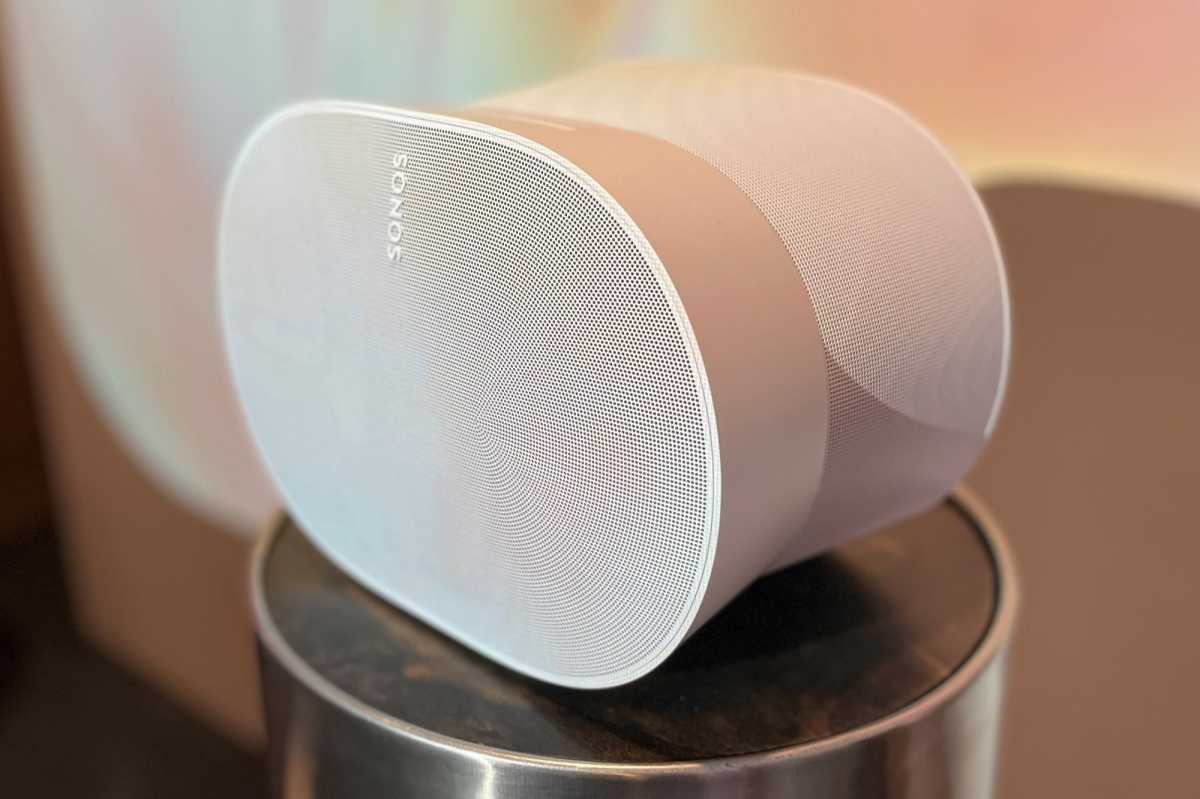 Jonathan Takiff/Foundry
Each driver gets its own Class D amplifier, and Sonos says it fine tunes each driver's directionality with custom wave guides and digital signal processing, which is a big part of its secret sauce. Here again, Sonos declined to provide a more granular description of the Era 300's amplifiers.
Sonos engineer Kylie Muntean says the company built and tested "dozens" of prototypes with different dimensions, drivers, wave guides, and DSP tunings, and this design proved "the best, the most accurate at placing the signals into the sound field where the music producer and engineer intended them to be. We were certainly aware of what other makers had done and made it our mission to top them all."
Spatial audio and the Sonos Era 300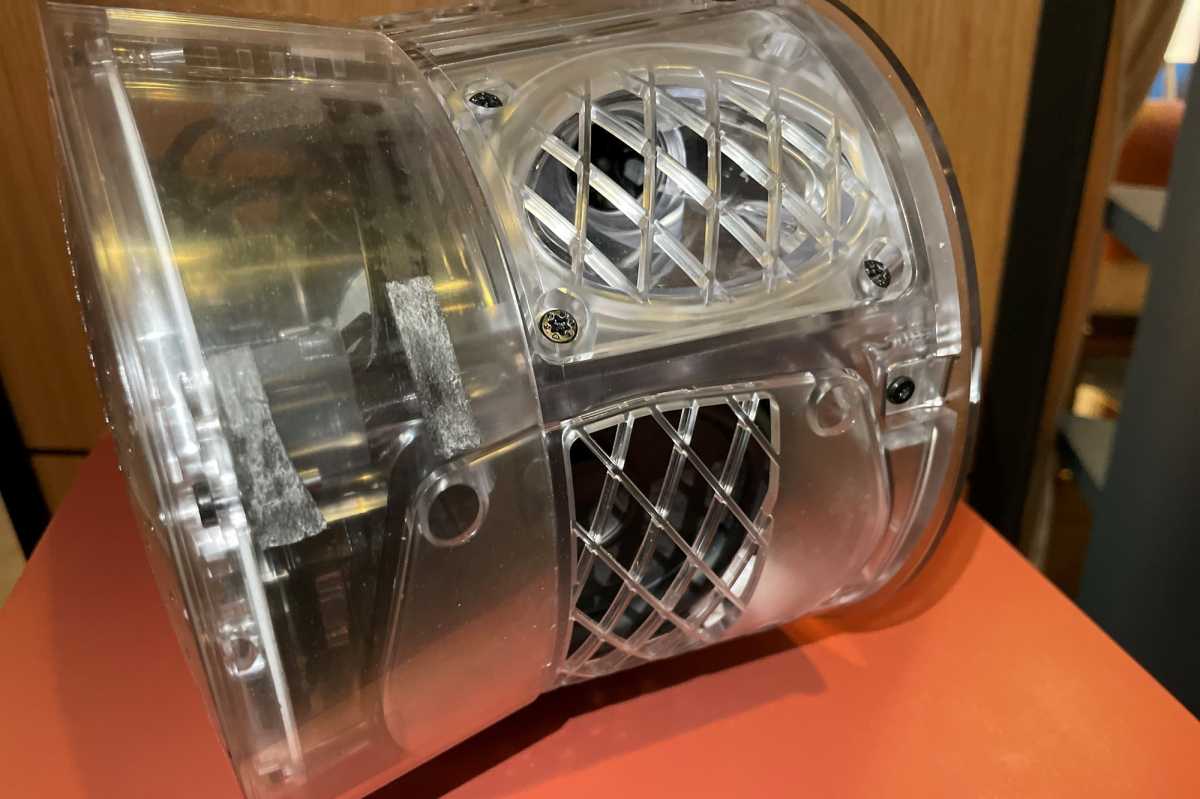 Jonathan Takiff/Foundry
History has repeatedly shown that the first developer of a new technology is not always the maker that reaps mainstream success. It's often a later arrival that benefits from watching how consumers respond to a new concept and learns from the pioneer's mistakes.
Sonos product manager Ryan Moore says the company started working on its first spatial audio speaker "two and a half or three years ago." That would place its origins about a year after Sony introduced its 360 Reality Spatial Audio format at CES in 2019, and six months after Amazon brought the first spatial audio speaker—the Echo Studio—to the consumer market. Sony's own series of spatial audio speakers, including the underwhelming—to at least one TechHive reviewer's ears,—SRS-RA5000, came out in late 2020.
Dolby has likewise adapted its Dolby Atmos audio format, originally known for movie soundtracks, to music listening. That and Sony 360 Reality Audio are both object-based audio formats that promise immersive audio experiences, even with a single speaker cabinet or with certain high-end headphones, including models from Apple and Sony.
Muntean says professionals mixing in Atmos, including Manny Marroquin (Lizzo, Paramore, Flo Rida, Post Malone, Kendrick Lamar, Maggie Rogers, and more) "have been surprised and pleased with our results. In this one small box, we can accurately reproduce better than 80 percent of what they've laid out spatially in the studio with a discrete, 12-channel Dolby Atmos mixing system."
Giles Martins' influence in spatial audio
Giles Martin is a long-time and strong advocate for spatial sound, having re-mixed The Beatles' catalog in surround sound, first for Cirque du Soleil's Las Vegas production Love, and later for the lavish, box-set editions of Sgt. Pepper's Lonely Hearts Club Band, Abbey Road, The Beatles (aka the White Album), and most recently Revolver. Martin is the son of legendary The Beatles producer George Martin (credited as producer on every one of the band's albums except, controversially, Let It Be).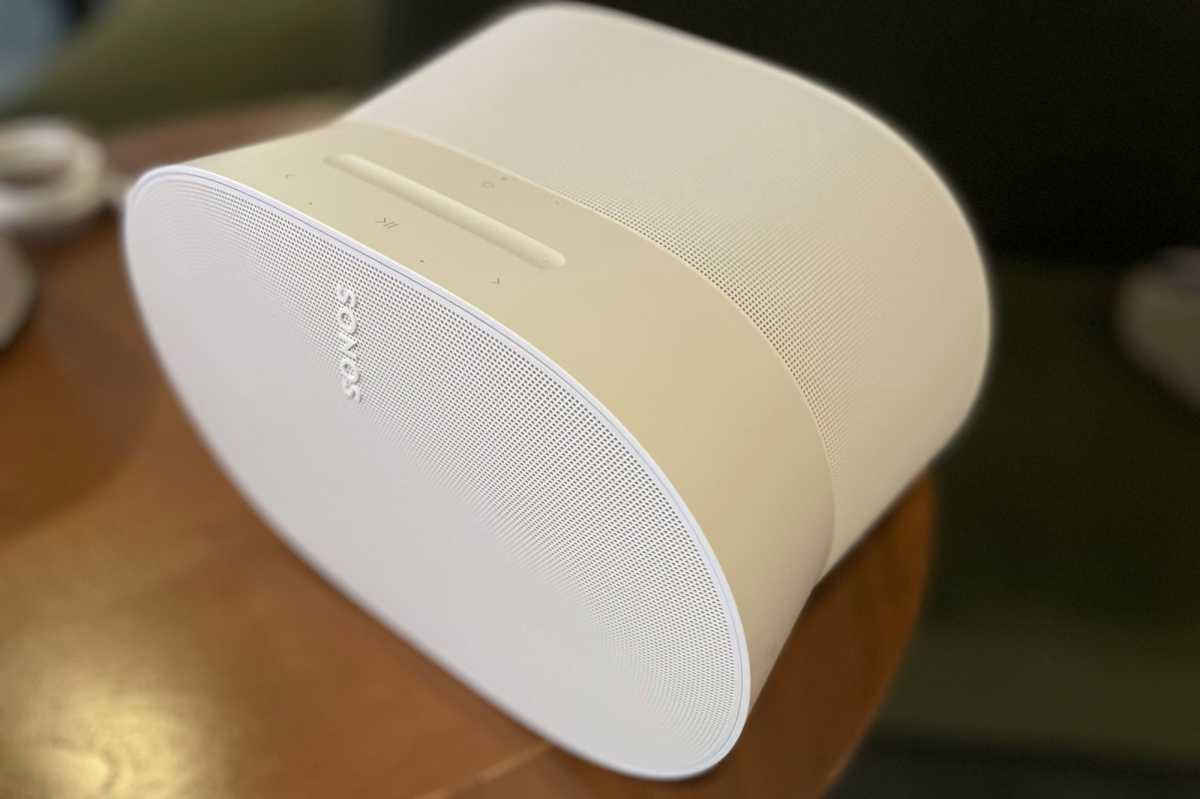 Jonathan Takiff/Foundry
In his other role, as head of audio and sound for Universal Music Group, Martin says he has beaten the spatial audio drum so successfully that almost all the top producers and engineers now have Dolby Atmos mixing facilities in their studios. A bunch of them are on a Sonos advisory board as well, and they lent their expertise during the Era 300's development. About 100 are now using special wired versions of the Era 300 as a reference tool while mixing in spatial audio. If their multichannel mixes pass muster on those Sonos studio monitor rigs, it should sound equally spaced-out special on your home Era 300.
As to the amount of spatial music content now accessible to the average listener, Martin says "90- to 95 percent of today's Top 100 hits are available [via streaming services] in spatial mixes, and lots of classics are getting remixed for the medium." It doesn't hurt the cause, of course, that those services pay a higher per-play royalty to the music labels for spatially encoded tracks, just as they do for high-resolution mixes. Tracks encoded as Dolby Atmos qualify as both, with up to 24-bit/48kHz resolution.
Perhaps this surround-sound format will endure and prosper, and not go the way of SQ, QS, and CD-4 Quadrophonic on vinyl, or DVD-Audio, DTS 5.1, Blu-ray Audio, and hanging-by-a-thread SACD on disc.
Sonos Era 300 first impressions
During its press event, Sonos offered a few tantalizing tastes of a single Era 300 at work, cutting through and conquering a very crowded room of listeners with wide, high, and deep sonic impressions of works by Imagine Dragons, Paul McCartney, Rosalia & The Weeknd, and an especially atmospheric visit to Finneas' "A Concert 6 Months from Now."
Sonos also demoed a home-theater experience with a pair of Era 300 speakers set up as surround channels in a full-blown 7.1.4 Dolby Atmos configuration with its 11-speaker Arc soundbar and two Sono Subs, one in the front and one in the back of the room.
Jonathan Takiff/Foundry
The Era 300 puts out full-range and distinct left, right, and height cues, a significant advance over earlier Sonos home-theater setups, in which the surround speakers were limited to sharing a Dolby Pro Logic feed. In our demo, this upgrade made for some dynamic, you-are-there effects, including an ultra-scary, monster-on-the-loose scene from the film A Quiet Place.
Should you deploy a pair of the smaller Sonos Era 100 speakers as the surround channels with a Sonos Arc or Beam up front, a Sonos tech tells me you'll also get "an Atmos experience rendered in 7.1.4…in much the same way the Beam Gen 2 does. This allows the height information to take on a front/rear depth that is much better than keeping the height content to only the front stage."
I can't say these demoes always fooled me to thinking there were sounds coming from above, to the sides, and behind me, but I might fully buy into it if I set up the Era 300 in a less crowded space (bodies do absorb lots of sound) and put myself in the sweet spot, which I aim to do with a coming-soon review unit. And even if it isn't exactly surround, I'm thinking there's still a big audience and a whole lot to be said for a well-executed, single-box spatial-audio solution versus a roomful of surround-sound speaker clutter.
Out of the gate, you'll only be able to play spatial audio content on the Era 300 in the form of Dolby Atmos mixes streamed from Amazon Music Unlimited and Apple Music. Recordings encoded in Sony 360 Reality Audio will not be supported, nor will you be able to stream spatial audio mixes from the services Deezer, Tidal, or Nugs.net.
Sonos will continue to support Apple's AirPlay 2 technology, but that technology will limit you to stereo performances. As for applying pseudo-surround processing to stereo sources, as some other spatial speaker manufacturers do, Giles Martin says that's a no go on the Sonos Era 300. To his ears, "that processing mostly adds reverberation, is dishonest, and sounds awful."
Sonos engineer Kylie Muntean was perhaps more amenable to the idea, saying "Era 300 speakers are designed and capable of handling 'everything,' [and Sonos' mission] "is to be ubiquitous, neutral, to serve, and ultimately support every platform, every content creator. Give us time. We'll get there."