At a glance
Expert's Rating
Pros
Fantastic low end
If they fit you, you'll find they are extremely comfortable
Exceptional overall sound presentation
Cons
Folks with large heads might find their fit is too tight
Soft-sided carry bag offers too little protection
Pricey
Our Verdict
Sennheiser has released a headphone that's sure to generate controversy in the audiophile community, but the company has delivered a truly engaging listening experience for everyone not obsessed with specs and benchmarks.
Price When Reviewed
$599.95
Best Prices Today: Sennheiser HD 660S2
The Sennheiser HD 660S2 is a polarizing headphone. It's less of an upgrade to the HD 660S than a completely different approach to the listening experience compared to any other product in the company's vaunted 6XX line. And I dig it.
An open-back headphone has a specific use case, because sound will inevitably leak into your listening environment during playback. That's by design, as that openness creates a wider soundstage for the listener. That also means they're not good for use in an office, on public transport, or next to your partner in bed. These are for solo listening only.
The HD 660S2 has divided the audiophile headphone community, mostly because reviewers and message board commenters seem shocked by Sennheiser's introduction of a completely new sound profile to its line. When this model is put on the lab bench, measured, and compared to the standard sound curves, it shows some surprising deviations that are generating controversy in the hobbyist community.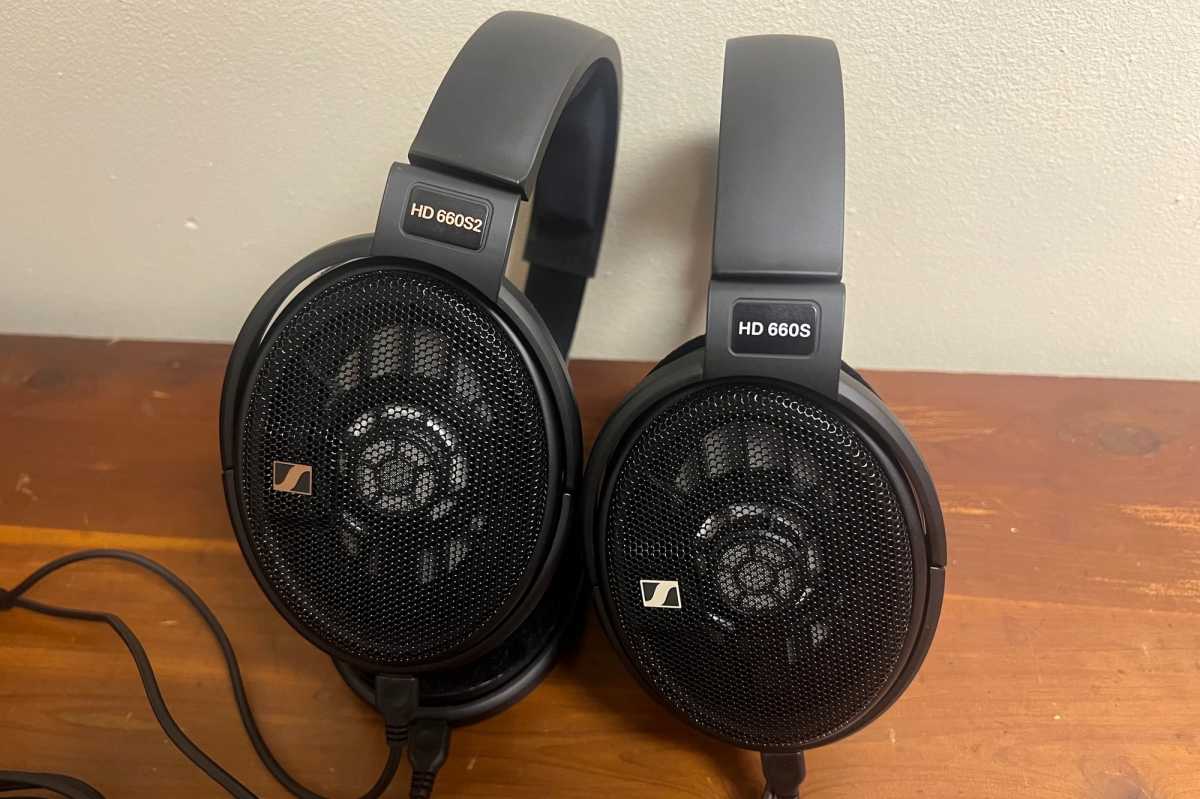 James Barber/Foundry
One of the things I enjoy about the Sennheiser brand is that its gear seems to be tuned more by humans than by machines. From its Ambeo soundbars to its in-ear monitors, I've always had the sense that there was a person with specific tastes fine-tuning the speakers to create an experience that reflects individual choices.
I've even found that to be true with the company's reference headphones in the 6XX line. They might be relatively neutral, but they're never mechanical. The HD 660S2 is decidedly not neutral, and that will be a very good thing for a particular type of listener.
This review is part of TechHive's in-depth coverage of the best headphones.
What's included with the Sennheiser HD 660S2
It's worth noting that Sennheiser has gone for minimalist packaging this time, which will be either a decided improvement over or a downgrade from the HD 660S, depending on your perspective. I'll come down on the side of improvement, since I doubt anyone really uses the bespoke wooden box that comes with the other model. The unboxing experience might be less impressive, but recyclable cardboard is better for the planet.
The HD 660S2 looks identical to the previous model, except the Sennheiser branding is now bronze instead of silver. The construction is mostly plastic, aside from the metal headband and grilles. Part of how Sennheiser conveys that they're more serious about audio quality than luxury is that at first glance, their 6XX-series headphones don't look much different from any good pair of $200 cans. They're solidly built, but they don't announce themselves as luxury goods.
James Barber/Foundry
You get a 5.8-foot, 4.4mm balanced headphone cable; a 5.8-foot, 1/4-inch unbalanced headphone cable; and a 1/4-inch-to-3.5mm adapter. Sennheiser uses proprietary connections between cable and headphone, so you can't swap either of these out for a third-party cable. Connecting the cables doesn't yield a satisfying click when they're in place, so it's best to take care when pushing them into the headphone's earcups.
There's also a carrying bag that won't provide any significant protection aside from preventing scratches. I took the HD 6602 on a road trip and spent a significant amount of time making sure they weren't getting crushed. Think of it as a storage bag as opposed to a carrying case.
James Barber/Foundry
How the Sennheiser HD 660S2 is built
The HD 660S2 has 300 ohms of impedance, so you'll need to make sure you have an amp that's capable of driving them. Each earcup has a metal grille that allows for maximum airflow to (and sound leakage from) the 38mm transducers (manufactured in Ireland). The frequency response is 8Hz – 41,500Hz and the total harmonic distortion (THD) is rated at < 0.04% (1 kHz, 100dB).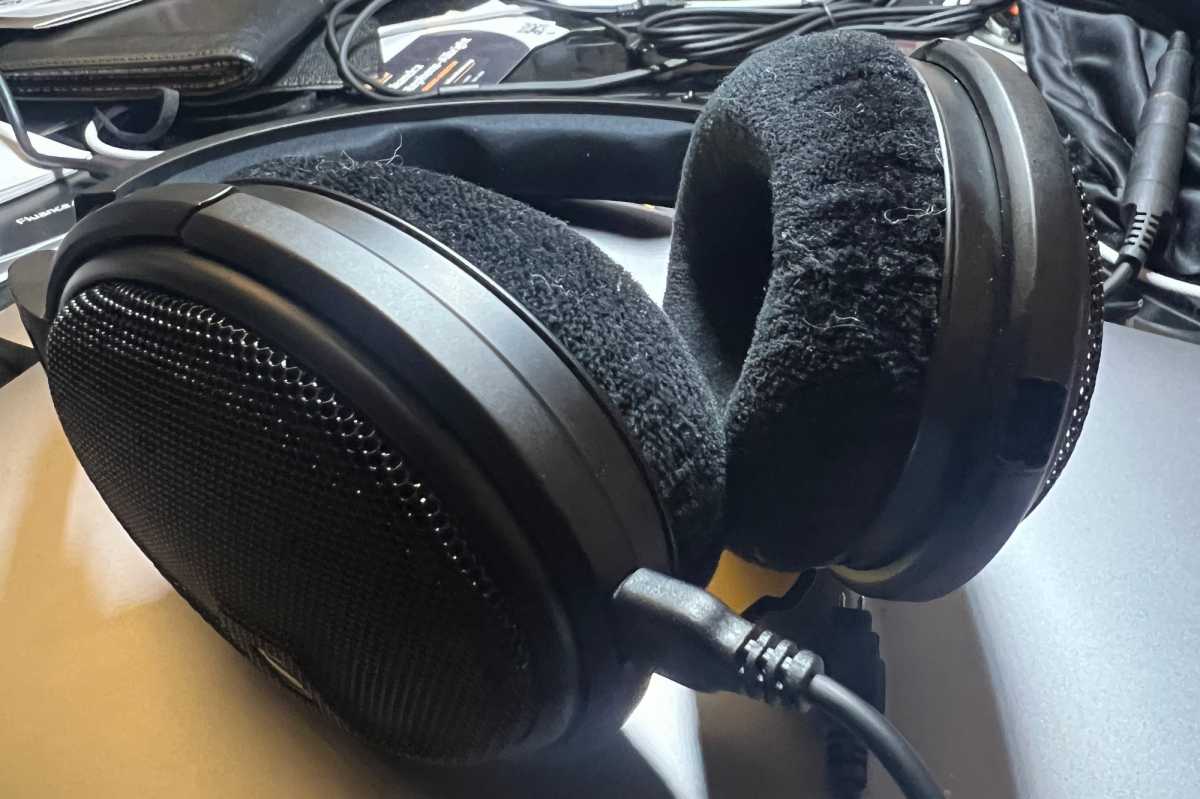 James Barber/Foundry
You can see the structure of the internal framing when you look through the HD 660S2's aluminum grille. Hold them up to a lamp and you'll realize that you can see light coming through the foam on the inside of the earcups. Open-back truly means open here.
The velour ear pads are comfortable, but they're not destined to last forever. As will be the case with almost any audiophile headphone, you'll need to replace them after a few years of regular use. The headphone itself is otherwise built to last for decades.
Listening to the Sennheiser HD 660S2
While I used this pair with a variety of devices over the past few weeks, I did my critical listening with Qobuz via an iFi Gryphon xDSD DAC plugged into an iPhone 13 Pro Max. If you're investing in a $600 pair of headphones, you'll want to aim a bit higher than listening to Spotify or YouTube.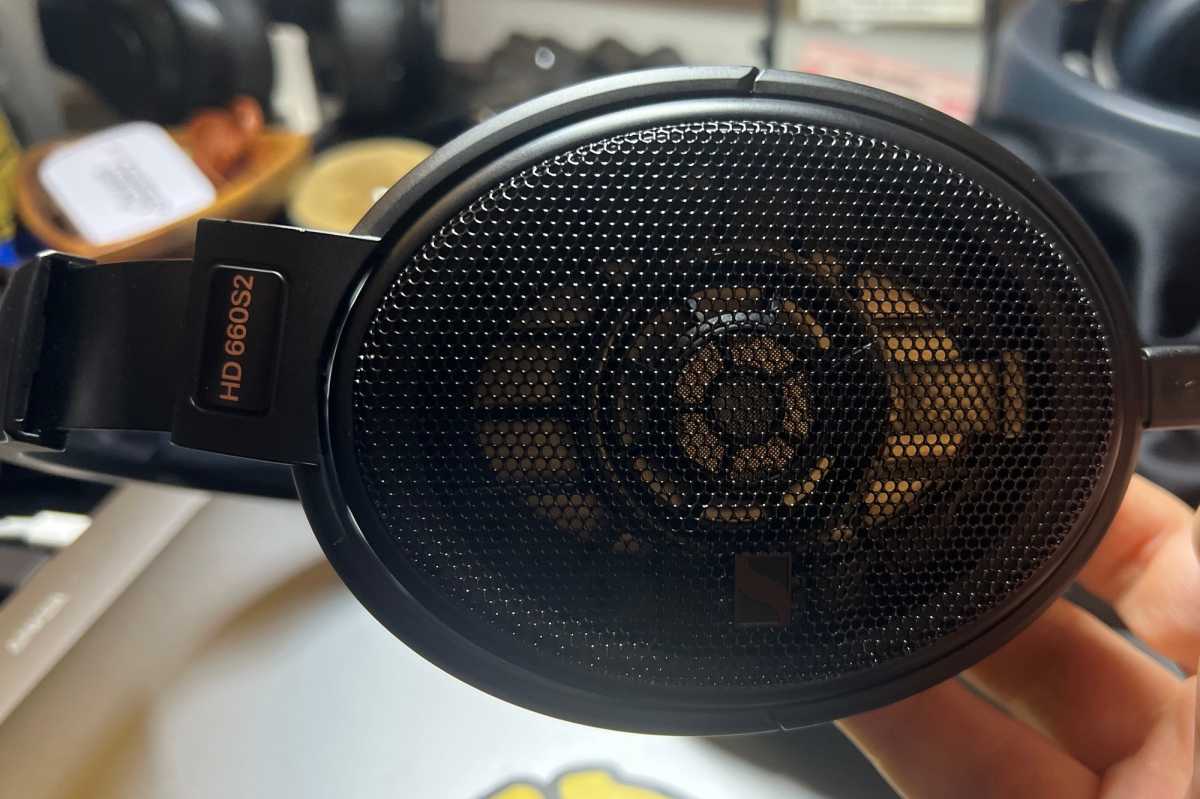 James Barber/Foundry
Listening to a 24-bit/44.1kHz stream of Oasis' 1994 album Definitely Maybe highlighted the strengths of Sennheiser's approach with these cans. When compared to the original HD 660S, listening to "Live Forever" with the S2 model featured a much-improved soundstage for the drums, more muscle in the rhythm guitars, and great definition for the song's myriad lead guitar parts. There's a burr in Liam Gallagher's lead vocals that's not noticeable with the original HD 660S. That burr might be slight distortion introduced by a slight dip in the audio levels in Liam's vocal register, but the effect is pleasant. Listening to guitar-driven rock was impressive across the board.
If you're a classical music fan, the discussion gets a bit more complicated. Listening to a 24-bit/192kHz stream of the 1968 recording of Gustav Mahler's Symphony No. 5 by the New Philharmonia Orchestra conducted by Sir John Barbirolli, the iconic trumpet solo that opens the first movement has better definition and detail on the original 660S, but the overall soundstage is superior on the 660S2.
The dip in the upper mids that makes guitar-driven music slam so hard and helps to fill out the low end comes with a tradeoff: If you're listening to a lot of music that's mostly acoustic or that emphasizes alto or soprano vocals, you might want to look to a different headphone.
James Barber/Foundry
When I first started listening to the HD 660S2, I felt as though that lack of detail would be a big issue for me. As I've spent more time with this headphone, I've come to appreciate the overall approach. As someone who listens to music in a wide variety of genres, I'd pick the HD 660S2 over any other headphone in the Sennheiser 6XX line.
I got consistently better performance when I used the balanced headphone cable with the 4.4mm connector than I did with the 1/4-inch cable with the 3.5mm adapter. It wasn't an overwhelming improvement, but it was good enough that users should make sure they use the balanced cable if their headphone amp supports that connection.
Is the Sennheiser HD 660S2 worth $600?
At this price, a significant portion of the market for the Sennheiser HD 660S2 will be headphone users who own multiple pairs and enjoy debating the minutiae of one tuning versus another. That's not how the overwhelming majority of listeners approach choosing a headphone, so there's a lot of noise to cut through when considering a model like this one.
I'd suggest that the HD 660S2 is the most musical of all the headphones in this Sennheiser line; it's a headphone designed to reach a broader audience than the company's other models. It's easier to relax and enjoy the experience of listening to an album with the Sennheiser HD 660S2, as opposed to listening and constantly analyzing how the headphone itself sounds.
That puts the 660S2 in an interesting place. They're the most expensive in the 6XX line, but they aren't built with the kind of materials that signal a luxury purchase for casual listeners. And unlike closed-back headphones, you can't lug them with you everywhere and enjoy them without annoying the other people in a public space.
I'll go so far as to compare the current debate over the Sennheiser HD 6602 to the mostly negative reception that Weezer's Pinkerton got upon its release in 1996. Now considered one of the most influential LPs of the 1990s—and one of the band's best, if you ask fans—critics and the general public heartily rejected the record at the time. Once the audiophiles get over their initial shock at the approach that Sennheiser took in designing the HD 660S2, I predict it will become one of the most celebrated open-back headphones of this era.
Best Prices Today: Sennheiser HD 660S2