At a glance
Expert's Rating
Pros
These speakers are particularly impressive in a home theater configuration
The Monolith Audition T5 tower and B5 bookshelf speakers also make excellent stereo pairs
Off-the-hook low prices for loudspeakers of this quality
Cons
There are no speakers in the Monolith Audition product line that have upfiring drivers for Dolby Atmos or DTS:X installations
The mid-range drivers and woofers are the same components (they just have different crossover points)
Each speaker must be hardwired to an A/V receiver or amplifier
Our Verdict
For the price of a high-end soundbar, you can have a home theater array that delivers a truly immersive and reliable listening experience—provided you can live without Dolby Atmos and DTS:X.
Price When Reviewed
As reviewed: Two Audition B5 bookshelf speakers, $124.99 each; two Audition T5 tower speakers: $249.99 each; one Audition C5 center speaker: $159.99. Total cost $909.95
Best Prices Today: Monoprice Monolith Audition B5
Monoprice—known for its value-based pricing model—continues its move into high-end audio with its new Monolith Audition line of loudspeakers, which offer incredible bang for the buck and work equally well in stereo pairs for critical music listening or as part of a surround system in a home theater.
Monolith Audition speakers are available in bookshelf, center-channel, and floor-standing tower configurations. We've been impressed with other products in Monoprice's Monolith line, including its turntables, headphones, subwoofer, and home theater amplifiers, and we found nothing to disappoint us here.
We reviewed the Monolith Audition 5-series (B5 bookshelf, T5 tower, and C5 center) speakers, evaluating the bookshelf and tower models as stereo pairs in addition to including them in a full home-theater setup with a Denon AVR-S660H A/V receiver (those speakers performed equally well in either configuration).
Each speaker features internally braced MDF cabinets covered with a black wood-grain PVC finish. Monolith also offers a slightly smaller and less-expensive Audition 4-series. Add one of the company's Monolith subwoofers (or any other quality sub, for that matter) and you can create your own 5.1 home theater setup with your favorite amp or A/V receiver (Monoprice also has its own line of amps and a more limited collection of receivers).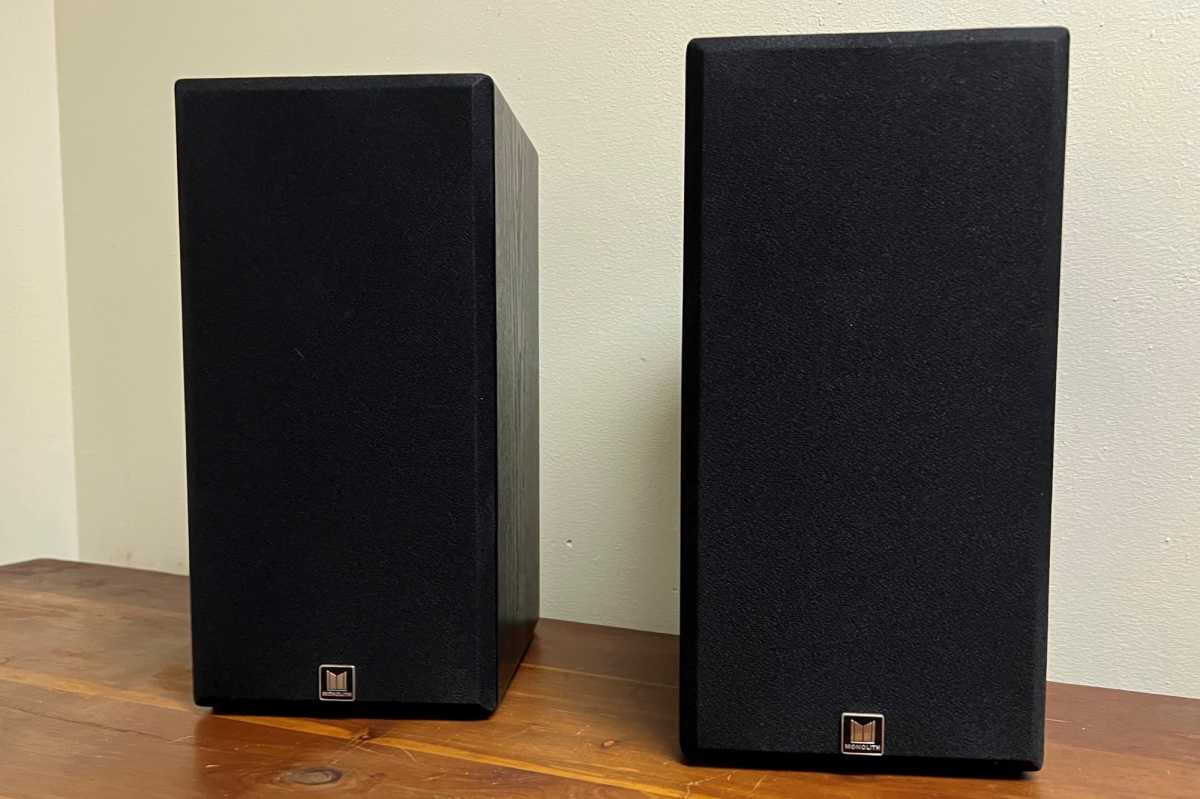 James Barber/Foundry
Monolith Audition T5 tower speaker
Monoprice Monolith Audition T5 tower speakers ($249.99 each) measure 35.4 x 6.5 x 9.8 inches (HxWxD) and weigh 23.4 pounds. There's a single 20mm silk cloth dome tweeter with a waveguide and a neodymium magnet, a 1 x 5.25-inch polypropylene cone with an NBR (nitrile butadiene rubber) surround mid woofer, and two woofers that share the same characteristics as the midwoofer. The speaker enclosure has a rear bass port near its bottom. Monolith says the speaker's frequency response is 48Hz ~ 20kHz and sensitivity is 86.9dB (2.83V@1m). The T5 tower speaker has a nominal impedance of 4 ohms and 5-way binding posts.
After I set up the T5 as a stereo pair with my home audio system, I'll admit that I didn't check my notes and spent a few days listening under the mistaken impression that they were $500 each instead of $500 a pair. There's a remarkable amount of bass performance from these speakers and I was ready to rave about them at $1,000. Monoprice has once again defied expectations with a product that performs at a level far above its price.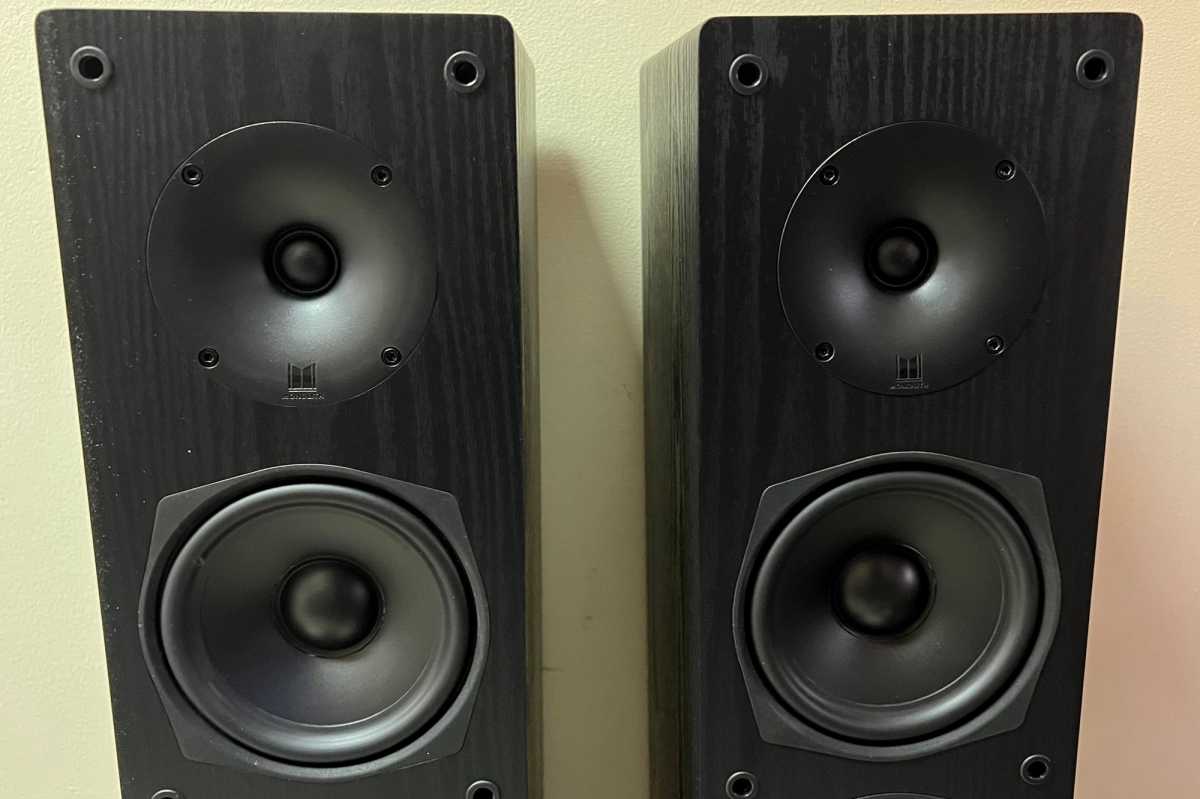 James Barber/Foundry
Monolith Audition B5 bookshelf speaker
Monoprice Monolith Audition B5 bookshelf speakers sell for $124.99 each. They're designed to be used as a stereo pair in an audio system or as the left- and right-hand surround speakers in a home theater setup.
The B5 measures 13.6 x 6.3 x 7.1 inches (HxWxD) and weighs 7.3 pounds. It has the same 20mm silk cloth dome tweeter and 5.25-inch polypropylene woofer that's used in the Audition T5 tower speaker. It also has a rear-facing bass port. The frequency response is 61Hz ~ 20kHz and sensitivity is 84.3dB (2.83V@1m). Like the floor-stander, this bookshelf model has nominal impedance of 4 ohms and is outfitted with 5-way binding posts.
I tested the Audition B5 with Monoprice's 32-inch Monolith cherrywood speaker stands, which have adjustable top plates. The stands sell for $79.99 a pair and were easy to assemble, featuring an adjustable spike option on the base and top-plate screws for proper alignment. Monoprice also offers wall-mount brackets for its bookshelf speakers.
The B5 speakers are an even more impressive stereo pair than the towers. If you're looking for a smaller pair of speakers to pair with an amplifier in an office or a den, these deliver impressive detail and a surprising amount of bass for their size.
Monolith Audition C5 center channel speaker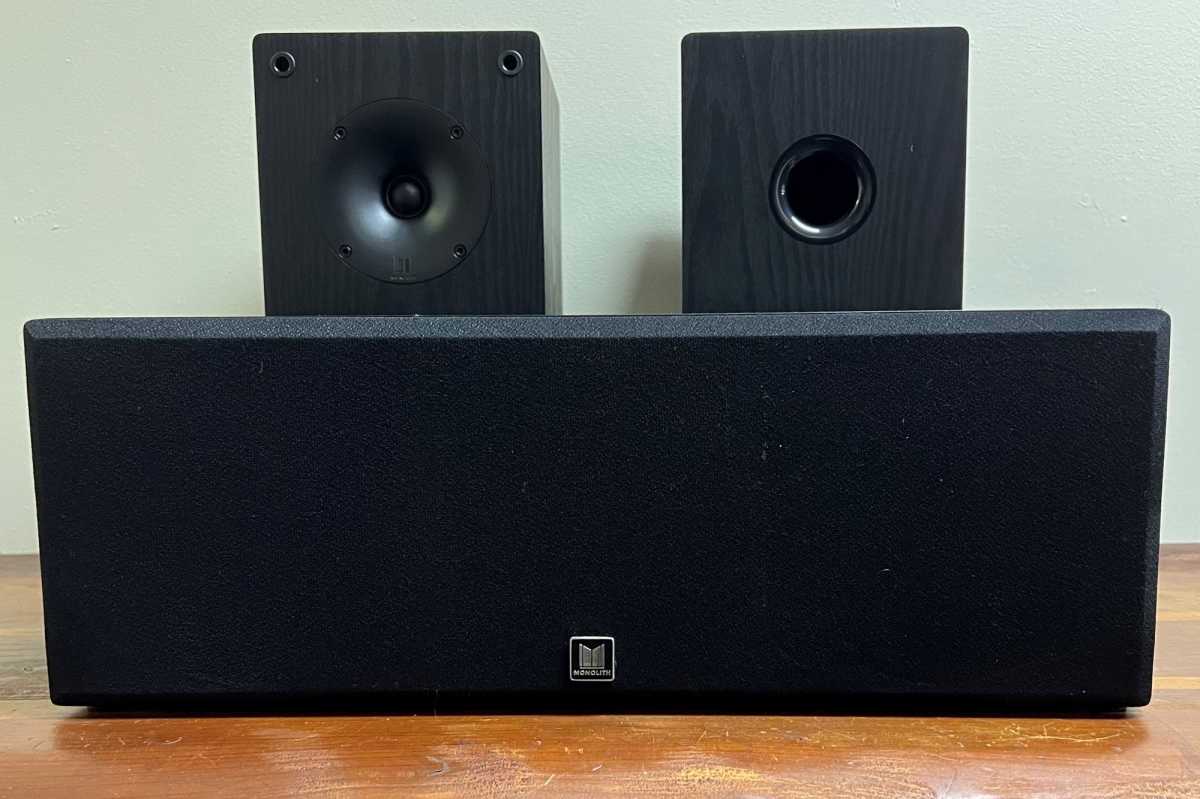 James Barber/Foundry
The $159.99 Audition C5 center channel speaker measures 7.1 x 18.7 x 6.3 inches (HxWxD) and weighs 10.8 lbs. That 7-inch height specification will give pause to anyone considering putting this speaker in front of a TV that's resting on a cabinet, since it might block the bottom of the TV's screen. If your TV requires a direct line of sight for its remote control to work, you might have a problem. Also, there are no integrated mount points on the speaker's enclosure, so you might need to come up with a creative solution if you have a wall-mounted TV.
The C5 center speaker has the same tweeter and mid-range (two of the latter) as the Audition 5-series tower and bookshelf speakers, but its rated frequency response is 73Hz ~ 20kHz (thanks to a different crossover settings) and its sensitivity is 86.7dB (2.83V@1m). Like the other speakers in the family, it has nominal impedance of 4 ohms, and it's outfitted with 5-way binding posts.
Monolith Audition speakers are strictly wired
As mentioned earlier, I tested the Monolith Audition 5-series speakers in a home theater setup anchored by the excellent Denon AVR-S660H receiver. That receiver supports the Dolby True HD and DTS-HD Master Audio 5.1 codecs used by Blu-ray discs, but it doesn't offer Dolby Atmos or DTS:X processing. Since none of the speakers in this collection have up-firing drivers, the receiver's limitation in that regard doesn't come into play. I also used a Monolith by Monoprice M-10 V2 10in THX Certified Select 500-watt subwoofer ($649.99) after first testing the speakers without it. That is a massive sub, the biggest I've ever used.
Most soundbar and subwoofer pairings on the market tout their wireless setup, and so do more and more surround systems. Setting up this Monolith Audition 5-series system culminated in a thicket of speaker wires running through my home theater space. There are definite advantages to a wired setup, but you will need to run speaker wire under rugs for the surround speakers, tape those wires to the floor, or—in an ideal situation—run plenum-rated wires through your walls (or drop them down inside your walls from the ceiling).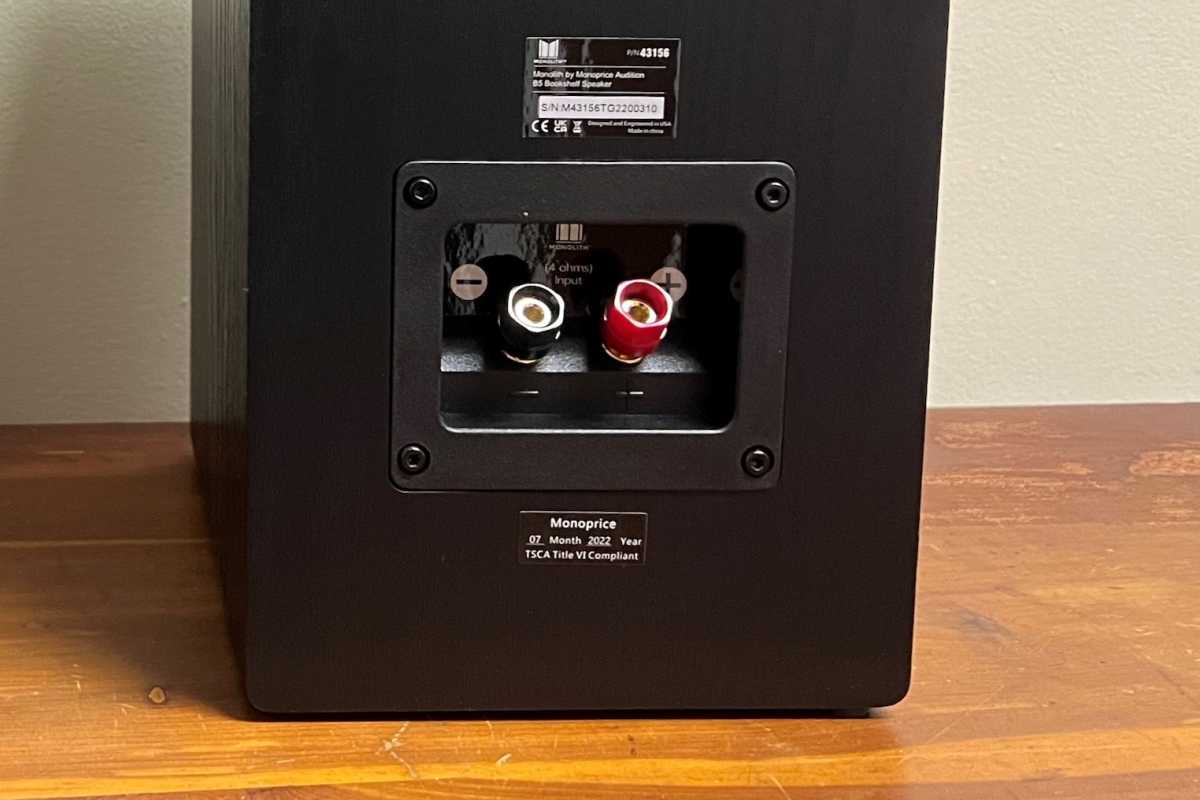 James Barber/Foundry
Using wires to connect loudspeakers to an amplifier or receiver is a time-tested and foolproof way to get a rock-solid audio connection. Once you hook everything up, there will never be a problem with a dodgy Bluetooth, Wi-Fi, or other type of radio-based connection. Those speaker wires will work for decades until you decide to clip the ends off to expose some fresh (non-oxidized) bare wire. There are advantages to the old ways, even if convenience isn't one of them.
Watching movies with Monoprice Monolith Audition 5-series speakers
While there's a lot of heat about Dolby Atmos in the home theater world, not everyone has the type of ceiling conducive to that format. Some readers might think a 5.1 system like the one we're discussing here might be outdated. They'd be wrong.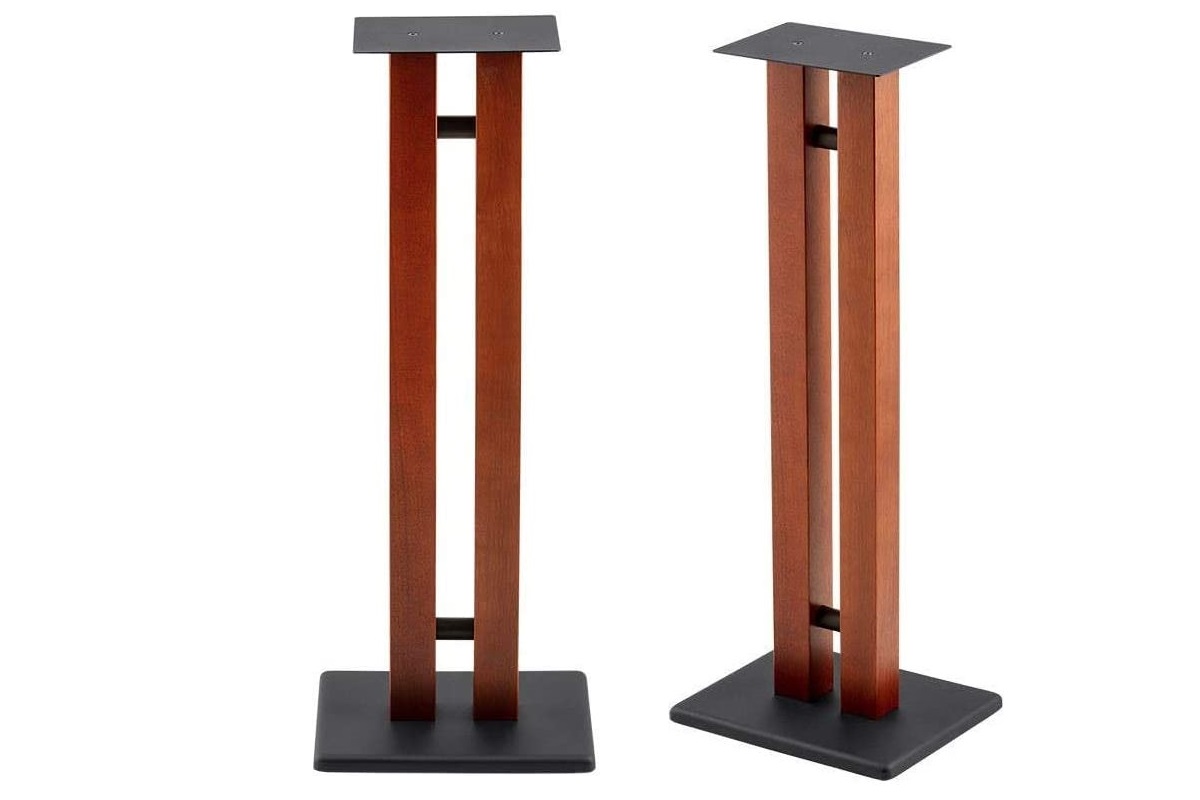 Monoprice
Watching a 4K stream of Black Panther: Wakanda Forever (with a Dolby Atmos mix) via iTunes was spectacular, especially when compared to almost every soundbar with Dolby Atmos DSP that I've tried. The best soundbars do an excellent job of creating an Atmos effect, but they are nowhere near as immersive as the experience of having wired rear speakers as part of the system.
My Denon receiver translated the Atmos stream into an excellent 5.1 mix, and the sense of movement and object placement via the speakers was outstanding. Plenty of surround systems skimp on the actual speaker quality, so it's a bit of a shock to hear speakers this good employed in a home theater system.
Should you invest in Monoprice Monolith Audition 5-series speakers?
If you're just looking for stereo playback, a pair of Monolith Audition T5 floor-standing speakers at $500, or a pair of B5 bookshelf speakers at $250, are excellent and well-priced choices. The B5 speakers are an especially great value, but both the B5 and the T5 deliver surprising detail for the cash. For less than $2,000, you can buy five Monolith Audition speakers, a subwoofer, and a high-performance A/V receiver that will deliver far better sound than almost any soundbar. You'll need to commit to having speaker wires in your space and figuring out a way to keep them from getting underfoot, but the payoff will be worth it for anyone who isn't committed to having a low-profile or wireless setup.