At a glance
Expert's Rating
Pros
Better-than-expected audio performance–when listening indoors
Bluetooth 5.2 onboard, including multipoint connection
aptX and AAC codec support
Cons
Outdoor audio performance is in line with its low price tag
Unimpressive active noise cancellation
Subpar touch controls
Price When Reviewed
$89.99
Best Prices Today: EarFun Air S
Judged by specifications alone, you'd think the Earfun Air S true wireless earbuds would cost substantially more their $90 list price. They use Bluetooth 5.2, support the aptX and AAC codecs for higher-resolution audio, promise active noise cancellation (ANC) to reduce ambient environmental noise, and are rated to last 6 hours on a charge.
Wise shoppers, however, know not to buy a product based on specifications alone. The good news is that these affordable buds deliver the essentials: They're handsomely designed and comfortable to wear. They're also capable musical performers—at least when you're indoors. In a relatively sedate setting, the Air S deliver well-articulated sound with whistle-clean highs, a warm and willing midrange, and a reasonably hefty, reasonably well-defined bottom end.
Wear them outdoors, and their performance falls more in line with their price tag. More on that in a bit.
The EarFun Air S offer a strong feature set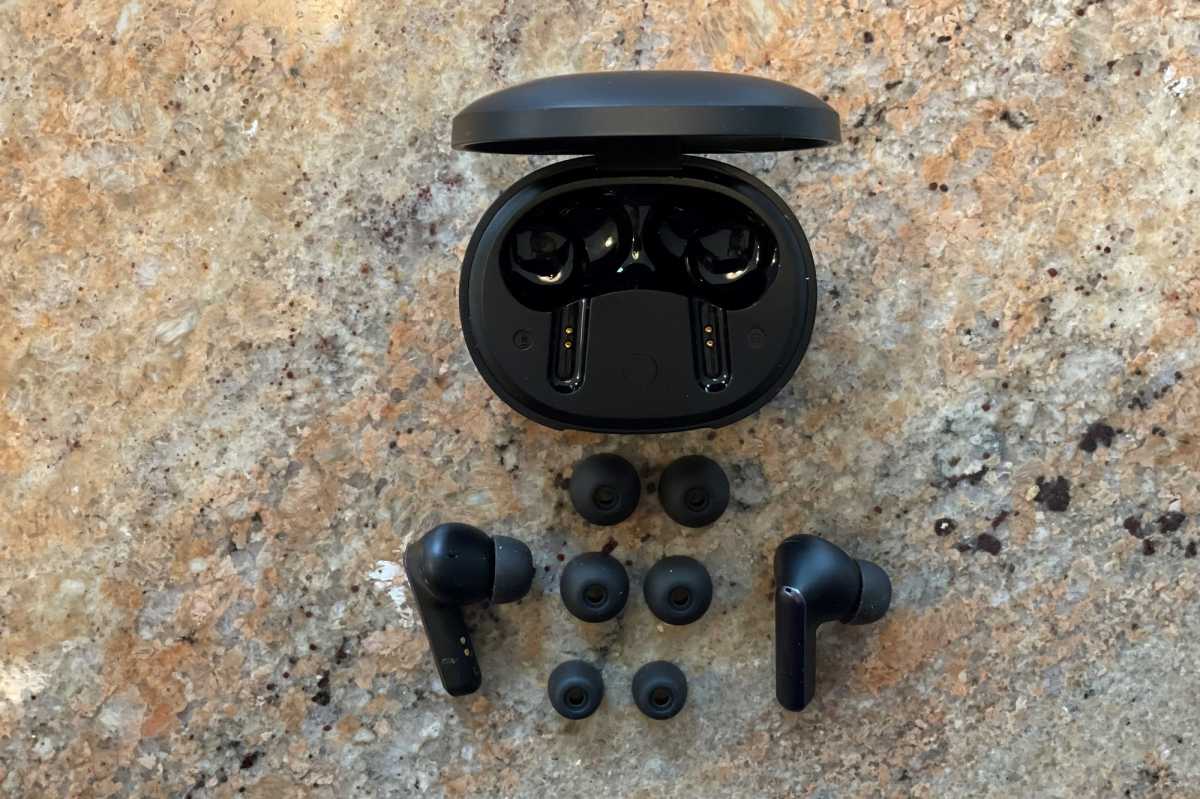 Jonathan Takiff/Foundry
EarFun would like shoppers to compare its Air S to such higher-priced headphones as the Apple AirPods Pro (second generation) and the Sennheiser Momentum True Wireless 2. And on paper, at least, the Air S holds up well against that competition. Support for Bluetooth 5.2, for instance, adds multipoint connection, so you can pair the earbuds with two devices—a smartphone and a computer, for example—and instantly switch between the two audio sources.
This review is part of TechHive's in-depth coverage of the best noise-cancelling headphones.
Gamers will appreciate the headphone's low Bluetooth latency: less than the 100-millisecond threshold that the typical person's ears can detect. Take note, however, that enabling low-latency mode reduces the range over which the signal can travel.
A weatherization rating of IPX5 indicates that the EarFun Air S can withstand mild water jets, so they should be entirely protected from rain or sweat, but the manufacturer makes no claim for protection from particulate matter (that explains the X in the IP code. You'll find everything you need to know about IP codes at the preceding link.) Buyers should also take note of the warning to wipe dry the earbuds' exposed metal contacts before returning them to their charging case.
During my evaluation, the EarFun Air S delivered middle-of-the-road battery life of about 5.5 hours with ANC turned off. That's slightly lower than the 6 hours EarFun promises. But you can recharge the buds four times by returning them to their charging case. The case itself supports wireless charging (a feature once reserved for higher-priced products) or you can plug a USB-C cable into it. Go the wired charging route with depleted earbuds in the case, and you can get two hours of listening after just 10 minutes.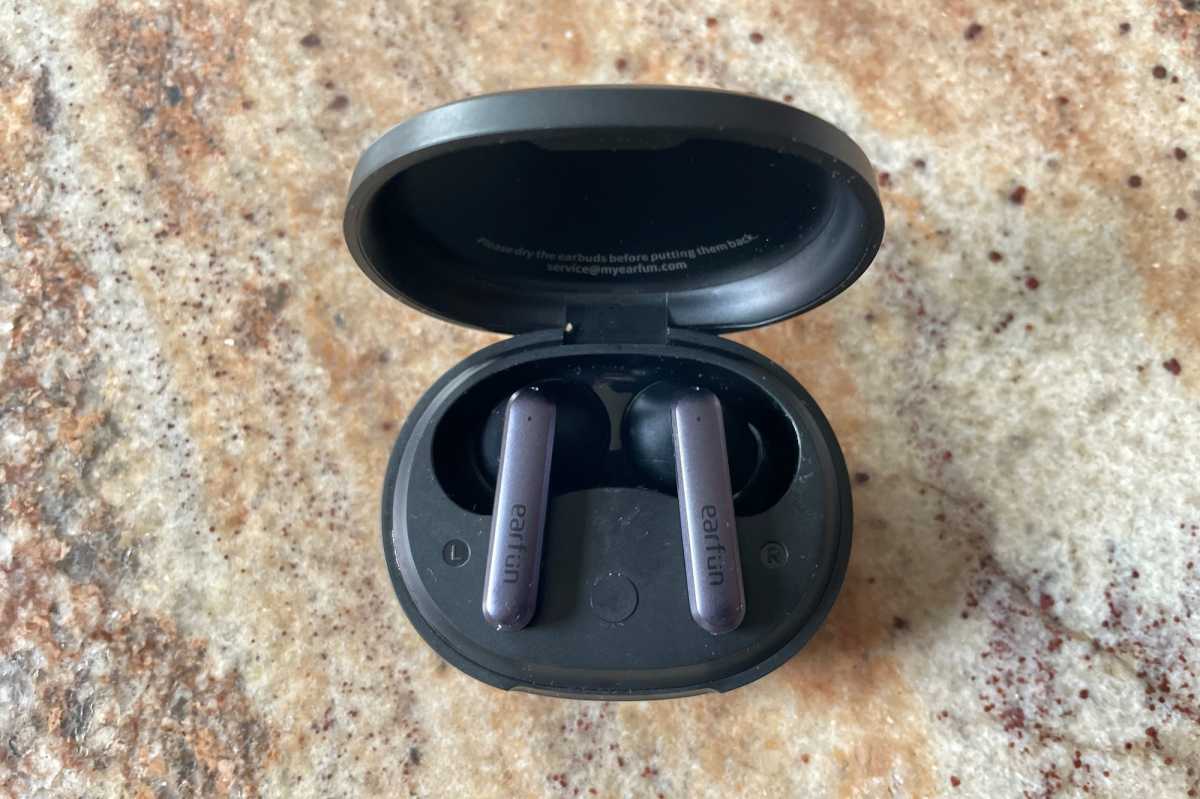 Jonathan Takiff/Foundry
Judging the EarFun Air S audio performance
The feature that intrigues me most about these buds is their uncommon 10mm wool composite dynamic drivers. Awareness of this woven fiber construction plants the subliminal thought that the Air S deliver a warmer sound than most, but that material is not just a gimmick. These earbuds deliver sweet, even-tempered sound with all kinds of music.
They make the most of everything from the sometimes slamming, sometimes achy-breaky alt rockers Paramore (loving their new set This Is Why), to the ever-thumping Latinx superstar Bad Bunny, to jazz keyboard master Brad Mehldau's recasting of The Beatles' most interesting tunes on the gorgeous solo piano package Your Mother Should Know.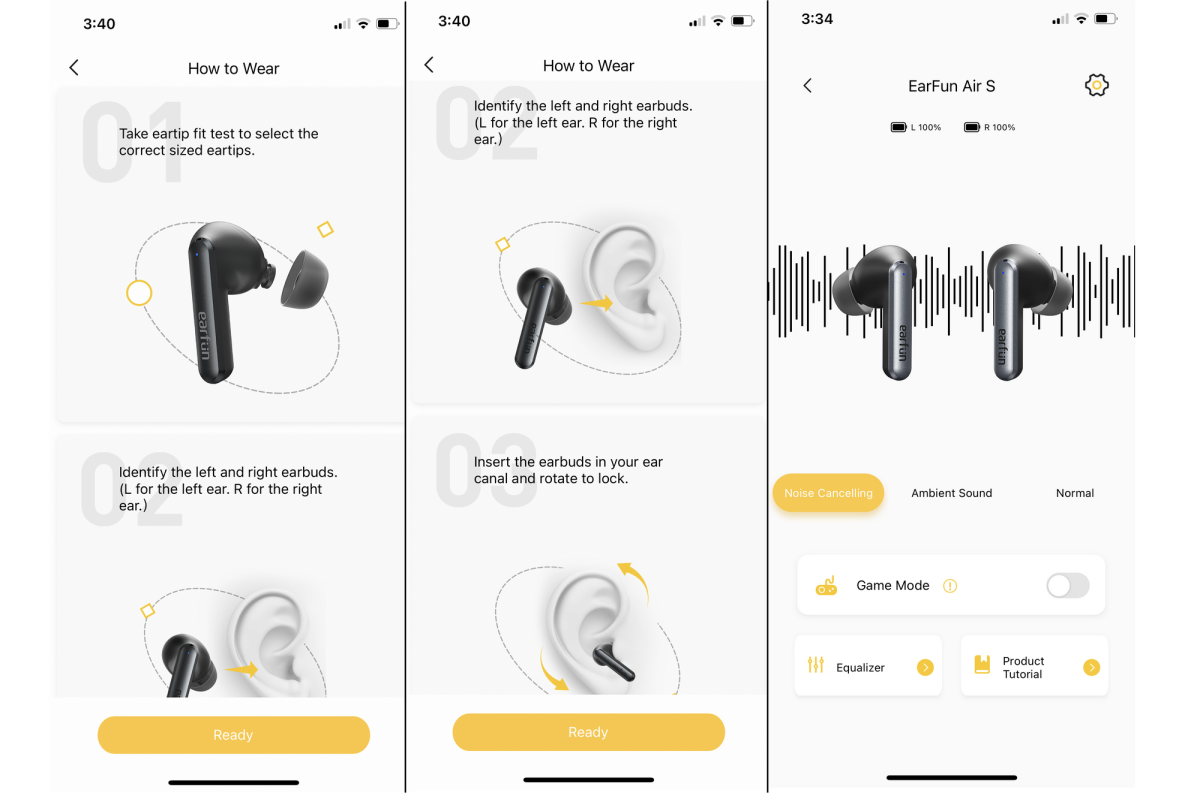 Jonathan Takiff/Foundry
I've been enjoying the Air S's dual fit/dual personality while listening indoors. Placing them lightly—as in half-way—into my ears accentuates the clarity of the mid- and high-frequency-ranges, while recessing the bass just a tad. I've preferred this mode for background listening—times when I need to focus on other things. This positioning is also less fatiguing and makes for a fit so comfortable I can wear them until the batteries run dry.
When you crave a more engaging relationship, follow EarFun's directions to insert these buds into your ears and then twist the stem tips forward to achieve a tighter seal. The Air S's personality shifts: The music grows more intense and the bass kicks up with a vengeance.
Are the EarFun Air S good earbuds for traveling?
As I've already hinted, the Air S listening experience is diminished when the buds are worn outdoors. They just can't match the sort of isolation-chamber detachment and big bold sound that a top-notch—and much pricier—set of earbuds can deliver. I'm talking about headphones such as the Bose QuietComfort Earbuds II or second-generation Apple AirPod Pros I reviewed recently (you'll find a link to my in-depth comparison at the preceding link).
For starters, the Air S have unimpressive active noise cancellation. While riding on a crosstown bus, the ANC damped some, but hardly all, of the bus's engine rumble. Qualcomm, which manufactures the chipset in use here, says its processing cuts noise by 30dB, but I'm not buying it. Turning on ANC did almost nothing to squelch the sound of other patrons talking in a coffee shop. And when I went on walks, the earbuds would amplify the buffeting sound of a breeze blowing past my ears.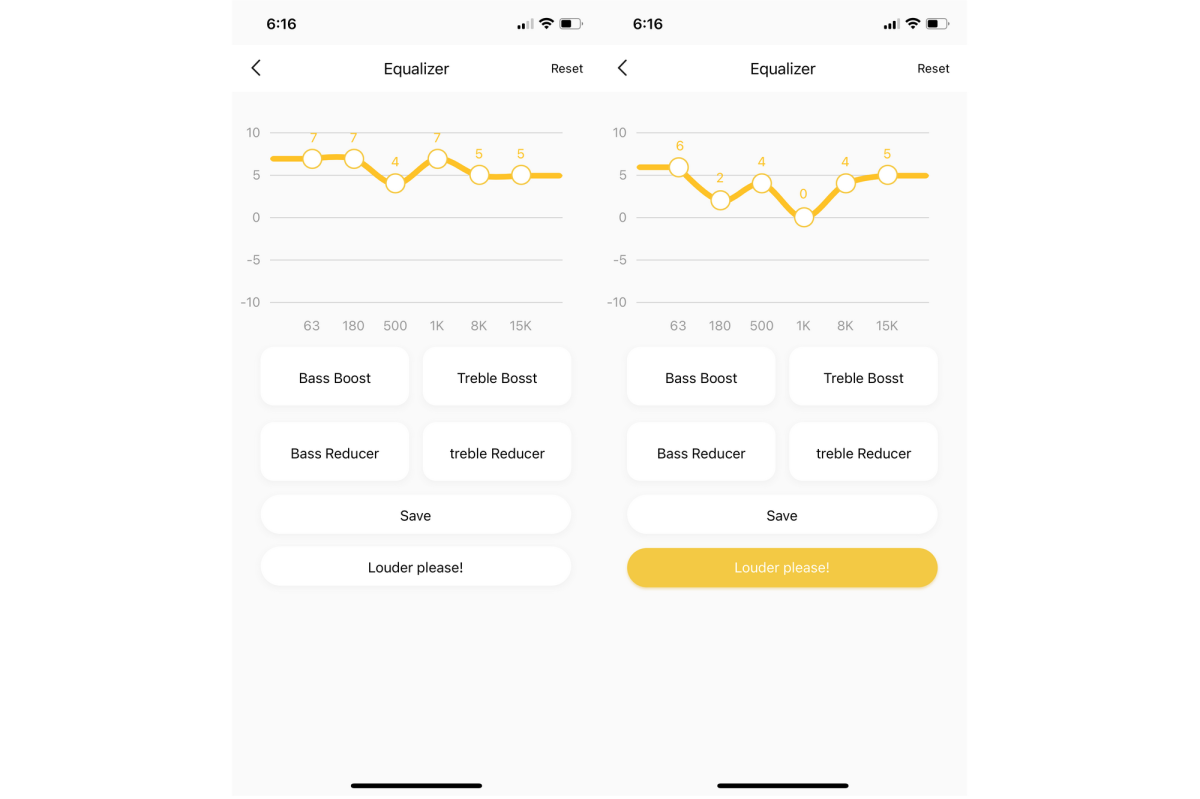 Jonathan Takiff/Foundry
To get the best performance from the EarFun Air S, I would suggest users switch to the least-invasive "normal" sound setting and rely on passive noise reduction. And when you insert them into your ears, push and twist them into place extra firmly to achieve the tightest possible fit. But these fixes work only to a degree, and only for a while.
As the buds warm up in your ears, their silicone ear tips will become more pliable, and you'll lose some of the seal that blocks outside noise. I don't have sweaty ears, but this kept happening to me no matter which size tip—small, medium, or large—I used. Perhaps EarFun should add an extra-large tip to the package? Or use stickier silicone?
The ear-modeling curvature of the Air S enclosures contributed to the problem as well. That design didn't hold the buds in place while bouncing down the block—at least not in my ears. A set of ear hooks would probably help with this issue.
Physical controls on the EarFun Air S
EarFun bit off more than it can chew in the controls department. Typical of stem-style earbuds, there are touch-sensitive controls on the out-facing surfaces. But those surfaces are either too sensitive or not sensitive enough to register my fingers. I was still having problems controlling the earbuds by touch after three weeks of evaluation. Single taps (for volume up/down and summoning my phone's voice assistant) too often register as double taps, while double taps (for pause/play and answering phone calls) are sometimes misinterpreted as triple taps (play the next track or turn game mode off and on).
There's also no in-ear detection feature. The music keeps on playing even after I've removed both buds from my ears—unless I return them to their case. In the end, I found it far less frustrating to pull out my smartphone and launch the perfectly responsive EarFun app—at least when I wasn't jogging.
A case of "you get what you pay for"
If you're looking for moderately priced earbuds for listening indoors, and you can live with a few flaws, the EarFun Air S deliver good sound for a low price. Just remember the idiom "you get what you pay for."