At a glance
Expert's Rating
Pros
Excellent 2K video quality
Can track people's movements
Many AI add-ons available to customize event detection
Cons
Must subscribe to SpotCam's cloud plan for more than one day of video history
Must log in to SpotCam's web portal to download or share video clips
Our Verdict
The SpotCam Eva Pro is an affordable 2K camera with excellent image quality and lots of flexibilty to customize monitoring to your needs.
Price When Reviewed
$74.00
Best Prices Today: SpotCam Eva Pro
SpotCam's Eva Pro is essentially a higher-resolution version of the company's Eva 2 indoor camera, which we reviewed in late 2020. The Eva Pro captures eye-popping 2K video, improving on the Eva 2's more standard 1080p, and bumps up the price accordingly. In just about every other regard, however, the two cameras are identical.
The Eva Pro has a snowman-style body similar to the Eva 2, but the bottom half is a bit more squat which may give it a sturdier base for freestanding on shelves and tables. As with the Eva 2, it can pan 360 degrees and tilt 90 degrees, it supports night vision and two-way talk, and it includes a built-in siren. It also works with Amazon Alexa, Google Home, and IFTTT.
This review is part of TechHive's in-depth coverage of the best home security cameras.
To set up the camera, you need to download either download the SpotCam app on your mobile device or log in to MySpotCam.com from a computer. The first method is more straightforward, involving a few app-prompted steps to log in to your Wi-Fi and connect to SpotCam's cloud servers. The whole process took me less than 5 minutes to complete.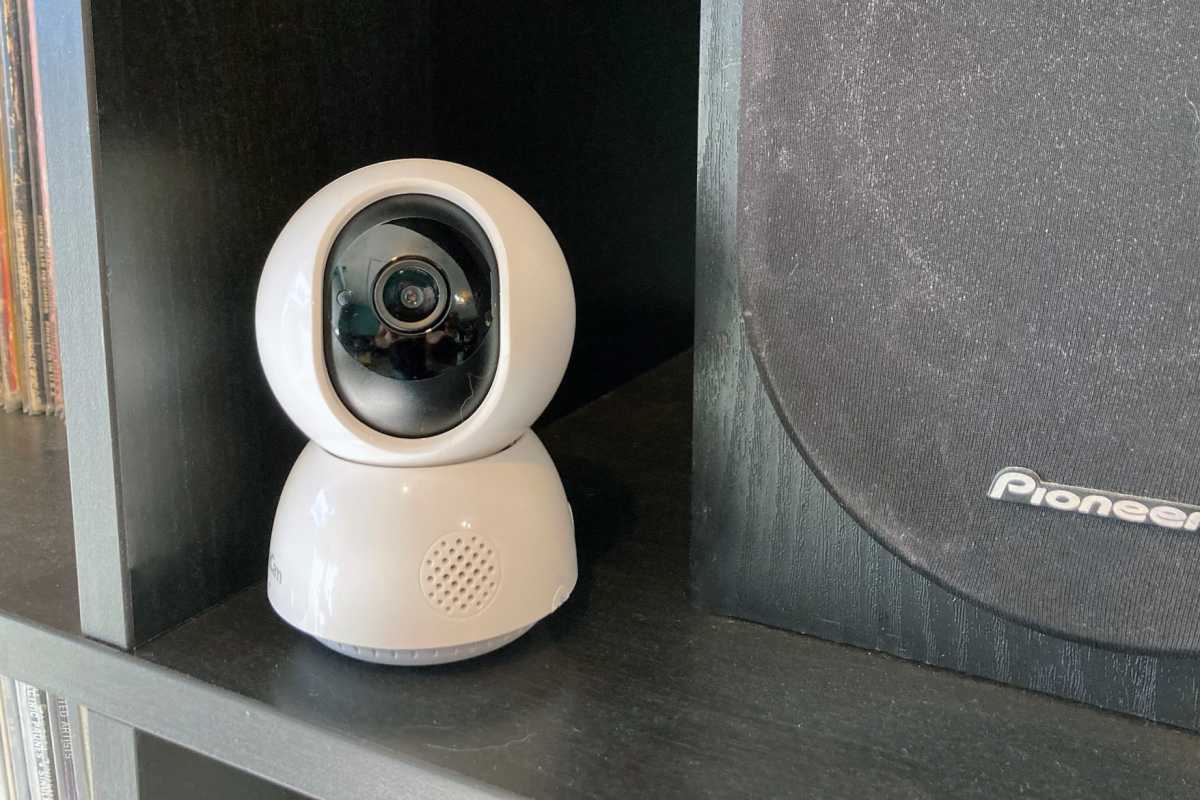 Michael Ansaldo/Foundry
The SpotCam app has changed a little over the years, but that's not a bad thing as it has an attractive interface that's intuitive to use. Selecting the Eva Pro from the home screen launches the live feed with basic camera controls below it. These include speaker mute, buttons for recording video and taking snapshots of the live feed, and a 30-second rewind. There's a timeline under the toolbar you can use to scrub through video. Lining the bottom are buttons for viewing event-detected video clips, activating the microphone, and returning to the live feed.
The quality of both live and recorded video was outstanding in daytime lighting conditions during my testing. Black-and-white night vision, which can be turned on manually or set to switch on automatically in low light, provides about 30 feet of illumination. The video I captured in this mode was evenly lit and tack sharp.
While live-streaming video, you can pan and tilt the camera by swiping the screen or using the directional pad that appears when viewing in landscape mode. The camera responds to input almost instantaneously and is virtually silent when rotating. There's also an Auto Pan option that triggers the camera to do a complete horizontal sweep of the room, and a Patrol option that rotates the camera between up to four waypoints that you set. The most useful, though, is Human Tracking; when enabled, the camera locks on to any person it detects in its field of view and follows their movements.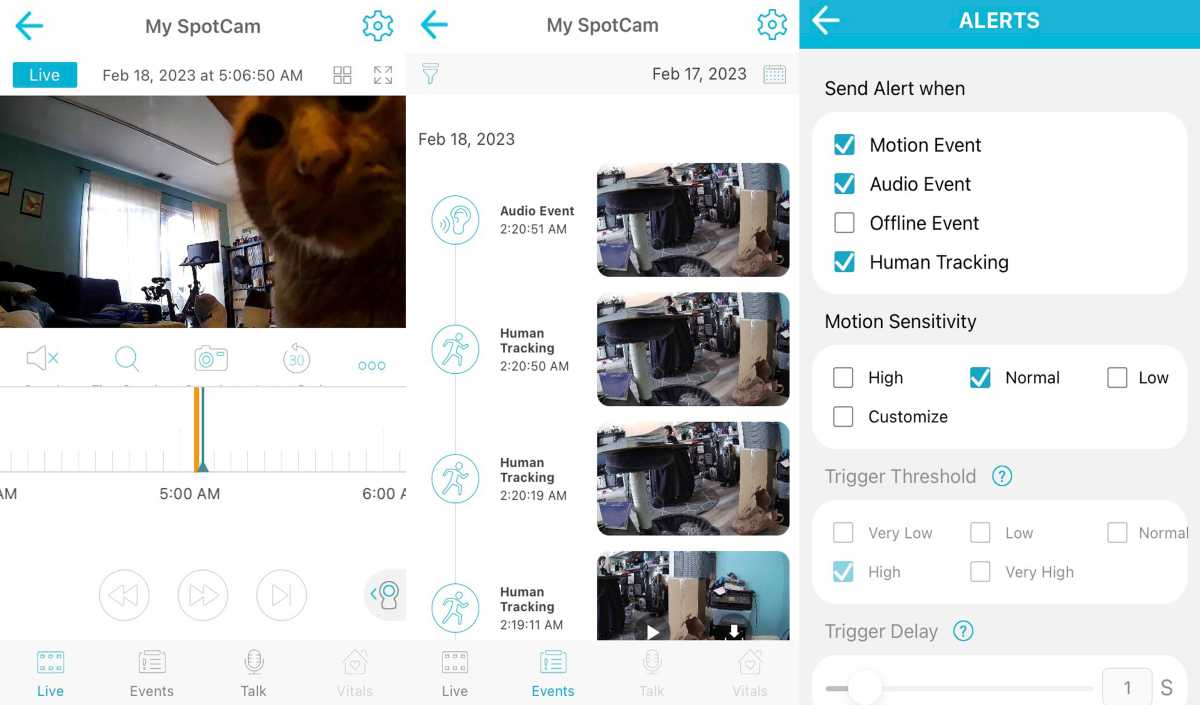 Michael Ansaldo/Foundry
The camera offers general motion, human, and audio detection and alerts out of the box, but additional AI services–such as pet detection, fall detection, virtual fencing, face recognition, and others–must be purchased separately. These run between $4 and $10 per month, depending on the package; discounted annual subscriptions are available.
All captured video is stored in the cloud. The camera comes with SpotCam's Free Forever plan, which gives you a one-day rolling video history, but you must activate it in the app to start capturing event-triggered clips. If you want to view more than a single day's worth of recordings, you can upgrade to a paid plan. SpotCam now offers eight storage plans ranging from three days of recording for $3.95 a month to 365-day recording for $69.95 a month.
SpotCam's approach to recorded video is still quirky, though. You can view video clips in the app, but you can't download them directly. Instead, a separate video is created and exported to a tab called My Film on the MySpotCam.com web portal. To view it, you must log in to the portal and select the clip. From there, you can download it to a local drive or share it on YouTube, Facebook, or via email. Depending on how often you plan to share video, that extra step can be a minor annoyance or a major inconvenience.
That little idiosyncrasy aside, the Eve Pro is a capable camera with outstanding video and plenty of AI add-ons to customize it to your needs. Whether you're looking for a general security solution or simply a camera to keep tabs on your baby, pet, or elderly parent, it's worth a look.
Best Prices Today: SpotCam Eva Pro