At a glance
Expert's Rating
Pros
Won't damage your eardrums
Allows for excellent situational awareness
Waterproof (IP67)
Cons
Not designed for critical listening
Not very good for phone calls
Too difficult to tactilely discern between the "+" and "-" buttons
Our Verdict
If you exercise outdoors and don't want to close yourself off from your surroundings, the Philips TAA6606 bone conduction sports headphone lets you listen to music or podcasts with great situational awareness and no wear and tear on your eardrums.
Price When Reviewed
$149.99
Best Prices Today: Philips TAA6606
The Philips TAA6606 bone conduction Bluetooth sports headphone make it easy to listen to music while you're running or engaging in other types of exercise, but audio performance takes a backseat to two other goals: Ensuring a secure but comfortable fit even while you're moving around, and maintaining situational awareness while outdoors.
Unlike conventional on-ear, over-ear, or in-ear headphones, you wear the Philips TAA6606 like a laurel around the back of your head, wrapping hooks over the tops of your ears. Rather than positioning speakers outside or inside your ear canal, a bone conduction headphone such as this rests its speakers in front of each ear and transmits sound through the bones in your skull.
This design leaves your ears completely unimpeded from hearing sounds in your environment, which is great for hearing what's going on around you, but it doesn't deliver great audio reproduction.
Philips TAA6606 industrial design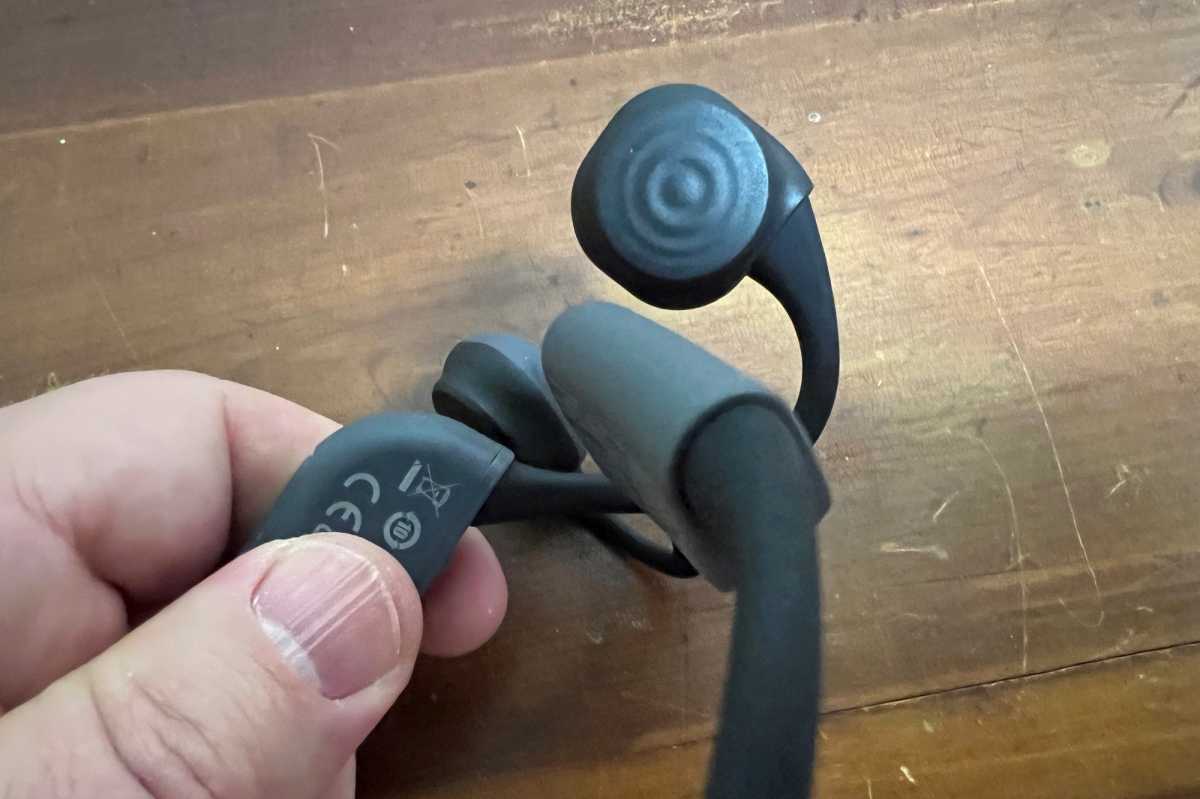 James Barber/Foundry
The TAA6606 feature a lightweight titanium frame wrapped in rubber. A weatherization rating of IP67 means the headphone is entirely protected from dust and that it can be immersed in up to 1 meter of water for as long as 30 minutes. You probably wouldn't want to go swimming with it, but sweat, rain, and a cleanup session under the faucet won't cause problems.
This review is part of TechHive's in-depth coverage of the best headphones.
The right-hand arm of the TAA6606 has a USB-C charging port, a power button on the bottom, and volume controls ("+" and "-") on the top. Long presses of the volume controls moves up and down your playlist. LED safety lights adorn the backs of both the left- and right-hand arms to help you be seen from behind. These can be set to a glow steadily or they can blink, fast or slowly. The lights aren't bright enough to replace reflective gear, but they can help alert a driver or bicyclist approaching you from behind and they might keep you from getting run over.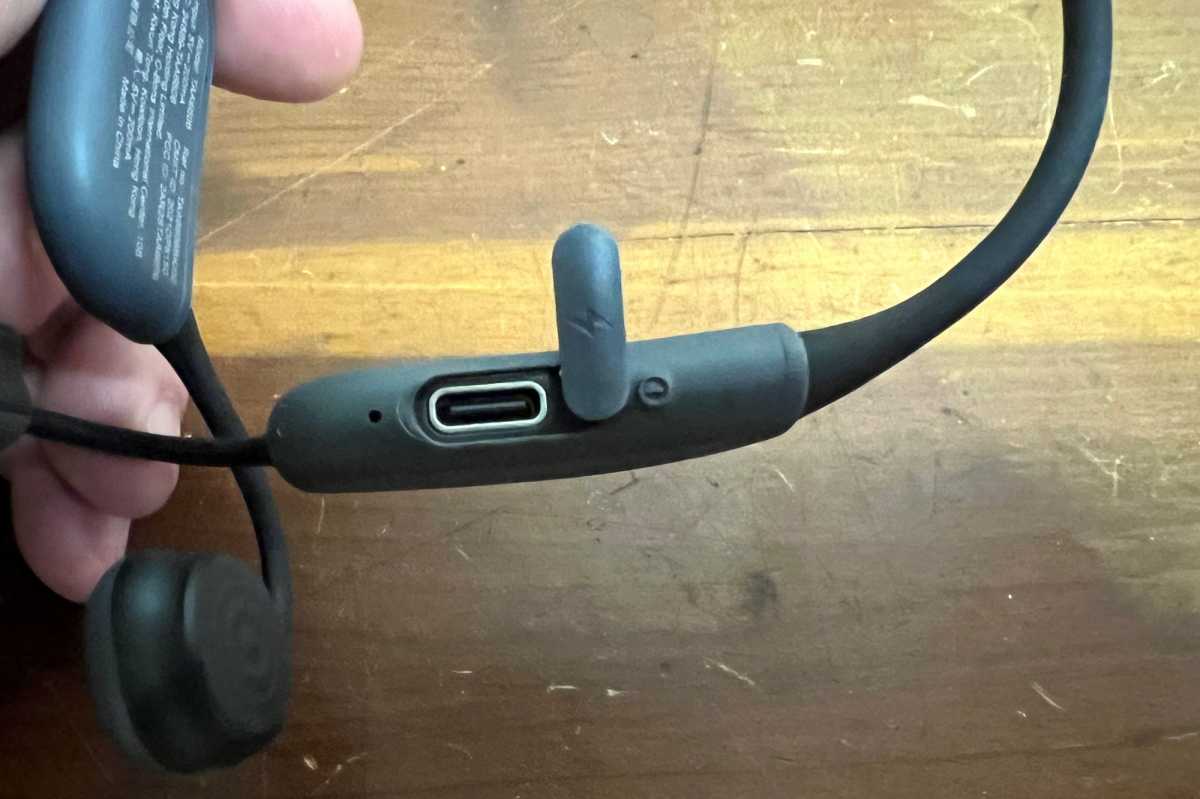 James Barber/Foundry
The headphone's speakers rest on your skull, just in front of your ears and above your jawbone. A multifunction button on the left-hand speaker controls play and pause with a short press. This same button answers phone calls with a short press, rejects them with a long press, and switches between calls with a double press. This button has a satisfying click and is very easy to use.
The power and volume controls, on the other hand, are tiny and difficult to use. Even though "+" and "–" are embossed on these buttons, the indicators are so small that it's almost impossible to feel the difference between the two.
The Philips TAA6606 comes with a cloth carry pouch, a USB-A-to-USB-C charging cable, foam earplugs, and an instruction manual with pictures but no words (a more complete user manual is available online).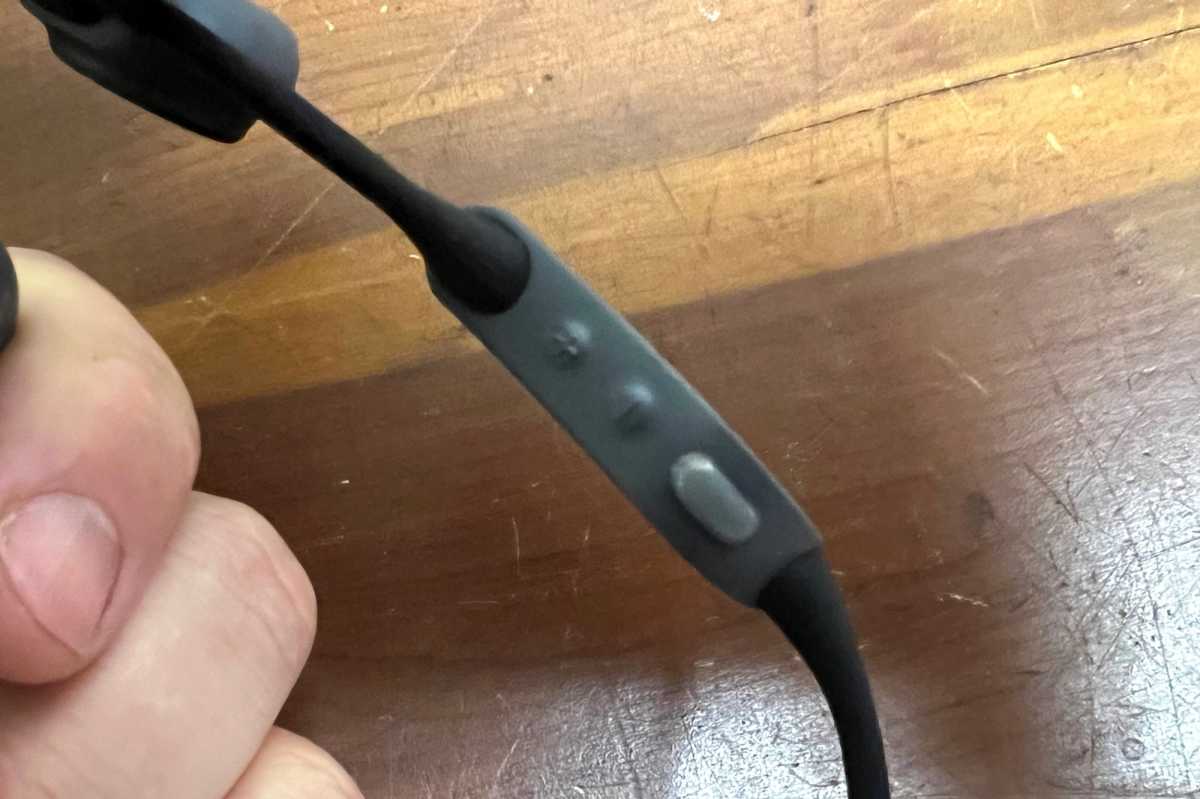 James Barber/Foundry
Bone conduction headphones enhance situational awareness
The biggest advantage of a bone conduction headphone is the way in which they enhance the wearer's situational awareness. They don't block your ears, so you should be able to hear traffic and react quickly to any danger. They can be disconcerting at first, especially if you're accustomed to wearing earbuds. The music is playing in your head, but you can also hear everything around you, as if the source of the music was a speaker across the room.
Bone conduction headphones offer another safety feature: They won't damage your hearing. There's nothing aimed directly at your eardrums, and you won't suffer ear fatigue during long listening sessions.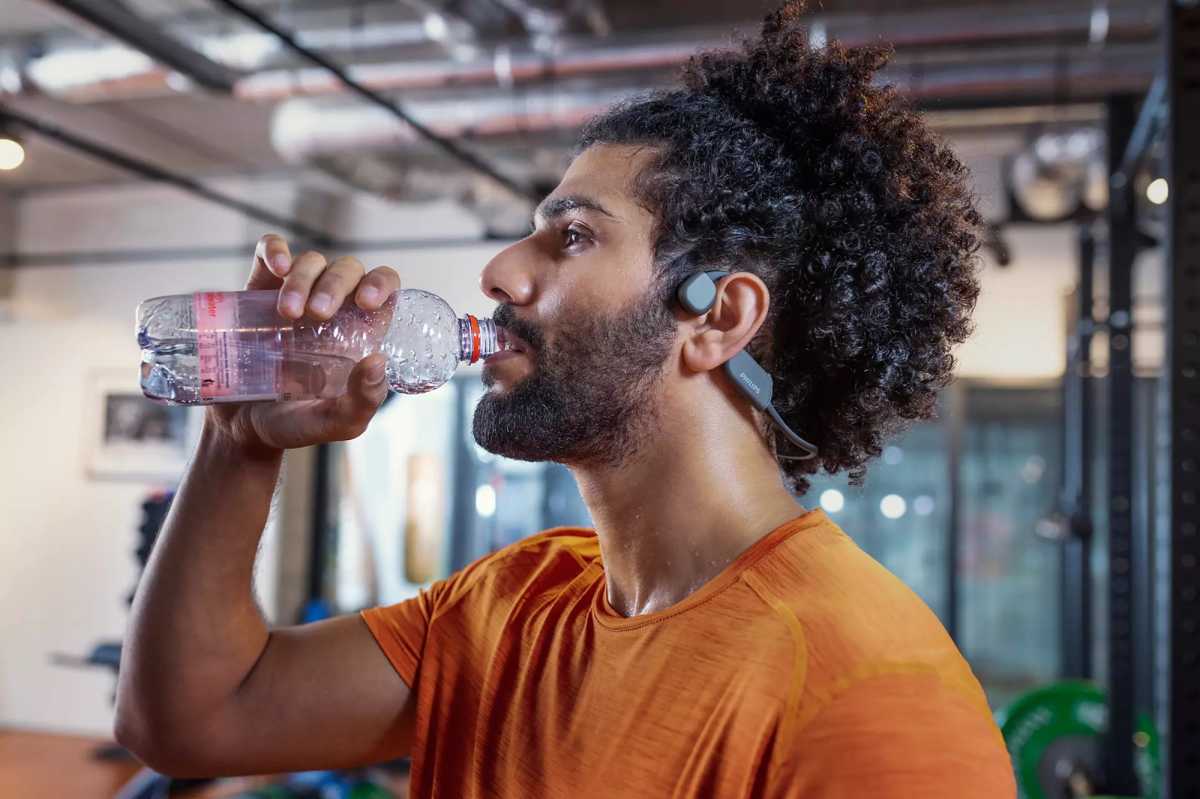 Philips
The Philips A6606 headphone rests on your face, and the more they vibrate, the more sound leaks out. There's no way you could hope to wear them in an office environment, and you might even annoy someone sitting next to you on an airplane, subway, or bus. These are for solo use only.
Philips TAA6606 audio performance
This is where we have to throw out most of the criteria we use when evaluating earbuds and headphones. The Philips TAA6606 only support the basic SBC Bluetooth codec, but because of the way their speakers work, it wouldn't matter if they supported a higher-resolution codec such as LDAC or aptX HD.
Let's just say you can hear the music when using this headphone. It's tinny and not much better than what you'd get from a pair of $19.99 wireless earbuds you'd pick up at a convenience store. Those go in your ears, of course, and don't use the bone conduction technology that differentiates these headphones.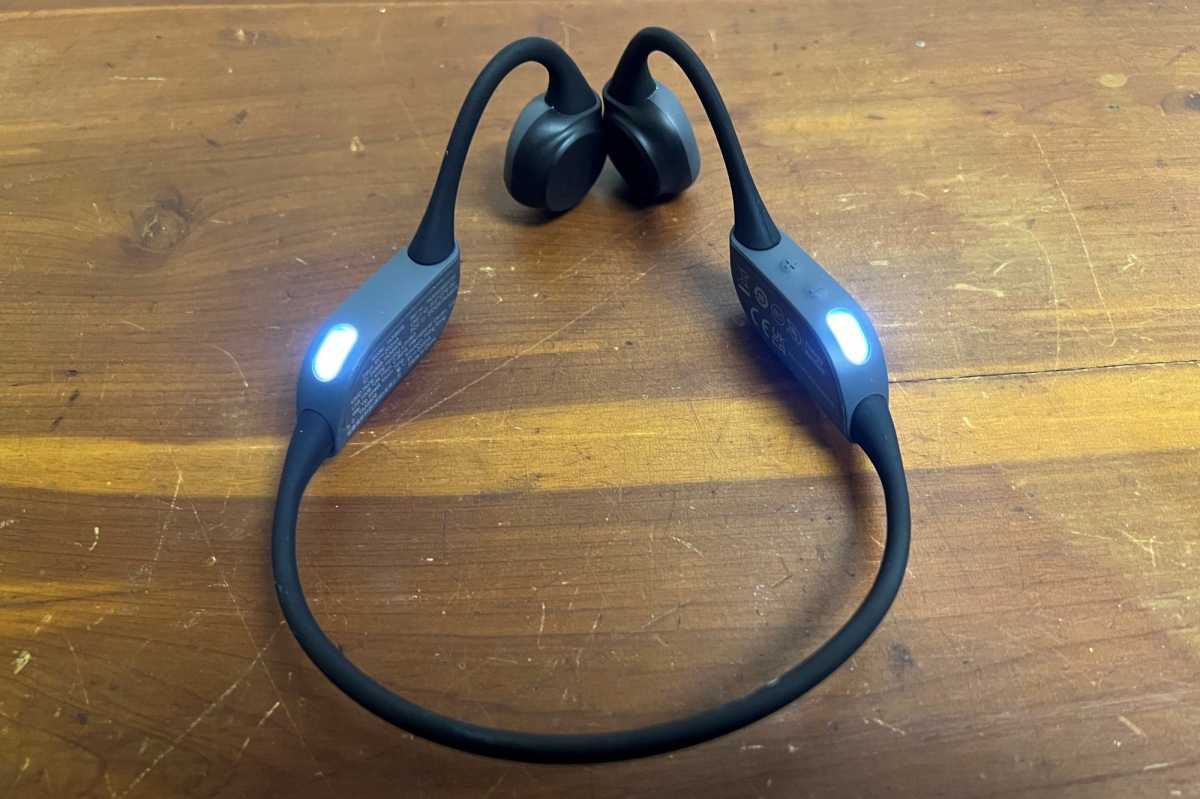 James Barber/Foundry
That all changes if you're listening to audiobooks, podcasts, or streaming news radio. And since that's my preferred entertainment when I'm running, I came to appreciate the strengths of the Philips TAA6606 and was no longer distracted by the less-than-stellar music experience.
Philips included a pair of foam earplugs in the box and the experience is vastly improved when using them. The soundstage fills out and the instruments sound like themselves. The science behind bone conduction audio starts to really impress. How can music sound this good if you're not using your eardrums?
Plugging your ears, however, defeats much of the safety advantage that a bone conduction headphone provides. If you're trail running and don't need to worry about traffic, use the earplugs and enjoy the upgraded audio.
Phone call quality on the Philips TAA6606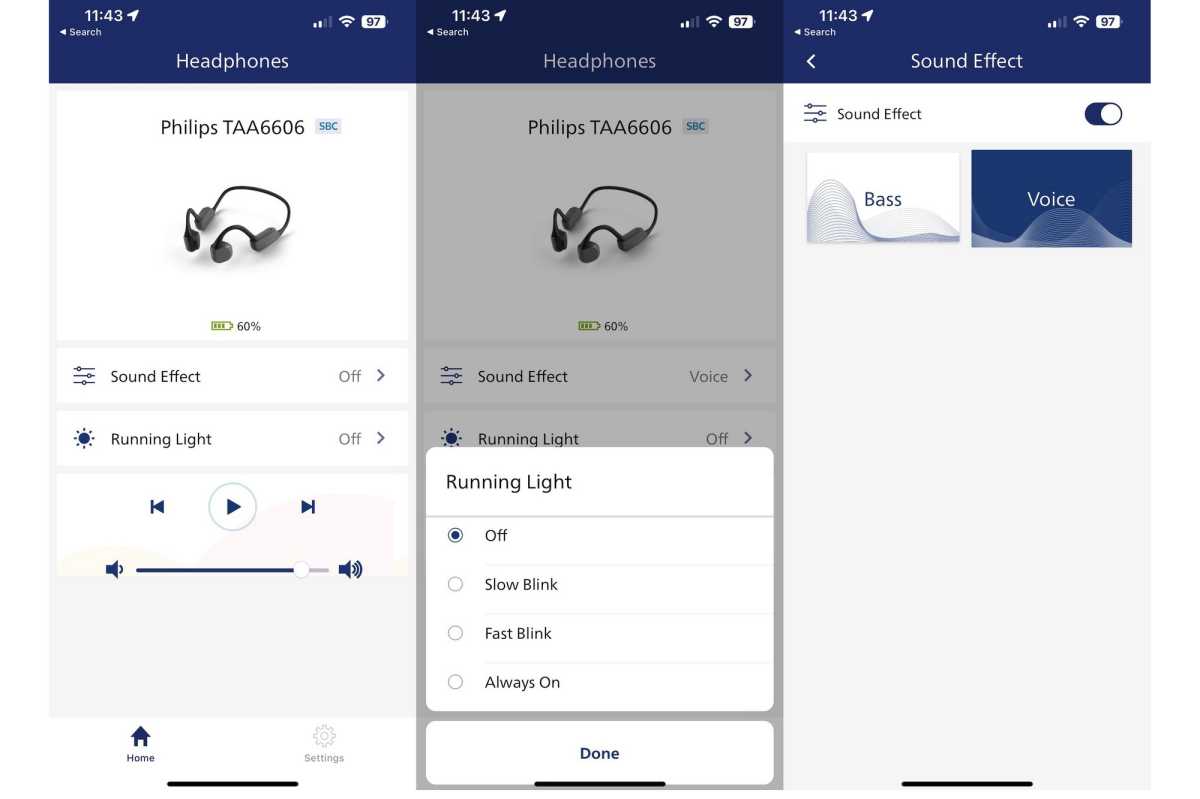 James Barber/Foundry
The Philips TAA6606 is outfitted with two microphones, which makes it possible to take or make phone calls. Everyone needs to occasionally take a quick call while outdoors, and the TAA6606 is fine in a pinch. Just don't plan on extended conversations, as it's been reported that I sounded like I was speaking from the bottom of a well while using them.
Philips has a mobile app (Android and iOS) for its headphones. It's very basic for this model, showing the battery level on the home screen. You can pick from enhanced bass or voice in the Sound Effect panel, control the running lights, play or pause, and adjust the volume.
The Philips TAA6606 are not great headphones for music
Earbuds may prove to have been a terrible invention if entire generations end up suffering long-term hearing loss from blasting music straight into their eardrums. If you're someone who worries about this, a bone conduction headphone like the Philips A6606 headphone is a way to have audio without any direct risk to your ears.
This type of headphone also allow you to be fully aware of your surroundings, because they block zero noise. If a truck rumbles by during your walk or run, your music will probably be drowned out and there's no way you'll hear the narrator of your audiobook. On the upside, it's extremely unlikely that you won't hear the truck before you can get out of its way.
Runners love bone conduction headphones, and there are long threads devoted to the topic on their message boards. What they're not is a good way to enjoy music if you're a person who cares about audio. Personally, I'll stick with a good pair of earbuds in transparency mode at an appropriate volume, but I can see the appeal of bone conduction headphones if you take your exercise outdoors.
Best Prices Today: Philips TAA6606