At a glance
Expert's Rating
Pros
Very natural-sounding audio reproduction
Attractive, small enclosures will fit on any bookshelf
Broad support for streaming services, plus analog and digital inputs—including HDMI eARC
Onboard pre-amp for a turntable
Cons
Activating tone controls significantly cuts maximum volume level
Needs a more powerful turntable pre-amp
You'll want hardwired network connectivity if you intend to operate more than a couple BlueOS components
Our Verdict
With natural, nuanced, high-resolution sound; support for almost all your favorite streaming services; and turntable connectivity, PSB Speakers' Alpha iQ powered speaker system is a near-knock-out punch.
Price When Reviewed
$1,499.00
Best Prices Today: PSB Speakers Alpha iQ
There's a sweet new entry in the universe of all-in-one streaming audio systems: the Alpha iQ, from PSB Speakers. A likely charmer for those who appreciate precise sound in a stylishly small, grille-free design, these are true bookshelf speakers, measuring 9.6 x 5.7 x 7.6 inches (HxWxD). They're easily placed and designed to sound their best in a smaller living room, den, home office, or bedroom.
For a variety of reasons, the Alpha iQ could be the convincer that finally turns many an old-school analog music devotee to the ways of 21st-century music delivery. They also have "building block" potential. Paying allegiance to the BluOS operating system, these entertainers can make a very nice start or addition to a home setup where like-minded BluOS gear is installed in other zones. In my home they've been mixing it up with a NAD C700 receiver and another new family member I'll be reviewing soon: a Bluesound Pulse M tabletop speaker. Each of those components hail from the Ontario, Canada-based Lenbrook Group.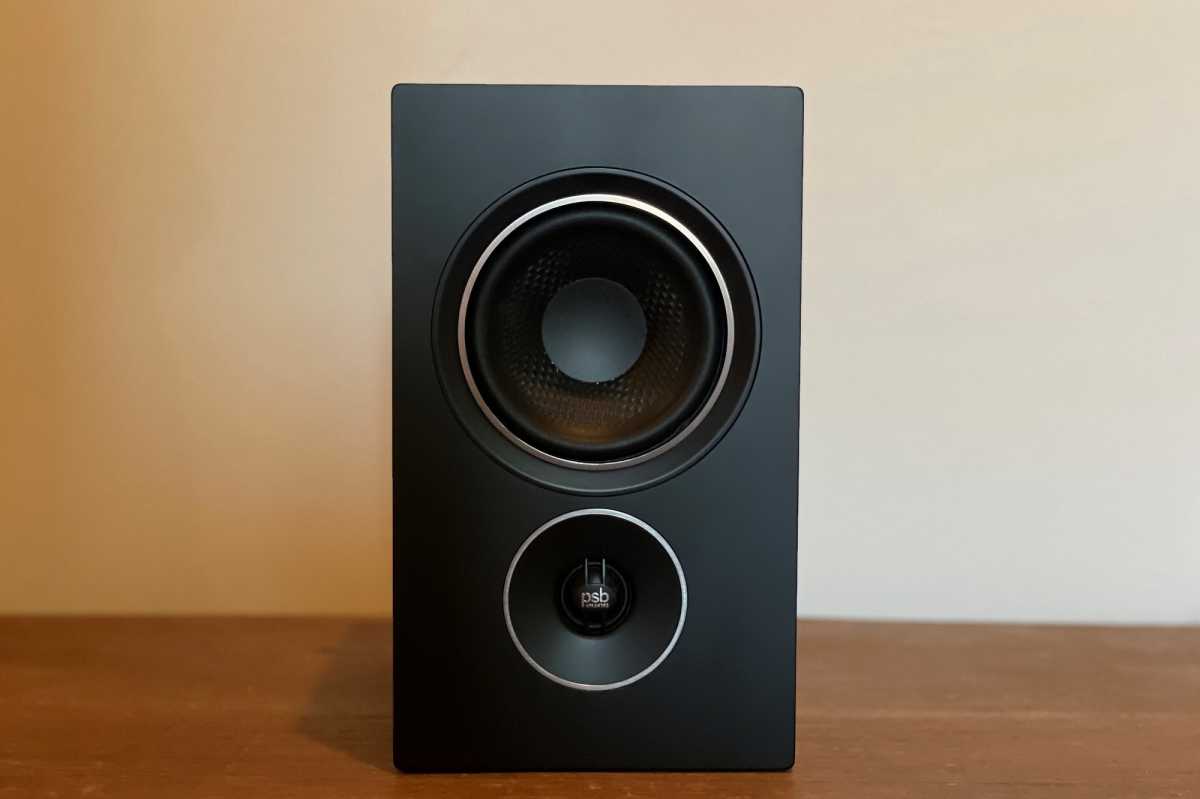 Jonathan Takiff/Foundry
As the first-ever PSB-branded streaming speaker, Alpha iQ takes that veteran maker several digital steps forward (web connectivity, performance-nudging digital signal processing, and more) whilst also glancing back with accommodations for vintage analog gear, including your favorite vinyl record player. The Alpha iQ is the rare streaming speaker that can accommodate a turntable with a moving magnet cartridge without needing a phono stage in between—the speaker housing the electronics has its own pre-amp.
Does the Alpha iQ's ability to play your favorite vinyl (I served it platters of David Bowie, It's a Beautiful Day, Gil Scott-Heron, and AC/DC) add enough value to warrant its $1,499 price tag? Yes, and maybe. Even hooking up to a bargain-priced Audio-Technica AT-LP60X, this system made a convincing "vinyl just sounds better" argument with its easy warmth and unforced clarity. There have been times, though, when I wished the Alpha iQ's internal pre-amp could crank up more volume from a low-impedance phono cartridge. If you're looking to pair this system with a turntable, I'd suggest placing the combo in a smaller space.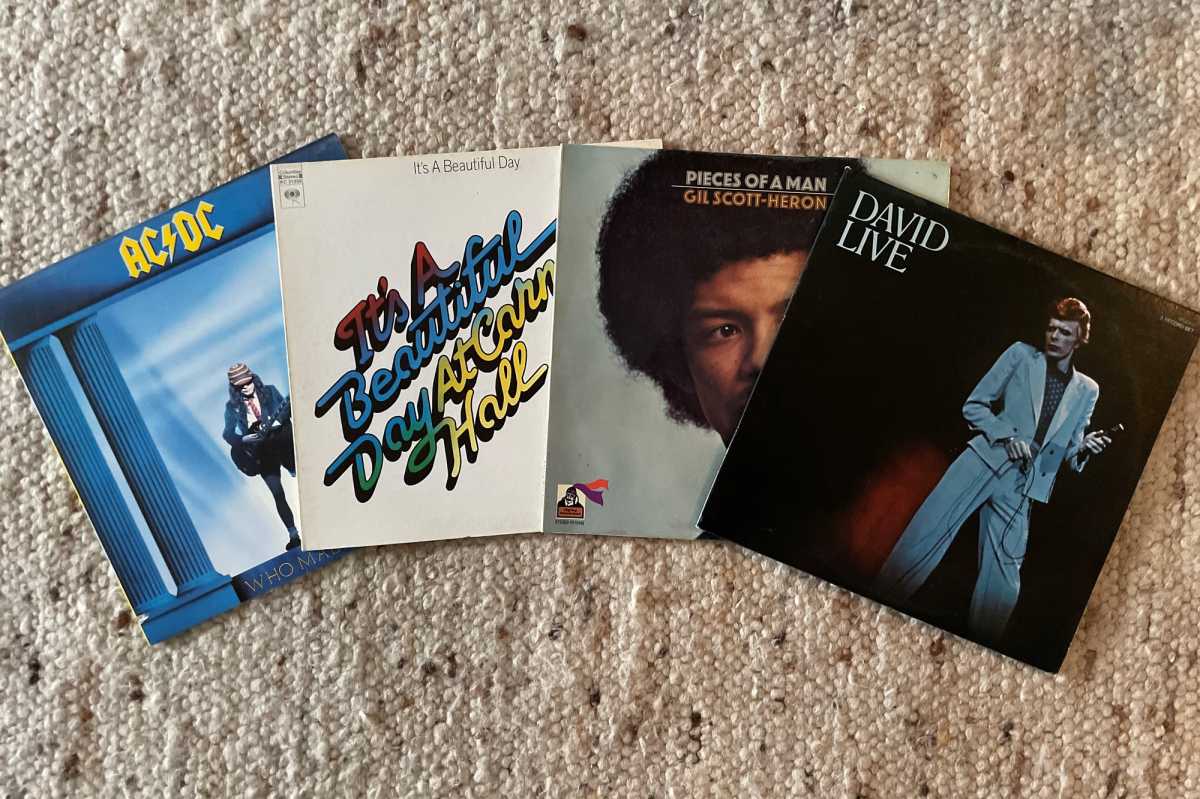 Jonathan Takiff/Foundry
Volume levels aren't an issue with streamed versions of the same music, and users will be hard pressed to not find what they're looking for on that score: More than 20 music and internet radio services are available, including the lossless, ultra-high-resolution renderings (up to 24 bit/192 kHz) to be had via Wi-Fi from the likes of Qobuz, Tidal (including MQA decoding), and Amazon Music. If Apple Music is your thing, however, you'll need to push it to these speakers via Airplay 2. There's also support here for Spotify Connect and Tidal Connect, plus two-way, high-quality Bluetooth with support for the AptX HD codec.
While the Alpha iQ lacks an onboard microphone, you can pass along some basic operational commands to the speakers through other devices answering to Amazon Alexa, Google Assistant, and Apple Siri. The system can also be integrated into smart home systems from the likes of Control4, Crestron, Elan, RTI, and URC.
PSB Alpha iQ compared to the SVS Prime Wireless Pro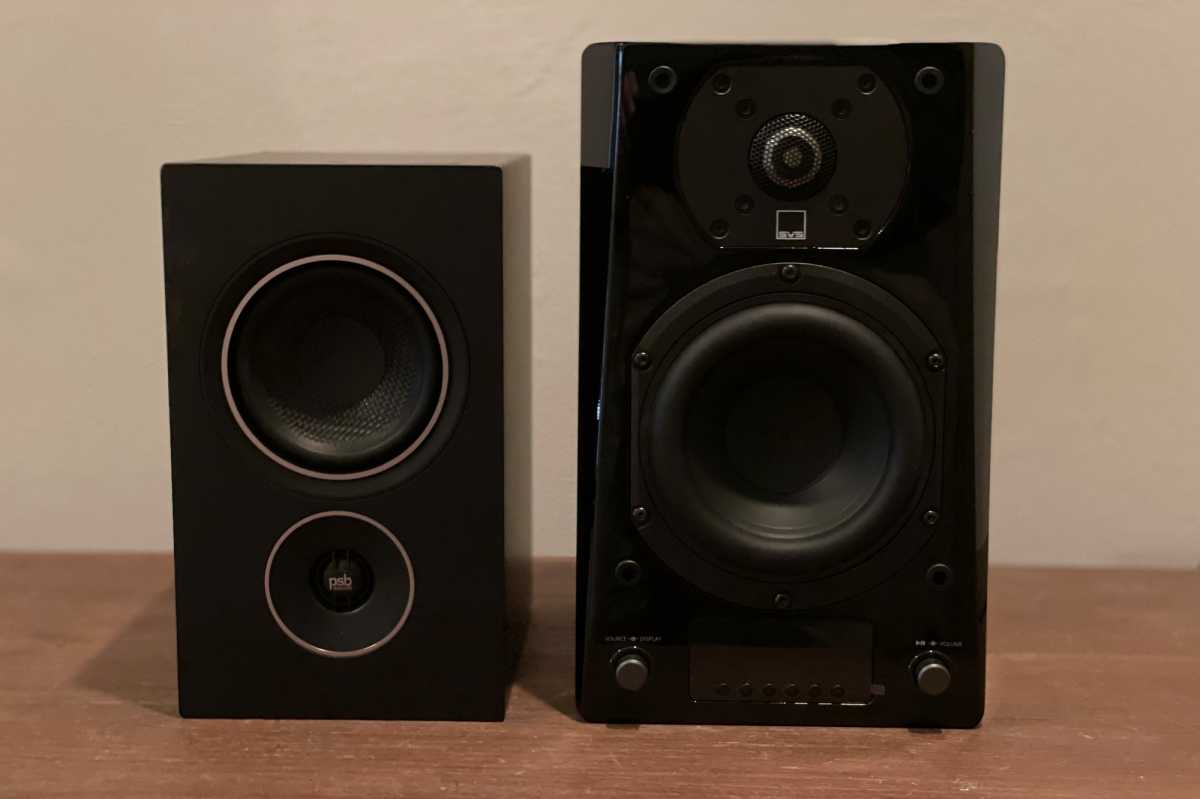 Jonathan Takiff/Foundry
I compared the Alpha iQ with the similarly specced but roughly 20-percent larger and 40-percent (or so) cheaper SVS Prime Wireless Pro I reviewed recently, as that system also has a high-resolution (24-bit/192kHz) DAC, even if it can't play MQA files. Comparing the beautifully engineered Keith Jarrett album Belonging, the SVS system portrayed a bigger studio space and suggested more forward and aggressive participants. It doesn't hurt that those speakers can crank up to 100 decibels (albeit a little fuzzily at peak level), versus the Alpha iQ's 90dB max (although the PSB speakers are whistle-clean to the peaks).
If you can make do with less volume, the Alpha iQ brings a shade more nuance to the party. It took me deeper inside the players' heads and techniques with more tactile, emotive keyboard and sax dynamics; stand-up bass strings that resonated more vividly; and percussion that splashed and thudded with a tad more detail, density, and drama. Listening to an English Chamber Orchestra recording of Ralph Vaughan Williams' Concerto for Oboe, nabbed from the VPR Classical radio stream, the SVS speakers delivered the string section with a plusher, more romantic sweep, while the Alpha iQ excelled in delivering a truer representation of soloist Emily Pailthorpe's oboe. Listening on the SVS set, I might have misidentified her instrument for a clarinet.
The BluOS app compared to the competition
There are versions of the BluOS app for Android and iPhone, but finding and sharing content between BluOS audio products takes a few more taps than I'd like. That experience should be streamlined when BluOS 4.0 is released this spring. Lenbrook says users will be able to switch, manage, and control streaming services more quickly; add or remove favorites with a single click; and switch between playback devices more easily. Even in its current state, BluOS is much more refined than the DTS Play-Fi platform SVS relies on, although neither ecosystem is as polished as what Sonos has to offer, or as straightforward to use as the Bose Music and KEF Connect apps.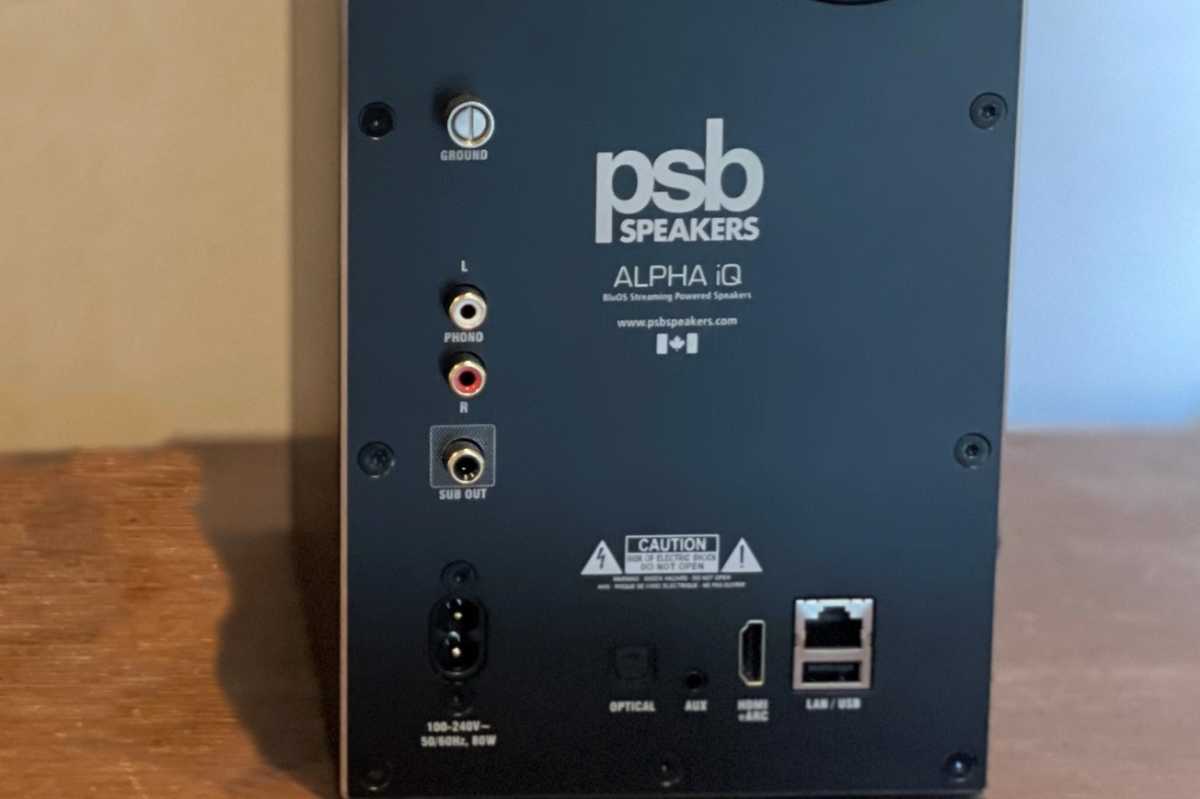 Jonathan Takiff/Foundry
In addition to the phono input I mentioned earlier, the Alpha iQ is also outfitted with an optical digital input, a 3.5mm aux input, and HDMI eARC, should you decide to use these speakers with your TV or video projector. While the pair won't suffice for a 12-seat home theater, films like Top Gun: Maverick and Babylon cranked with enough sonic excitement to vibrate the walls and floors of my 250-square-foot listening space—even without a subwoofer in the mix (the system does have a pre-amp sub out should you want to add one).
The Alpha IQ's small proportions and minimalist cabling requirements should allow you to place these speakers almost anywhere, with just a single AC power cord to contend with on each cabinet, unless you decide to take advantage of the RJ45 port to hardwire the system to your home network (the left- and right-hand speakers communicate with each other wirelessly).
Deploying a PSB Speakers Alpha iQ system
I've learned that the Alpha IQ needs placement and connectivity tweaking in some circumstances. When deploying more than one BluOS-based audio system in my mesh Wi-Fi home, I discovered I needed hardwired ethernet for at least two BluOS components for the multi-room system to be stable. If I tried to run everything over Wi-Fi, the mobile app would lose contact with one component or another, requiring a reboot of my smartphone and/or my integrated gateway/router.
You should also consider where you place these speakers in your listening space. PSB flips traditional two-way speaker design by mounting 4-inch polypropylene mid-bass drivers (each of which gets 60 watts from an onboard Class D amp) above 0.75-inch aluminum-dome tweeters (driven by a separate 30-watts-per-channel Class D amp. Total system is 180 watts.) This driver inversion aims to even the sound field for listeners whether you're standing or sitting.
Ironically, I found that placing these speakers too low—flanking the TV on a 20-inch-high stand—directed too much sound toward the floor, weakening the audio's presence and punch. The sound field grew much fuller and the bass notes especially more dramatic when I set them on a bookshelf or window sill that was four or five feet above the floor. Close proximity to flat vertical surfaces that bounced the soundwaves emerging from the speakers' tuned bass ports also helped.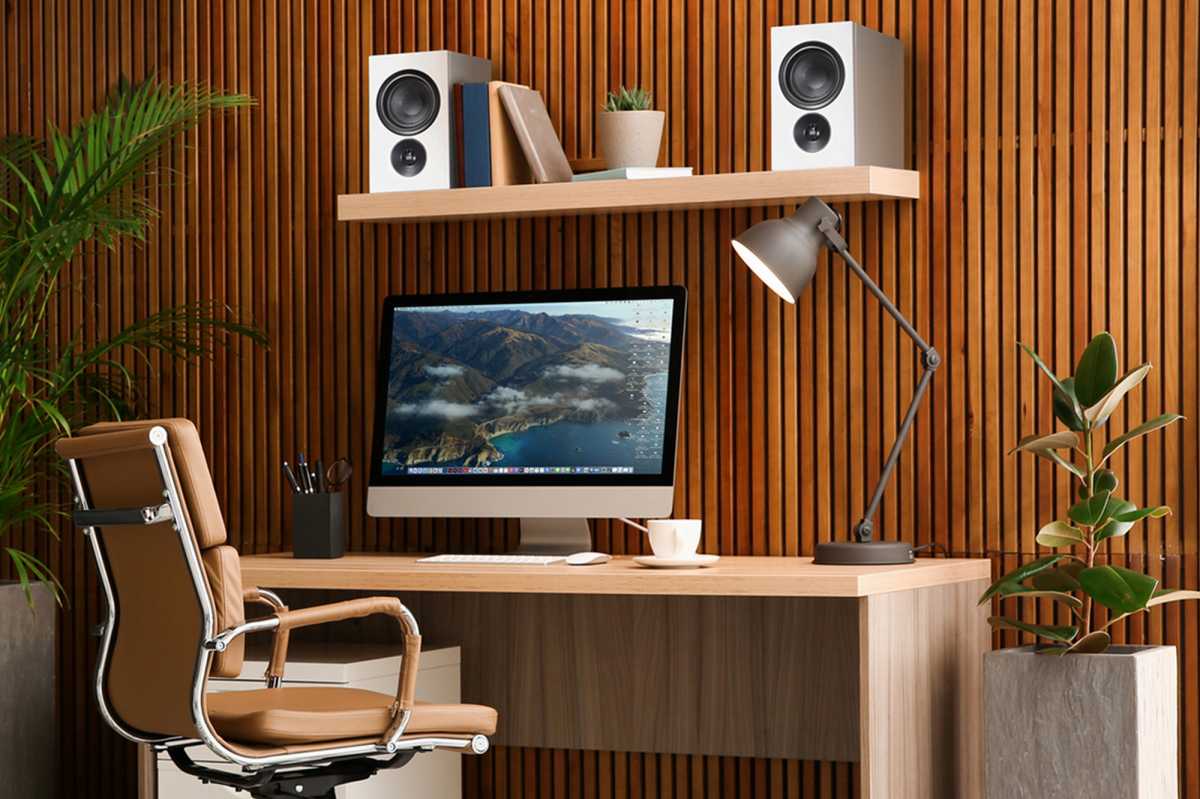 PSB Speakers
Tellingly, a PSB marketing photo (see above) shows the Alpha iQ mounted on a very high shelf in a home office, looming above a workstation. But that placement presents a small dilemma. Hang them too high and you won't be able to access the touch-sensitive volume and play/pause controls on top of the primary speaker, which will limit you to using the app for control. PSB doesn't bundle a dedicated remote control with the speaker set, as SVS provides with its Prime Wireless Pro.
Another word to the wise: If you aim to crank the tunes while listening to your vinyl collection, be sure to shut off the system's tone control in the BluOS app. Yeah, it's a bummer to not be able to add more bass bump or mid-high frequency sizzle while listening to Gil Scott-Heron's thundering The Revolution Will Not Be Televised or AC/DC bragging You Shook Me All Night Long.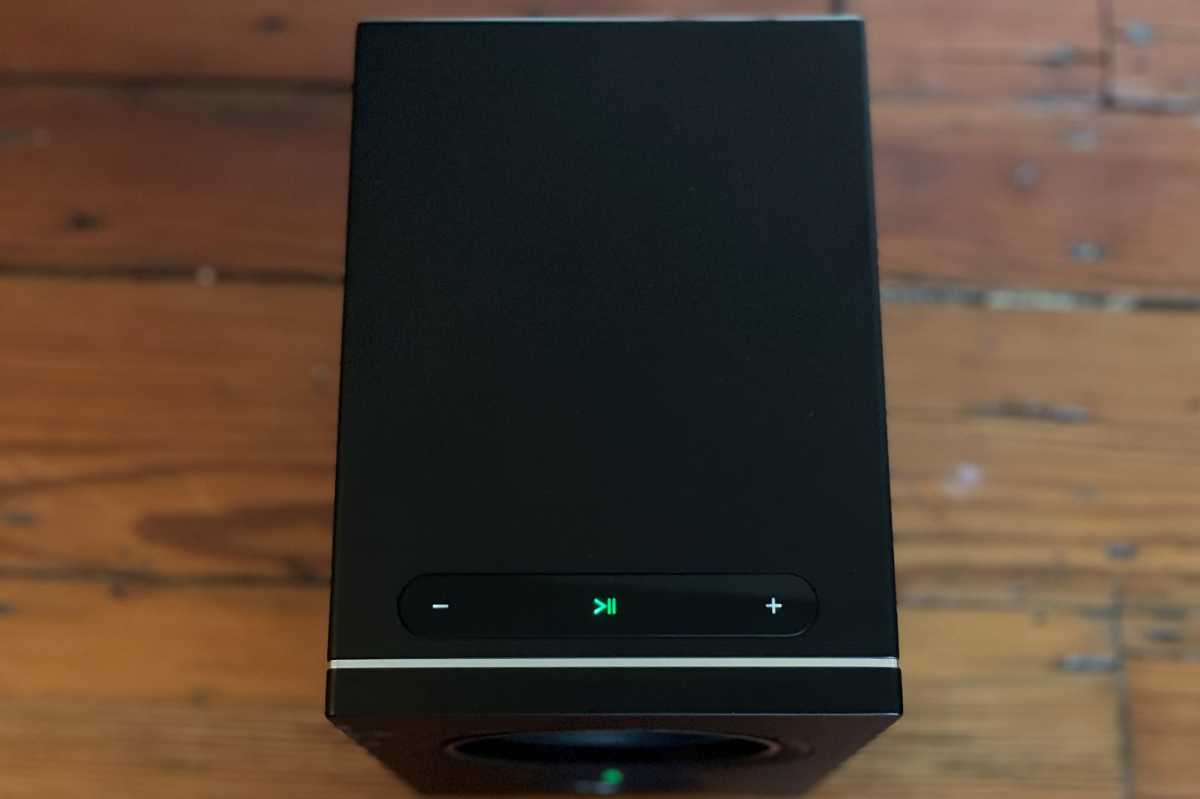 Jonathan Takiff/Foundry
But activating the Alpha iQ's EQ circuitry has a nasty side-effect: It slashes the maximum volume output (as measured by my sound pressure level meter) by a whopping 9dB. You might find that level to be fine for adult pop, folk, classical, or jazz—at least in a small room—but it falls far short of what you want for visceral, hard-edged rap, rock, and dance/electronica. It just isn't enough to rattle your bones.
Another tip: Be sure to connect the record player's grounding wire to the ground connector on the main Alpha iQ speaker to minimize—or eradicate, with any luck—hum.
The PSB Alpha iQ is a worthy audio system
The PSB Alpha iQ is a sonically pleasing audio system that ticks all the most important feature and functionality boxes. That said, they're not a slam-dunk choice when you can buy the almost as natural-sounding SVS Prime Wireless Pro for $600 less. You'll also want to consider the diminutive KEF LSX II system, another stiff competitor at the same $1,499 price and size range as the Alpha iQ.
Neither of those speaker systems can match the Alpha iQ's multi-room audio prowess, but a stereo pair of Sonos Five powered speakers ($1,098 for two) comes close. If I were a PSB exec, I'd cut the asking price of these puppies a couple hundred bucks to make them a more inevitable, undeniable choice for music connoisseurs.
Best Prices Today: PSB Speakers Alpha iQ