At a glance
Expert's Rating
Pros
Surprisingly good DSP improves sound
Gets very loud with no distortion
Entertaining light show
Cons
No manufacturer rating for dust ingress
Doesn't come with a dedicated charger for its large battery
Our Verdict
The Tronsmart Halo 100 Bluetooth Party Portable Speaker is an outstanding value, producing huge sound and great-sounding playback at a surprisingly low price. There's a light show and possibly the best built-in DSP that we've heard in a speaker at any price.
Price When Reviewed
$109.99
Best Prices Today: Tronsmart Halo 100
Tronsmart is a Chinese manufacturer that's been making a name for itself by making excellent speakers at even lower prices than other value brands. A speaker this size with this much oomph usually costs at least twice as much. It's hard to figure how Tronsmart made a speaker this good this cheap.
This review is part of TechHive's in-depth coverage of the best Bluetooth speakers.
The Tronsmart Halo 100 is a well-built speaker
The Tronsmart Halo 100 Outdoor party speaker measures 11.3 x 7.8 x 5.9 inches (HxWxD) and weighs just over 7 pounds. It's got a black plastic case, metal grille, and a rubberized touch surface on top. The carrying strap is faux leather. The speaker comes with a 3.5mm-to-3.5mm aux cable and a USB-A-to-USB-C charging cable.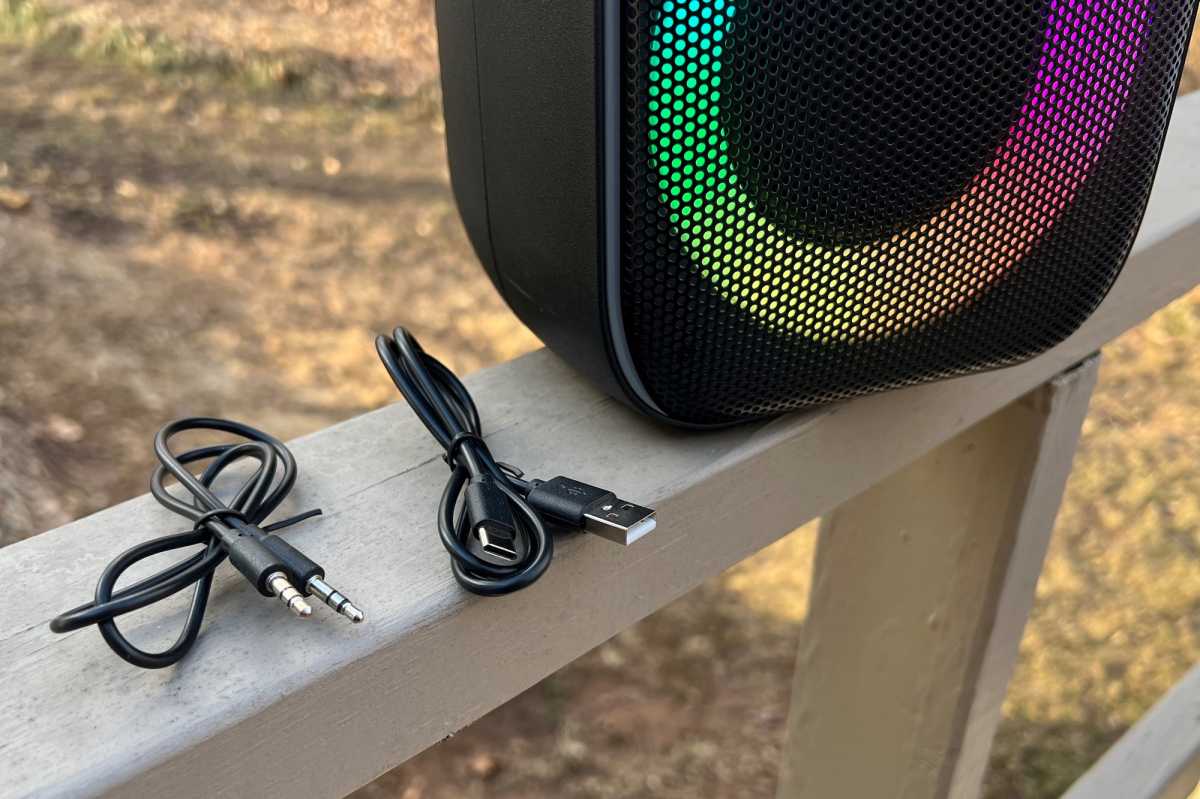 James Barber/Foundry
The unit has a 1.22-inch tweeter, two 2.09-inch mid-tweeters, a 4.53-inch woofer, and a 5.6-inch passive radiator. It pumps out 60W of power and has a frequency range of 40Hz – 20kHz. I got up to 100dB without distortion during my testing, but the maximum sweet spot seems to be about 94dB. That's an impressive amount of volume from a speaker at this price. The unit has an IPX6 waterproof rating, so it's safe to use outdoors near the lake or pool, but the company doesn't rate its resistance to dust.
Battery life is 18 hours if you don't use the lights. Since the max input power is 5V/2A via the USB-C input, a full charge will take 5.5 hours. You can use the Halo 100 as a phone charger since there's a USB-A outlet.
The speaker has a Bluetooth 5.3 radio. Tronsmart doesn't tout any advanced codecs, so it's likely that the streaming quality is SBC only. The company promises a range of up to 49 feet in an open area, which the speaker easily met. Even more impressive, the signal didn't break up in my house when I moved the speaker several rooms away from the source, something that happens with almost every other Bluetooth speaker or headphone I've tested.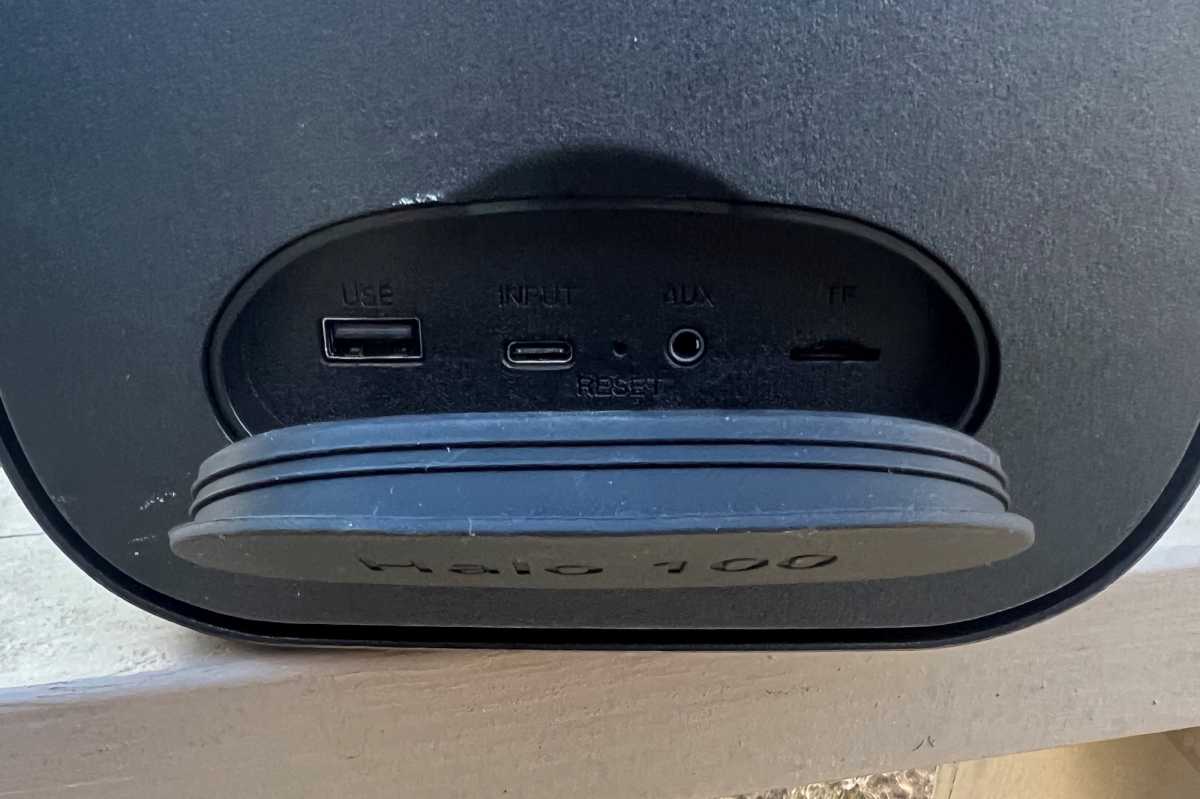 James Barber/Foundry
If you have two Halo 100 speakers, you can create a stereo pair. In addition to Bluetooth, you can plug in any other audio source via the 3.5mm cable. There's also the option to load your music onto a USB flash drive or microSD card and play back via the slots on the rear of the unit and increase battery life by skipping the Bluetooth.
Tronsmart Halo 100 controls
The control panel on the top of the unit features a power button, low battery indicator, a play/pause button, and volume control buttons. There are also buttons to cycle through light show options and input modes. You can pair to another Halo 100 via the stereo pairing button.
Tronsmart also has custom digital signal processing called SoundPulse that can be activated on the control panel. I'm not usually a fan of DSP, but SoundPulse manages to increase the thump on the low end without introducing distortion in the upper registers. Most DSP causes ear fatigue for me in just a few minutes, but I found myself enjoying the SoundPulse playback for hours at a stretch.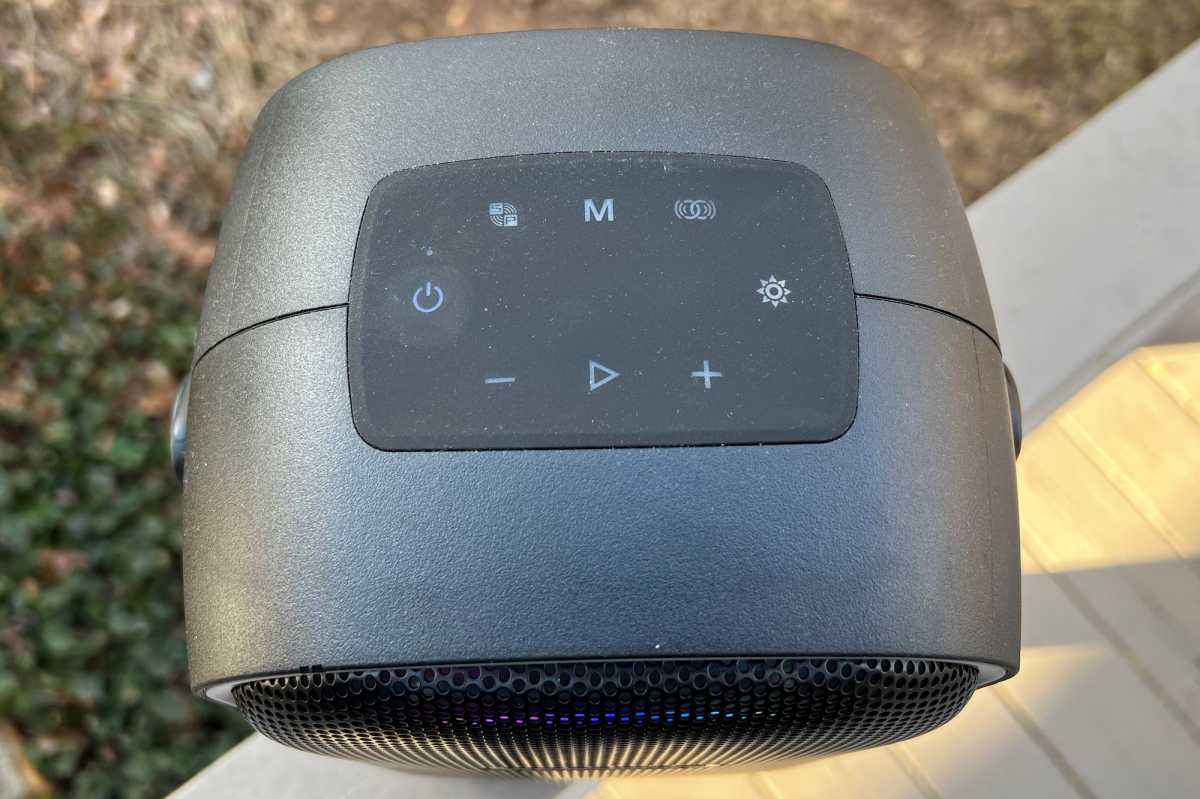 James Barber/Foundry
The Tronsmart mobile app
Tronsmart has an app for iOS and Android you can use to play, pause, skip tracks, and adjust the volume. The app also shows the speaker's battery level, makes it easy to install firmware updates, and you can read the speaker's user manual. There's an Equalizer presets panel that, in addition to the default and SoundPulse options available on the speaker's control panel, offers Deep Bass, Classical, Rock, and Customize options.
The three additional presets are just as uninspiring as the EQ presets you'll find on almost every other Bluetooth speaker. The only real decision here is between SoundPulse and no SoundPulse. If you insist on creating a custom EQ setup, you can't save multiple versions of your work.
James Barber/Foundry
A Controller panel gives access to inputs, allows you to activate stereo pairing mode, or power off the speaker without needing to be next to speaker. You can also choose between lighting modes and see their entertaining names: Ballet, Party, City of Phantoms, Carousel, Starry Night, and off.
Tronsmart Halo 100 audio quality
Listening to Harry Styles' Grammy-winning Album of the Year Harry's House with the Halo 100, songs like "Grapejuice" sounded great up close at low-to-medium volume with the DSP turned off.
Switching to a banger like "As It Was" and cranking up the volume while engaging SoundPulse, the speaker impressively filled a large space, delivering a surprising amount of bass for a speaker this size. The Halo 100 certainly lives up to its "party" designation.
When testing a lot of speakers, it's easy to fall into a mindset where you start thinking about ideal use cases for an individual speaker, forgetting that most people don't want a closet full of task-specific Bluetooth speakers. The Halo 100 is great for random playlists on Spotify, streaming radio, or listening to audiobooks with the light show turned off during everyday life and then showing up to party on the weekends when you have a house full of guests.
Should you buy the Tronsmart Halo 100 Bluetooth speaker?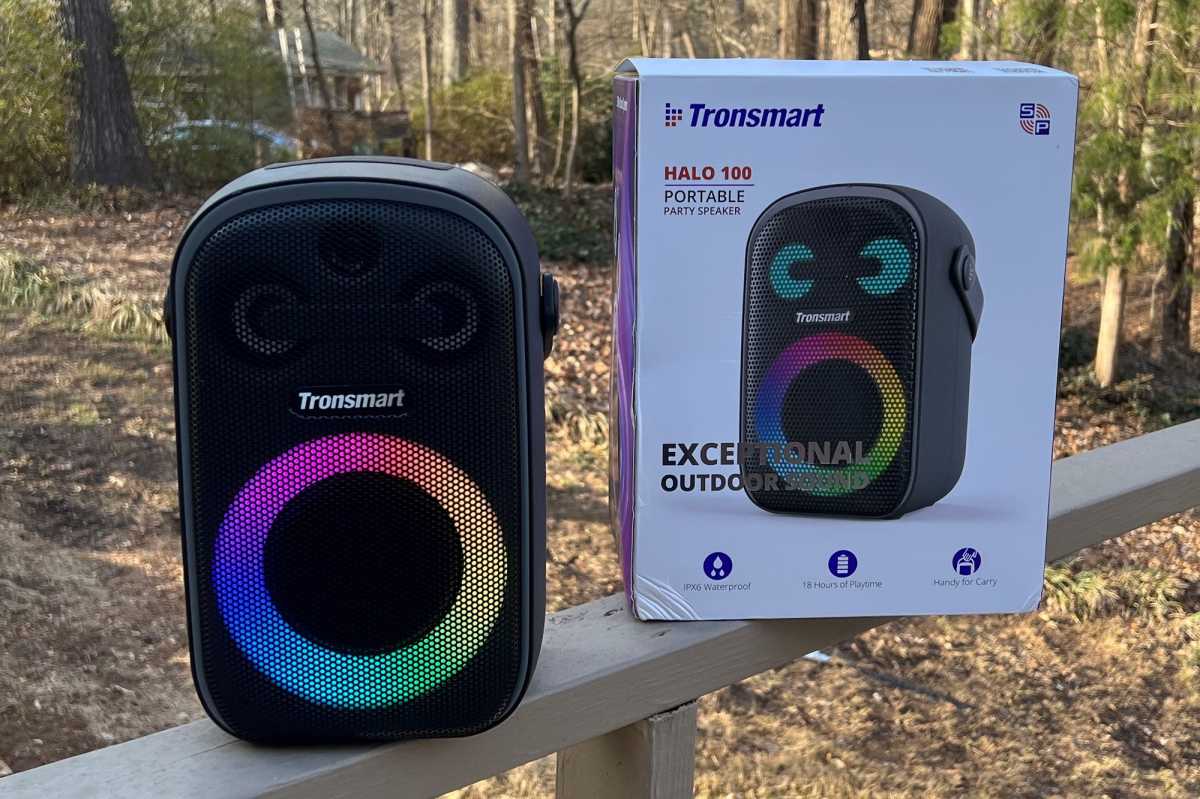 James Barber/Foundry
Tronsmart calls the Halo 100 a "portable party speaker" right on the box. It's not intended for critical listening, but it does deliver a clear and loud sound that significantly improves when the built-in SoundPulse DSP is engaged.
When compared to the Soundcore Rave Party 2 speaker (which is almost identical in size and shape), the Halo 100 lacks a bit in depth and detail. Keep in mind that the Soundcore speaker costs almost twice as much as the Tronsmart, so you could have a pair of the Halo 100 and enjoy stereo playback for just a few bucks more than the Rave 2. Tronsmart speakers have earned consistently strong marks from reviewers here at TechHive. Maybe even more than the other models in the line, the Halo 100 delivers a listening experience that's a real surprise at this value price.
Best Prices Today: Tronsmart Halo 100