At a glance
Expert's Rating
Pros
Solar powered, so no need for batteries
Unlimited profiles and 13 body composition metrics
Syncs with Samsung Health, Apple Health, Google Fit, Fitbit, and MyFitnessPal
Cons
Basic, sometimes unintuitive app
No Wi-Fi connection – Bluetooth-only
Our Verdict
This budget-friendly smart scale is easy to use and provides plenty of information. There are compromises to be made with the relatively basic app, but you can easily export your stats to your preferred fitness app.
Price When Reviewed
$25.99
Best Prices Today: Elis Solar Smart Body Scale
Bioelectrical Impedance Analysis is a popular method of estimating body composition. It's safe for the vast majority of people, although those with a pacemaker or another medical implant should seek their doctor's advice before using one.
Stand on a smart scale and its metal sensors will send an electrical current through your body. In the case of the Renpho Solar Smart Scale, it will use this information to deliver 13 body composition measurements to the accompanying app on your smart phone.
What the sensors are measuring is your body's resistance. As lean tissue is a good conductor, but fat, bone, and skin are poor, the scale can assess the makeup of the body by the speed and strength of the current.
As well as weight and BMI, this scale calculates your body fat, fat free body weight, subcutaneous fat, visceral fat, body water, skeletal muscle, muscle mass, bone mass, protein, BMR, and metabolic age. This is a pretty comprehensive analysis and we doubt you'll feel that anything is missing.
Still, you should bear in mind that the usefulness of the metrics can be affected by factors such as sex, age, and ethnicity.
The scale charges its battery with daylight exposure or artificial lighting, and we had no problems with it during our testing period.
Renpho says the solar panel will save you around $16 a year on batteries, but there's also the environmental benefit of ditching batteries to consider, as well as the convenience factor. You'll never stand on the scale and realize it needs to be charged or its batteries replaced.
In terms of its price and feature set, it compares favorably with the Eufy P2 Pro, which is an excellent mid-range option.
Renpho Solar Smart Scale design
Thanks to its central panel and curved manganese sensors, Renpho's solar powered smart scale has a different look from most of its rivals.
Most of its surface is a high-gloss black, cut away around the rim, display and solar panel to reveal the metal underneath. It's 11in by 11in (28cmx 28cm) and stands just an inch from the floor.
The bright, easy to read on-scale display will only show your weight. You should be able to choose between kgs and lbs, but we struggled to get the display to change from kgs using the app.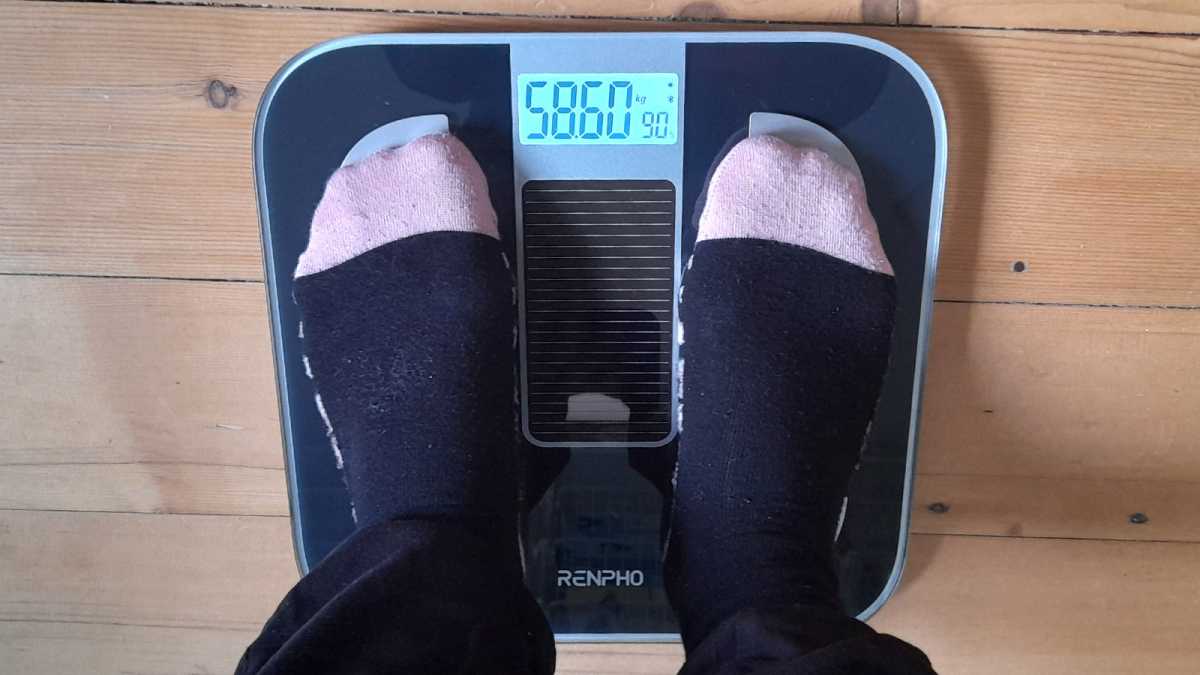 Alex Greenwood / Foundry
Renpho Solar Smart Scale setup
In the box, you'll find the scale and the manual. The scale is switched on using a slider on the back. It's partly charged so it's ready to use right away. You can simply stand on the scale to get your weight. This means it can also be used as an ordinary digital weighing scale by guests.
But to receive all the metrics, you'll need to download the Renpho Health app, either by scanning the QR code on the front of the manual or searching in your app store. The app is free to download and use and available for both iOS and Android.
Set up your Renpho account by creating a profile, then add the device. The scale must be on at this point and your Bluetooth enabled so your phone and scale can pair.
The fact that it only connects via Bluetooth has some disadvantages. You'll need to bring your phone with you if you want your measurements right away. But there are advantages over Wi-Fi as well; namely, that pairing tends to be quick and easy, and we found this to be the case here.
Using the Renpho Solar Smart Scale
When you're ready for your first weigh-in, open the app, go to the Home tab, click on the body fat scale icon under My connected device, and then stand on the scale with bare feet. It will immediately send the data to your phone.
If you don't have the app open when you weigh in, the scale will send it a measurement that you can assign to a profile later.
At each weigh-in, you'll get 13 measurements and be able to see whether your weight, BMI and body fat are trending up or down.
You can then generate graphs on all these measures over a week, month, or year, or see the data in comparison over certain dates. There's also a calendar that notes your weight and BMI each day. All of this information can be exported to other fitness apps.
Renpho also provides value tags on your measurement report. These can range from underweight to obese, or from low to high, or younger to older, depending on the measurement in question.
We wouldn't suggest focusing too much on these evaluations, as they might not match up with health guidelines where you live or the range you're used to. While measurements of particular body composition measures are fairly consistent between different brands of smart scales, the way those measurements are evaluated can vary significantly.
During our review period, they flagged one of our testers as having an obese level of body fat, when their body weight was just over the BMI line between normal and overweight, and they had a standard amount of muscle mass and fat-free bodyweight.
The Renpho Health app
Renpho's app is fairly basic in terms of design and display, but it does what you need. However, it can be frustrating to find settings and information beyond your key stats.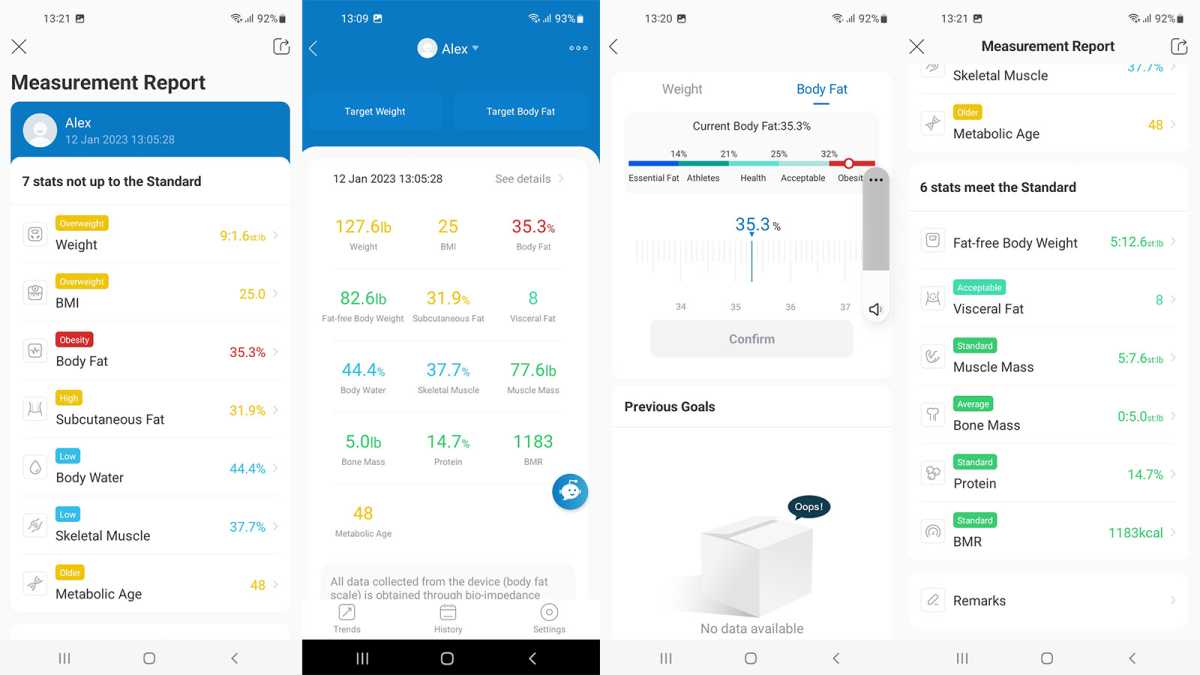 Foundry
The scale can support unlimited profiles. It took us sometime to work out how to add new users, a testament to the app's unintuitive architecture. To find it, you'll need to go click on the Body Fat scale icon on the home screen, and then through to settings and on to users Management.
Still, when you finally arrive at your destination, you'll find a baby-weighing option as well as an adult option. As you would guess, all metrics apart from weight are for adult users only.
Within the app, you can set target weight and body fat goals, and for people with high fitness levels and a resting heartbeat below 60 beats per minute, there's an athlete mode too.
Helpfully, you can also find a video tutorial in this section that talks you through the set-up of the scale and the various features, and, if you're not part of another fitness community, you can follow other users' progress via the community tab.
Best of all, it syncs with a number of apps, including Samsung Health, Google Fit, Apple Health, Fitbit, and MyFitnessPal. We tested it with Apple Health and Fitbit. The syncing was instant and easy with Apple Health, but the process to share data with Fitbit was slower and slightly more involved.
Renpho Solar Smart Scale: the bottom line
There's a lot to like about Renpho's solar powered smart scale. It comes in at a reasonable price point and will cost you nothing once you have it. You can set up unlimited profiles, and use it in conjunction with other fitness apps.
Still, this is a budget product, and that is evident in the app, which provides a much less polished user experience than some rivals, such as Withings.
Best Prices Today: Elis Solar Smart Body Scale