SLIDESHOW
Photo Contest: Hot Pics for August
Subscribers to Dave Johnson's Digital Focus took these shots; read Dave's September 4 column for the Hot Pic of the Month winner.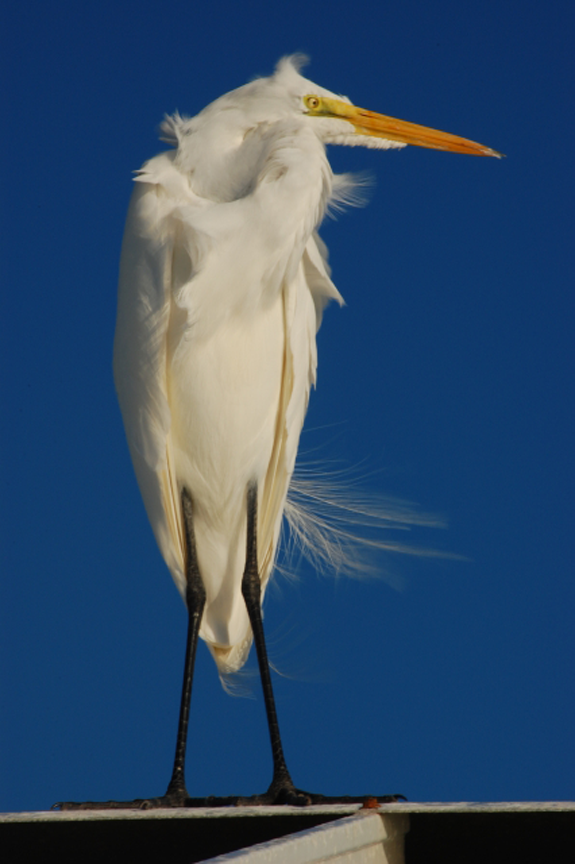 8/4/08 Hot Pic: "Blowing in the Wind" by Scott Welch, Orlando, Florida
Scott writes: "I took a trip to St. Petersburg, Florida, for a fun day of fishing and eating with some friends. While fishing on the end of a pier, I saw egrets and pelicans hanging out, waiting to get any leftovers. One egret landed nearby, so I threw a zoom lens on my Nikon D40 and snapped a few shots."
8/11/08 Hot Pic: "The Red Bandanna," by Derek Jensen, Marshall, Minnesota
Derek writes: "The man in this photo is an Australian aborigine I met at a local art fair. He had a small teepee set up and was selling his paintings and CDs." Derek fiddled with the colors to extract what he thought was the essence of the portrait.
8/18/08 Hot Pic: "Lily Bud in Raindrop," by Maureen Janson, Washington, Missouri
Maureen writes: "I took this photo without a tripod, using my Canon EOS Digital Rebel XSi. I used an 18-55 mm IS lens with a macro +10 filter attached. I like the way the center raindrop shows a pink lily bud."
8/25/08 Hot Pic: "Don't Let the Sky Be Your Limit" by Allison Scranton, Milwaukie, Oregon
Allison says that she took this photo at an sunflower garden in Troutdale, Oregon using a Nikon D70. The addition of the Orton effect gives it an ethereal quality.
8/4/08 Runner-Up: "Orange Flower" by Joe Kelty, Louisville, Kentucky
Joe used a Kodak Z612 to capture these flowers on the side of the road near his house
8/11/08 Runner-Up: "More Than Words Could Warrant," by Tyler Cordaro, Huntington, New York
Tyler says that he took this photo with a Nikon D50 at Planting Field Arboretum in Oyster Bay, New York.
8/18/08 Runner-Up: "Bubble," by Tom Weber, Wadsworth, Ohio
Tom writes: "I was goofing around with the kids in the yard with some bubbles.... I saw some of them floating away into the deep blue sky, and I thought it was a cool look--so I got my camera and took some pictures."
8/25/08 Runner-Up: "Snowed Out," by Jennifer Grim, Surprise, Arizona
Jennifer writes: "My husband and I were camping on our 2-year anniversary, and we woke up to find two inches of snow around us. Having prepared for 70-degree weather, we packed up and left for home. This picture was taken from the passenger seat of our vehicle on the way out of camp at Woods Canyon Lake, Arizona."
Next Up: Check out these related slideshows
Today's Best Tech Deals
Picked by TechHive's Editors