At a glance
Expert's Rating
Pros
Unbeatable pricing
Excellent color and white light quality
Wyze's lighting app has improved dramatically in recent months
Cons
Minor issues with Alexa control
Wyze's smart lighting ecosystem is dwarfed by Philips Hue
No Apple HomeKit support
Our Verdict
Wyze expands its color smart bulb lineup to the BR30 form factor and upgrades its smart-lighting feature set along the way.
Price When Reviewed
$17.98 each, $23.99 for a 2-pack, $43.99 for a 4-pack at the time of this review
Best Prices Today: Wyze Bulb Color BR30
When we published our Wyze Bulb Color review (A19 shape/E-26 base), we declared it our runner-up best pick behind the much-more-expensive Philips Hue White and Color Ambiance, which boasts a more sophisticated ecosystem. The new Wyze Bulb Color BR30 is every bit as good, and like its stablemate, costs a whole lot less than its Philips Hue counterpart: $23.99 for a two-pack compared to $99.99 for the same quantity of color Hue BR30 smart bulbs.
The picture at the top of the page shows you what a BR30 bulb looks like installed in a ceiling can; but if you're not familiar with the terminology, BR stands for "bulged reflector" and the number 30 indicates the diameter of the bulb, measured in increments of 1/8 inch. So, 30 times 1/8 (.125 in decimal form) equals 3.75 inches. A BR30 bulb is a floodlight with an E-26 base that produces a 90-degree beam of light.
This review is part of TechHive's in-depth coverage of the best smart bulbs.
The Wyze Bulb Color BR30 can produce either white light (tunable on a range from an ultra-warm 1800K to a super-cool 6500K), or color light from a palette of 16 million colors. With brightness of 950 lumens (a 75-watt equivalent with an 11.5-watt power draw), it's not quite as bright as the A19 Wyze Bulb Color, but that's likely due to its downward-firing design. It's worth noting, however, that Signify says its full-color BR30 Hue bulbs produce 1,100 lumens—at least when they're producing white light at a cool 4000K.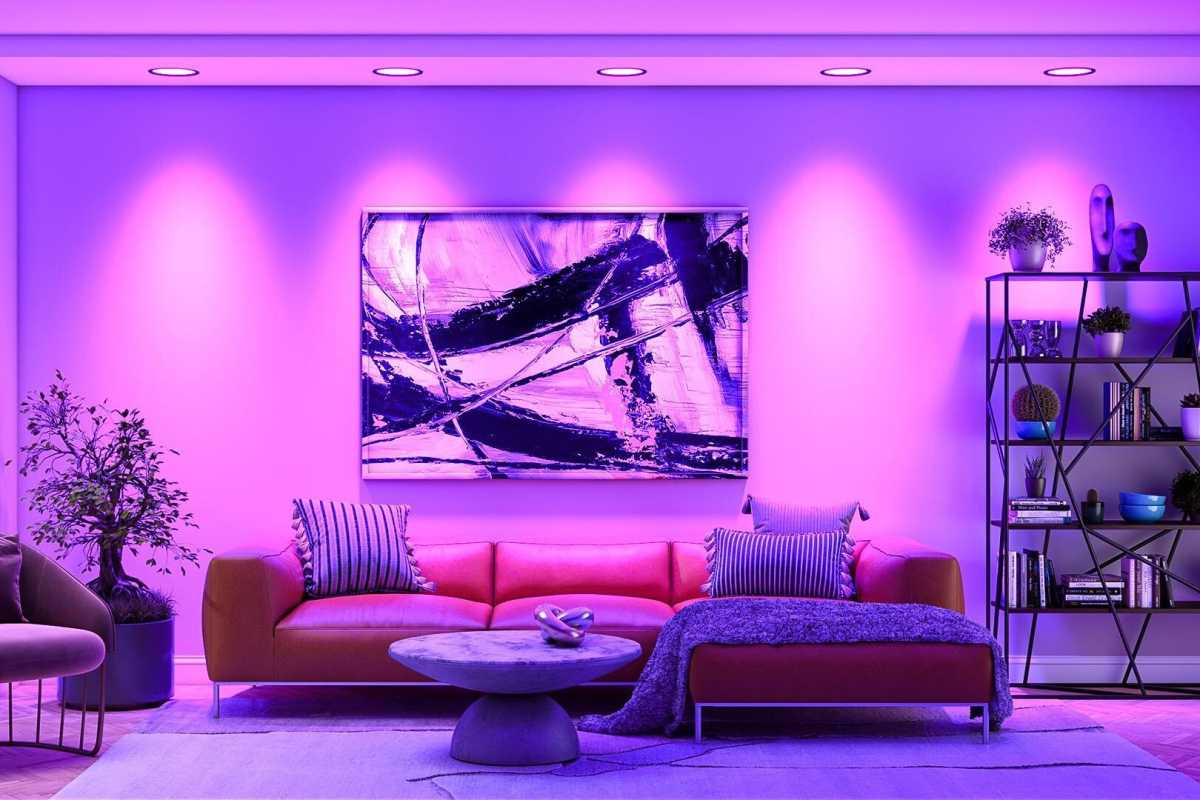 Wyze Labs
Both manufacturers rate life expectancy for their BR30 bulbs at 25,000 hours, and both are rated for use in damp locations (e.g., in a bathroom), but Wyze says its bulb shouldn't be used in extreme environments or exposed directly to the elements.
Installed in a proper canister, the Wyze Bulb Color BR30 shines brightly and accurately, creating a wide and gentle pool of light on the floor below. Colors are vivid, and whites look good no matter what temperature you choose. As with all Wyze products, setup and management are done through the Wyze mobile app, which is now as streamlined and capable as they come.
Bulbs are discovered automatically via Bluetooth and bridged over to your 2.4GHz Wi-Fi network in a matter of seconds. The more Wyze gear you have, of course, the quicker this process is, and the easier it is to tie different products together using Wyze's rules system, such as flashing the light bulb red if a Wyze motion sensor detects movement.
Christopher Null/Foundry
The bulbs work quickly, usually responding to commands within a second. You can't dim the bulb in real time as you slide your finger along the top of the app interface, but all brightness changes are reflected almost immediately after you release your fingertip.
The same extra features that are available for the standard Wyze Bulb Color appear in the app, including a robust automations system, now with much more flexibility than was available when Wyze's color bulbs first rolled out in 2021, fulfilling Wyze's promises at the time. A "sun match" system lets you automate the bulb's color temperature to mimic sunlight throughout the day, and a variety of configurable scenes give you quick access to your most commonly used lighting settings.
Connectivity to Alexa, Google Assistant, and IFTTT are all in the mix, though as noted in our 2021 review, these voice-activated commands are somewhat limited in scope. The ability to tell Alexa to set a bulb to one of your scenes by name (instead of just a color) would certainly be useful, though that's perhaps outside the abilities of the platform at present.
Wyze Labs
A vacation mode, timer system, and "power loss recovery" options—whereby you specify what state the light returns to if someone kills power to the bulb via a physical switch—provide just about all the extra flexibility you're likely to need.
As I mentioned earlier, the Philips Hue smart lighting ecosystem is several orders of magnitude larger and includes everything from indoor and outdoor lighting fixtures to landscape lighting and even portable lamps. And if you're an Apple HomeKit aficionado, you'll likely prefer Hue bulbs because Wyze's smart bulbs don't support that standard. Taking full advantage of that ecosystem, however, depends on your also purchasing a Hue Bridge (at a typical street price of around $50). Wyze's bulbs connect directly to your Wi-Fi network and don't require any infrastructure beyond your Wi-Fi router.
The Wyze Smart Bulb Color is a fantastic value
Wyze sells this bulb in two-packs ($24) and four-packs ($44), although you can find singles selling for $18 each on Amazon if you're determined to only acquire just one. Color BR30 smart bulbs are much more common than they used to be, but few are available anywhere close to Wyze's pricing; those that are invariably from unheard-of brands.
After testing this bulb in a real-world scenario for several days, I've yet to find any fault with it. Given that the per-unit price in a four-pack is less than $3 higher than the standard, not-smart, white-only Philips BR30 bulbs I have installed all over my house, I might well be upgrading my home and changing my allegiance to Wyze going forward.