The Marshall Middleton is the latest Bluetooth speaker to pay tribute to the guitar amplifiers from the rock legends at Marshall Amplification. While Marshall doesn't have much to do with the design or manufacture of these speakers—the company just licenses its brand to the Swedish company Zound Industries—other Marshall-branded speakers we've evaluated—including the Marshall Kilburn II—have been good values.
The $299 Marshall Middleton goes on sale today, January 31, 2023. As we wait for our review unit to see if past is prologue, here's what we can tell you about the speaker now. Zound describes the Middleton as a "quad-speaker set-up" with a pair of 20-watt Class D amplifiers powering two of its active drivers and dual 10-watt Class D amps driving its other two. Classified as a single-cabinet stereo speaker, the company describes this arrangement as producing "spatial and binaural sound that flows around you."
This news story is part of TechHive's in-depth coverage of the best Bluetooth speakers.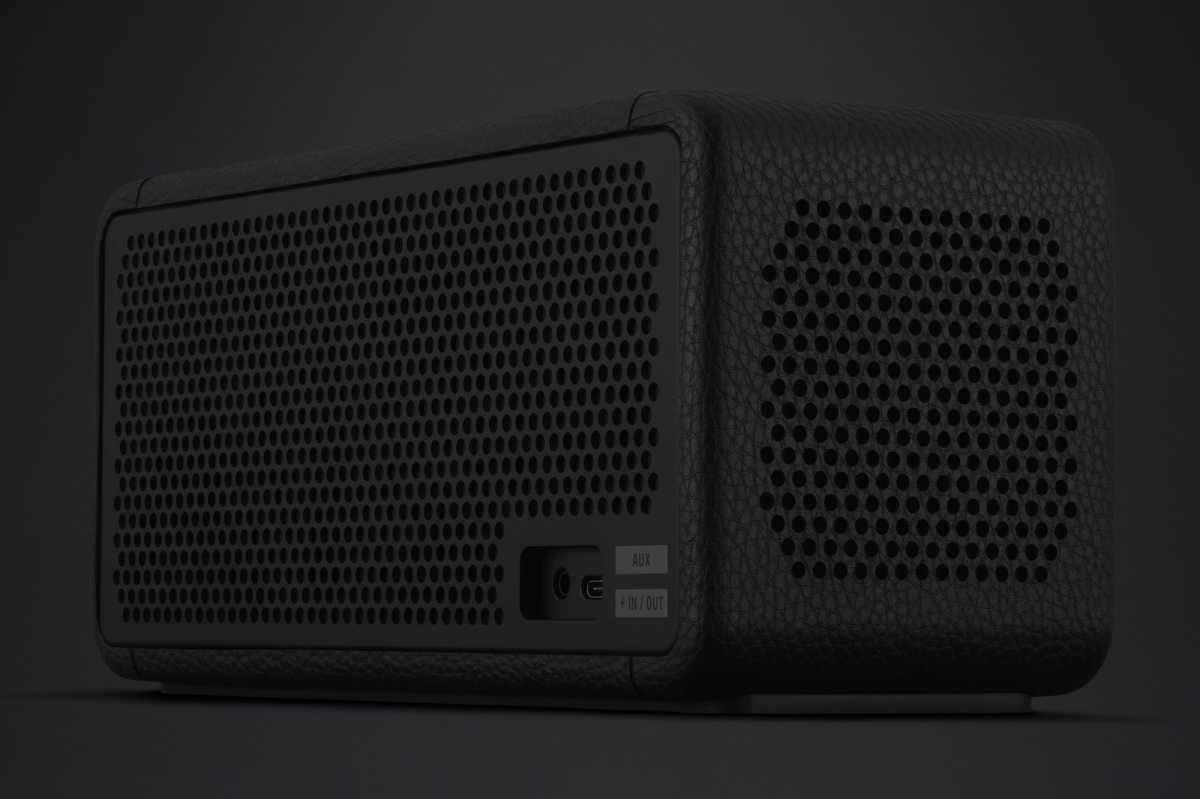 Zound Industries
Zound says the speaker delivers sound pressure levels of 87dB @ 1 meter, and that it delivers frequency response from 50Hz to 20kHz. You can use buttons on top of the speaker enclosure to adjust volume, move back and forth through your playlist, and to adjust bass and treble levels. Zound also offers a mobile app for controlling this and any of the company's other Bluetooth speakers.
As an homage to the famous Marshall Stack (an amplifier atop two speaker cabinets stacked on top of each other), you can wirelessly connect multiple Marshall Middleton speakers together to play the same music in Stack Mode (the speakers can be on top of each other or simply adjacent). Stack Mode appears to be different than Qualcomm's True Wireless Stereo technology, which creates left/right stereo using two discrete Bluetooth speakers.
Zound Industries
The Middleton measures 4.29 x 9.06 x 3.74 inches, weighs 4 pounds, and carries a weatherization rating of IP67, meaning its impervious to dust and other particulate matter and that it can withstand being immersed in up to 3.3 feet of water for 30 minutes. The speaker enclosure itself resembles a Marshall head unit (the amplifier that sits atop the speaker cabinet), except that the Middleton has speaker grilles on its front and back and both its left- and right-hand sides to deliver the promised 360-degree sound. A large brass-colored Marshall logo is affixed to the front grille.
The speaker's onboard battery is rated to deliver more than 20 hours of music playback on a single charge, but you can tap that battery to charge your smartphone, tablet, or other battery-powered devices. If you can't wait for our review, the Marshall Middleton is available now for $299, exclusively (for the time being) at marshallheadphones.com.