At a glance
Expert's Rating
Pros
Supports Dolby Atmos and DTS:X
Fantastic for music playback
App allows for easy setup and customization
Cons
No dedicated mute button on remote
Needs the optional subwoofer for the best movie experience
Our Verdict
If you want immersive audio with your television, don't want the wires or a forest of speakers in your living room, Sennheiser's Ambeo Soundbar Plus delivers the goods.
Price When Reviewed
$1,499.95
Best Prices Today: Sennheiser Ambeo Plus
Sennheiser has been a leader in audio technology since its founding in 1945. The company has developed generations of microphones and headphones that have become standard equipment in the pro audio community, and, over the past decade, they've invested millions of dollars researching immersive audio. That research yielded the Ambeo technology at the heart of the exceptional Ambeo Soundbar Plus reviewed here.
Ambeo made its first appearance in a consumer audio device in 2019, with Sennheiser's massive Ambeo soundbar, since renamed the Ambeo Max. Here's a link to TechHive's Sennheiser Ambeo Max review, published prior to the name change.
This review is part of TechHive's in-depth coverage of the best soundbars.
The Ambeo Soundbar Plus soundbar is a much sleeker, lower-profile unit that showcases Sennheiser's audio processing prowess in a package that will be more attractive to customers who don't have the type of large home theater the Max was designed for. The Soundbar Plus supports Dolby Atmos, DTS:X, and Sony 360 Reality Audio in addition to stereo, 5.1- and 7.1-channel signals, so the unit can handle whatever streaming or physical media formats you use.
We tested the Ambeo Plus Soundbar both with and without Sennheiser's Ambeo Sub subwoofer ($699.95), which features an 8-inch proprietary woofer and 350W Class-D amplifier. Aside from its fantastic sound, one advantage of the Ambeo Sub is that it automatically pairs with the Ambeo Soundbar Plus when you turn it on. You can use the Soundbar Plus with any subwoofer you choose via a wired connection.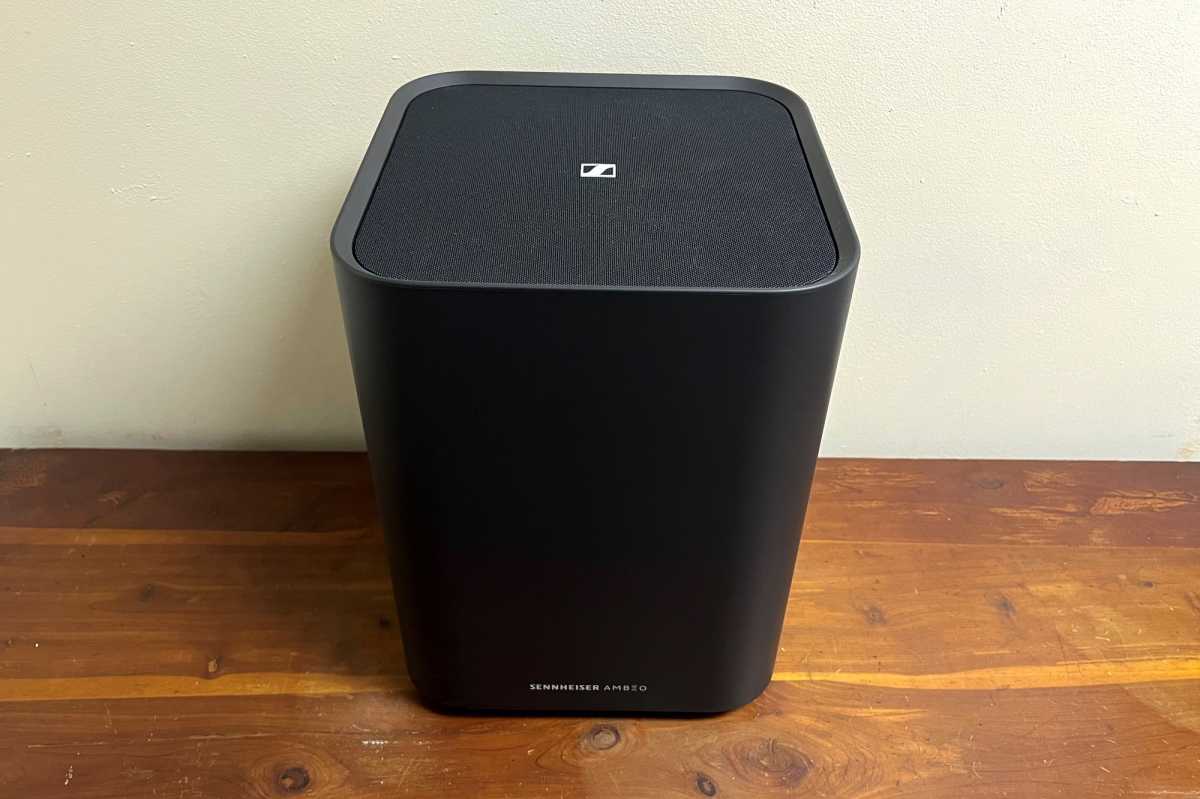 James Barber/Foundry
What's inside the Ambeo Soundbar Plus
The Ambeo Soundbar Plus will inevitably be compared to Sennheiser's original Ambeo Soundbar (as I've already mention is now called the Ambeo Max), but the Max is a beast, weighing more 40 pounds and dominating any room; and considering it's 5-inch height, blocking the bottom of any television not hanging on the wall. It's a spectacular and expensive ($2,500) piece of gear that has no real parallel in the market.
By comparison, the Ambeo Soundbar Plus has a look that's far more in line with what we've come to expect with a soundbar, measuring 41.25 x 3 x 4.75 inches (WxHxD) and weighing just 14 pounds. The Plus cuts a far lower profile in your living room, with a small Sennheiser logo, rounded corners, and a fabric grille. It's the kind of design that doesn't draw attention to itself but looks good when you do give it a close look.
The Soundbar Plus ships with a high-speed HDMI cable, a power cable, a remote control with CR 2032 battery, and a well-illustrated and clearly written Quick Guide that made for easy setup. You'll also want to download the Sennheiser Smart Control app to your iOS or Android device.
James Barber/Foundry
You can use the Ambeo Soundbar Plus as the center of your home entertainment setup because it comes with a wide variety of inputs for virtually any device you want to connect. That said, the HDMI eARC connection for your television anchors the setup and could be the only one you need. The following link will tell you all about the differences between HDMI ARC and HDMI eARC.
There are another two HDMI ports for a Blu-ray player or streaming device, RCA inputs for a CD player or cassette deck, and an optical connection for older TVs with no HDMI ports or a CD player. There's also an RJ-45 port for users who want to connect directly to their router with an ethernet cable, bypassing Wi-Fi. The USB-A port is for updates only.
Setting up the Ambeo Soundbar Plus
Once you've unpacked the soundbar, you can set it up for television playback by plugging in the included HDMI cable into the eARC connections on the television and the Ambeo Soundbar Plus.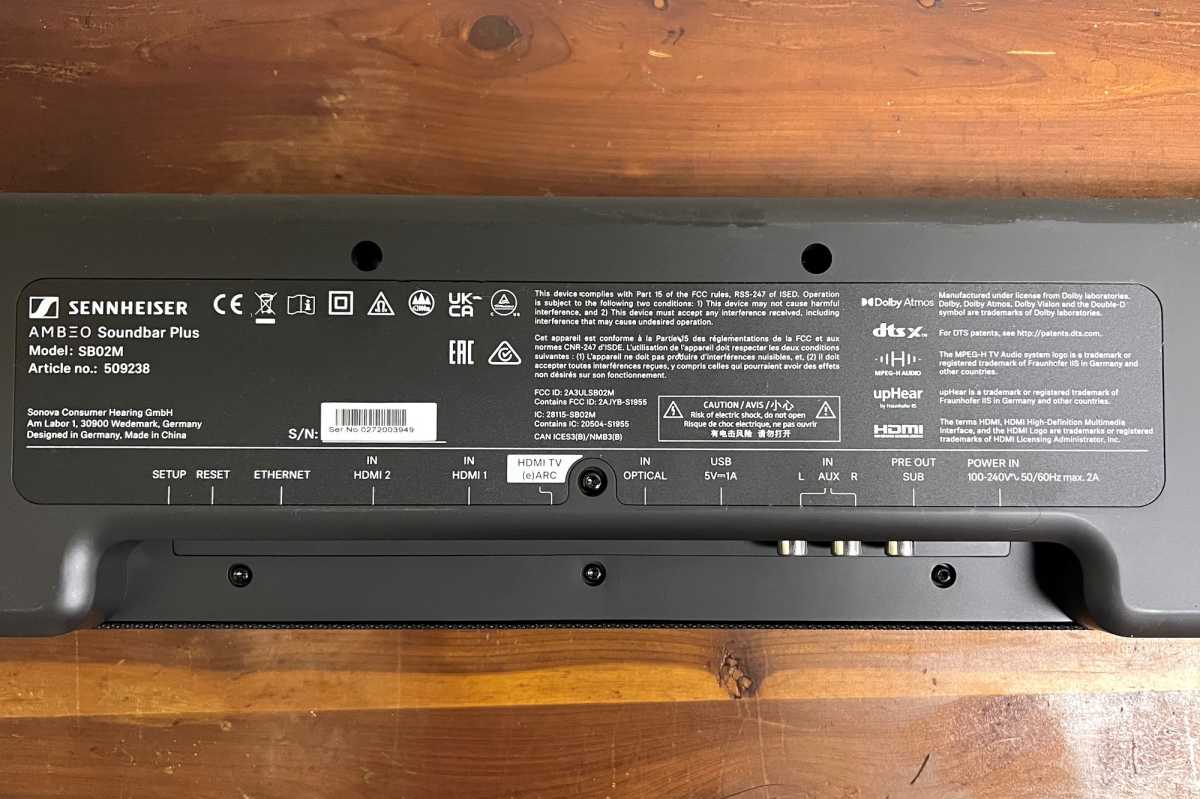 James Barber/Foundry
Install the Sennheiser Smart Control app (available for both iOS and Android) on your phone, connect to Wi-Fi or ethernet, and then set up the Soundbar Plus with the System Calibration feature. The app uses the device's onboard mics to read your room, and after a 5-minute cycle of beeps and tones, it's adjusted the playback to give your room a custom sound profile.
There's an option to set up Alexa or Google Assistant to use the Ambeo Soundbar Plus as a smart speaker. If you're the kind of person who gets a lot of alerts from Amazon, you might not want to set up Alexa. I got a lot of package-delivery alerts while watching movies until I turned off that feature.
If you want to use the soundbar for music playback, the speaker works with both Spotify Connect and Tidal Connect. If you use another music service, the Ambeo Soundbar Plus supports AirPlay 2 and Chromecast. (Don't miss TechHive's recommendations of the best music-streaming services.)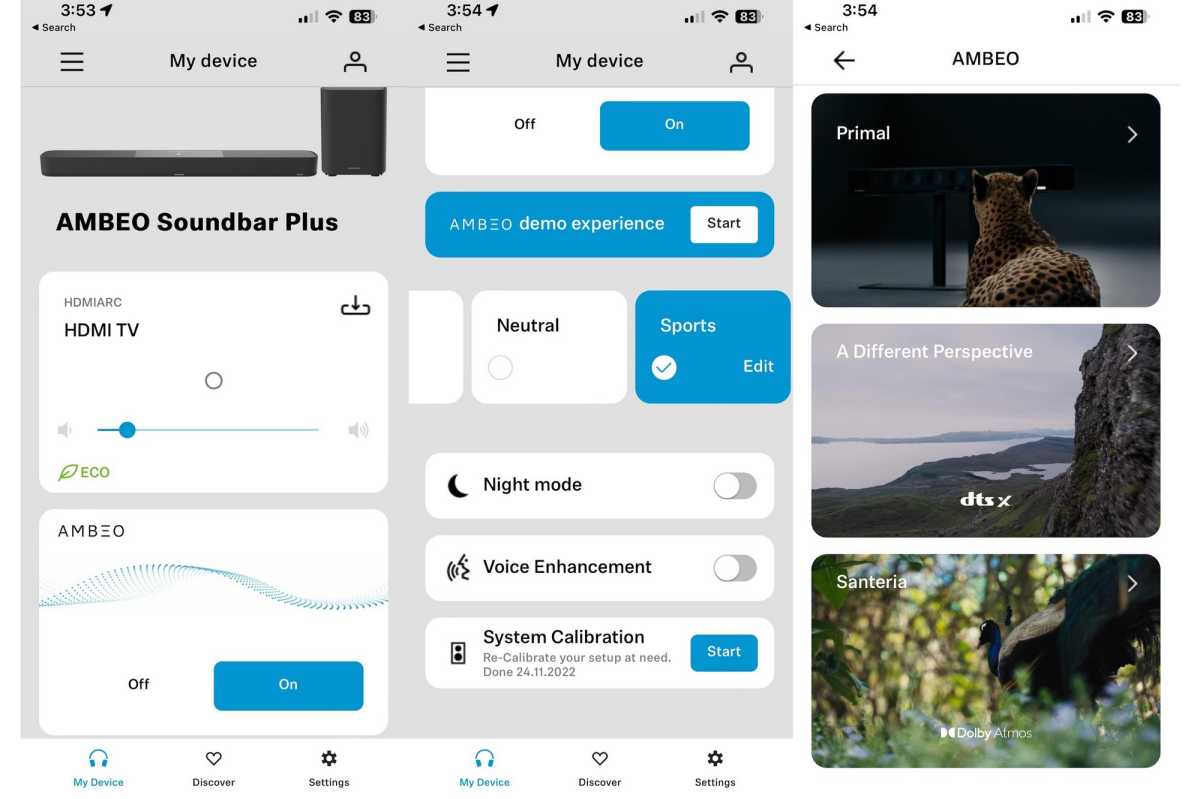 James Barber/Foundry
How does the Sennheiser Ambeo Plus sound?
True surround purists can step away now, because Sennheiser uses processor-based virtualization to create the illusion of a room filled with speakers. The company says the principles that guide those phantom speakers were developed through extensive psychoacoustic research. Sennheiser planted its flag with the proof-of-concept Ambeo Max, and now it's migrated that technology into a far more practical design with the Ambeo Soundbar Plus.
The virtualization creates an immersive experience that will seem like magic for anyone who's struggled to hide the cables for an old-fashioned 5.1 audio system. It might not quite match the experience of having a pair of speakers blasting at you from behind, but your ears will still experience sounds coming at you from what seems like multiple angles.
The Woman King, the 2022 movie about the female warriors who fought for the African kingdom of Dahomey in the 19th century, features plenty of hand-to-hand combat scenes. The Ambeo Soundbar Plus did a great job with a Dolby Atmos mix that takes the viewer inside a battle with action happening simultaneously on all sides. There was a consistent sense of the discrete fights going on around the action taking place in the center of the screen.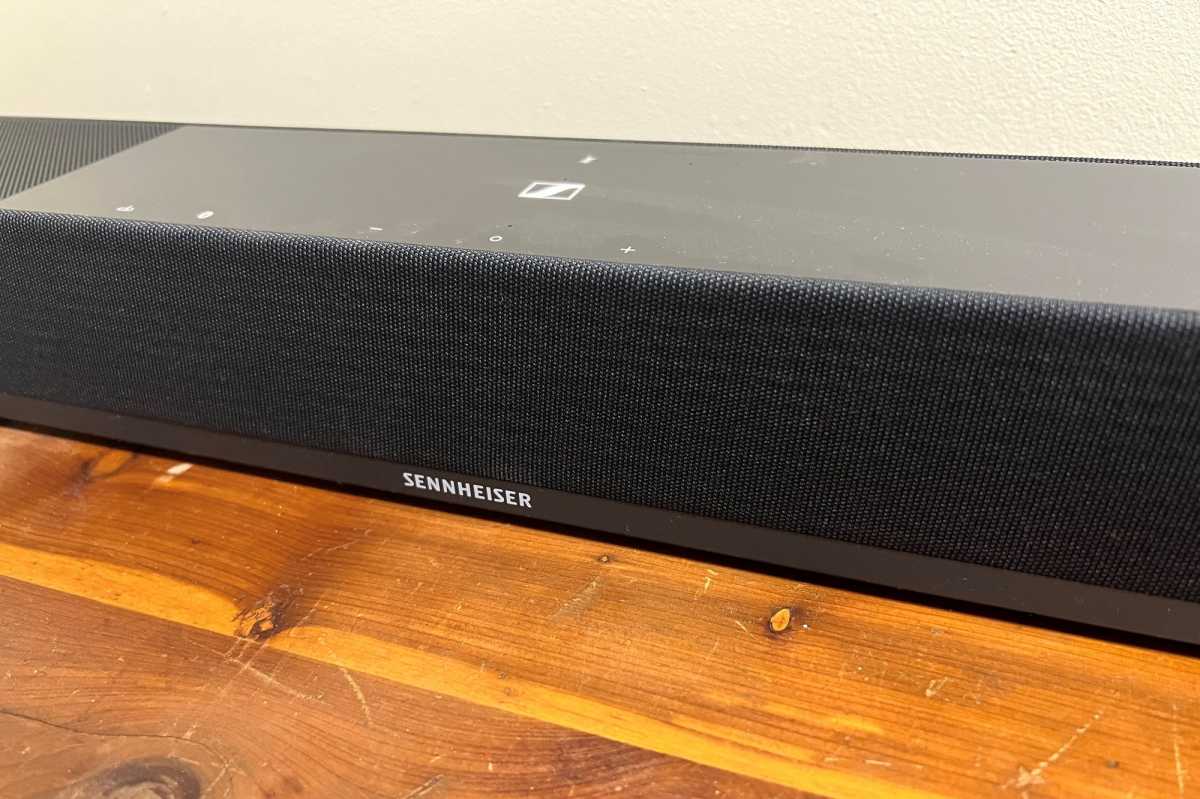 James Barber/Foundry
There's a noticeable difference if you remove the Ambeo Sub from the equation. The virtual surround sound experience is still evident, but it's far less convincing without the subwoofer in play. If you're mostly watching sports and binging Netflix series, you probably won't miss the sub, but movie fans should budget for adding a sub to the setup.
Music sounds fantastic through the soundbar, with stereo tracks blowing away what you'd get from a Sonos Five (previously known as the Play:5) and comparing favorably to high end dedicated music speakers like the Naim Mu-so or the Sonus faber Omnia. You've also got access to immersive audio via Dolby Atmos tracks on Apple Music and Sony 360 Virtual Audio on Tidal and Amazon Music HD.
De La Soul's classic 1989 hi-hop album 3 Feet High and Rising is finally coming to streaming after decades of legal issues with its samples and will be available in Dolby Atmos via Apple Music. They've released "The Magic Number" in advance of the album, and the Ambeo Soundbar Plus does a convincing job of matching the track's sound placement when listening via Apple AirPods Pro 2.
Miles Davis' 1960 album Sketches of Spain also has a high-res Dolby Atmos mix, and streaming to the Ambeo Soundbar Plus via Apple Music matched the experience of playing a CD of the most recent Sony remaster via my home audio system.
Sennheiser's remote control is a dud
Sennheiser has included its SB02-RC remote, which would be one of the best home theater remotes I've ever used except for one exceptionally weird design choice, which I'll get to in a bit. The buttons are laid out well, with plenty of space between each one. And while they're not backlit, I was able to learn to choose settings by feel over the course of my testing.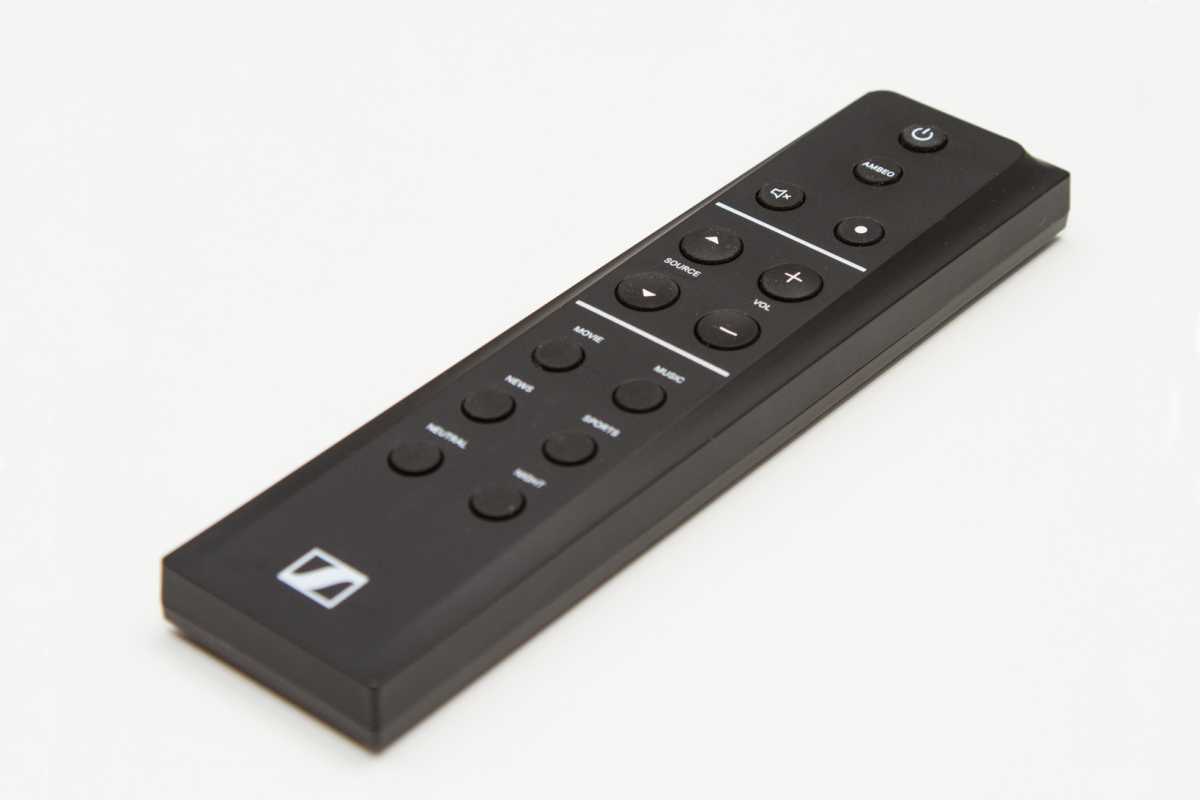 Sennheiser
There are volume-up and -down buttons next to the Source forward and back buttons, and the respective volume-down and source-back buttons have indentations that make them especially easy to identify without looking. The Ambeo Soundbar Plus's processing modes (movie, music, news, sports, neutral, and adaptive) have individual buttons, as do the night and voice settings. Each of these modes can be tweaked to your liking via the Smart Control app. If you ever want the virtualization processing turned off, use the Ambeo button to control the setting.
The real mystery is why Sennheiser didn't included a dedicated mute button on the remote. There's an "O" multifunction button that mutes the soundbar with a single press out of the box. If you're using the Soundbar Plus for Wi-Fi, Bluetooth, or Spotify/Tidal connect, the "O" button plays or pauses your music stream. If you activate Alexa, a single button-press calls up the voice assistant, and you now need a 3-second press to mute the television or pause music playback.
Even without Alexa activated, I experienced a startling lag every time I tried to use the "O" button. Television muting was not the near-instant experience you get from even the least-expensive televisions or soundbars on the market. It's a jarring and deeply strange flaw from a speaker that's otherwise nearly perfect.
Is the Sennheiser Ambeo Plus a good value?
Sennheiser is aiming for a sweet spot that gives the best possible audio experience from a soundbar that's as unobtrusive as possible. The onboard digital processing allows for a satisfying surround-sound experience from a single device. The Ambeo Soundbar Plus will never satisfy hardcore home theater aficionados who won't settle for anything less than the full array of speakers required for the truly immersive experience.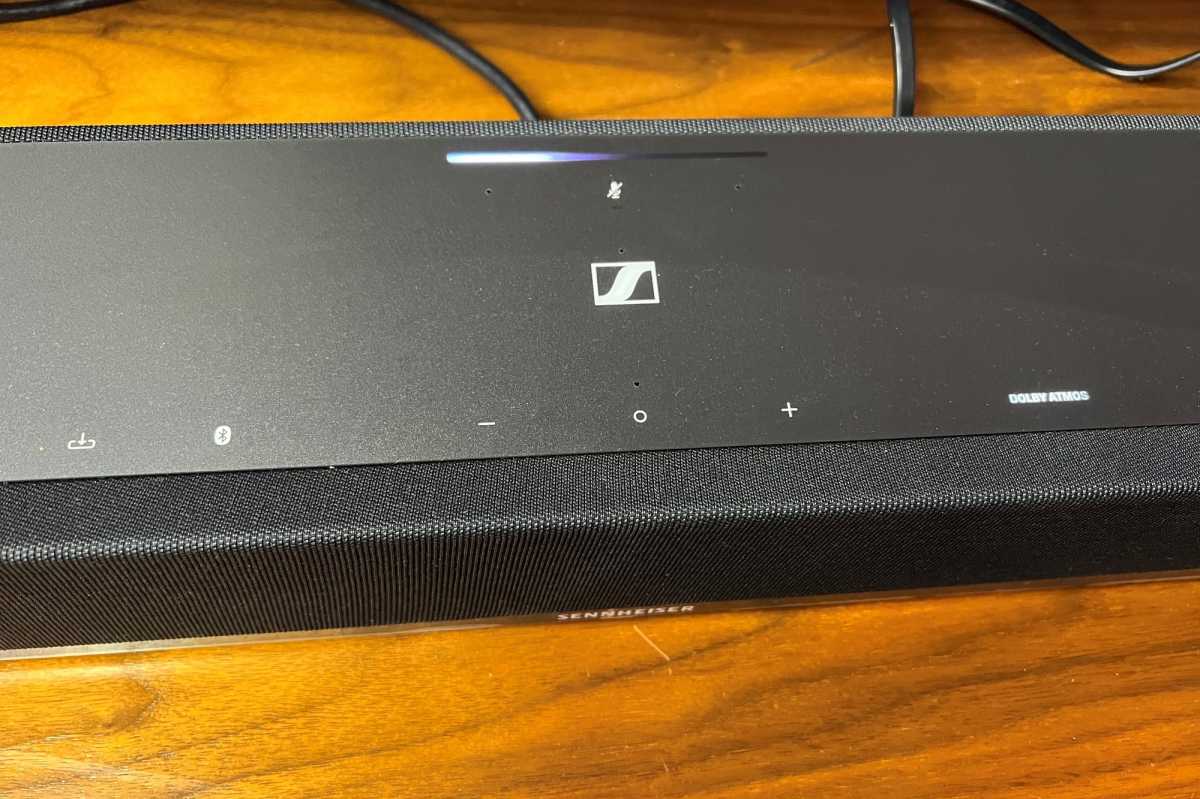 James Barber/Foundry
Sennheiser has built a plug-and-play soundbar for the huge number of people who want a simple and elegant solution to works with their big-screen television. The Ambeo Soundbar Plus delivers an impressive Dolby Atmos experience and sounds great for music playback.
The experience is substantially improved if you add on a subwoofer, and the Sennheiser Ambeo is an excellent choice even though the combined price of this soundbar and subwoofer is getting close to the price of the truly amazing Ambeo Max soundbar. You're still going to enjoy a far less obtrusive presence with the Ambeo Plus and Sub than you'd experience with the massive Ambeo Max dominating your living room. Sennheiser has designed and delivered a unit designed to be an all-in-one home entertainment solution for anyone who has abandoned physical media, and it's a fantastic option for anyone who's looking for something both simple and amazing. You can easily add physical media like Blu-ray or CD to the equation without much trouble if those are still part of your mix, but the Ambeo Soundbar Plus shines as a low-profile, great-sounding system for the digital media era.
Best Prices Today: Sennheiser Ambeo Plus