At a glance
Expert's Rating
Pros
Solid performance for the price
Easy, streamlined setup
Plenty of in-app options
Cons
Minimal onboard controls, including no real manual mode
No countdown timer, no logging
Uses a proprietary, rather than HEPA, air filter
Our Verdict
This is a largely generic purifier designed for small spaces, but its smart features work well and it's priced to move.
Price When Reviewed
$79.99
Best Prices Today: Xiaomi Smart Air Purifier 4 Compact
You've seen this product before, I'm sure, or at least something nearly identical to it. It's a compact, no-frills purifier that's easy to move wherever you need it. So, what makes it different?
Xiaomi produces a range of larger air purifier products, with this member of its Compact line designed for tighter spaces. The cylindrical, all-white device is a mere 14 inches high and 9 inches across, and it weighs slightly less than 5 pounds. A cylindrical filter (which slides in through the bottom of the purifier) is not a HEPA filter but rather a proprietary filter made from "melt-blown PP fibres with electrostatic technology" instead of the customary fiberglass used in HEPA designs.
This review is part of TechHive's in-depth coverage of the best smart air purifiers.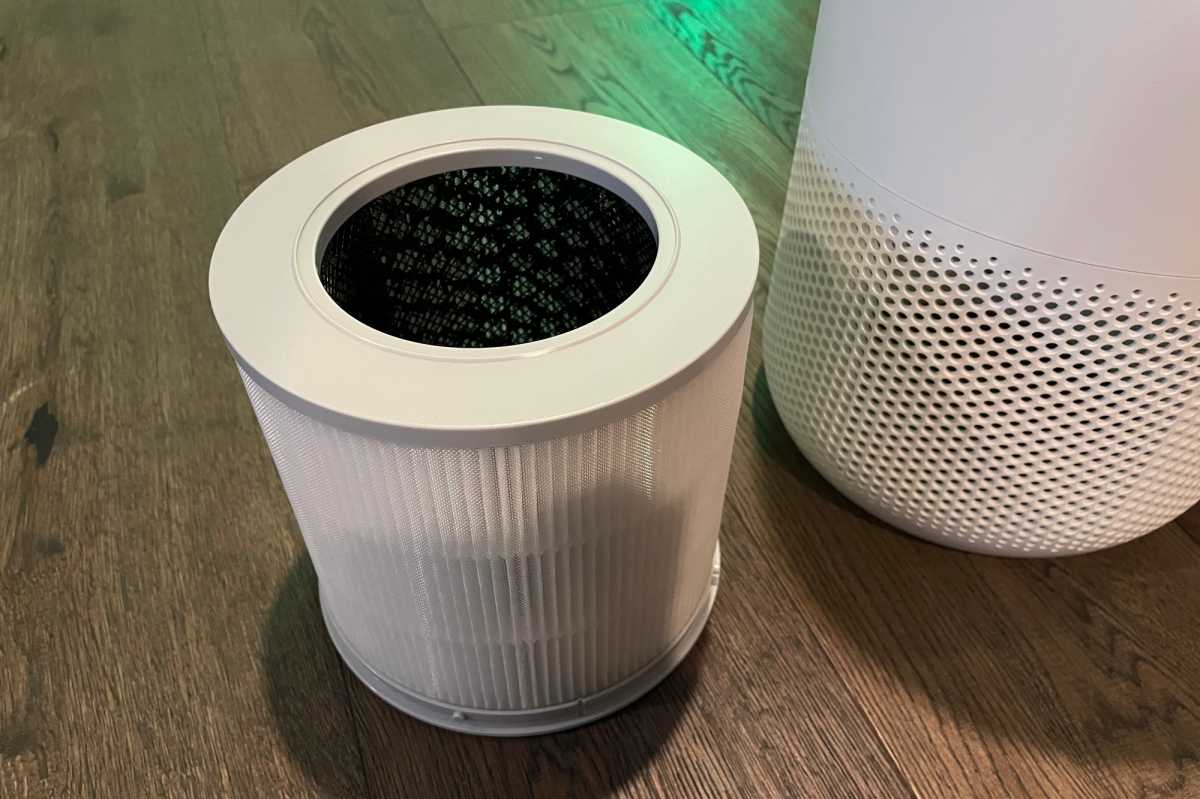 Christopher Null/Foundry
Xiaomi says its filter works better than HEPA, and while I'm not sure if that claim is easily verifiable, Xiaomi's stated specs are roughly on par with those of HEPA-based purifiers with similar power. Specifically, the company claims a CADR (clean air delivery rate) of 135 cubic feet per minute for particulates (no breakdown beyond that) and boasts a maximum coverage area of 516 square feet. That's an impressive CADR given the small size of the device.
Operationally, the device is very simple, with air pulled in from the base and emitted upwards through the top. A control panel is centrally mounted on the top panel, with three basic functions: power, a light-adjustment button, and a button that lets you switch between automatic, sleep, and manual modes. You can't change the power of the manual mode on the device itself; for this, you'll need to use the Mi Home mobile app, where a slider lets you adjust the fan speed to your liking. The button on the hardware itself simply selects the most recent speed you've selected within the app.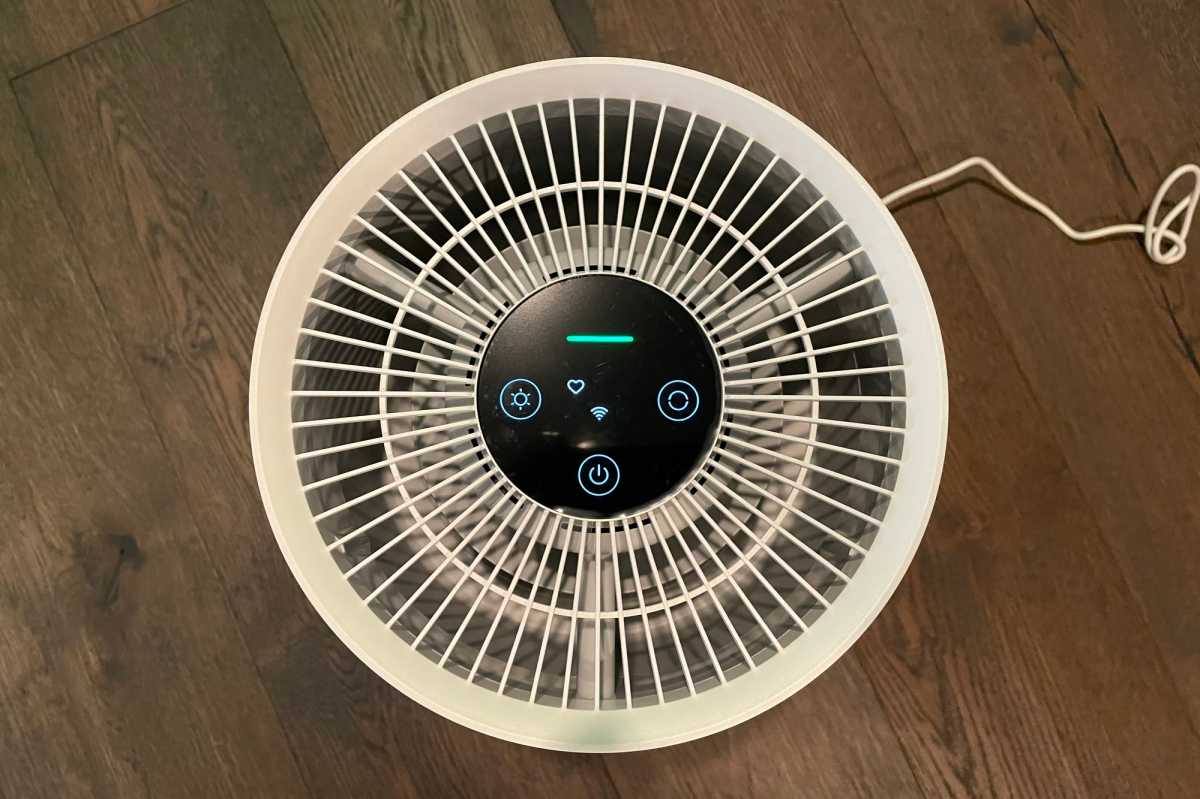 Christopher Null/Foundry
The purifier hardware also includes one additional feature: a color-coded air quality indicator that can display one of four levels of PM2.5 concentration, ranging from green (best, less than 35 ppm) to red (worst, more than 150 ppm). Filters are rated to last 6 to 12 months; replacement costs have not yet been announced.
Connecting the Xiaomi purifier to your home network is easy. The Mi Home app discovers the device automatically via Bluetooth, and then quickly bridges it quickly to your 2.4GHz Wi-Fi network. As noted above, the app offers more fine-grained manual controls, plus a collection of additional features, including a child lock, a simple scheduling function, and a more complex "Smart Scenes" feature that lets you set up multi-device automations if you have more than one piece of compatible equipment.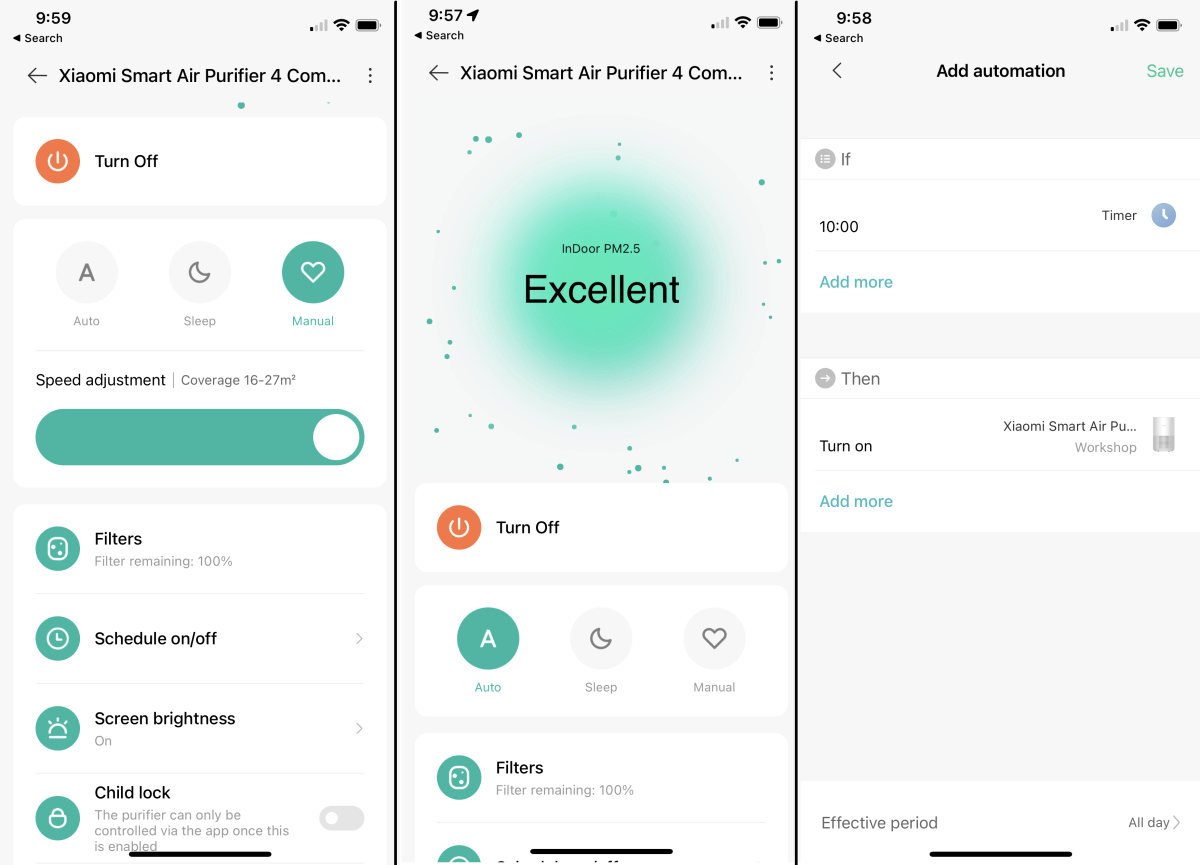 Christopher Null/Foundry
This IFTTT-like system lets you link equipment together however you'd like; for example, turn on a light when the purifier is running. You can also schedule automations, but for most people, the standard scheduling option should be plenty. Curiously, no countdown timer is available in the app, nor are there any long-term logging features. You can, however connect the device to Alexa or Google Home, allowing for additional tweakability.
At full speed, the Xiaomi purifier is loud but not at all deafening, and at anywhere less than half-power or below it's largely unnoticeable. Better still, with a street price of about $100, this is one of the more affordable purifiers on the market, particularly among those with smart features. While I can't comment on how effective its proprietary filter is in relation to a true HEPA filter, it does at least seem to be effective, and its specs are impressive. While claims of being "better than HEPA" are always a bit fishy, I have no reason to believe this device doesn't at least work as well as one.