At a glance
Expert's Rating
Pros
Streamlined physical installation
Handsome appearance
Screwless cover plate included
Very easy wireless setup
Cons
Test unit had a problem with its air gap
Might never support Matter
Expensive
Our Verdict
Wemo's new dimmer supports HomeKit and Thread and installs easily, but it'll cost you (and it's not Matter certified).
Price When Reviewed
$59.99
Best Prices Today: Wemo Smart Dimmer with Thread (model WDS070)
Apple-centric homeowners have more choices than ever when it comes to outfitting a smart home, and the Wemo Smart Dimmer with Thread is a solid—if expensive—choice for the HomeKit and Thread crowd.
There's not a lot to the Wemo Smart Dimmer, which supports only single-pole installations and offers a fairly no-frills collection of standard dimming features. On the upside, it will work with or without a neutral wire in the electrical box (Belkin recommends connecting a neutral wire if one is available).
You'll tap the rectangular switch to turn the connected load on and off, press and hold its upper and lower dimples to brighten and dim the light respectively, and double-tap them to take things to maximum or minimum brightness. These max and min levels aren't set through an app-based calibration, which is the norm on non-HomeKit devices, but rather through hardware, via holding down multiple buttons simultaneously to teach the dimmer your preferred levels.
This review is part of TechHive's in-depth coverage of the best smart dimmers and switches.
I found installing the Wemo dimmer to be easier than most of the switches I've worked with. The device has double wiring holes on the backside for each of the four connections required, including the ground. This makes wiring quite easy: just press the wire(s) in and tighten a screw; the only wire-nut connection I needed to make was to my home's neutral line. A single white pigtail and wire nut is included in the box for this purpose, although the nut included was not large enough for the wiring inside my home's wall, so I had to supply my own. The switch's dimensions are reasonably sized, and I found getting everything flush and cleanly attached to the wall was simpler than on many competing units.
Belkin
Once attached, setup is done completely via HomeKit, Bluetooth, and Thread. If you're lucky, you should be able to connect by simply tapping your phone to the center of the dimmer (via near-field communication, or NFC). I ended up needing to type in the 8-digit code printed on a sticker on the switch (underneath the cover plate); once I did that, everything proceeded quickly. HomeKit pros know that the iOS Home app is fairly basic (you can't use the Wemo app to control the device), providing a simple slider for manual dimming and a helpful scheduling system; plus, the ability to tie the dimmer into the greater HomeKit ecosystem. All of the above worked well in my testing, and my test light is now dutifully turning itself on at sunset each night without complaint.
I did encounter one hiccup with the dimmer's air gap switch, a manual safety cutoff recessed below the paddle. While this switch is supposed to be flush against the switch plate, mine sticks out about a millimeter and is very loose. The switch still works as it's supposed to, but if you brush against it, it's easy trip, causing the dimmer to completely lose power. It appears something is wrong with the air gap's spring-loading mechanism on this particular unit; Belkin says it's a fluke problem and at press time was sending a replacement.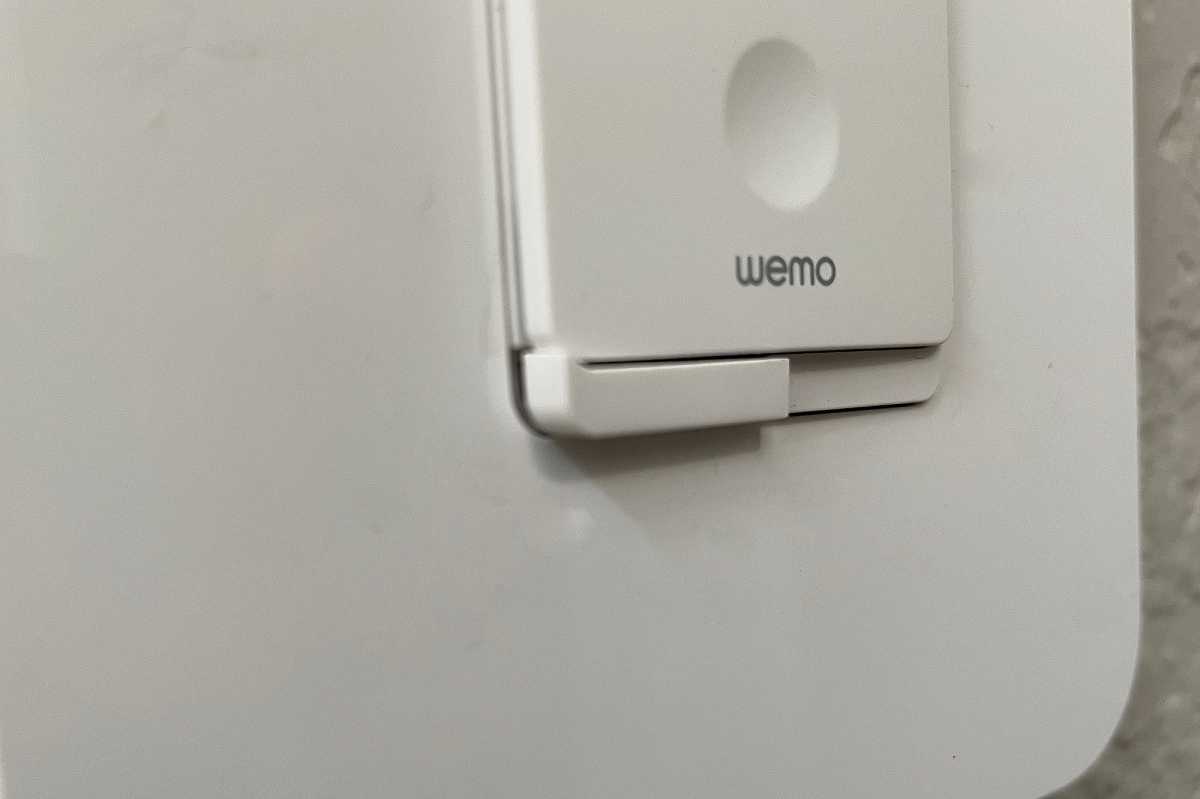 Christopher Null/Foundry
One item of note is that the dimmer does not and probably will not support Matter. A Belkin rep wrote in response to a question about this: "The Wemo Smart Dimmer works exclusively with HomeKit over Thread for a more responsive, reliable and secure smart home experience without the hassle of third-party apps. We remain firm believers that Matter will have a significantly positive impact on the smart home industry, but have made the decision to take a big step back, regroup, and rethink our approach in the smart home space. At this time we are pausing development of our Matter products, but we when we are able to bring differentiated products to market, we will."
At $60, the dimmer is not cheap, though its support for Thread and HomeKit, its stylish design, and its easy installation give it a leg up over some of the other options in this category. If you're on the HomeKit-or-bust bandwagon, it's worth considering.
Best Prices Today: Wemo Smart Dimmer with Thread (model WDS070)