Apple established its reputation as a music-focused company with its 2001 introduction of the iPod, and the company has experienced runaway success with its line of AirPods in-ear headphones. But it has yet to crack the home speaker market, with a string of failures dating back to the iPod Hi-Fi back in 2006. Will the HomePod (second generation) change that trajectory?
The second-generation HomePod is the company's latest attempt to win over Apple fans with a new speaker that promises to improve the audio from the first-generation device, offer significant improvements to Siri voice commands, and add a slate of new smart home features, including Matter support. The device is available to order now for $299 and will be available on February 3.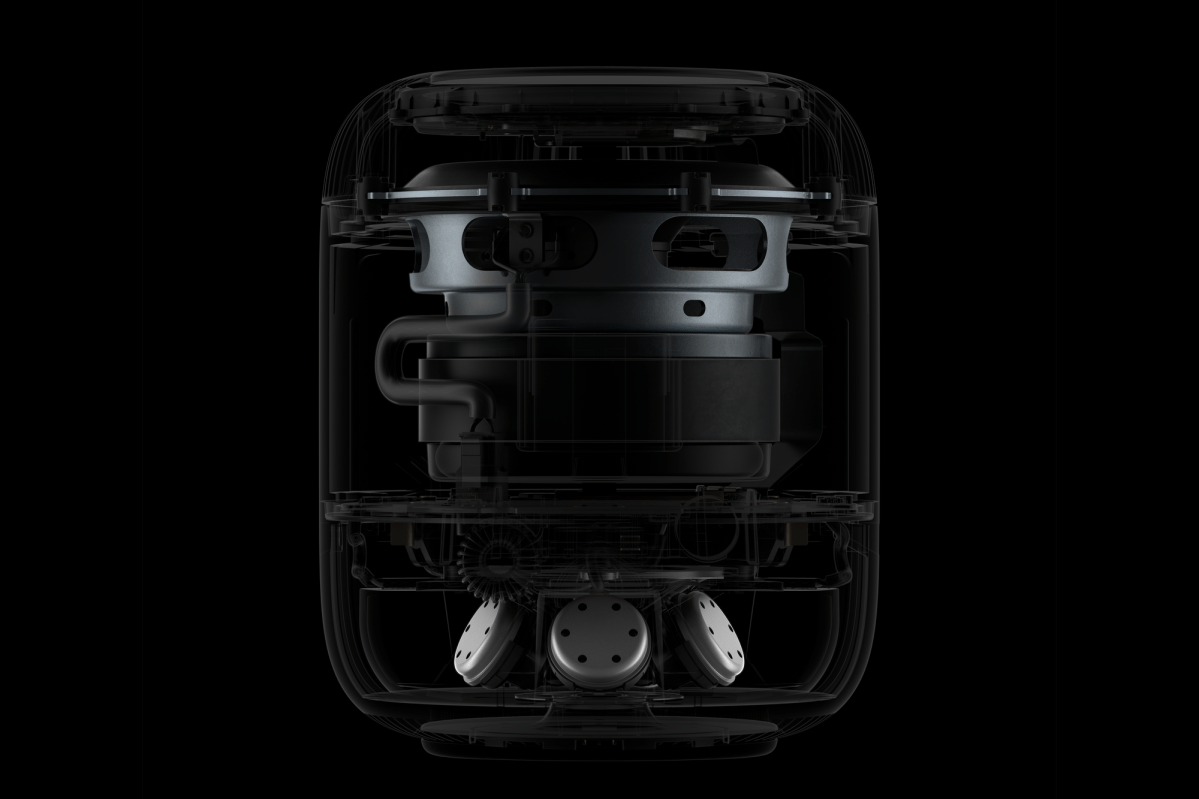 Apple
Like most Apple products, this latest HomePod carries a premium price. On the smart speaker front, it's far more expensive than anything in the Amazon Echo or Google Nest product lines. On the premium audio front, a stereo pair of HomePods will run $598 vs. $298 for a pair of Amazon Echo Studio smart speakers or $438 for a pair of Sonos Ones ($398 for a pair of the "dumb" Sonos One SL). A second-gen Sonos Beam smart soundbar, meanwhile, costs $449 and supports Dolby Atmos, a feature Apple doesn't mention in its press release. It's also worth noting that each of the forementioned Amazon and Sonos products can be augmented with a discrete subwoofer. You can't do that with any HomePod.
Granted, the new HomePod is $50 cheaper than the first-gen device, but Apple's still asking a lot if they're trying to convince buyers to replace perfectly serviceable home speakers that originally cost far less than a HomePod.
Apple
Apple users who just want a smart speaker that works with Siri will be satisfied with the $99 HomePod mini, which will get many of the new HomePod's features via a firmware update next week. The success of this new HomePod will depend on whether there's a market for an Apple speaker designed to be a primary home audio system.
Apple promises much improved bass response in the new HomePod. They're touting a "custom-engineered high-excursion woofer," along with a "powerful motor that drives the diaphragm a remarkable 20mm, built-in bass-EQ mic," and a beamforming array of five tweeters. Apple's own S7 chip drives improved computational audio capabilities that should customize the sound for your space and offer an improved spatial audio experience.
Users can hand off music playing on an iPhone to the HomePod, and the speaker can recognize up to six different voices, so it can customize its recommendations and playlists to reflect the preferences of every member of your household.
HomePod smart home features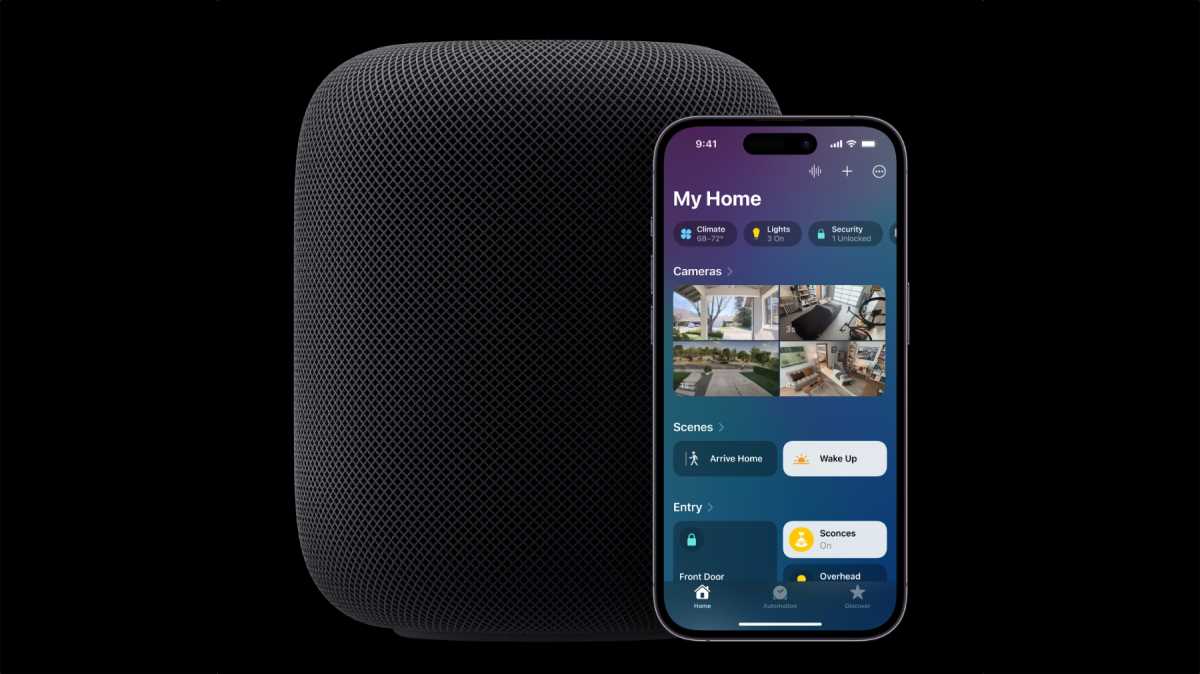 Apple
While Apple's press release doesn't specify that the HomePod itself is Matter certified, Apple's HomePod software has received Matter certification. This isn't surprising, considering Apple is one of the founding members of the Connectivity Standards Alliance that created the Matter standard, but it is important because Matter promises to be the smart home standard that finally unifies what has been a severely fragmented market. That probably won't happen for several years, considering that Matter has yet to establish standards for several important smart home segments, including home security cameras, but we believe Matter will eventually achieve that goal.
The new HomePod's smart home features include the ability to monitor your home for the sound of carbon-monoxide and smoke alarms firing off, sending a notification to your iPhone when it hears those sounds. The speaker has a temperature and humidity sensor that can be set to trigger home automations to turn on a fan or close the blinds when a room's ambient temperature limits are exceeded.
Using the Apple Home app, users can set up recurring automations for compatible devices along the lines of "Hey Siri, open the blinds every day at sunrise." The Home app works with HomeKit-compatible security cameras, smart thermostats, lighting controls, and more.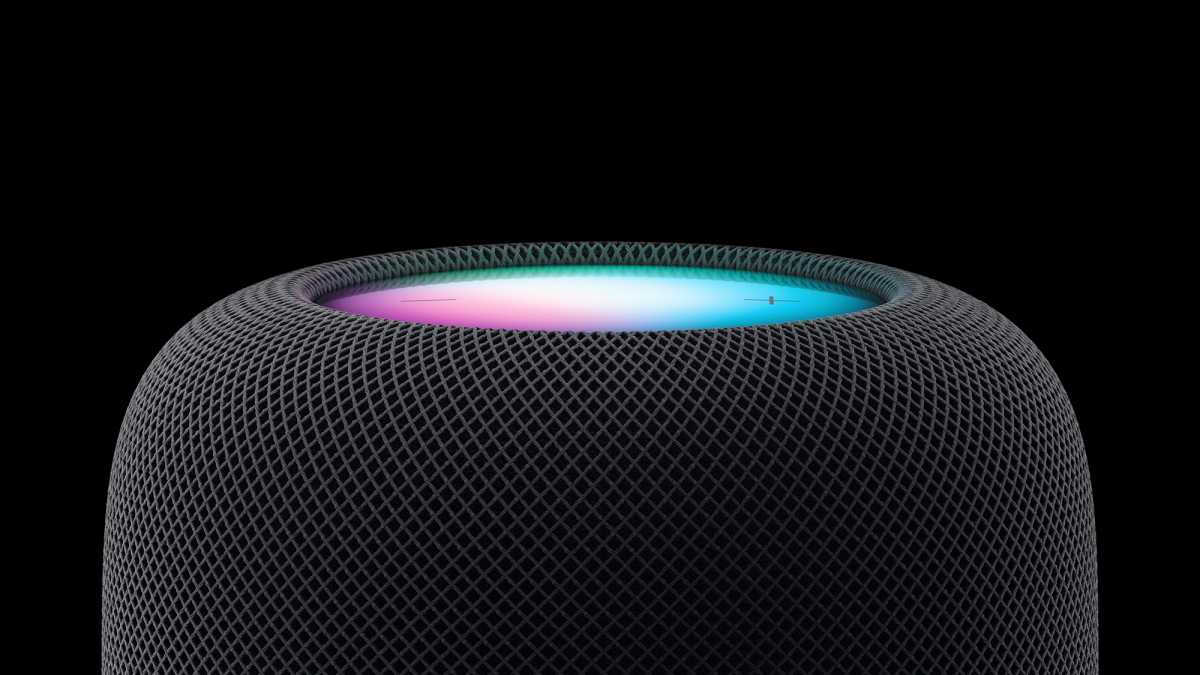 Apple
The HomePod works with all Siri functions, including the "Find My" app that allows users to play a sound on missing Apple devices. You'll never again waste the morning searching for your iPhone when it's buried in the sofa cushions (a feature curiously lacking from the latest Apple TV remote).
The new HomePod is available in either "midnight" (black) or white. Each color comes with a color-matched fabric power cable, and the midnight unit is made with 100-percent recycled mesh fabric.
Apple's big pitch with the HomePod is the device's ability to analyze sound reflections from nearby surfaces and adapt the sound in real time to give a personalized listening experience in your home. The hitch is that technology will provide far more benefit with a stereo pair of speakers than with a single unit.
Will a single second-generation HomePod provide a better listening experience at a price that's $100 more than a stereo pair of HomePod mini speakers? Or will a pair of the new HomePod speakers sound so great that Apple fans will happily shell out $600 for the full stereo experience?
Perhaps more importantly—for Apple, at least—will consumers currently outside the Apple ecosystem buy a $300 HomePod? TechHive's review of Apple's original smart speaker described it as being "for ardent Apple fans only" and found it to be inferior to Google's best effort, the Google Home Max. In the interim, however, Google seems to have concluded that there's no market for a high-end smart speaker, and Amazon has yet to replace its own high-end offering, the $200 Echo Studio it brought to market in early 2020.
Needless to say, we're eagerly anticipating getting our hands on a HomePod (second generation) for an in-depth review.