At a glance
Expert's Rating
Pros
Attractive glass touchscreen
Best-in-class user interface, both onboard and in app
Radar-based motion sensor
HomeKit compatible
Cons
Buy a remote sensor and you're at the same price as the Premium model
Our Verdict
The middle of Ecobee's smart thermostat line comes with every important feature that's built into its top-of-the-line model, save one: a remote temperature/occupancy sensor. But you can add one later.
Price When Reviewed
$189.99
Best Prices Today: Ecobee Smart Thermostat Enhanced
If our absolute favorite smart thermostat doesn't fit your budget, and you can do without a few of its features, take a long look at the Ecobee Smart Thermostat Enhanced. It delivers almost everything you'll get with Ecobee's Premium model for $60 less.
If you live in a small home or condo, you probably won't miss the most important feature you won't get with the Enhanced model: a remote temperature and occupancy sensor that will help eliminate hot and cold spots. But you can always add one those down the road if you think it will make your home more comfortable. The features you won't be able to add later—including a built-in air-quality monitor, an integrated digital assistant (Alexa or Siri), a Bluetooth radio with Spotify connectivity, and an intercom—are easy to live without. Besides, you might already have purpose-built devices for those roles.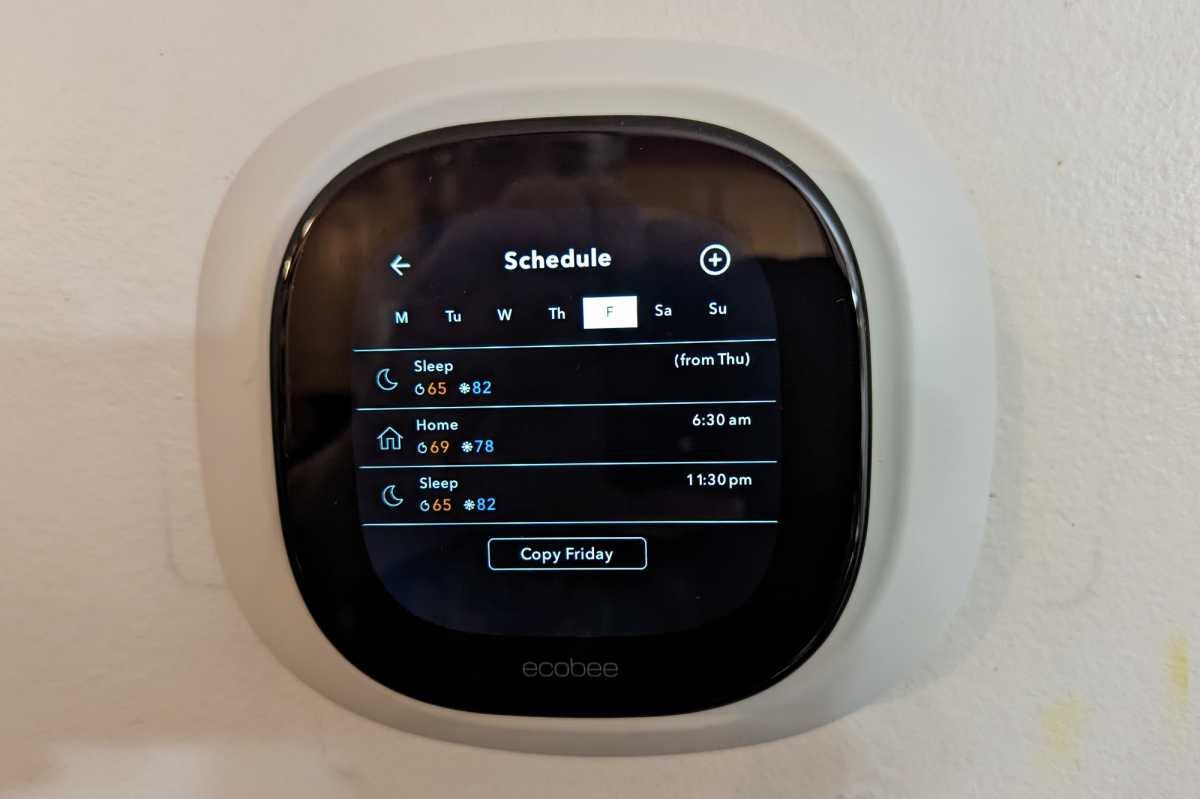 Jason D'Aprile/Foundry
And not having Alexa or Siri on the thermostat itself doesn't mean you can't control the thermostat with voice commands, including Google Assistant, provided you have the relevant smart speaker in your home. The Enhanced model even has the same radar-based motion detection that can see around corners, and it's HomeKit compatible, too.
This review is part of TechHive's in-depth coverage of the best smart thermostats.
The Ecobee Smart Thermostat Enhanced is easy to install
The Ecobee Smart Thermostat Enhanced is compatible with a wide range of HVAC systems, including single- and dual-stage furnaces, air conditioners, heat pumps, and humidifiers and de-humidifiers. Ecobee includes a power adapter kit should you find there's no C wire in the wall to bring the voltage from your HVAC system that the thermostat depends on to operate, and you'll even find an optional trim plate that will cover any holes in the drywall from your previous thermostat.
Ecobee's app guides you every step of the installation, starting with a few questions about your home (type of construction, size, number of occupants, etc.), your ideal temperature targets for heating and cooling, and so on. The thermostat supports geofencing, so you can set limits for when you're away; e.g., don't let the home get warmer than 77 degrees Fahrenheit or colder than 60 degrees F while your smartphone(s) indicate everyone has left the house.
Jason D'Aprile/Foundry
Using the Ecobee Smart Thermostat Enhanced is a piece of cake
The Ecobee Smart Thermostat Enhanced's elegant glass touchscreen conveys important information at a glance: The current temperature with large digits, plus the programmed target temperatures for heating and cooling, relative humidity (which is taken into account for comfort settings), and current weather conditions. To change the desired temperature, just tap the middle of the screen and slide your finger up or down to raise or lower it respectively.
The Ecobee Smart Thermostat Enhanced is the best in its price range
The Ecobee Smart Thermostat is an impressive smart home appliance. It costs more than the equally pretty and also-excellent Nest Thermostat, but you can't use that device with Nest's remote sensors. That said, if you have a larger home and think Ecobee's remote sensors will be of value, save a few more dollars and buy the Ecobee Smart Thermostat Premium. The Premium model will cost you $60 more, but it comes with a $60 sensor in the box.
Best Prices Today: Ecobee Smart Thermostat Enhanced