At a glance
Expert's Rating
Pros
180-degree field of view
Extremely high resolution
Multiple types of motion detection
Cons
Very complex to set up and use for average users
Must be accessed via web browser to configure
No Wi-Fi capability
Bare bones app
Our Verdict
Seasoned NVR users will find much to like in this camera, but average home users will likely be put off by its complexity.
Price When Reviewed
$159.99
Best Prices Today: Annke FCD600
It's unusual for a even a wide-angle security camera to offer more than a 110-degree field of view, providing enough distance and width to cover a typical home's entire yard. You could use multiple cameras to cover more area, but that increases your cost. Some camera manufacturers are tackling the issue by integrating two lenses in a single camera body, splicing the two feeds into a single panoramic video image. The Annke FCD600 is such a camera.
It's important to note up front that the Annke FCD600 isn't your typical consumer security camera. It's primarily designed to be used with an NVR (network video recorder), a box that includes a storage, a server, and a PoE (power over ethernet) injector. The injector sends the electrical current needed to power the camera down the same cable that carries data to and from it. The FCD600, however, can also be used with a conventional AC adapter and without an NVR, making it viable for small-business and home use.
This review is part of TechHive's in-depth coverage of the best home-security cameras.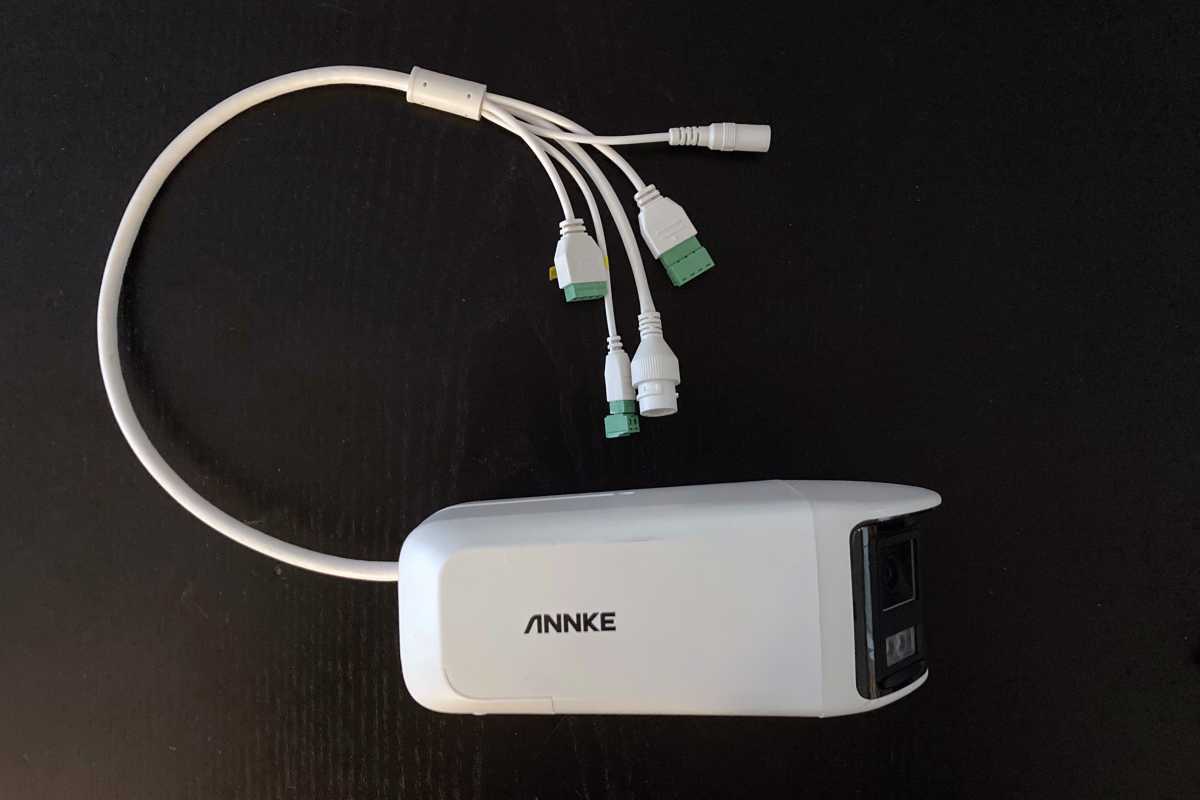 Michael Ansaldo/Foundry
The FCD600 can be installed indoors or outdoors, but it has been engineered for the rigors of the latter. The bullet-style camera has an all-white metal-and-plastic housing that's resistant to corrosion and physical impacts, and it boasts an IP66 weatherization rating, meaning it's dustproof and can withstand powerful jets of water, such as from a pressure washer, from any direction. A metal bracket, mounting hardware, a 3-foot network cable, and a waterproof connector are also supplied.
The camera's dual lenses provide an aggregate 180-degree horizontal field of view and an 81-degree vertical field of view, sufficient to cover expansive areas like backyards, detached garages, and parking lots. When not paired with an NVR or network-attached storage (NAS), the camera uses an internal MicroSD card (capacities up to 256GB, although none is provided in the box) to record video at a maxixmum resolution of 3632 × 1632 pixels. Two front-mounted spotlights enable full-color night vision, and two-way audio is also supported.
The FCD600 has no wireless capability, so for the standalone setup described earlier, you must connect the camera to your router with the supplied ethernet cable, and then scare up a compatible AC adapter as one isn't provided with the camera. You'll also need a screwdriver to access the microSD card slot on the underside of the camera, attach the camera to its bracket, and mount the bracket to a wall.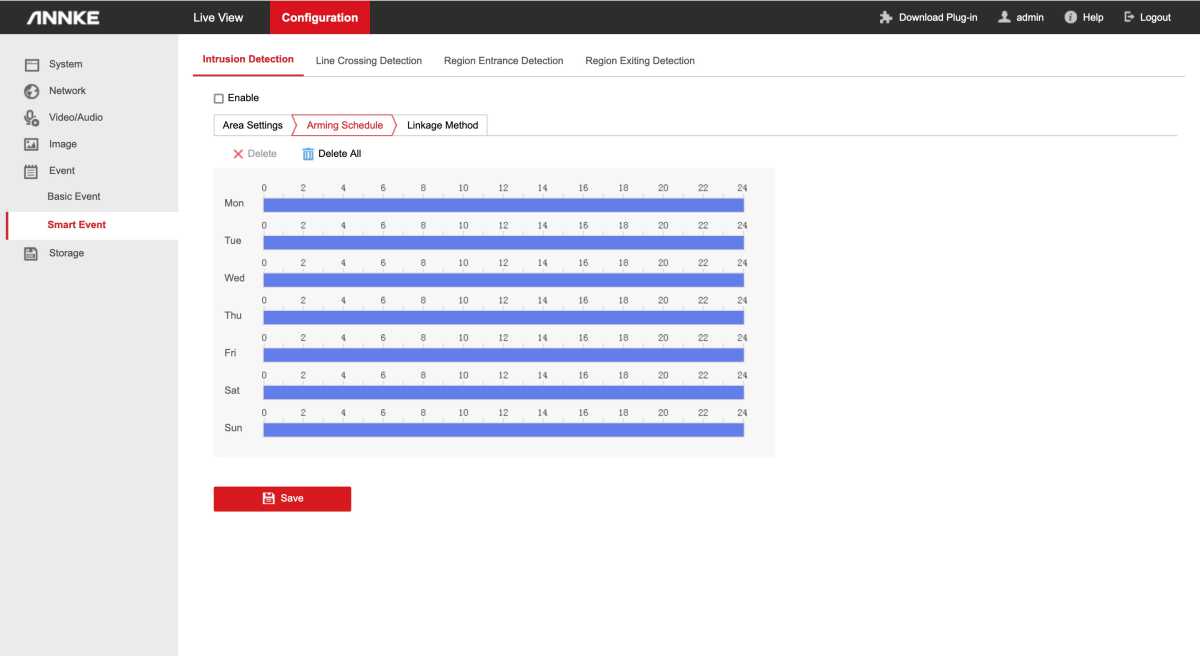 Michael Ansaldo/Foundry
Configuring the FCD600 is considerably more challenging than your standard consumer smart device. The issue is both the complexity of the system itself and the absence of clear documentation. The supplied user manual offers several different options for setting up and operating the camera using various Annke software tools, but it assumes a level of familiarity with IP cameras the average home user isn't likely to possess. Ultimately, I had to turn to Annke's online help center for the guidance I needed to get the camera online.
To set up the camera, I needed to download Annke's SADP software to activate the camera and discover its IP address, and then enter the address in a web browser to connect directly to the camera. Here you're presented with an extremely technical configuration system for manipulating every conceivable facet of the camera's operation. Again, it's assumed the user understands the technical intricacies of IP security cameras, so expect to spend some time querying Annke's online help center and finding your way by trial and error.
You'll need to return to the browser interface to manage most of the camera's features, including motion detection (standard options such as human and vehicle detection as well as advanced options including entrance and exit detection and "line crossing"), alarm settings, scheduling, event notifications, night vision, and more. Daily camera tasks are handled by the Annke Vision app, a blunt tool that lets you view the live feed, review recorded video, operate camera features such as two-way talk and optical zoom, and little else.
Michael Ansaldo/Foundry
The Annke FCD600 records excellent daylight and nighttime video, and once you dial in your desired settings for motion detection, alerts, and event recording it delivers a fairly seamless experience. Mounted to an exterior wall of my home, it provided full coverage of the parking lot of my residential complex and was flawless in detecting human and vehicle movement. The Annke Vision app isn't as refined as most other security camera apps I've used—or as the Annke Smart app used for the company's Wi-Fi cameras—but it's straightforward to use once get over the initial hurdle.
At $159.99, the FCD600 isn't particularly expensive, but it does require a huge time investment to get the most out of it. That's likely not a problem for those who want to deploy an array of cameras with an NVR, but the system's overwhelming complexity will be a significant hurdle for the average home or small-business user who is looking for a turnkey setup, simple navigation, and an elegant mobile experience. All of those things can be found in one of the Editor's Picks in our home security camera buying guide.