At a glance
Expert's Rating
Pros
Very cheap, especially in bulk
Lightweight and simple to put anywhere
Basic, functional app
Affordable 24/7 monitoring plan
Cons
Performance can be laggy
Limited feature set
Relatively poor video quality vs. the field
Our Verdict
YI's Home Camera is relatively simple compared to its competitors, but it happens to work with one of the cheapest 24/7 professional monitoring services around.
Price When Reviewed
$24.99
Best Prices Today: YI Home Camera
YI Technology-owned smart home brand Kami is branching out from standard cameras and doorbells into home security. The company's new Kami Pro Security solution is built around cameras–no sensors or panels are supported–providing 24/7 professional monitoring for a mere $9 a month or $90/year.
The catch? It doesn't (yet) work with Kami's other products. If you're interested in Kami Pro Security, you'll need to buy the YI Home Camera–reviewed here–instead.
The YI Home Camera is admittedly nothing special, with limited functionality compared to other security cams in its price range. But the Home Camera is also your ticket to one of the cheapest 24/7 pro monitoring plans we've seen. Ring, for example, charges $20 a month for 24/7 monitoring (via Ring Protect Pro), while Wyze's Home Monitoring plan costs $100 a year, or $10 a month.
This review is part of TechHive's in-depth coverage of the best home security cameras.
How much does the YI Home Camera cost?
Priced at just $25 individually and $90 (at the time of this publication) for a four-pack, the slim YI Home Camera unit–a disk just 2.5 inches wide and 1.5 inches thick, mounted on a white plastic stand with a hinged base–couldn't be simpler.
The camera captures 1280 x 720-pixel video at 20 frames per second, with a diagonal viewing angle of 111 degrees. Infrared night vision offers a promised range of 15 meters, and two-way voice is supported. Connectivity is via 2.4GHz Wi-Fi.
Can the Y1 Home Camera store videos locally?
Video can be stored on an internal microSD card (8GB minimum, up to a maximum of 32GB) or on Kami's cloud service, which is separate from the Pro Security offering. If you opt for local storage, you'll need to supply your own memory card.
A variety of plans range from $5/month (7 days of storage for one camera) to $15/month (30 days of storage for up to 5 cameras). Annual plans run $40 to $140 per year. It's worth noting that while a free trial of the cloud recording service is included, it can't be activated without providing payment information and auto-renews after the trial period ends.
The camera is indoor-only, with no weatherproofing features, and it doesn't include any mounting hardware, meaning you'll need to improvise if you want to wall-mount the device.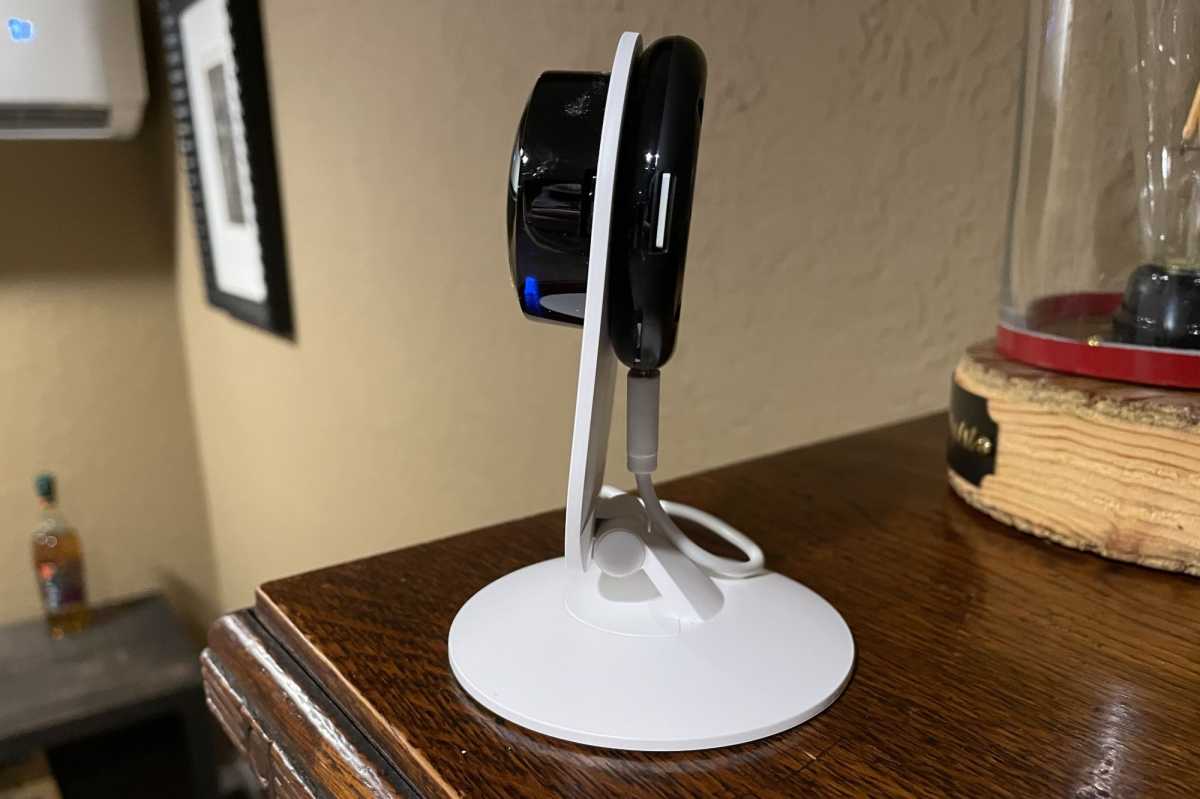 Christopher Null/Foundry
Can the Y1 Home Camera be controlled with an app?
The YI Home Camera can use either the Kami Home app or the YI Home app for control–the apps are virtually identical–and setup is a straightforward process of plugging in the unit (a USB cable and power adapter are included), waiting for a voice prompt, and showing a QR code on your phone to the camera's lens.
After making a few brief settings choices, the unit bridges to your Wi-Fi network. My camera clearly had some very old firmware on it (at least three generations back), and it took a couple of tries–and about half an hour–to get things current.
Even after the updates, the camera isn't the most full-featured. Without a cloud subscription, clips are limited to just six seconds in length, and settings options aren't very robust.
Does the YI Home Camera offer person detection?
"Smart AI Detections," which can recognize people, vehicles, and animals, require a paid plan, and motion detection options are limited to three sensitivity levels.
A sound detection feature is a plus, as is the ability to set activity detection zones. But since the camera can't be permanently mounted (short of a makeshift mount), the latter's usefulness is limited due to the ease of accidentally moving the camera.
How is the YI Home Camera's video performance?
Video fidelity is fine but hardly earth-shattering. At 720p, details are fuzzy even at short range, though the viewing angle of the lens at least feels just about right.
One curious feature: The app doesn't show the entire field of view by default. Instead, you must pan the image on your phone's screen left or right to get a little "extra" look at what's happening at the edges of the frame.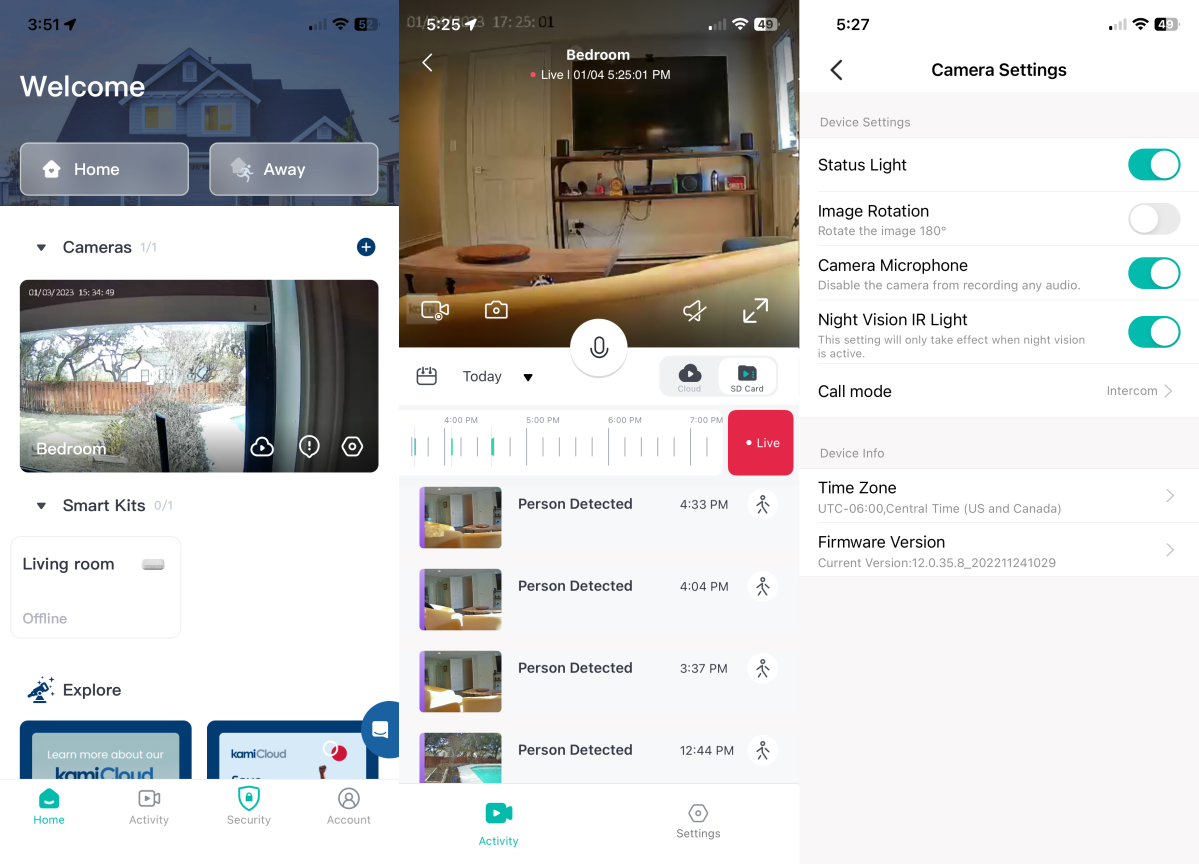 Christopher Null/Foundry
Night vision quality is fine, with the promised 15-foot range easily surpassed, though (again) image quality is hampered by the same resolution limitations as daytime footage.
In general, the various detection systems tend to work well, but on at least one occasion a "Person detected" alert I received was actually my cat. Overall, performance is decent, but the app can be laggy at times, particularly when loading a live video stream.
The interface for video playback is fine for simple needs, but it's difficult to find clips by scrubbing through the timeline, which shows one day's worth of clips at a time. The thumbnail system below the timeline, easily accessible on the main screen of the app, is much more convenient, though it can become overly laden with identical-looking screenshots.
The camera supports Alexa video devices and can apparently work with Google Assistant too, though Google Home support isn't officially documented.
Is the YI Home Camera worth the cash?
As a value play, $25 (or less) for a reasonably capable camera isn't a bad deal, but it's worth noting that there are plenty of cheap security cameras on the market today–such as Wyze's–that offer considerably more in the way of video quality and extra features.
But if you're looking for the cheapest 24/7 monitoring system you can find, Kami's professional 24/7 monitoring system is tough to beat in terms of price, and (for now) it only works with the YI Home Camera.
So if you're on a budget and have security needs that revolve exclusively around video–and you don't need any kind of physical sensors–it might be worth giving the YI Home Camera a look.
Best Prices Today: YI Home Camera