At a glance
Expert's Rating
Pros
Sleek hardware design, with easy three-way support
Impressive scheduling system
Thread and HomeKit support
Eve can't track your activity
Cons
Hardware is much too large, we had difficulty fitting it in the box
Frequent disconnects from the Thread network
Expensive for an on/off switch (this is not a dimmer)
Our Verdict
Eve's switch is plenty smart and definitely pretty, but its oversized hardware makes a clean installation extremely difficult.
Price When Reviewed
$49.95
Best Prices Today: Eve Light Switch
The physical simplicity of the third-generation Eve Light Switch had me thinking it would be a breeze to put into my wall. Alas, looks can be deceiving. This device so difficult to install that I find it hard to recommend. And that's unfortunate, because there are a lot of other things to like about this smart switch (this is not a dimmer).
Let's dive into the hardware first, since that's where my biggest objections come into play. The Eve Light Switch looks amazing. It's a simple button-style switch with no additional controls to complicate its clean design, save for a small light near the top. This feature glows when the load the switch controls is powered, but you can reverse its function to make the switch easier to find in the dark. You can also set the LED's brightness to one of three levels, or you can disable it altogether.
This review is part of TechHive's in-depth coverage of the best smart dimmers and switches.
Flip the switch around, however, and simplicity goes out the window. The Eve Light Switch can be used as either a single-pole or 3-way switch, and all its wiring connections are done via pigtails. You'll need to have a neutral wire in the box, but unlike most of the competition, you won't need special companion switches at the second and subsequent locations if you're doing a 3-way installation.
Christopher Null/Foundry
Five of the switch's pigtails emerge from the back of the switch (line/load, neutral, ground, and two traveler wires), and you'll need to provide your own wire nuts to make the connections in your receptacle; none are included in the box. All those wire nuts take up a ton of space in the electrical box in the wall, which is trouble enough until you realize how massive the backside of the Eve Light Switch itself is.
I spent more than 30 minutes—and made a huge mess of my drywall—wedging the Eve Light Switch into place after I'd wired it up. It never quite fit (despite being in a three-gang electrical box, which has a little extra room to offer) and it still juts out from the wall on one corner.
Another small (but annoying) hardware issue is that the jackets wrapped around the pigtails aren't stripped down far enough to accommodate larger wire nuts (they're acceptable if you're tying just two wires together). That means even more work removing insulation that could easily have been taken care of during manufacturing.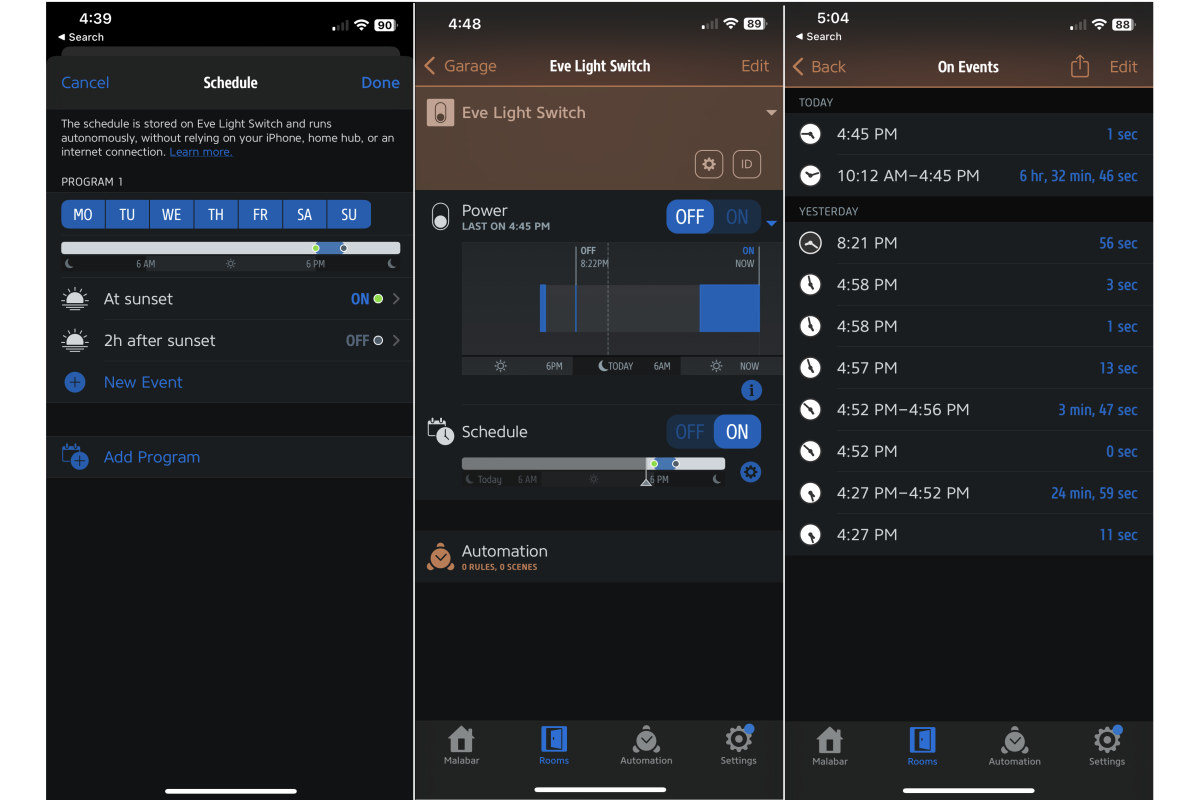 Christopher Null/Foundry
Once physically installed, the switch set up quickly, with out-of-the-box support for Apple HomeKit, Bluetooth, and Thread. The switch can also work as a Thread node if you have a Thread border router (e.g., an Apple HomePod mini or a newer Apple TV 4K), but as of the date of this review, it is not listed in the CSA's database of Matter Certified products. Scan the HomeKit QR code and the device appears within the Apple Home and Eve apps within seconds.
I did most of my testing within the more robust Eve app, which lets you assign the switch to a room, set up scheduling, and track usage over the last 24 hours (on/off time only, it doesn't track power consumption). An automation system lets you tie multiple devices together, even different brands, as long as they support HomeKit. The Eve app isn't the most intuitive for all these purposes, but it's easy enough to master with a little patience. The scheduling system is particularly powerful and flexible, and since remote connections don't depend on a server in the cloud, usage activity is completely private.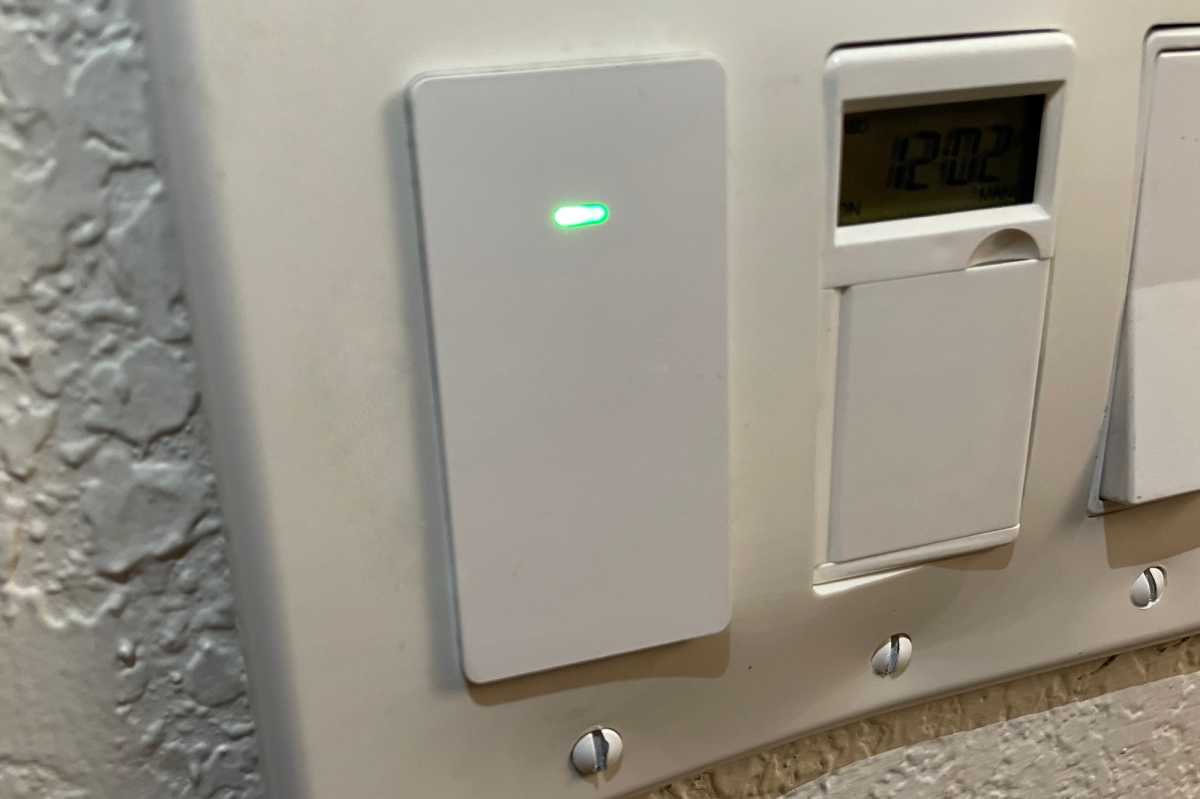 Christopher Null/Foundry
Unfortunately, I had some trouble with the app losing its connection to the switch, although its location in the garage meant there was a bit of distance (and interference) between it and the Apple TV 4K serving as a Thread border router. On the other hand, a Kasa Smart Wi-Fi switch I'd installed just a few feet away from the Eve switch has had none of the same connectivity troubles. The upshot is that using the app often meant long, frustrating delays while it attempted to reconnect to the Thread network, although to Eve's credit, it always did, eventually.
The Eve Light Switch is sophisticated and pretty, and users who are ready to jump face-first into the Thread universe might find it appealing, especially if they want to build out a multi-vendor network of Thread devices. While the disconnects are forgivable, the hulking, bulky hardware is considerably less so as we approach 2023, when things should be shrinking in size, not going the other direction.
Best Prices Today: Eve Light Switch