Fair warning: This update on the status of ATSC 3.0—also known as NextGen TV—will read a lot like the one from last year, and maybe even the year before.
That's because the new broadcast standard, which enables features like 4K HDR video and on-demand content, still needs more time to really get off the ground. Although NextGenTV broadcasts are now available in more than 60 U.S. markets, support remains missing from the majority of new TVs, and low-cost converter boxes for existing televisions haven't yet materialized.
Those involved with ATSC 3.0 hope the standard will ramp up in 2024, when they expect a boom in cheap TVs and tuner boxes with NextGen TV certification. Even then, broadcasters will continue to simulcast in the current ATSC 1.0 standard for years to come, so there's no need to throw out your current TV or over-the-air DVR just to keep watching free TV with an antenna.
Waiting for more TVs
NextGen TV isn't compatible with existing ATSC 1.0 tuners, so to view content in the new standard, you'll need a TV or converter box with ATSC 3.0 support.
In 2023, the list of TVs with ATSC 3.0 support will be similar to last year. Sony continues to offer it in all its televisions, while LG and Samsung reserve it for their priciest models. The only notable expansion comes from Hisense, which announced at the CES 2023 trade show that it will bring NextGen TV to most of its sets instead of limiting it to higher-end ULED sets.
Anne Schelle, the managing director of Pearl TV, a broadcast consortium backing ATSC 3.0, says a bigger boom will happen in 2024, thanks to a partnership with smart-TV chipmaker MediaTek.
"That is going to be the real driver of the high-volume, low-cost sets," she says.
ATSC 3.0 converter boxes: Still limited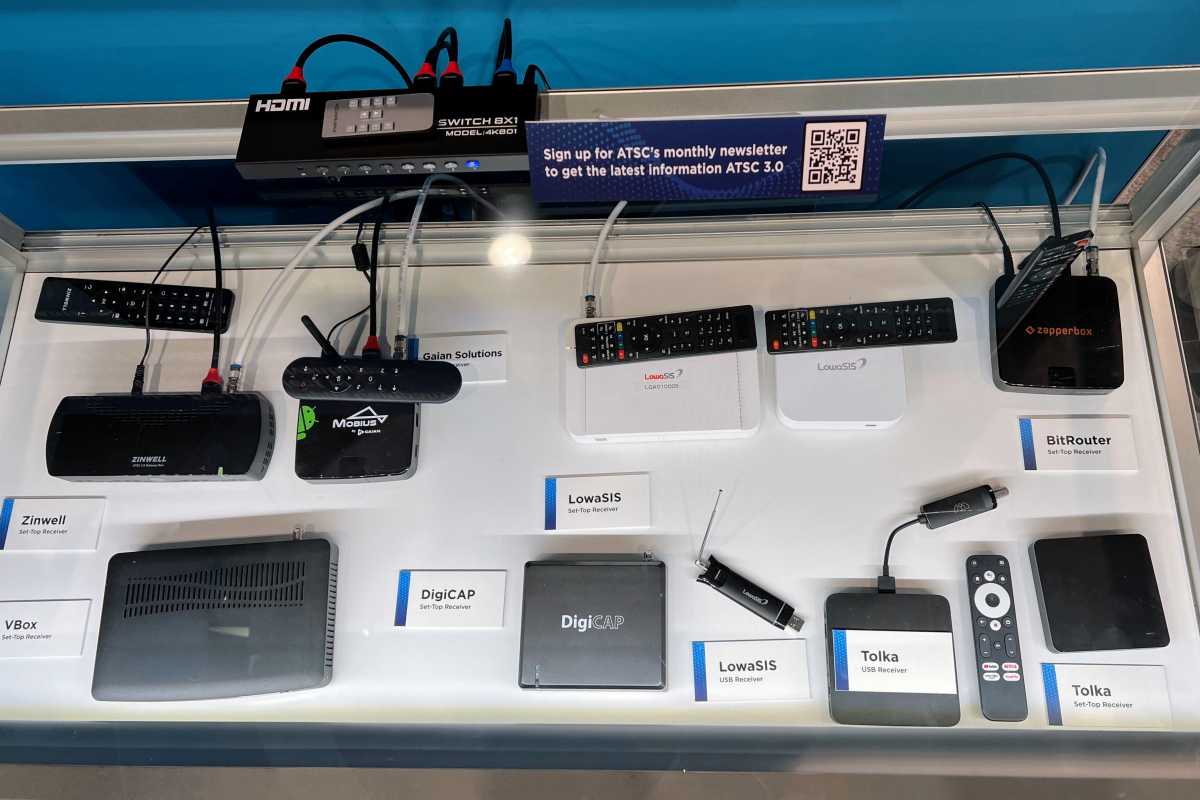 Jared Newman / Foundry
In theory, converter boxes will provide a cheap alternative to buying a new TV for folks who want to view ATSC 3.0 broadcasts. Unfortunately, these remain in short supply.
At present, the tuner box that's closest to getting NextGen TV certification is the ZapperBox M1, which costs $250 and has a USB port for potential DVR capabilities down the road. It started shipping last year and will soon be available through Amazon as well. While it's not yet officially certified, those involved with ATSC 3.0 expect that it will be.
SiliconDust also sells a $200 ATSC 3.0 version of its HDHomeRun tuner, which can stream broadcast content to multiple TVs, mobile devices around the home. But unlike the ZapperBox, the HDHomeRun Flex 4K doesn't have official NextGen TV certification due to the way it handles Dolby AC-4 audio. Depending on the playback device, it either hands off decoding to each playback device or uses a cloud-based transcoder for devices that lack AC-4 support.
As such, Android and Fire TV devices don't offer NextGenTV's dialog boost feature when streaming via the HDHomeRun Flex 4K. While SiliconDust hopes to resolve that issue with Amazon and Google so it can enable dialog boost on those devices, the lack of certification stems from this inconsistent support for a key feature.
Last year, Nuvyyo also announced a version of its Tablo DVR with ATSC 3.0 support, but it's yet to materialize after being delayed over DRM requirements. The company said in mid-December that it wouldn't have any updates to share at CES.
NextGen TV's backers did show off a slew of converter boxes and dongles at CES, but most were behind glass and came from companies that don't sell hardware direct to consumers. They'll likely look to partner with established electronics brands to sell lower-cost ATSC 3.0 tuners, but it's still unclear when that will happen.
What does NextGen TV do today?
Jared Newman / Foundry
One bit of positive news is that ATSC 3.0 is beginning to deliver more of the benefits that broadcasters have talked up over the years, so you'll enjoy some extra features if you do happen to buy a television with NextGen TV support and there are ATSC 3.0 broadcast towers where you live.
More than 40 U.S. markets, for instance, now offer channels with interactive elements, such as news clips and local weather. Sinclair has also been upscaling content to HDR on 36 NextGen TV stations in partnership with Technicolor, although it appears only Hisense TVs support this feature.
Some NextGen TV features also work out of the box for all stations and televisions, including 1080p video and dialog enhancement.
The standard's much-touted support for 4K HDR video remains in limbo, though. Major networks haven't yet committed to broadcasting 4K content over the air, and the increase in resolution would require a lot of additional bandwidth. ATSC President Madeleine Noland told Tyler Kleinle at CES that it might not become common until ATSC 1.0 broadcasts are discontinued, freeing up bandwidth. (More on that below.)
Don't toss your TV
In recent months, I've gotten some emails from readers who mistakenly believe that ATSC 1.0 support is about to go away, and that they'll need a new TV to keep watching free over-the-air channels. This seems to stem from some TV commercials that broadcasters have shown to hype the new standard.
So let's be clear: You won't need a new TV or converter box anytime soon, as broadcasters will simultaneously air all their channels in ATSC 1.0 for years to come.
As of now, the FCC is only requiring broadcasters to support the current standard through July, which is five years from when ATSC 3.0 first debuted. Still, the agency is currently revisiting that requirement and could extend the deadline in some capacity.
Regardless of what the FCC decides, broadcasters have little interest in cutting off ATSC 1.0 given that the vast majority of their viewers still depend on it. In the interview with ATSC President Madeleine Noland mentioned above, Noland said she expects the transition period to be about 10 years, which means ATSC 1.0 would be around until 2028 or so.
"Truth be told, it would be counter to a broadcaster's best interest to turn off a service that people are watching," Noland said. "It needs to get to the point where there's a critical mass."
Maybe that will finally start to happen in earnest in 2024.
Correction: An earlier version of this story said that the ZapperBox M1 was certified for NextGen TV. While ATSC says it is in line for certification, it has not received official certification yet. This story has also been updated with additional context on how the HDHomeRun Flex 4K handles AC4 audio and dialog boost.
Sign up for Jared's Cord Cutter Weekly newsletter for more insights on over-the-air and streaming TV.