At a glance
Expert's Rating
Pros
An absolute powerhouse, performance-wise
Sophisticated design and controls
Impressive app integrates nicely with external air condition monitoring
Cons
Very large
Incredibly expensive
No support for third-party smart home ecosystems
Our Verdict
The pro-grade and pricey IQAir Atem X boasts a unique design and unequaled performance, but it doesn't answer to Alexa or other popular voice assistants.
Price When Reviewed
$1,299
Best Prices Today: IQAir Atem X Room Air Purifier
Boasting "high-performance filtration for large spaces," the IQAir Atem X is not your typical white-box air purifier with questionable credentials and iffy quality.
The German-made device is unlike any other purifier on the market, and it's built for rooms up to 1,650 square feet in size. Also unlike many of its competitors, the Atem X actually has the power to actually stand up to its lofty claims.
But while it's among the most powerful air purifiers we've ever tested, the Atem X isn't the smartest. It doesn't work with Alexa, Google Home, or Apple HomeKit.
This review is part of TechHive's in-depth coverage of the best air purifiers.
How big is the IQAir Atem X Room Air Purifier?
The monstrous unit–designed to look a bit like a tire, 27 inches across and 10 inches deep–weighs a whopping 29 pounds, with or without the optional casters that help it move more easily.
A thick leather strap on the back of the Atem X helps you reposition the device, which is designed to be placed with its back against a wall rather than, as more traditional purifiers direct, being placed more centrally in the room.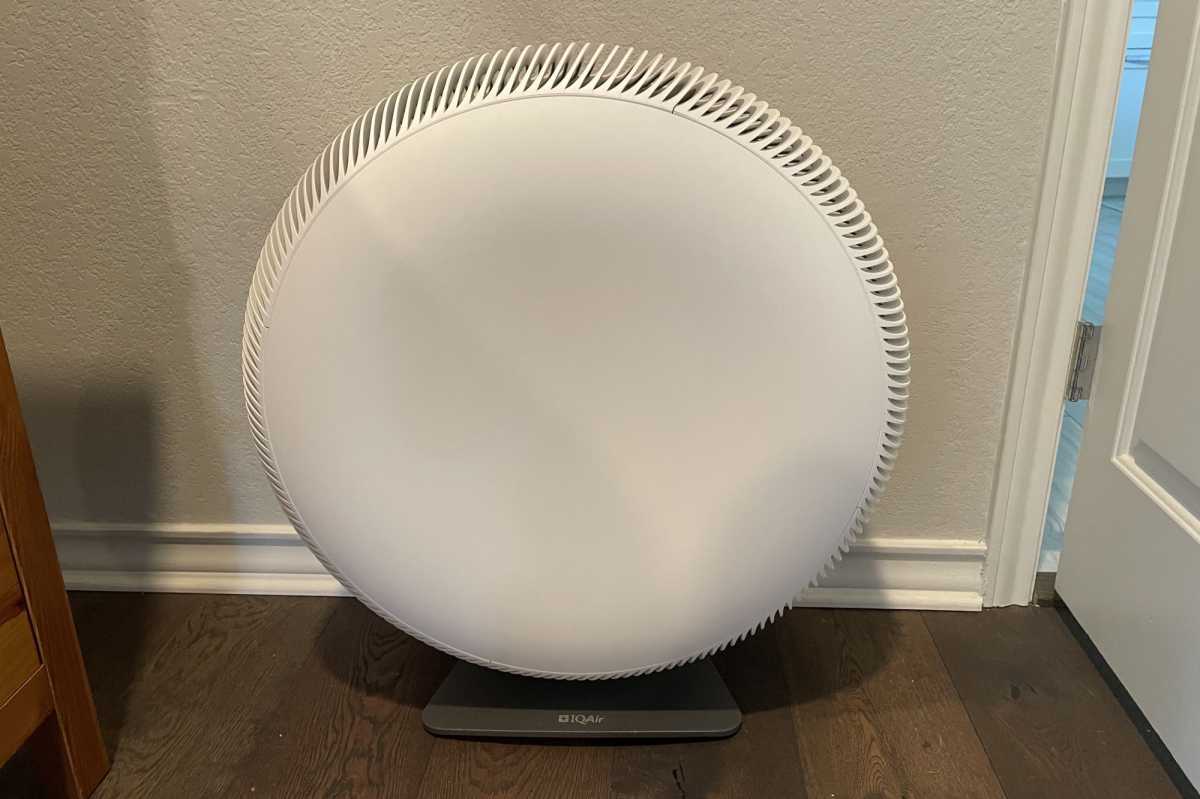 Christopher Null/Foundry
The company says this "orbital architecture" is designed to move air as efficiently as possible, pulling air in from the sides of the wheel and emitting clean air through the top.
What is the IQAir Atem X's CADR rating?
On paper, the results of the "HyperHEPA" filtration system (which appears to be the same as HEPA H14) are impressive: a CADR (Clean Air Delivery Rate) of 440 cubic feet/minute (only one rating is supplied), a solid 19 percent more throughput than the best CADR rating for our top pick for large spaces, the NuWave OxyPure. And when I say "on paper," I mean exactly that: Each unit comes with a printed certificate of performance that shows what the published and measured particulate removal rate was at three of the eight different fan speeds.
Controls are recessed on the rear top of the device, giving the Atem X a clean look–though, given its size, the unit doesn't exactly disappear into the room. These controls are touch-sensitive but basic, including an automatic mode and a light dimmer.
Christopher Null/Foundry
A filter status indicator is provided, along with a button to initiate a Wi-Fi connection (2.4GHz only). The fan speed slider also doubles as a real-time, color-coded AQI meter.
Does the IQAir Atem X work with Alexa or Google Home?
Oddly, this unit doesn't connect to any third-party smart home environments. That means the Atem X won't work with Alexa, Google Home, or Apple HomeKit, nor will it respond to Alexa, Google Assistant, or Siri voice commands.
How loud is the IQAir Atem X?
IQAir makes broad claims that the Atem X is very quiet even at high speeds, although your mileage will vary depending on the unit's location.
While the maximum-speed 63dB is certainly too loud for easy comfort in a basic consumer home, in a true 1,650 square foot space–like an automotive working bay or a small warehouse–the noise would be far less noticeable. Most applications will get by just fine with lower speeds, as well.
What pollutants can the IQAir Atem X's sensors detect?
Sensors inside the Atem X measure PM2.5 and, unusually, carbon dioxide levels, plus temperature and humidity. The app adds historical measurements of all these numbers plus an overall AQI rating.
I had no trouble connecting the Atem X to my Wi-Fi network, and was pleased to see how the controller app integrates with IQAir's exterior air quality monitoring system, providing local condition information, a world map of AQI levels, and even a city-by-city ranking of the worst AQI spots in the world.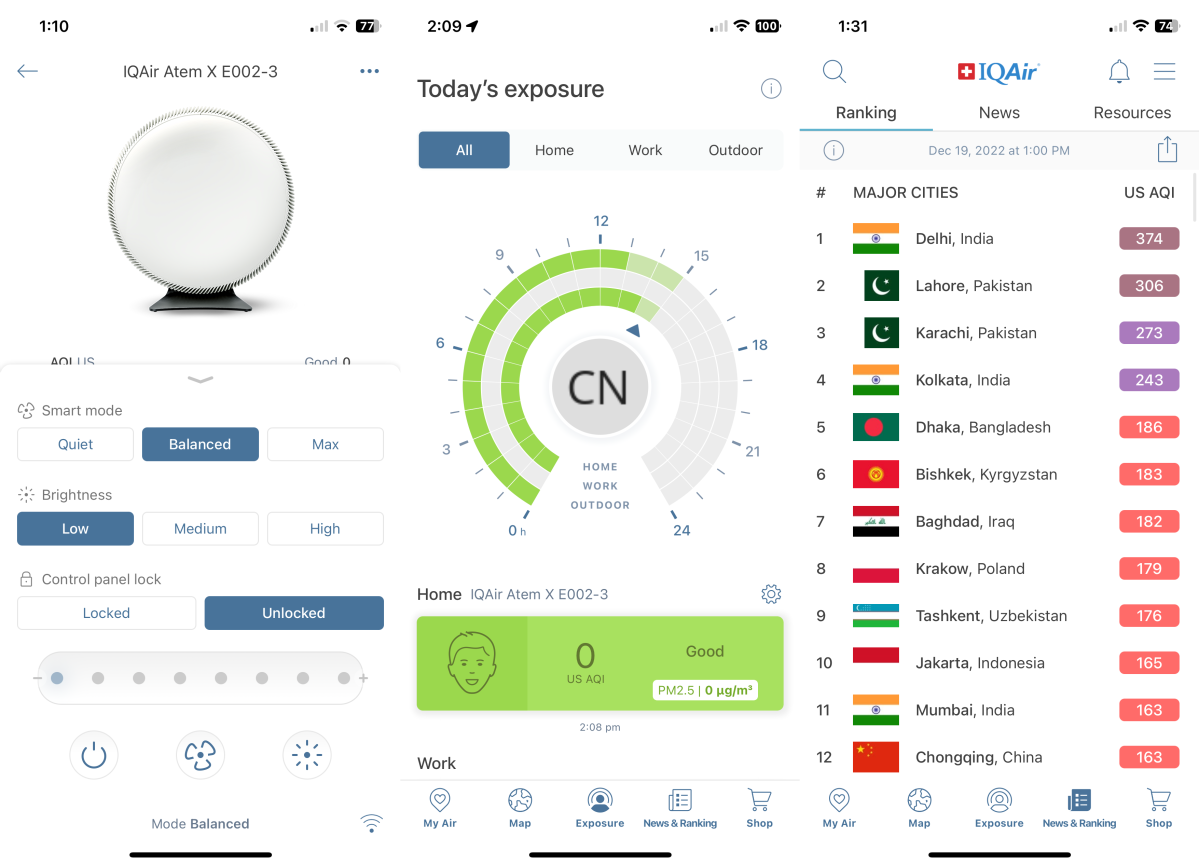 Christopher Null/Foundry
Is the IQAir Atem X Room Air Purifier worth the cash?
All of this doesn't come cheap, of course. At $1,299, the unit is more than twice the price of the NuWave, and even replacement filters (said to last about 18 months) are pricey at $199.
IQAir says that its units are designed for spaces with the highest need for air purity–namely medical offices–where price may be less of a concern.
To be sure, it's far too much purifier for the typical suburban home, but if your workplace is in need of serious air scrubbing, the IQAir Atem X is a top shelf choice to consider.
Correction: This article was updated February 28 to remove our criticism that the IQAir Atem X Room Air Purifier app does not have a scheduling system or timer option. Those features are in fact available, they just weren't where we expected to find them in the app.
Best Prices Today: IQAir Atem X Room Air Purifier