Gone are the days when a robot vacuum was a big plate pinballing around your living room, vacuuming more or less at random until it inevitably got caught up in the wires under your desk and needed a rescue.
If you have an older robot vacuum–or you've never made the leap to automated cleaning at all–some of the things that new models can do might surprise you.
In addition to stronger suction, longer battery life, and more logical cleaning patterns, there are a host of new problem-solving features that can make these smart appliances indispensable. Here are some of the best.
This story is part of TechHive's in-depth coverage of the best robot vacuums.
Target the mess under the kitchen table
Targeted cleaning might not sound like a thrilling feature, but it's one of the biggest upgrades. Essentially, it means never having to step in crumbs again. Robot vacuums with high-quality mapping features allow the bot to make a beeline for the mess: not only cleaning a specific room, but targeting a specific piece of furniture within it.
So, if your kids regularly make confetti out of their breakfast toast or throw a handful of cereal on the floor for every one they ingest, you could schedule your robot to run around the kitchen table at every morning at 8:00 a.m., after breakfast. By 8:10, the mess will be gone.
iRobot's latest Roomba models have this feature. Once the robot has done a couple of laps around your home and mapped it, you can go into the app and augment the map by adding pieces of furniture and common household items to it. The robot will then recognize and be able to navigate to them.
Dominik Tomaszewski / Foundry
Even better, you can get an instant emergency clean if there's a spill. iRobot's mapping software features a cat-litter box as one of its nameable objects, which is handy for pet owners sick of getting cat litter tracked all over their floor. As soon as the cat starts throwing litter around, you can trigger an instant clean-up.
You can find this feature in the iRobot Roomba i7+ (read our review or buy it from Amazon).
Never pick fluff out of a bin again
Without a doubt, one of the most unpleasant aspects of having a robot vacuum is emptying its dinky onboard dustbin. Its small size means that hair and fluff get wedged in, which means poking around with a finger to dislodge it all.
It also means that you can't just set a cleaning schedule and forget about it. After all, you can schedule the robot to clean the house every evening at 5:00 p.m. to be fresh for your arrival home; but if you've forgotten to empty the bin, you won't return to clean floors. A full bin means your robot will just be taking a sightseeing tour of your home.
That won't be a problem if you get a robot vacuum with an auto-empty station. When the robot docks to recharge, its bin is automatically emptied via strong vacuum suction into a replaceable bag. The bags usually have a 2-3 liter capacity and only need to be changed every month or two.
As this turns a bagless vacuum system into a bagged one, it's also a big advantage for people who suffer from allergies or hay fever. You'll never again have to breathe in a dust cloud when emptying the bin.
Of all the features on this list, auto-empty stations are alone in coming with disadvantages, so you'll need to weigh their pros and cons. They're expensive, they take up much more space than a simple charging dock, and some require a ramp for the robot to mount, meaning that it's harder to find a spot for them under a sofa or tucked away elsewhere.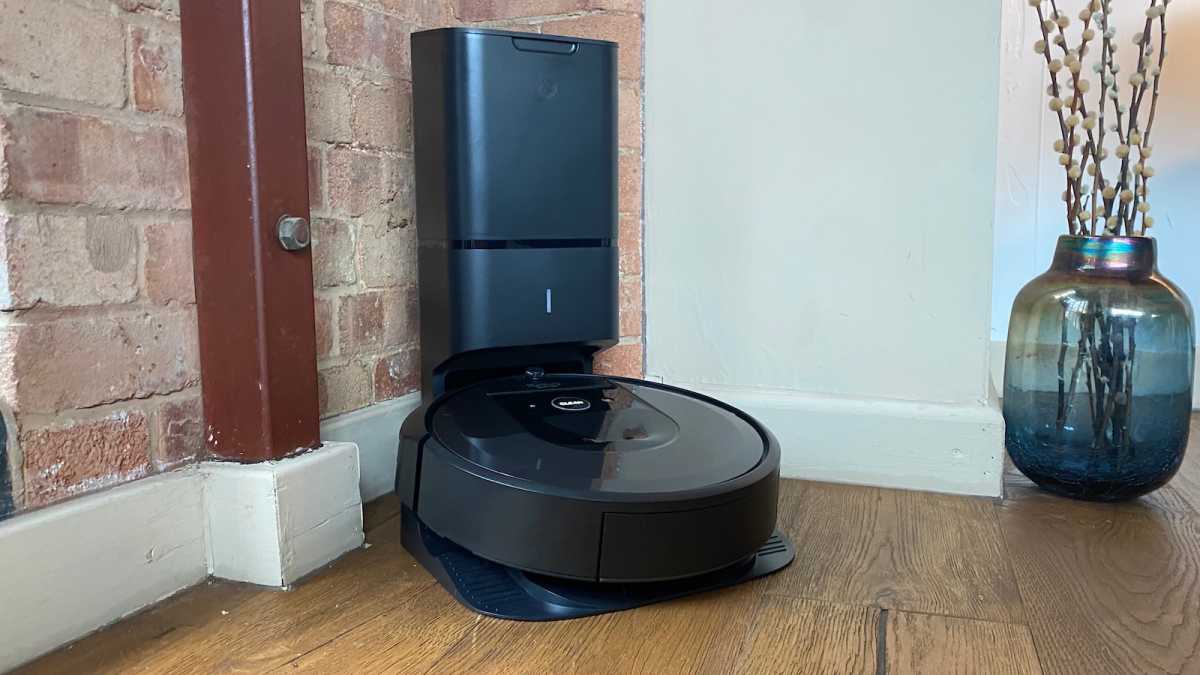 Emma Rowley / Foundry
There's also the added expense and environmental cost of buying and disposing of bags. Finally, although the suction emptying only takes a few seconds, it sounds like a jet engine taking off in the corner of your room–so warn your guests.
You can find this feature in the Dreamebot L10s (read our review or buy it from Amazon).
Avoid your shoes–and the cat
Robot vacuums work better in some households than others, and the reason is clutter. The more stuff in a room, the less floorspace the robot can access and the more opportunities there are for it to get tangled up or trapped.
That being said, navigation has improved hugely in the last few years. If you gave up on an older robot vacuum over frustration at repeatedly having to rescue it, you might want to try again with a newer model.
Robot vacuums now use a number of methods of navigation, often in combination. They may use LiDAR (light detection and ranging), SLAM (simultaneous localization and mapping), gyroscopes, onboard cameras, and a host of sensors to decide where they are, how they move around a space, and how they spot and maneuver around objects.
Some high-end robot vacuums can now identify and avoid a number of common household objects, such as like shoes, books, cups, cords, and even pets.
Emma Rowley / Foundry
So, although a clear space is still best, you won't need to tidy away every kicked-off shoe before you can release your robot.
Similarly, if you had an older robot vacuum that used magnetic boundary strips to create no-go zones, you'll be glad to hear those are (largely) a thing of the past. You can now create no-go zones in the app, by simply choosing a room (or part of a room) within the map and labelling it off-limits. This gives you the flexibility to set your robot to clean even when there's a LEGO castle under construction in the living room.
The original robot vacuum horror story, of course, involved a robot vacuum trundling around, unconcernedly spreading pet poop across the floor. So perhaps it's not surprising that pet poop is one of the things that robot vacuums are now often programmed to avoid. We've tested this feature (with pieces of food, you'll be relieved to hear) on a few robots and it generally works well.
You can find this feature in the Roborock S7 MaxV Ultra (read our review or buy it from Amazon).
Hands-free cleaning
The ultimate in lazy cleaning is to use a voice command to set your robot vacuum to work–you won't even need to open the app.
Most newer robot vacuums are compatible with Amazon Alexa and Google Assistant. And, although wider HomeKit compatibility lagged behind, the latest robots from iRobot, Roborock, Ecovacs, and Xiaomi will work with Siri voice commands as well.
The thing to bear in mind is that voice commands will be limited, depending on which combination of brand and home assistant you choose. In all cases, you'll be able to start and pause a clean, and ask the robot to return to its dock. But more complex commands might not be possible.
But there is another option. Ecovacs' X1 Omni has its own voice assistant, Yiko, which works straight out of the box with no additional setup required.
Yiko can understand several languages, including English, French, German, Italian, and Korean, and it can respond to around 36 voice commands (which you can find in the app). The commands cover anything you could want the robot vacuum to do, including cleaning around specific pieces of furniture. Combine this feature with targeted cleaning, and you can just call out: "Hey Yiko. Go and clean around the kitchen table," and off your robot will go.
The only issue is that you need to be close enough for the microphone to pick up your voice clearly. It's a humbling experience to be ignored by your robot as you repeatedly beg it to clean your bathroom floor.
You can find this feature in the Ecovacs X1 OMNI (read our review or buy it from Amazon.)
For robot vacuum recommendations, check out our round-up of the best robot vacuum cleaners we've tested.