At a glance
Expert's Rating
Pros
Great DAC
Supports Qobuz and Amazon Music HD hi-res playback
Cons
No support for Tidal's MQA format
No support for Bluetooth, AirPlay 2, or Chromecast
Handoff of streaming playback can be unreliable
Our Verdict
While its high-res music presentation is superb, using the Audiolab 6000N Play is too complicated to enjoy that experience.
Price When Reviewed
$399.99
Best Prices Today: Audiolab 6000N Play
The Audiolab 6000N Play streamer takes the streaming capabilities from Audiolab's popular 6000 A Play integrated amplifier and puts them in a lower-priced unit that can be used as a component in any home audio system. You'll use the DTS Play-Fi app to control the 6000N, and it can be integrated into a multi-room audio setup with other Play-Fi components—with caveats I'll describe in a bit.
The Audiolab 6000N Play streamer is best suited to listeners who want to select their music and sit back and enjoy it. Magpies who like to flip quickly between songs and apps will be frustrated by the lag built into the experience.
Audiolab 6000N Play audio performance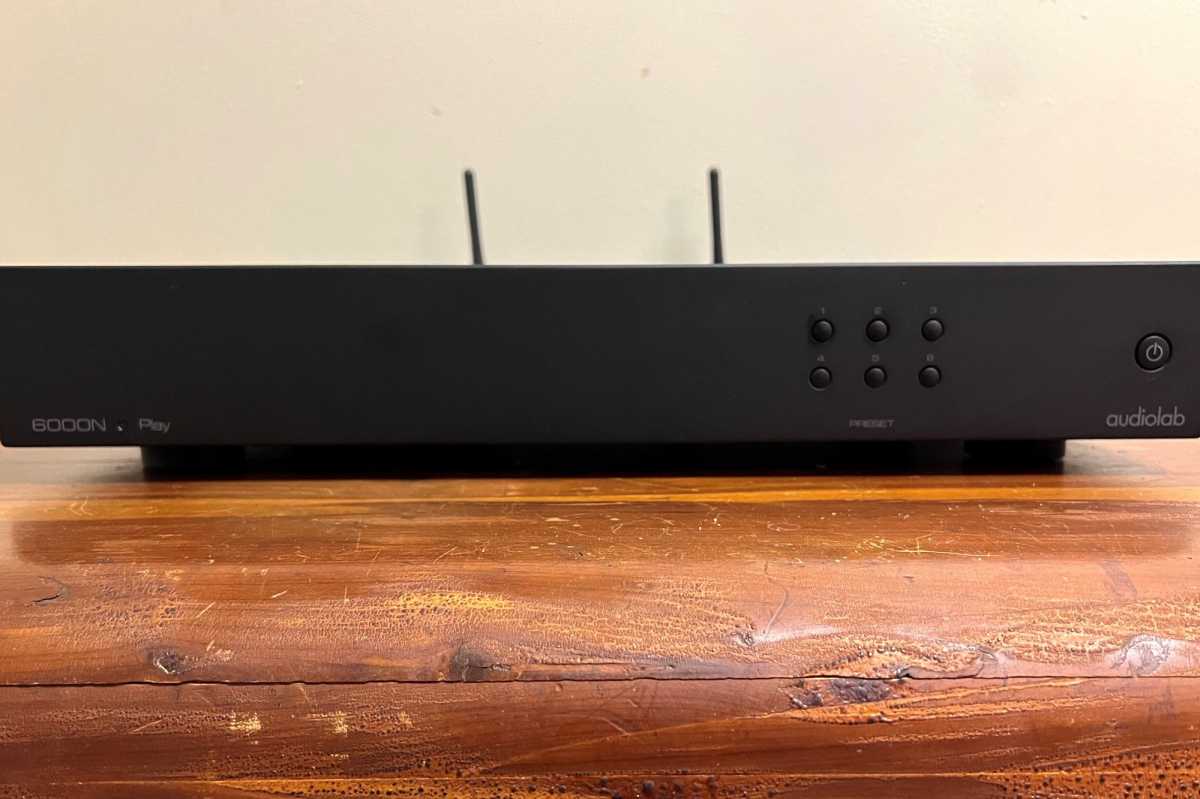 James Barber/Foundry
Let's get the good part of this review out of the way first. The Audiolab 6000N Play uses a ES9018 Sabre32 Reference DAC, which is capable of handling high-resolution music up to 24-bit/192kHz. High-res music from both Qobuz and Amazon Music HD sounded spectacular, delivering every bit of the extra depth and detail you'd hope to get from a dedicated streaming unit.
Comparing the Qobuz stream of Scott Walker's 1969 album Scott 4 to a CD version was particularly enlightening. The 16-bit/44.1kHz version on compact disc sounds thin after playing the 24-bit/96kHz Qobuz stream of songs like "On Your Own Again" and "Boy Child." The fully orchestrated tracks have a presence that CD just can't match.
A great CD player will almost always sound better than a 16-bit/44.1 kHz stream, even though both are supposed to be playing back at the same bit rate, so there's plenty of reason to keep those discs in your collection. Properly mastered high-res music can be a revelation, especially when you have a way to play it back through a home audio system. The 6000N Play delivers wonderful sound with high-res tracks from those two music-streaming services.
Audiolab 6000N Play build quality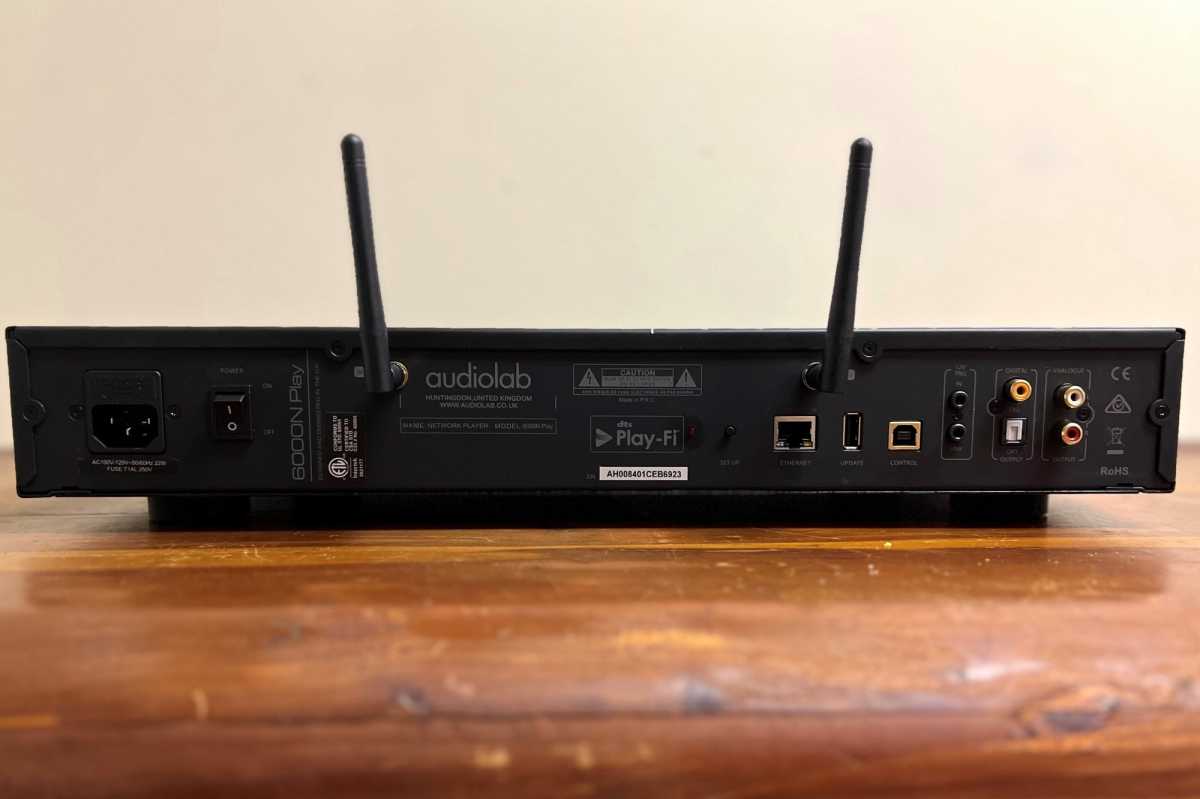 James Barber/Foundry
The Audiolab 6000N Play has a completely neutral look, with just a power button and six preset buttons on its front. The streamer measures 2.6" x 17.5" W x 12.3 inches (HxWxD) and weighs 10.8 lbs. It's available in silver or black.
This player doesn't have an onboard amplifier, so you'll need to connect it to an outboard amp, an A/V receiver, or powered speakers. It has analog stereo RCA outputs as well as coaxial and optical digital audio outputs (if you want to keep the audio in the digital domain or use a superior outboard DAC). There are also two Wi-Fi antenna mounts and an RJ45 ethernet port for those living in homes with ethernet in the walls.
High-res and other audio sources
James Barber/Foundry
The Audiolab 6000N Play supports high-res music playback from Amazon Music HD and Qobuz. Tidal is also available via the app, but the 6000N Play doesn't support that service's MQA high-res library, so playback from there—and from Deezer—is limited to CD quality.
You can also access Spotify, Napster, Pandora, Sirius XM, Audacy, and iHeart Radio in the less-than-CD quality streams offered by each service. An internet radio app allows you to tune into thousands of online stations. You can save six favorite stations so they can be easily accessed via the preset buttons on the front of the unit.
The 6000N Play isn't exactly a new product—it was first brought to market in the spring of 2019—and it doesn't support Apple AirPlay, Bluetooth, or Chromecast; playback is limited to the services you can access via the DTS Play-Fi app. That means there's no way to access Apple Music.
Using the DTS Play-Fi app is a chore
James Barber/Foundry
As stated earlier, you'll use the DTS Play-Fi app to control the Audiolab 6000N Play, and the fit isn't exact; you'll need to adapt to some quirks. By default, for example, the DTS Play-Fi app downsamples high-res music files to CD quality. If you want to hear such tracks at their highest quality, you'll need to turn on the Critical Listening feature in the app. Doing so disables the app's multi-room audio capabilities, but you're not likely to want to use those features in connection with the 6000N Play anyway.
Another frustration is that users don't have full access to the various streaming apps like Tidal, QoBuz, Spotify, and Amazon Music HD from within the Play-Fi app. You've got access to your saved favorites and playlists, but you won't be able to browse any of the music apps from within Play-Fi. You'll have to switch to the native app, save your tracks or albums and then switch back to Play-Fi.
Is the Audiolab 6000N Play really a music streamer?
In its default mode, the Audioplay 6000N Play is technically an interface for streaming from your phone. When you select a source in the Play-Fi app, the music is routed through your phone to the 6000N play unless you transfer playback by clicking what looks like a Share button on the top right of the app screen. The app then sends the URL of the song you're playing to the device, and, after a lag, the hardware connectsd directly to the music stream.
Unfortunately, you're giving up the ability to browse through your music via Play-Fi, and gapless playback won't work on albums that use it. I tested a Qobuz stream of the 1977 LP I, Robot by the Alan Parsons Project. Gapless playback worked flawlessly when streaming via the app, but didn't work after I transferred the stream to the 6000N Play.
Should you buy the Audiolab 6000N Play?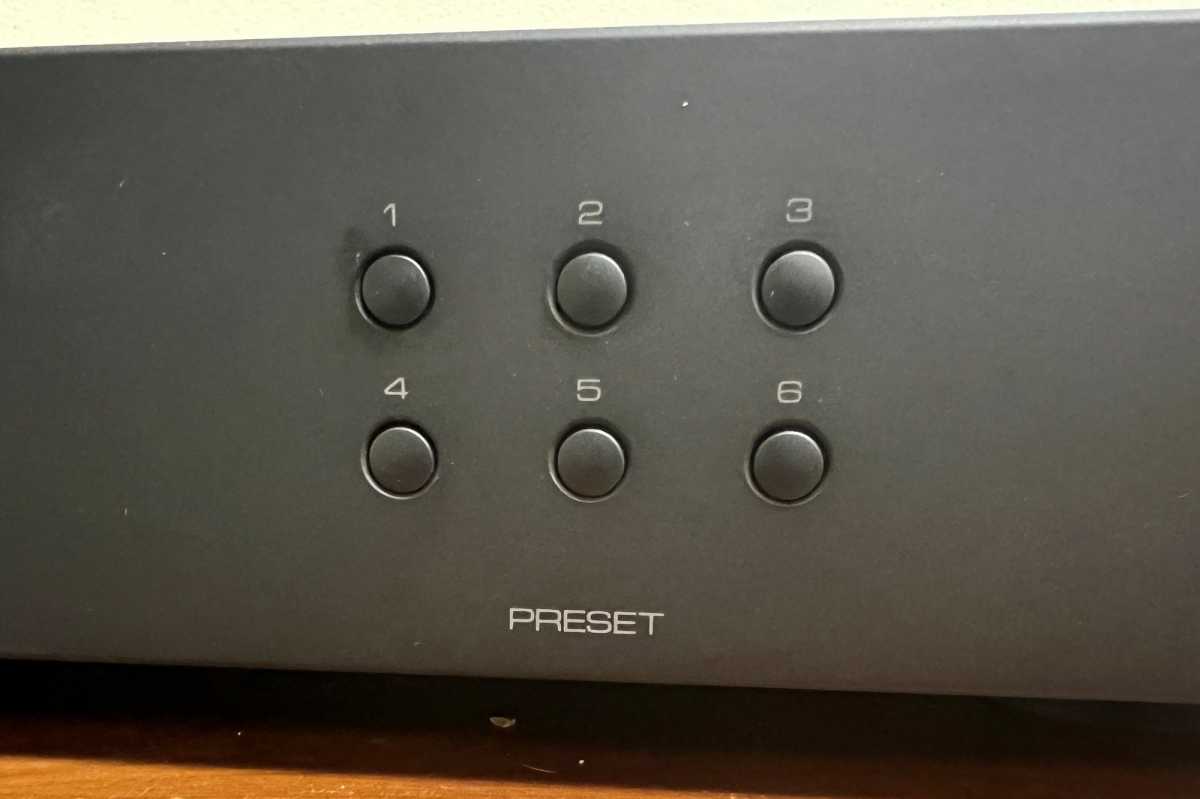 James Barber/Foundry
The Audiolab 6000N Play is a stripped-down version of the company's well-regarded 6000A Play with the latter unit's amplifier removed. That makes it a more versatile piece of gear that can be plugged into an existing system, but it also puts more of a focus on the limitations of the software that drives the device.
The advantage here is price. If you're using one of the streaming services that the unit supports, the Audiolab 6000N play adds an outstanding DAC to your audio chain and far surpasses the sound you'd get from a Bluetooth receiver added to your system.
What it doesn't offer is seamless standalone streaming or a slick interface to make it easy to listen to your music. I've recently tested both the Astell&Kern SP3000 portable streamer and the Naim Uniti Atom Headphone Edition streamer and both have software interfaces that, while not quite perfect, are truly excellent ways to interact with your music. Granted, each of them costs thousands instead of hundreds, but Audiolab and Play-Fi have yet to create an experience that will satisfy anyone who's been using music apps on their phone.
When I put the Audiolab 6000N Play up against my Mass Fidelity Relay wireless Bluetooth receiver, the Relay wins for ease of use even though it can't begin to match the 6000N Play for audio quality when playing high-res tracks from Qobuz or Amazon Music HD. The Audiolab 6000N Play sounds fantastic if you're on a limited budget, subscribe to a supported high-res streaming service, and are willing to work around its software quirks. It's certainly not the plug-and-play experience you can expect with a good portable or desktop DAC. There's promise here, but also lots of room for improvement.