At a glance
Expert's Rating
Pros
Quick setup
Svelte hardware design with easy-to-aim camera
No cloud service required to save videos
Cons
Included wiring is flimsy and hard to manipulate
Won't work with all garage door openers
Iffy motion detection
Some notification hiccups and Wi-Fi disconnects
Our Verdict
With a garage door controller and security camera in one, Eufy's Garage-Control Cam effectively does double duty.
Price When Reviewed
$99.99
Best Prices Today: Eufy Security Garage-Control Cam
Smart garage door controllers and security cameras are two big smart home categories, but getting both products together has either meant adding two separate devices or tearing out your existing opener entirely and replacing it with a new, luxe model.
With the Eufy Garage-Control Cam, that finally changes, thanks to a svelte device that can provide smartphone-based control over your existing opener as well as an on-demand and recorded video feed.
It's worth noting that the garage control and camera aspects of the unit are fairly independent, and in fact you don't need to connect the device to a garage door at all in order to use the camera features.
Meanwhile, the Eufy Secure Garage-Control Cam Plus ($130) can control two doors and includes a 32GB microSD card (though only one door sensor, which retail for $30 each). The Plus model is often on sale, which might make it a better deal than the standard version if you snag it at the right price.
This review is part of TechHive's in-depth coverage of the best smart garage door controllers.
The Eufy Garage-Control Cam looks like a simple squared-off block with a camera on one side. The camera lens can be tilted up and down, while the base is magnetic, like the Liftmaster myQ Smart Garage Camera, so it can adhere directly to the bottom of the garage door opener (though you can opt to put it elsewhere if doing so provides a better view).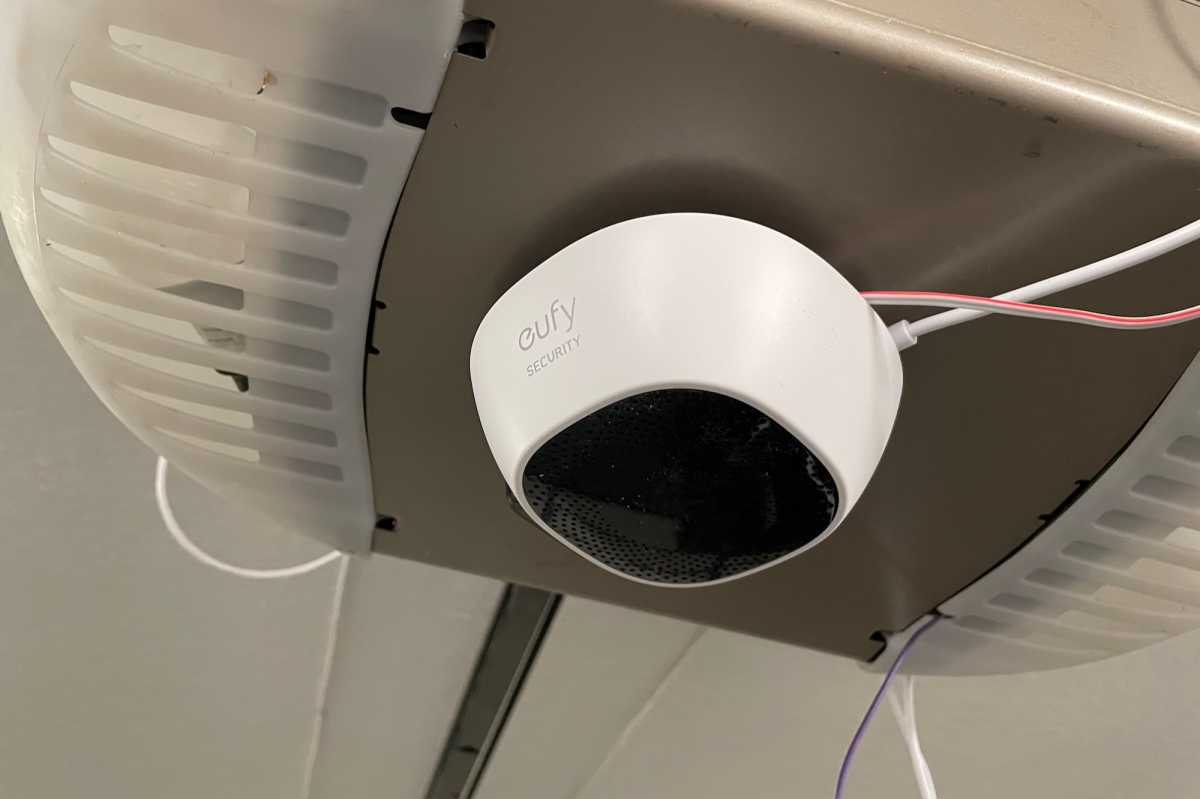 Christopher Null/Foundry
How do you connect the Eufy Garage-Control Cam to your garage door opener?
The Eufy Garage-Control Cam attaches to your existing opener via two standard control wires, and 20 feet of cable is included to make placement flexible. Once you've connected the two control wires, the only other wiring work required is to connect the system to a power socket.
Unfortunately, the control wire Eufy includes in the box has a soft, braided jacket, and I had trouble getting the leads into the spring-loaded clip ports on my opener, as they kept bending and refusing to slide into the ports. Ultimately I had to twist them around the leads used by the wall controller and hold everything in place with tape. This worked fine for temporary testing, but it's clearly insufficient for long-term use.
The final piece of the puzzle is a wireless tilt sensor that attaches to the garage door via tape or screws and is powered by a coin cell (included). The battery is rated to last for about a year.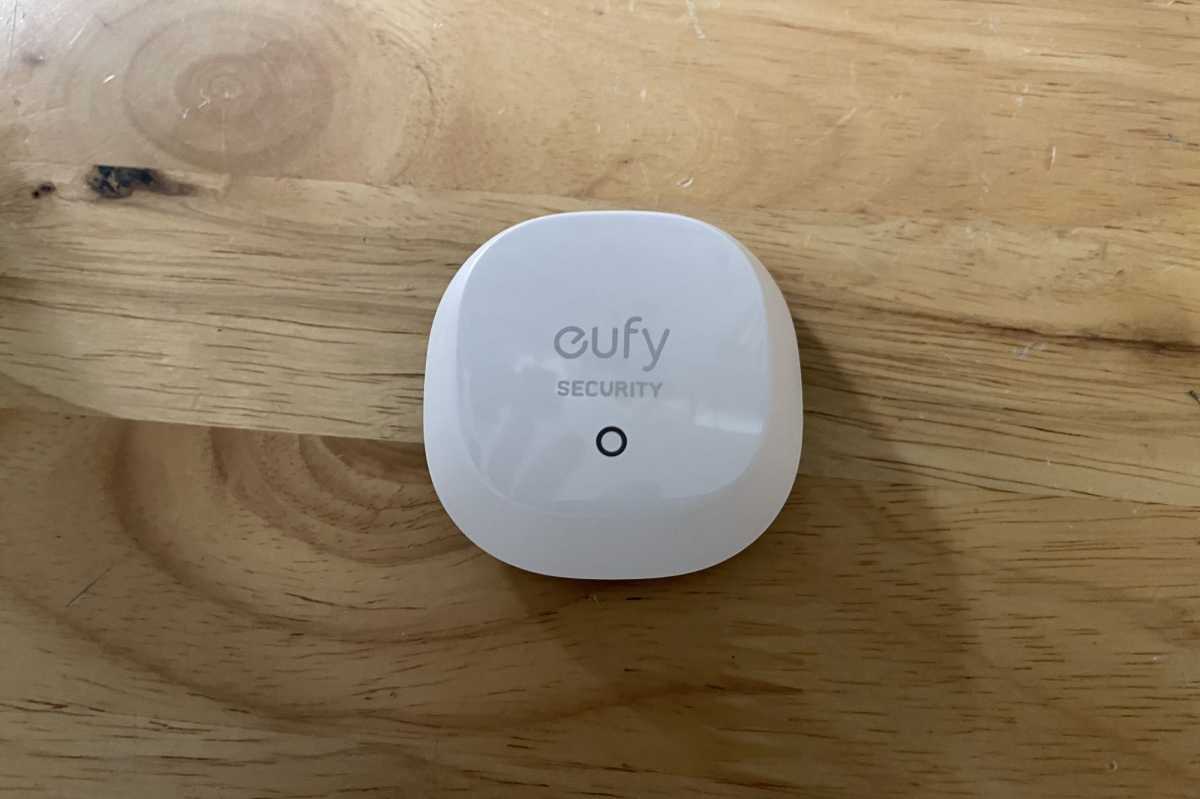 Christopher Null/Foundry
Is the Eufy Garage-Control Cam compatible with all garage door openers?
As with most controllers of this type, note that compatibility is an issue, as modern openers use an encryption system that is usually at odds with third-party control devices.
Eufy offers a basic compatibility list on its website that's keyed to the color of your "learn button," but my button–brown–wasn't listed. Turns out this is a variant on the common purple button, which Eufy denotes as "Not Fully Compatible," without elaborating further. Fortunately, my unit did work normally after installation.
Unlike some vendors, Eufy doesn't offer an add-on product to bypass Security+ 2.0 encryption, so if your door isn't compatible, there's no way to make the product work.
How do you connect the Eufy Garage-Control Cam to Wi-Fi?
Wireless setup is easy, requiring a scan of a QR printed directly on the unit and bridging the system to your Wi-Fi network. (Only 2.4GHz is supported.) After a 10-minute firmware update (which I had to try twice), I was ready to get started with the system.
In the Eufy Security app–which is primarily built for Eufy's security cameras–a simple button for opening and closing the door appears beneath a thumbnail showing a recent view of the surroundings.
The only additional setting included is a scheduling feature that can notify you if the door is left open at a certain time or for a certain duration. It's worth nothing that these rules do not automatically close the door; instead, they only send you a notification that the door is open.
How well does the Eufy Garage-Control Cam perform?
In testing, I found calibration and manual operation to run smoothly and notifications were sent promptly. I did experience an issue with Eufy sending me up to four notifications for each event on my first day of testing, but after some time these settled down and the duplicate notifications ceased.
The camera is the other piece of this equation, complete with 2K resolution (specific resolution is not specified), a 130-degree viewing angle, and standard infrared night vision. Two-way audio and a basic siren are included if you want to use the system as a crude motion-sensing alarm.
Unfortunately, the motion sensing sensitivity for the device is all over the map. On some occasions, the system didn't detect me waving my arms, while at other times it sent false positives from an empty garage. Tweaking the sensitivity settings helps, but I never got motion alerts dialed in to a point where I was comfortable with them.
On the plus side, video looks good by day or night, and 2K resolution is probably more than enough for use in a garage.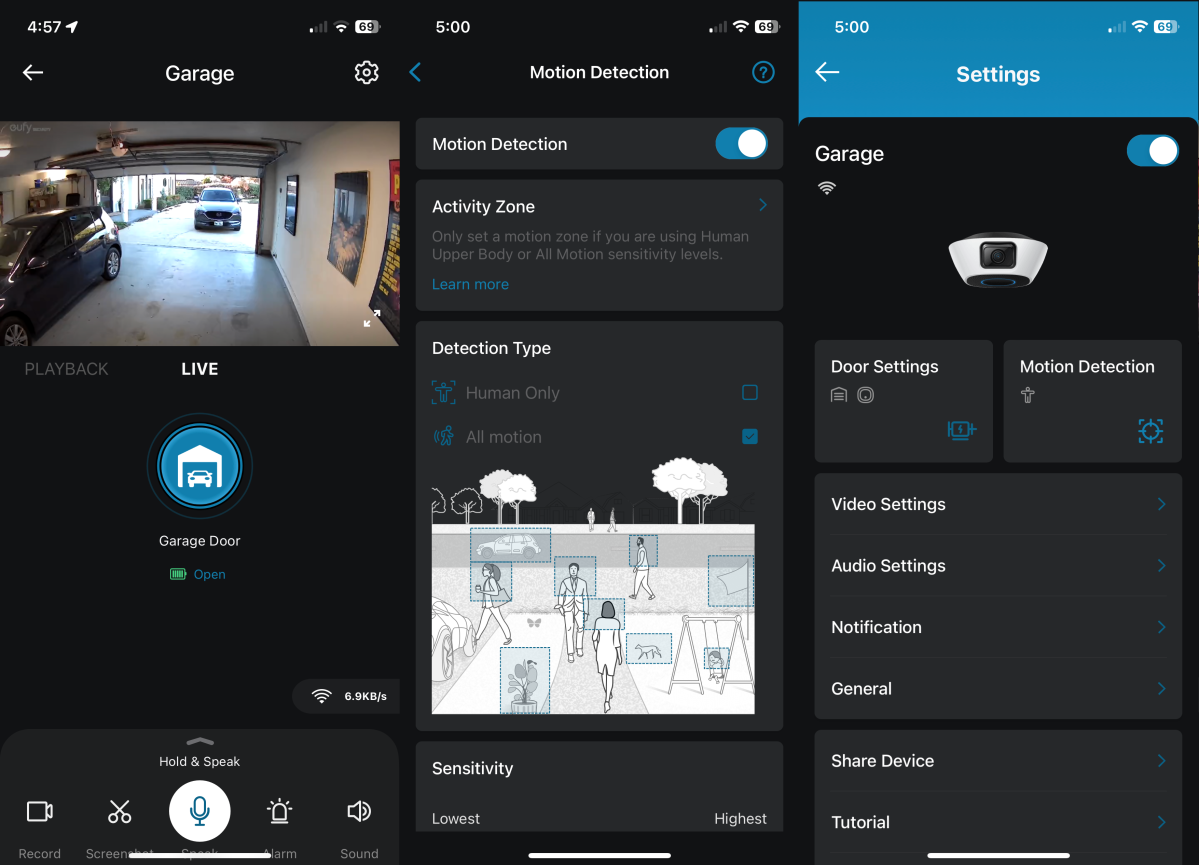 Christopher Null/Foundry
I did encounter quite a few temporary Wi-Fi disconnects, but that was likely due to a relatively weak signal from my router.
Can videos from the Eufy Garage-Control Cam be stored locally?
The unit can record event clips based on motion sensing or on demand, saving videos either to the microSD card (not included) or to Eufy's cloud service. Videos recorded based on motion detection are about 30 seconds in length; manual recordings must be stopped manually.
All of Eufy's features (famously) work locally, but if you don't want to futz with an SD card, $3/month for 30 days of recordings on one device or $10/month for up to 10 devices is hardly going to break the bank. That said, given the multiple complaints related to Eufy's failed security, perhaps it's best to skip the cloud option.
The Eufy Garage-Control Cam supports both Alexa and Google Home, allowing you to control your garage door with voice commands. Apple's HomeKit is not supported, however.
Is the Eufy Garage-Control Cam worth the cash?
The best part of the Eufy Garage-Control Cam is that it fills two needs with a single device, which means less wiring, less setup work, and less overall hassle.
It probably won't save a lot of money versus other devices on the market, but there's a lot to be said for simplifying things as much as possible when you're standing on a ladder in your garage.