At a glance
Pros
Great price for the power it delivers
Computer app delivers an entertaining surround-sound experience
Cons
Complicated, confusing software
DAC doesn't display the bit rate of the music you're streaming
Our Verdict
Creative has made a DAC/headphone amp that's quite good for the price, but you should ignore its Windows/Mac software-driven special features unless you have a lot of patience and persistence.
Old-timers will remember Creative Labs as the company that unlocked the sound potential of early PCs with its Sound Blaster sound cards. The company showed the potential of portable digital music players with its Nomad series of MP3 players in 1999–and famously settled a $100 million patent-infringement lawsuit against Apple in 2006; the suit was related to some of the iPod's design elements.
Creative Technology's co-founder and CEO—Sim Wong Hoo—died suddenly on January 4, 2023, so we'll need to see if the company will continue building affordable speakers, headphones, and devices like the Sound Blaster X1 DAC and headphone amp reviewed here. It's a tiny unit with outstanding electronic components in its guts and DSP software that requires the same kind of practice and patience it took to open a PC and install one of Creative's original sound cards back in the 1980s.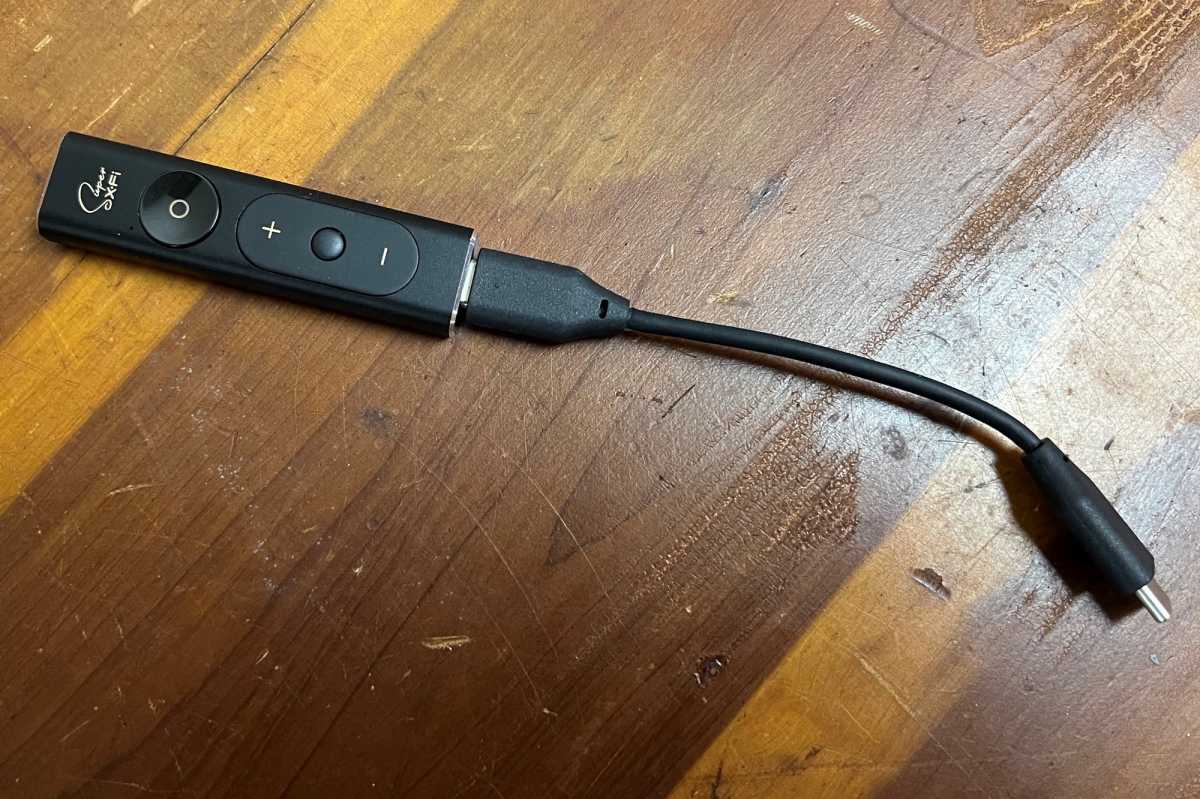 James Barber/Foundry
A DAC takes a digital signal and converts it into the analog audio signal you can hear. Even the most expensive computers, tablets and phones don't come with high-quality DAC hardware built in. Plug a high-quality external DAC into your device and it will take over the audio signal processing, and a quality DAC/amplifier combo like this one will also deliver high-quality, amplified audio to your headphones or passive speakers.
This has been a frustrating product to review because this DAC does some things very, very well; my experience in toto, however, was overwhelmed by the weirdness of Creative's janky software. If you can accept the software's limitations—or hope that a better version will be released down the road—you might want to buy the Sound Blaster X1 for its considerable hardware strengths.
Creative Sound Blaster X1 specifications
The Creative Sound Blaster X1 is incredibly small, measuring just 0.4 x 0.7 x 2.6 inches and weighing only 0.5 oz. There's a 3.5mm headphone jack on one end and a USB-C port on the other. The X1 comes with a 5-inch USB-C cable for connecting to your playback device.
The unit is black with controls for play/pause, volume up and down, and a dedicated button to engage the DAC's Super X-Fi digital signal processing. Inside the unit, you've got an AKM4377 32-bit DAC and a Texas Instruments Burr-Brown INA1620 dual audio operational amplifier.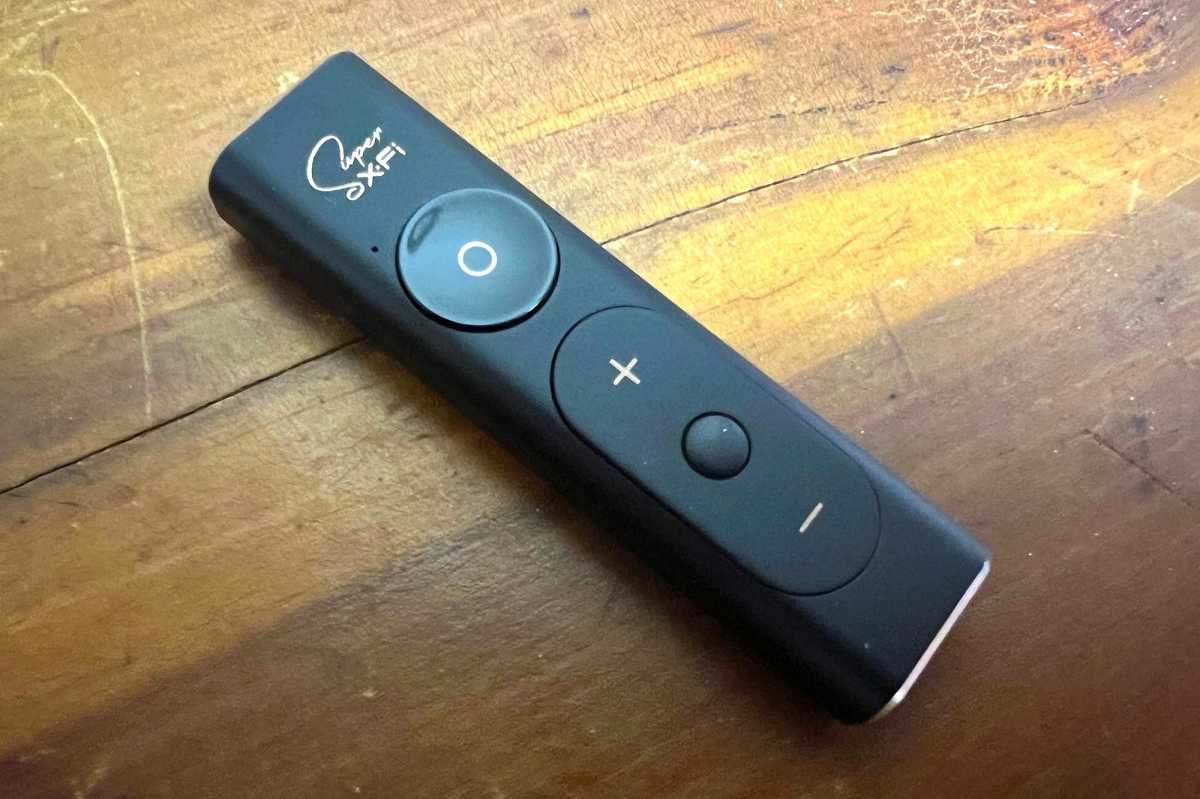 James Barber/Foundry
The DAC can handle bit streams up to 24-bit/96kHz, which is enough for the high-res audio streams you'll get from services like Amazon Music HD, Apple Music, Qobuz and the like.
Eagle-eyed customers will notice that the back of the unit is covered by a sticker instead of having the details of the Sound Blaster X1 printed directly on the unit. Apparently, that's because the DAC was originally marketed as the Creative Super X-Fi Amp, but the name changed when Creative made the device compatible with its suite of processing apps.
Listening to music on the Creative Sound Blaster X1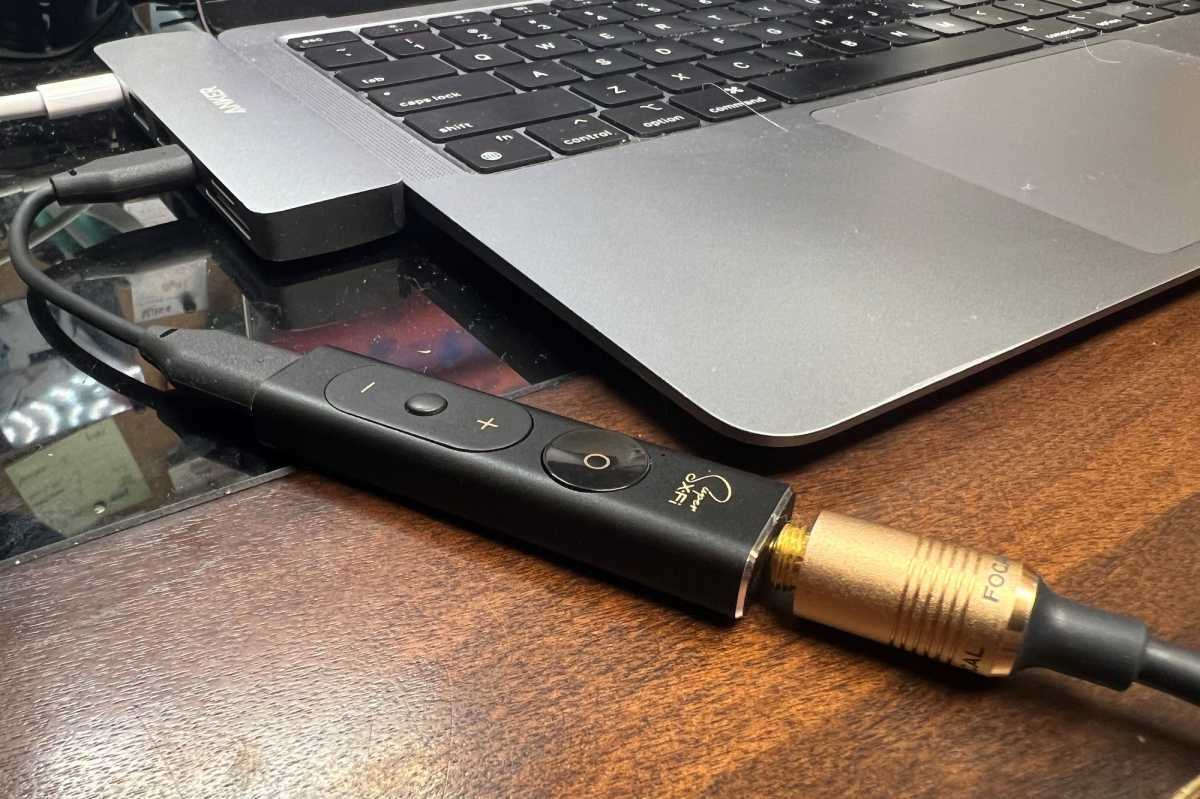 James Barber/Foundry
When enjoying the Creative Sound Blaster X1 for music playback, it's best to ignore the software and just plug and play. I used the DAC with a MacBook Air running macOS 13.1 and streamed music from Qobuz. The Sound Blaster was plugged into a USB-C port on the computer, and I listened with my Focal Celestee headphones.
Use any USB DAC with an Apple computer and you'll need to dig into the settings and find the Audio MIDI setup to select the output format for your stream, whether it's 16-bit/44.1kHz CD quality, 24-bit/96kHz high resolution, or something in between.
I listened to a 24-bit/96kHz stream of the 2022 remaster of Bill Evans' 1980 jazz album You Must Believe in Spring and compared playback through the Sound Blaster X1 to the AudioQuest DragonFly Cobalt. Songs like "We Will Meet Again" gained detail and a much fuller soundstage with the Sound Blaster X1 when compared to the listening experience I got when plugging the headphones directly into the computer's audio jack.
AudioQuest DragonFly Cobalt
Price When Reviewed:
$329.95
The X1, however, couldn't quite keep up with AudioQuest's more expensive DragonFly Cobalt, which has a male USB-A port that plugged into an USB-A to USB-C adapter for my laptop. Evans' piano had better sustain and longer decay with the DragonFly Cobalt. If you're someone who listens to a lot of jazz or classical music, the Sound Blaster X1 is certainly better than what you're getting with a standard connection, but you might want to look at one of the more expensive options if you're looking to get the most out of your high-res music subscription.
Listening to soundtracks on the Creative Sound Blaster X1
You'll need to install both the Creative and Super X-Fi apps to use the X1 on your computer. I managed to complete the head-mapping process with the Super X-Fi iPhone app, a process that involves taking a series of pictures of my head. Creative then tunes the digital signal processing based on the shape of your ears and cranium.
Once you're loaded and ready to watch, you'll probably want to turn on the Super X-Fi DSP feature via the button on the DAC. Now you're ready to get the full Sound Blaster X1 experience.
After setting playback to surround mode, I watched the 2022 Brad Pitt action movie Bullet Train via the Apple TV app. The iTunes stream of the movie has a Dolby Atmos sound mix and, after running the mix through the Super X-Fi DSP, the X1 delivered a surround experience that far surpassed watching the film with my headphones plugged directly into the computer.
James Barber/Foundry
To be clear, this surround experience is the one that Creative has designed to work with its DAC and not necessarily the same one you'd get if you were using a proper Dolby Atmos setup in a home theater. When watching on a laptop with your face inches from the screen, it's remarkably effective.
The Creative desktop app also includes Crystal Voice and SmartComms Kit panels that aim to improve your mic output for online meetings. There's also the Acoustic Engine, which lets you tweak the sound when the Super X-Fi feature is turned off.
The Equalizer app might be the most important, as it allows you to not only use the standard X-FI settings, but also adjust for styles of music and a whole list of video games, including Call of Duty, Fortnite, League of Legends, and several others. That setting offers the important clue that the biggest audience for this DAC/software combo might be gamers instead of listeners whose primary interest is music.
The Super X-Fi app claims to have custom tunings for a collection of headphones, mostly from Creative but also a limited selection from Audio-Technica, Sony, Sennheiser, Beyerdynamic, Bose, and a few others. The Sony MDR-7506 is the only pair I own that were on the list, but I honestly couldn't tell much difference between the custom tuning and the "unknown headphone" default settings. I'm not sure anyone who buys the Sound Blaster X1 should sweat it if their favorite cans aren't on Creative's list.
Using the Sound Blaster X1 with a smartphone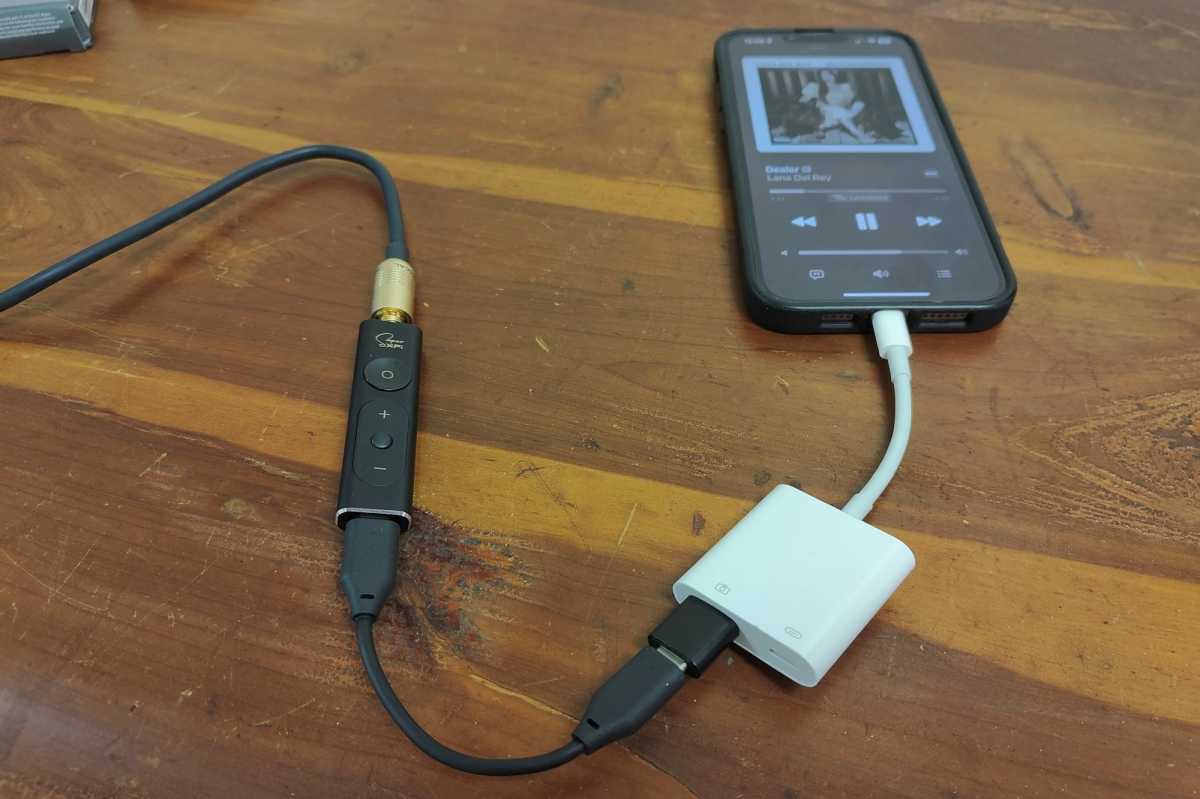 James Barber/Foundry
I used the Sound Blaster X1 with both an iPhone 13 Pro Max and a OnePlus 10T Android phone, both of which were running the most up-to-date version of their respective operating systems. To connect to the iPhone, I needed a USB-C to USB-A adapter to connect to my Apple Lightning to USB 3 camera adapter. I could connect directly to my Android device with the X1's USB-C cable.
When I used the Sound Blaster X1 strictly as a DAC and headphone amp pass-through, the results were very good for both the iPhone and the Android. That said, the experience is much better for Android users since it doesn't involve bulky adapters.
There's nothing on the Sound Blaster X1 to indicate the resolution of your audio stream, a feature that's become almost standard on USB DACs from DragonFly, iFi, and Questyle. If you're paying extra for a streaming service that delivers high-res audio, there's a nice buzz that comes when your dongle DAC assures you that you're getting what you paid for. It's not really a necessary feature, but it's one that many listeners want.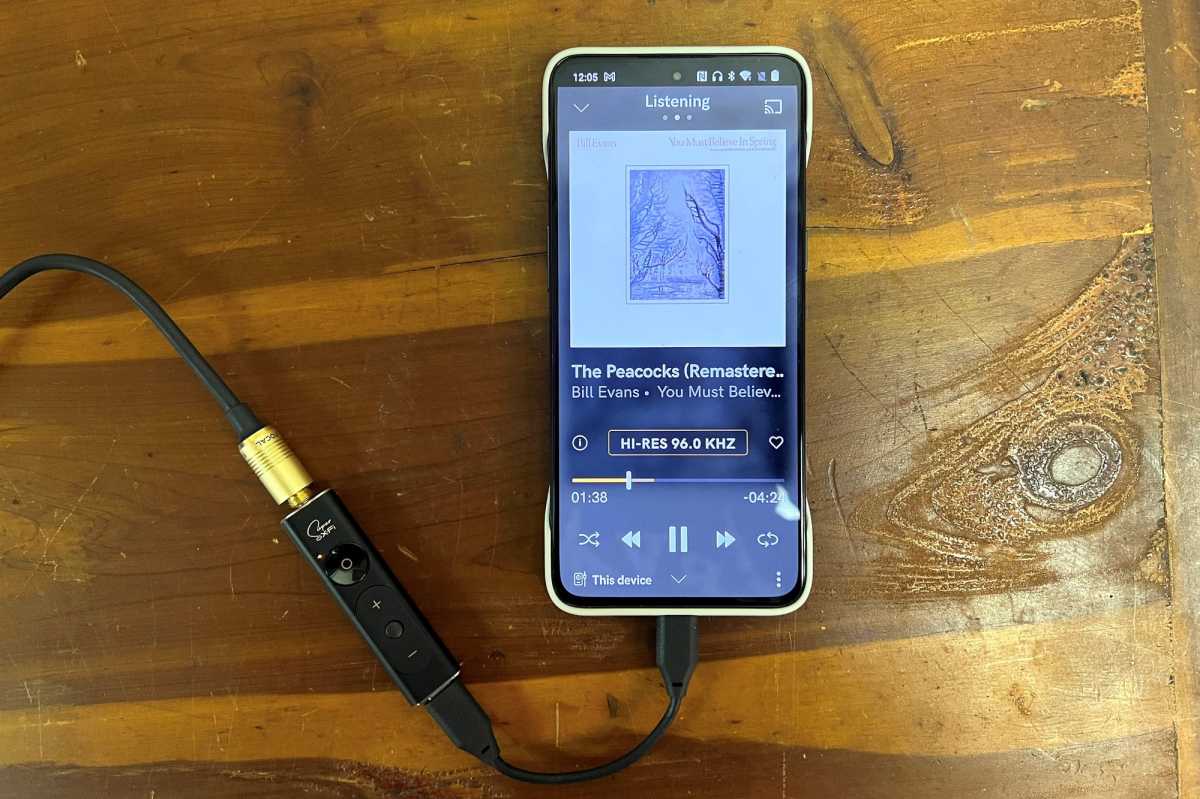 James Barber/Foundry
Don't expect to use any of the Super X-Fi software tweaks on your mobile device. While there's a version of the app available in both the iOS and Google Play stores, it proved unusable on both of the phones I tried it with. The app wouldn't launch on my Android device, and it repeatedly caused my iPhone to freeze. I'm not sure what Android users are supposed to do about the head-mapping described above; perhaps the software works with older versions of Android.
The experience might be less frustrating if Creative pulled the mobile apps altogether, making it clear that surround-sound processing is a computer-only feature. This is the kind of contradiction that makes it hard to review something like the Sound Blaster X1. There are features you could reasonably describe as broken, but the actual sound experience delivered by the device in the ways it does work with a phone make it a good value for its price.
Should you buy the Sound Blaster X1?
I'm not a gamer and TechHive is not a gaming site, but I suspect that the ideal customer for the Creative Sound Blaster X1 is a gamer who also watches movies on his or her computer. The surround-sound DSP the Super X-Fi app delivers significantly improved the movie-watching experience on my MacBook Air. It's not reproducing the exacting Dolby Atmos mix the engineers created during their sessions, but the filmmakers weren't tuning the movie's visuals for a 13-inch laptop screen, either.
If you're looking for the kind of polished user experience promised by brands like Sonos, Apple, or Astell&Kern, there's nothing but heartbreak ahead with the Super X-Fi experience. There's plenty to like once you dig around and figure out what's available, but the learning curve is too steep for most users.
There is a subset of customers, however, who will consider that a feature not a bug, and those folks will be delighted with the treasure-hunt element of Creative's software. The Sound Blaster X1 certainly delivers good value for its price, even if you're using it on a phone without the mobile and you're not looking to take advantage of the DSP processing available in the computer software.
If you can turn a blind eye to its flaws, you might find yourself very pleased with the Sound Blaster X1 experience.