Acclaimed by audio buffs for its refined headphones, soundbars, and microphones, Sennheiser is reaching out to two significantly different audiences with its newest wired in-ear headphone and wireless buds, both unveiled at CES 2023.
Sennheiser IE 200
Aiming to lure in a new generation of listeners who prize audio fidelity over wireless convenience, Sennheiser took the wraps of its IE 200 wired in-ear headphones. Based on the same DNA as their renowned and much pricier siblings including the IE 300, IE 500, IE 600 and TechHive Editors' Choice-winning IE 900 that tops the line at $1,499 a pair. The Sennheiser IE 200 will go on sale by the end of January for just 149 Euros (the U.S. price is likely to be $149 given current exchange rates).
As the IE line steps up, casing materials sometimes differ, but the size, shape and fit of the molded in-ear case and wrap-around ear hook looks identical. All models feature a 7mm extra-wide band TrueResponse transducer, a key element that Sennheiser has been using and evolving for 15 years. Even this new lower-priced model will include a high-end, conveniently detachable—and upgradeable— braided cable that reduces handling noise. Said cables plug into the earbuds with left and right MMCX connectors and terminate with a 3.5mm stereo plug.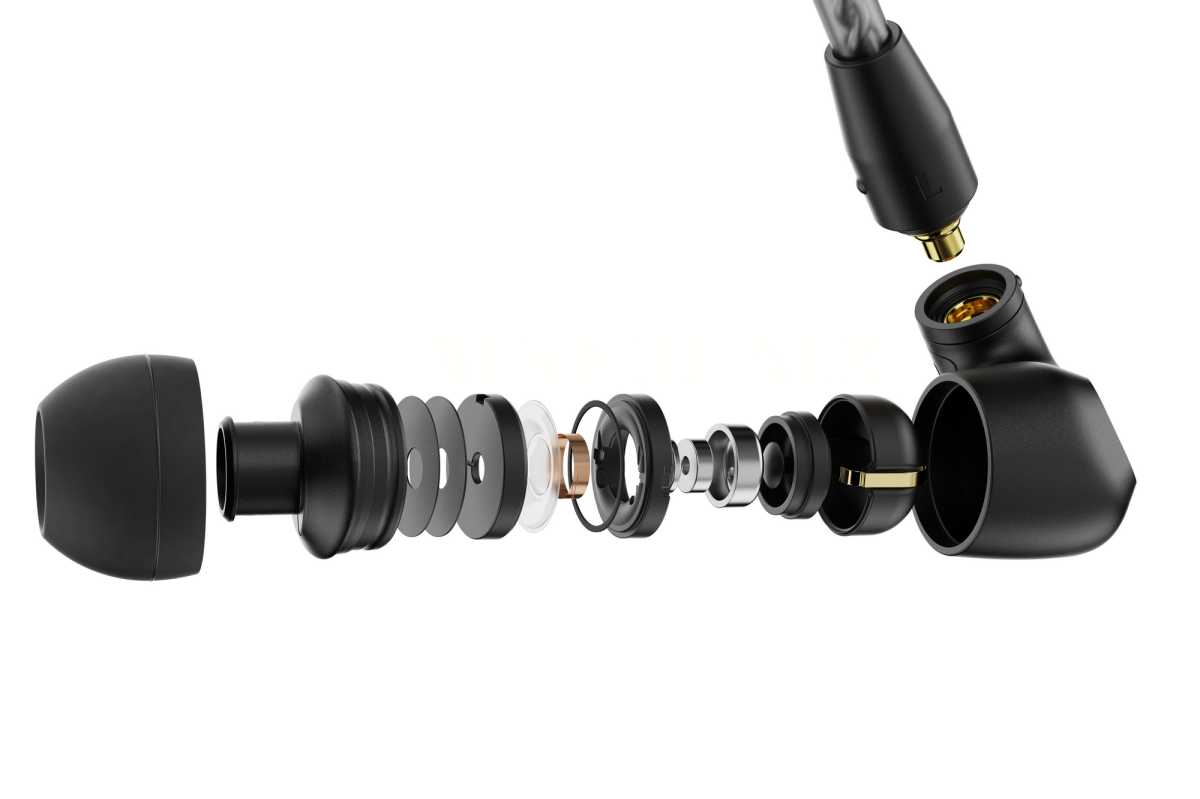 Sennheiser
While full specs have not yet been revealed, Sennheiser says the IE 200 will deliver "a natural frequency response curve typically found in earphones costing significantly more" with "almost non-existent harmonic distortion." They're "an open invitation for everyone to enjoy high-end sound," according to Sennheiser product manager Jermo Kohnke.
The IE 200's unique dual tuning feature is also likely to broaden this headphone's appeal. Users can mount the included ear tips in one of two positions to adjust the buds' sonic balance to suit their taste preferences, "from deep and emotional bass response" to "texture-rich treble presence." Included in the package in three sizes and two materials—viscoelastic foam and silicone—Sennheiser says the tips are made for long-term listening comfort and secure sealing to block ambient distractions and maximize low-end response.
Sennheiser Conversation Clear Plus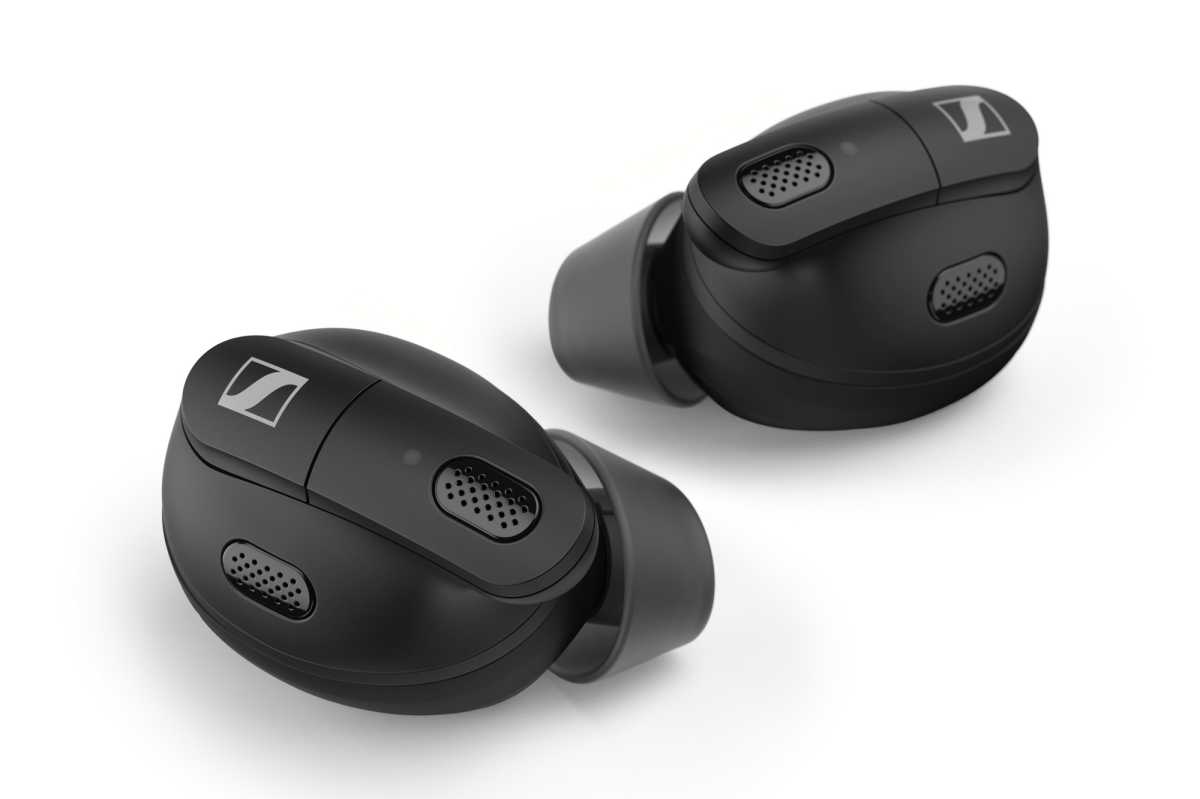 Sennheiser
The European headphone builder is courting deep-pocketed consumers experiencing deteriorating hearing with its all-new Sennheiser Conversation Clear Plus earbuds. Slated to hit the market priced at 849 Euros, these are among the most handsome speech-enhancing buds we've seen. They don't look anything like hearing aids and seem to be intentionally avoiding that description. That said, they are certainly designed to help you understand conversations in noisy environments such as busy restaurants or urban streets, and to clarify phone calls and even those mumbling Brits on your fave imported TV shows.
Conversation Clear Plus buds work with a sophisticated Sonova chip and Sennheiser's Automatic Scene Detection algorithms to analyze noise levels and properly match speech enhancement. In public settings, these features operate in collaboration with background-shushing active noise cancelling. The latter is adjustable, with an ambient-awareness mode that enables more connection with the surrounding environment.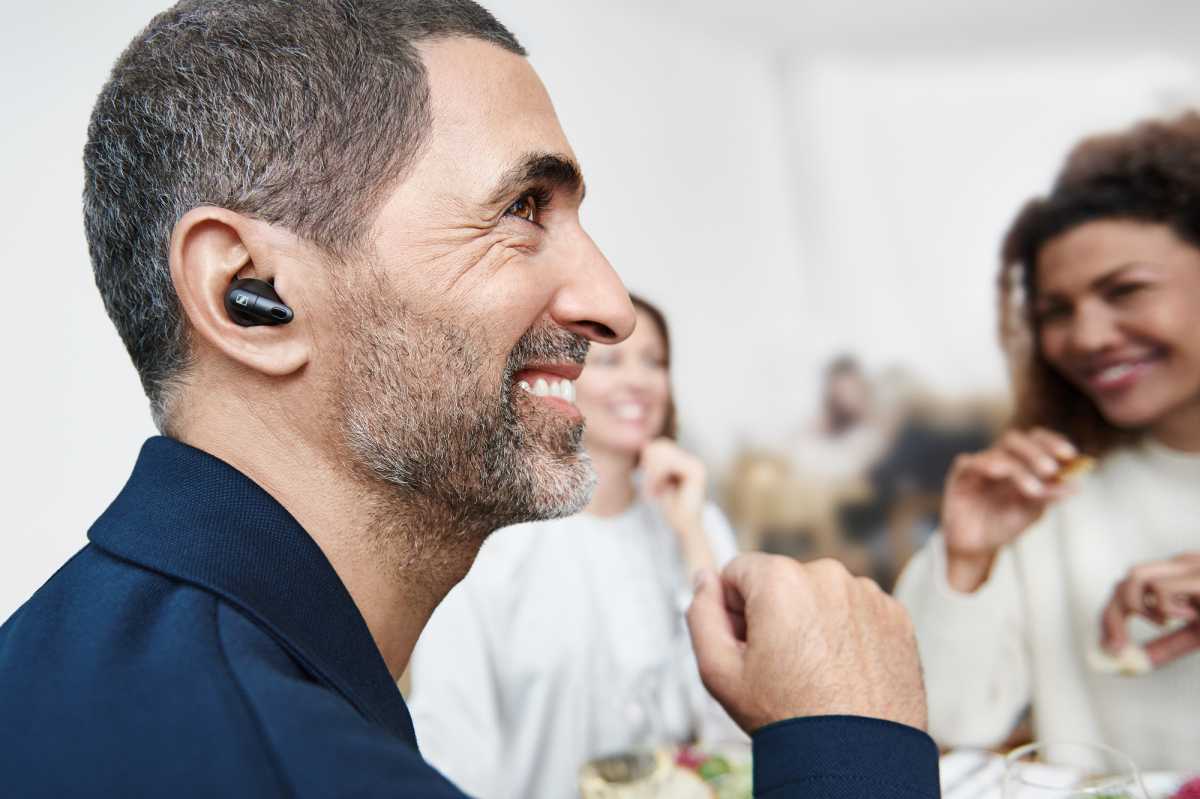 Sennheiser
Sennheiser's Conversation Clear Plus app gives the wearer three listening scenarios and related settings. To minimize stressful surprises, "Relax" lets you customize the amount of background noise that's blocked. "Communication" and "Streaming" modes auto adjust for best performance and clarity during conversation and while streaming content respectively.
Yes, these things also function as true wireless earbuds, pairing with any Bluetooth source.
Unlike most traditional hearing aids, there's no need to fumble with tiny, short-lived disposable button batteries with a set of Sennheiser Conversation Clear Plus earbuds, you can expect them to run all day (defined as nine hours) on a battery charge, and they can be recharged three times (for another 27 hours of use) when placed inside their charging case. The Conversation Clear Plus join Sennheiser's recently launched TV Clear Set, a two-piece hearing helper featuring earbuds and a tiny, AC-powered Bluetooth transmitter that connects to a TV or computer's digital optical output or analog headphone jack.
The transmitter beams that signal to a pair of wireless earbuds for private listening. Using the companion TV Clear app, the listener can fine tune the buds in six graduated steps to clarify soundtrack dialogue, typically the first thing to go blurry for someone with degraded hearing. Sennheiser's TV Clear Earbuds buds also can play reasonable well with other Bluetooth sources and recharge in normal bud fashion in their carry case. Stateside pricing is $399.