You can choose from hundreds of headphones with active noise cancellation, and there are at least a few motorized masks—with fans and filters—that claim to actively cleanse the air you breathe. Leave it to the industrial-design marvels at Dyson to come up with a hybrid device that tackles both kinds of pollution: Noise and air.
I got a chance to preview the Dyzon Zone headphones with air purification at a Las Vegas hotel suite during CES. Dyson Zone combines the micro-motorized air flow and filtration technology the company has refined while designing and building vacuums and room air purifiers with active noise-cancelling headphones, a technology it's newly exploring.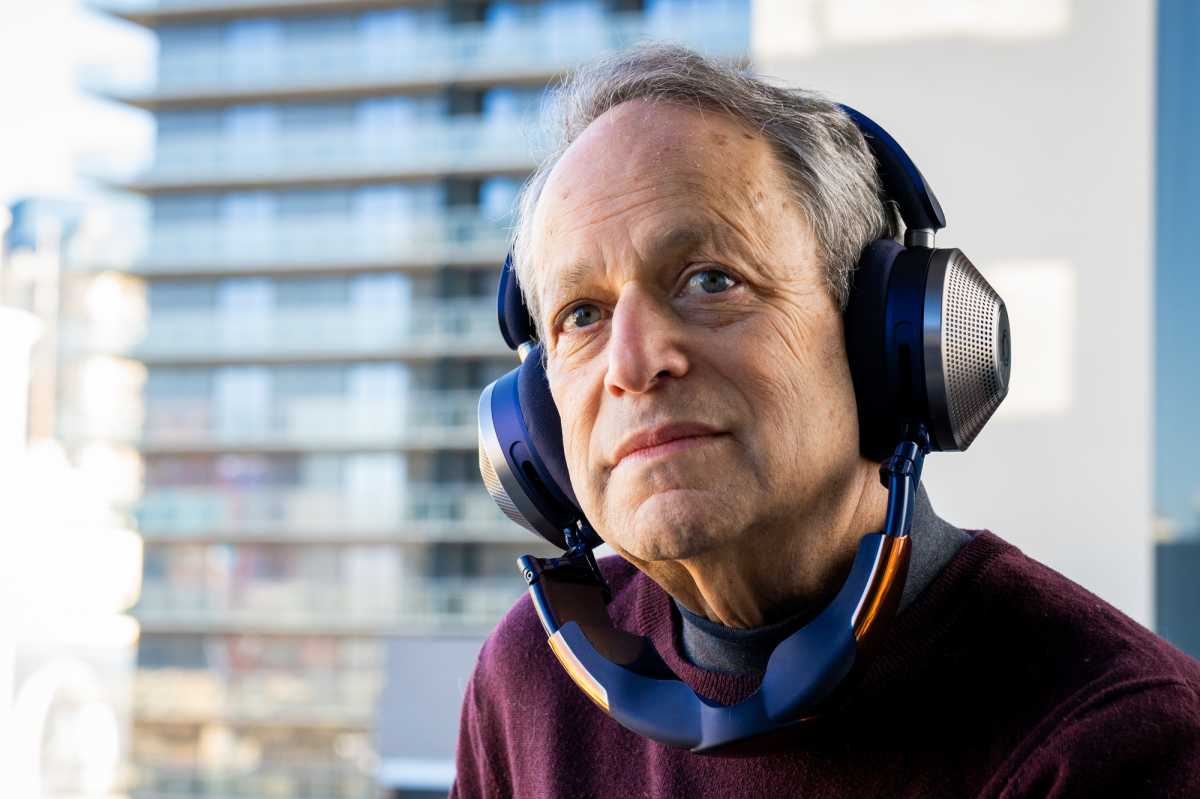 Dyson
Like all things Dyson, the company spent six years and millions of British pounds getting its act together. A lineup of far clunkier early prototypes on display in their demo room showed just how far they've traveled.
Jonathan Takiff/Foundry
Even so, the Dyson Zone look like no other headphone on the market. They're retro space-cadet cool (think Devo-lutionary) when the headphones are modeled alone, but gain a Darth Vader vibe when you convert it into a headset by snapping on the magnetic air purifier module.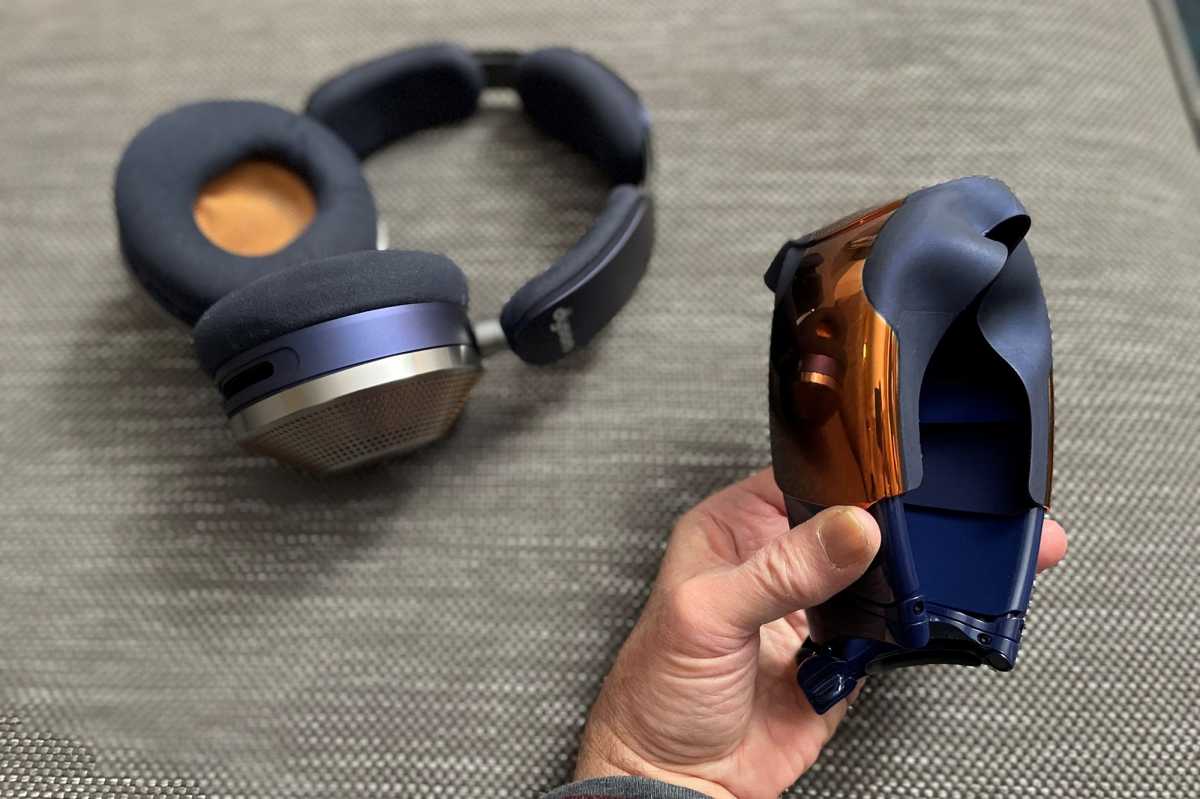 Jonathan Takiff/Foundry
The Dyson Zone's high-end materials, attractive color scheme, and comfortable fit temper their visual scariness when viewed in person, imbuing them with an upscale, less dangerous demeanor. Listening and breathing through them also helps the wearer get over the "Do I really want to wear these weird things?" hump.
The playlist I got to test drive with them was ripe with slickly produced pop classics by the likes of Earth, Wind and Fire, Tears for Fears, and Michael Jackson—million-dollar showstoppers with bright horns, sweeping synthesizers, passionate vocals, and super percussion. The Dyson Zone made the tracks sound brand new. And the whiff of cleansed air that flooded my nostrils with the mask element in place was akin to walking into a Vegas casino pumped up with pure oxygen and extra ozone to keep you up and gambling all night.
The bulging perforated-metal grilles on the ear cups are multifunctional: They contribute to an open, airy sound that's quite appealing, as do the full-range (6Hz to 21kHz), low-distortion, 40mm neodymium-magnet drivers; the sophisticated DSP-tuned audio processing; and an active noise-cancelling system that uses eight of the 11 onboard microphones to monitor and shush the sounds of the world around you.
My first impression of Dyson's ANC is that it did well to eliminate city sounds from the hotel's balcony overlooking the Vegas strip, but fell short on masking the whirr of the onboard air-purification engines when the music was off and the fans were cranking at medium or high speed.
Jonathan Takiff/Foundry
The guts of the Dyson Zone's air filtration system are inside the headset's oversized ear cups, including tiny high- speed (up to 9,750 rpm) compressors that draw in outside air, a two-stage air filtration system, and what must be a larger-than-most lithium-ion battery. The energy pack can power the Dyson Zone headphones for 50 hours of music play with active noise reduction before needing a three-hour recharge.
The headphones plus the air-scrubbing mechanism can operate simultaneously for four hours of continual use, with the fan running on the lowest of three settings. There's also an automatic mode that shifts the air-filtration speed up or down based on the feedback from onboard air-quality sensors. And if you need to speak to someone while wearing the mask element, you can just push that component down and away from your mouth and nose. That movement stops both the fan and the music while also preserving some battery life.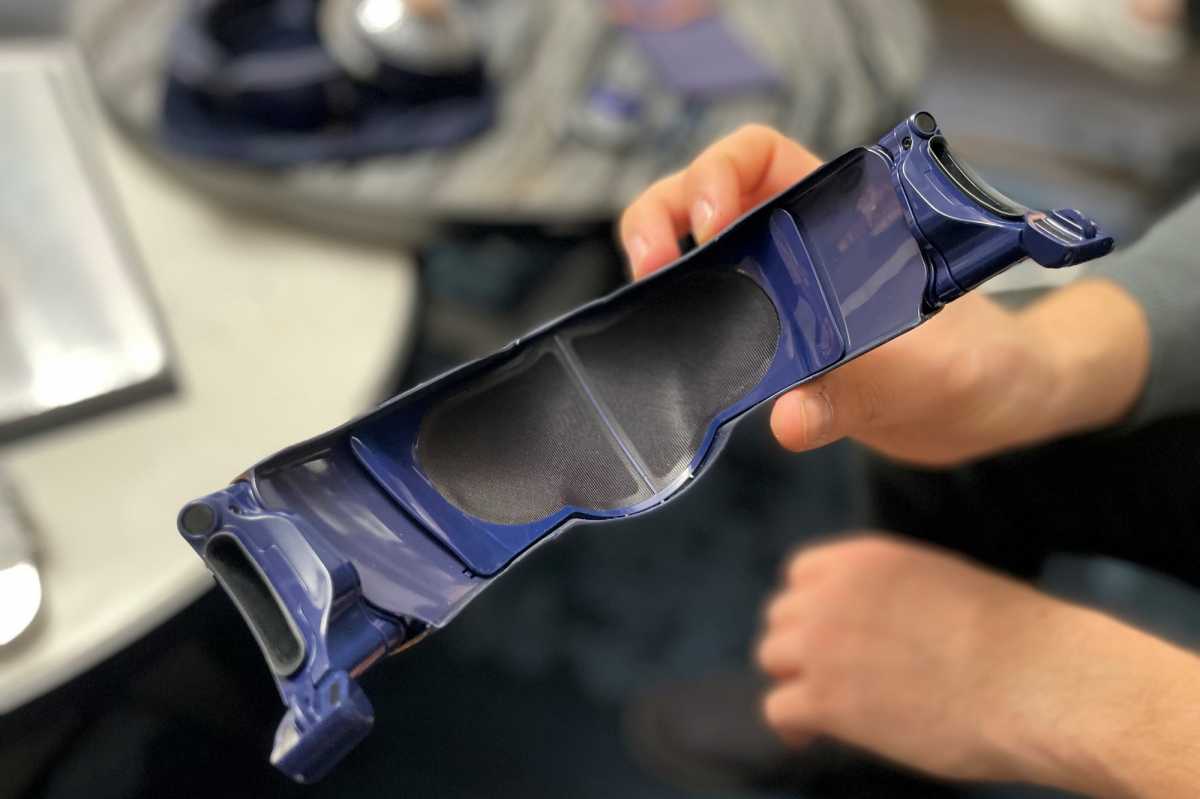 Jonathan Takiff/Foundry
Dyson says the first-stage electrostatic filters in the Dyson Zone capture 99 percent of particulate matter down to 0.1 microns in size, think allergens and airborne viruses, brake dust (a big concern for subway riders), and construction grit. A second-stage, potassium-enriched carbon filter ring targets acidic gasses most associated with city pollution—NO2 (nitrogen dioxide), SO2 (sulfur dioxide), and O3 (ozone)—as well as stinky smells like sewage, diesel fumes, and the not-always-delightful aromas of your fellow transit riders. The company says its two-stage filter should last about a year between replacements.
For extra protection against airborne diseases, Dyson also includes a washable cloth "Community Face Mask" that fits inside the plastic breather to cover your nose and mouth even more tightly.
Going on sale this month in China first, a market that loves Dyson products and really could use these pollution fighters, the Dyson Zone will land in the U.S. in March priced at $949 to $999. I'm hoping to take them out and about for an in-depth review at that time.