At a glance
Expert's Rating
Pros
Lightweight
Easy to maneuver
Excellent suction
Very low price tag
Cons
No display to indicate battery life, suction modes, etc.
No smart features (app, etc.)
Our Verdict
The VacTidy Blitz V8 is a versatile stick vacuum that makes cleaning much less laborious. It's a great choice if you're working with a tight budget and aren't concerned with smart features.
Price When Reviewed
$139.00
Best Prices Today: VacTidy Blitz V8
Cordless stick vacuums like the VacTidy V8 Blitz are lighter, slimmer, and nimbler than full-size vacuums, but they're also typically more expensive. It's not unusual for a cordless model to cost two or even three times as much as one of its corded cousins. That makes the VacTidy Blitz V8 a bit of an outlier. Currently available for $139 directly from the VacTidy website, its price should entice even the most cost-conscious folks to take a chance on one of these household helpers.
Both types of stick vac are better for quick cleanups than their robotic cousins. If you're not familiar with the brand, VacTidy is a division of Proscenic.
Like most stick vacuums, the Blitz V8 consists of two parts: A body containing the vacuum's motor, dustbin assembly, and power supply, along with a collection of cleaning attachments. The main body is composed of black and green plastic and a clear plastic 1.2-liter dustbin. The dustbin includes a detachable and washable four-stage HEPA filtration system. Power is provided by a removable 2200mAh lithium battery that inserts under the handle. A 130W brushless motor produces up to 20,000Pa of suction.
The Blitz V8 comes with several accessories for different cleaning jobs. The floor attachment swivels 180 degrees side to side and 90 degrees up and down, enabling you to easily clean around corners, under furniture, and other tight spaces. It's outfitted with a pair of LED headlights to illuminate dark spaces. A long crevice tool and and an oval utility brush can be substituted for the floor attachment to clean upholstery, wall edges, and ceiling cobwebs. Each accessory can be attached to the body via a telescopic extension tube or directly to the Blitz V8's body, converting it into a hand vacuum. The body weighs about 3.5 pounds on its own and just over five with the tube attached.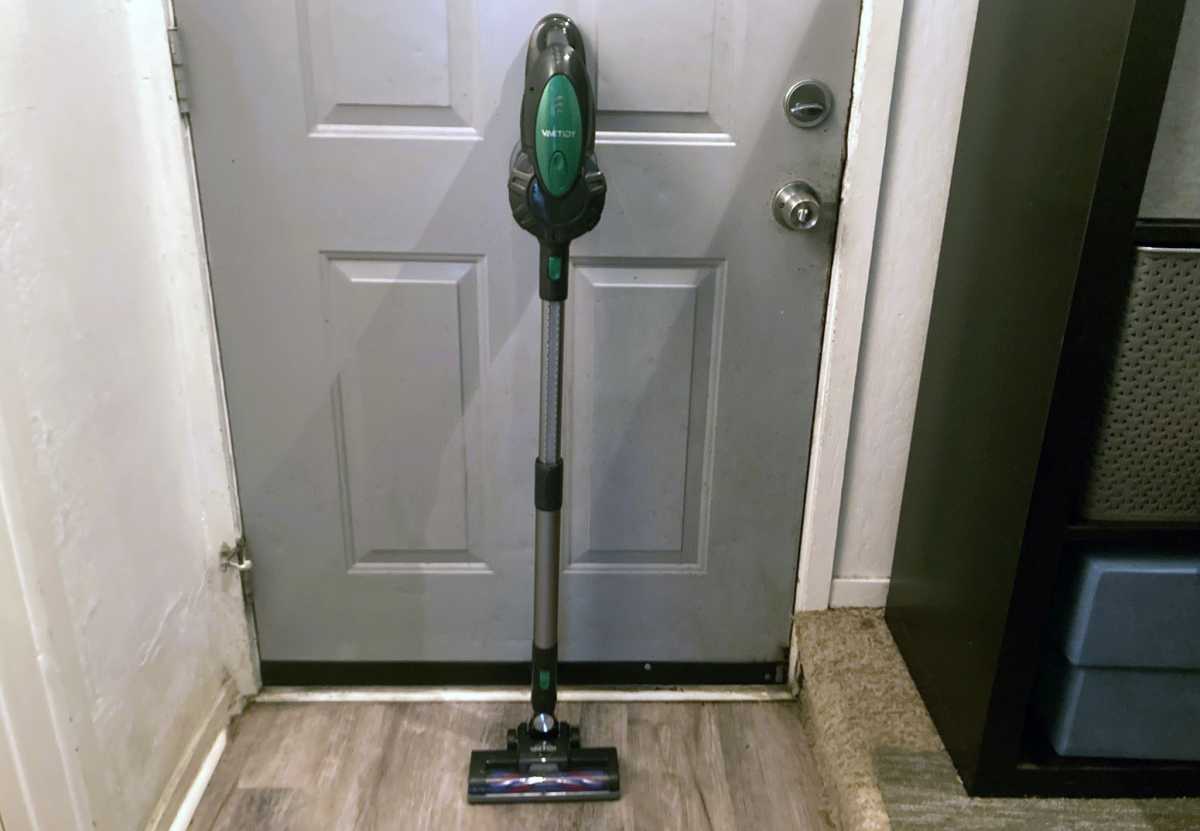 Michael Ansaldo/Foundry
VacTidy includes a small plastic bracket that allows you secure the Blitz V8 against a wall when it's not in use. Ideally, you would mount the bracket near an electrical outlet to keep the vacuum charged when it's stowed away; if that's not possible, you can simply remove the battery and charge it wherever it's convenient. Alternately, you can purchase a second battery for $35 to keep as a backup to swap in when the other needs to recharge. Fully juiced, the Blitz V8 got about 30 minutes of continuous runtime in my tests. It takes about 2.5 hours to fully charge the battery.
Like most stick vacuums, the Blitz V8 is trigger activated: Squeeze once to start cleaning in standard mode, twice to clean in max mode, and a third time to shut it off. I found standard mode, which delivers 12,000Pa of suction, to be adequate to remove dust and debris from hard floors, but max is definitely needed to remove the same from carpet. The Blitz V8 glided easily over low pile carpeting and throw rugs and transitioned smoothly from one floor type to another.
Easy maneuverability, though, is the main attraction of cordless stick vacs. Although they can't match the cleaning power of conventional corded vacuums, they don't have the latter's weight and bulk. That makes them much better suited for getting deep under beds and couches and cleaning overhead spaces. It also makes them more convenient for quick-cleaning a spill, carrying up a flight of stairs, or vacuuming out your car.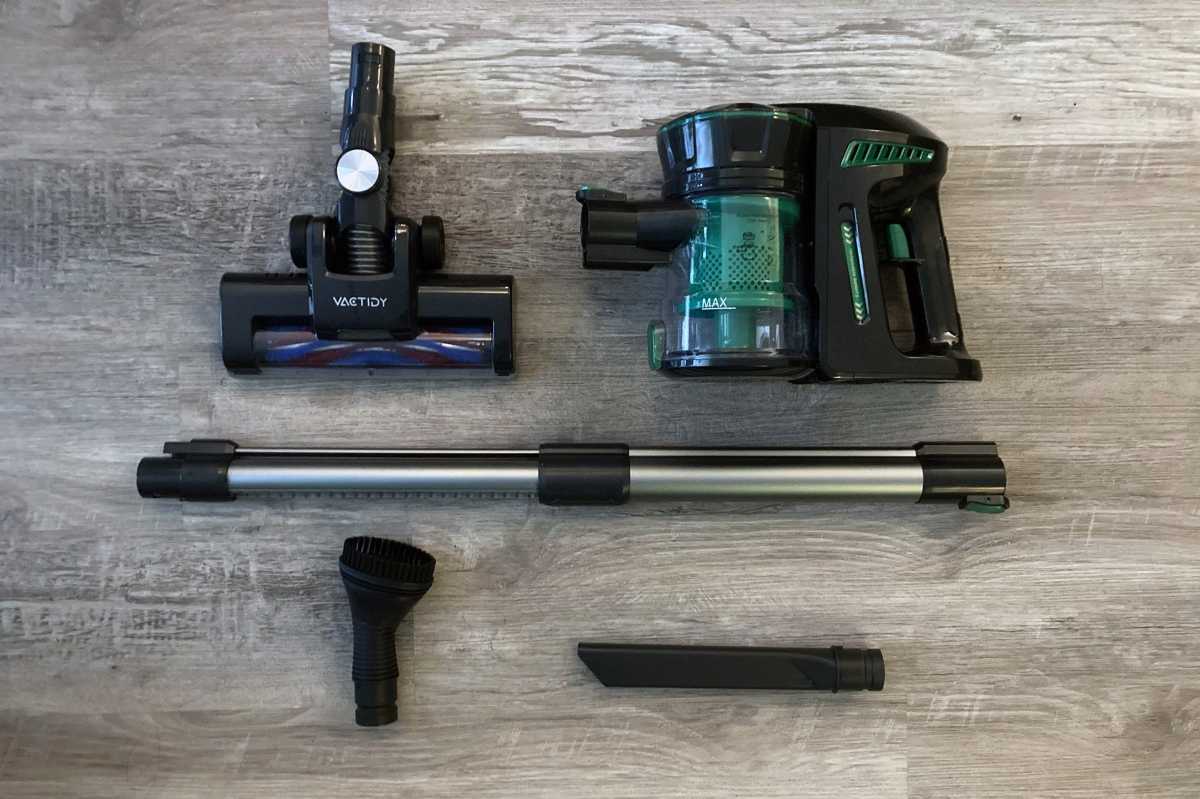 Michael Ansaldo/Foundry
The Blitz V8 lives up to that promise. Thanks to its flexible floor attachment, which swivels with a gentle twist of the handle, I was able to clean around furniture legs and corners in one fluid motion rather than the clunky stop-and-start attack necessitated by my less nimble stand-up vacuum and virtually every robot vacuum I've ever used. And its light weight enabled me to clean cobwebs from every room in my home in one manic burst rather than over several days, because the lightweight Blitz V8 didn't fatigue my arm the way my canister vacuum's hose attachment does while working overhead.
When you're done cleaning, you can empty the dustbin by detaching it from the main body, holding it over a trash can, and pressing a button to open its bottom lid and release its contents. Dust, dirt, and food crumbs fall easily out of the dustbin but I usually had to reach in and manually remove pet hair and other fibers. Unlike some more expensive stick-vac manufacturers, VacTidy doesn't offer an optional accessory that will suck the bin's contents into a separate bag that can hold the result of many cleanings while also preventing dust and debris from re-entering you home's air. The Blitz V8's dustbin can be wiped out with a damp cloth, and the filter assembly can be washed with cold water. VacTidy suggests installing a new HEPA filter every couple of months and sells replacement packs of three for $9.99.
If you like your cleaning appliances to have some smarts, you might be disappointed by the absence of a display and companion app. Without the feedback these features provide, you can't be sure of how much battery power you have left, and it's easy to forget which mode you're vacuuming in. These are mere conveniences, sure, but ones most of us have become accustomed to. And it should go without saying that at this price point you don't get dirt detection or other advanced technologies offered with more premium stick vacuums.
There are options, like the Dyson V15 Detect, for those who have the desire and means for something more polished. If you can do without the bells and whistles, though, the VacTidy Blitz V8 is a great way to make vacuuming more bearable on a budget.