The top-ranked Sony A95K and Samsung's S95B TVs from last year both featured Samsung Display's 2022 RGB OLED panel, which was one of the display products of the year. This year's version, announced at CES 2023, will be significantly brighter, smarter, and more power efficient.
Samsung Display says the improvements are due to an advanced optimization algorithm called IntelliSense AI and a new OLED HyperEfficient EL material, resulting in a maximum peak brightness of more than 2,000 nits, about twice the nits of last year's panel.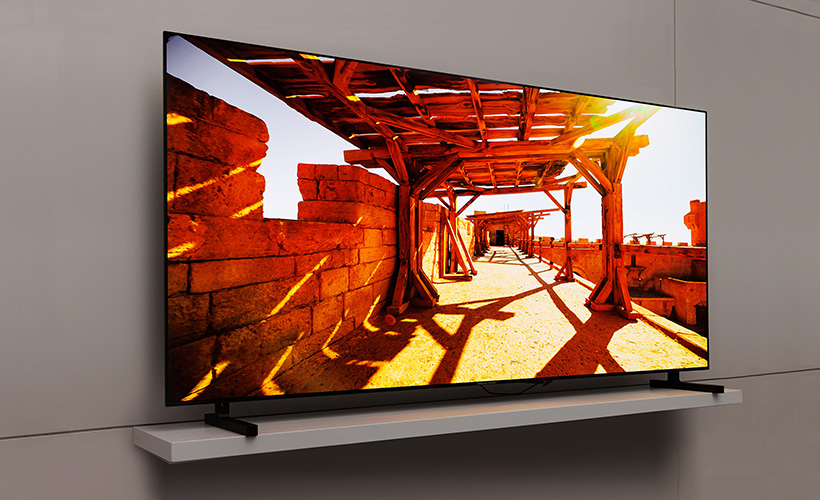 The new OLED HyperEfficient EL material produces blue light. The Samsung Display panels uses a layer of quantum dots to provide red and green, hence the QD-OLED acronym. If you're not familiar, quantum dots are re-emiters that produce very pure colors in strict accordance with their size. They can produce these colors using any light source of shorter wave length (blue is shorter than green or red.).
You probably also noticed the acronym "RGB", which stands for the three red, green, and blue sub-pixels used by these panels for form every pixel. Samsung Display omits the fourth white sub-pixel used by LG in its OLEDs which results in truer color in highlights, and an overall lusher picture. However, the whites aren't as true as those produced by LG's sets.
Samsung Display also claims that the new machine-learning algorithm and OLED material combine for up to a 25-percent decrease in power consumption.
We're anxiously awaiting a TV with one of these new Samsung Display panels. Check back in a few months for a review.