We took a hybrid approach to covering CES this year. Our west-coast editor, Michael Brown, made the relatively short flight from Portland, OR to Las Vegas and walked the show floor. Given that COVID remains a stubbornly persistent health threat, we elected to have our east-coast editor, Ben Patterson, cover the show virtually to avoid long-distance travel. Between virtual briefings and in-person meetings, each of us saw lots of very exciting new home entertainment and smart home products.
In alphabetical order, here are the ones that impressed us the most (we'll update this list as we see other great new products at the show):
Bird Buddy camera-embedded bird feeders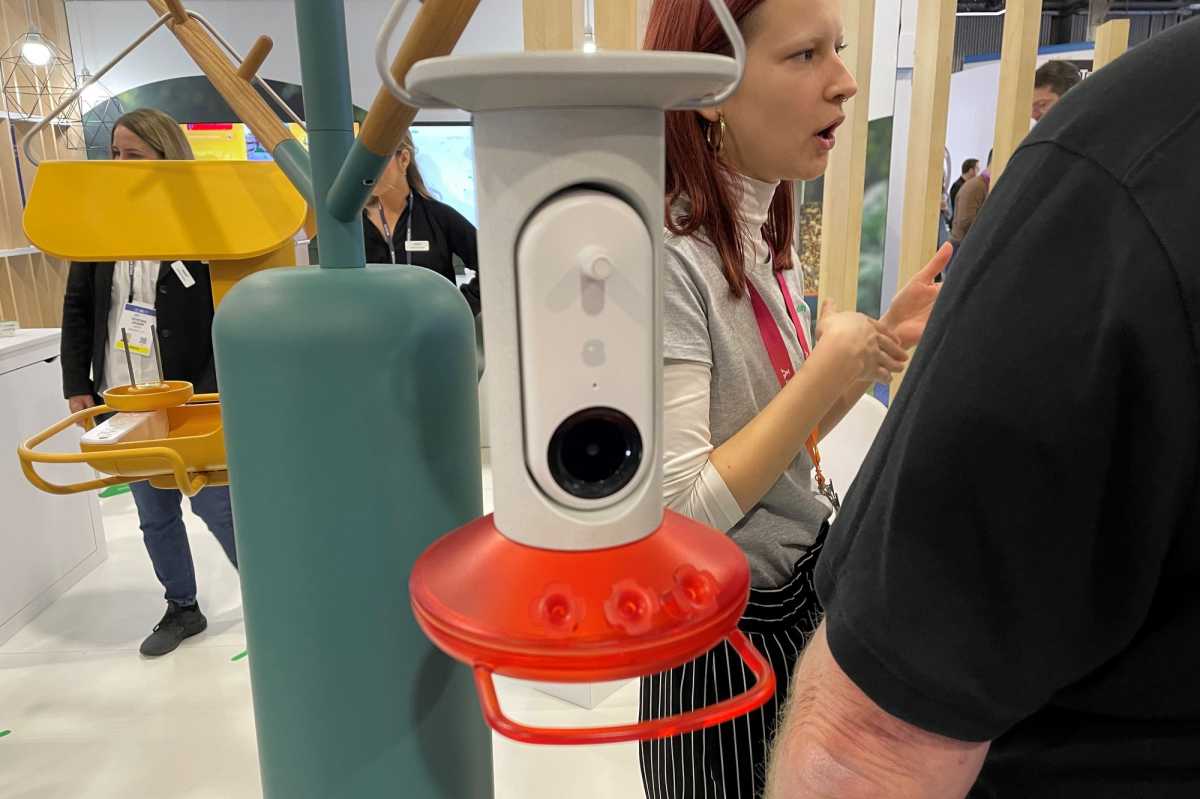 Michael Brown/Foundry
Backyard bird feeders are fun to have, but it can be hard to predict when the birds are going to show up for the banquet you've prepared for them. And unless you're an avid birdwatcher, it can be even more difficult to identify which birds are there. Bird Buddy solves both problems by embedding a wireless camera into a bird feeder. The company is showing several models at CES, including a liquid-feed dispenser for hummingbirds (pictured above) and one with a seed tray. The camera sends a push notification to your phone when a bird arrives, and the Bird Buddy app will even identify bird species. You can store the images with this information attached in a database for later reference.
Cleer Scene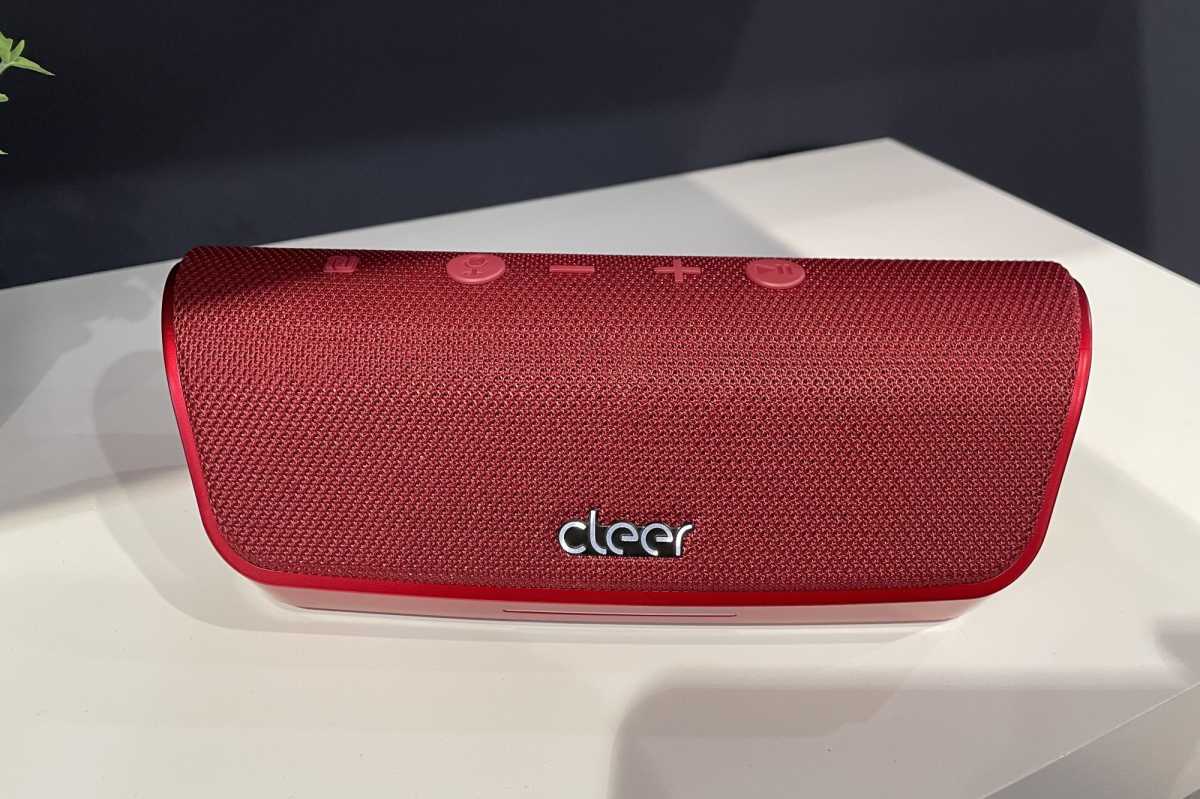 Michael Brown/Foundry
Cleer offers some of the best Bluetooth speakers and headphones on the market, so we were excited to see the all-new Cleer Scene Bluetooth speaker on the show floor. This battery-powered, IPX7-rated portable speaker is outfitted with dual 48mm drivers and promises up to 12 hours of playback time. We can't wait to get one in for an in-depth review.
Dandy: The weed-killing robot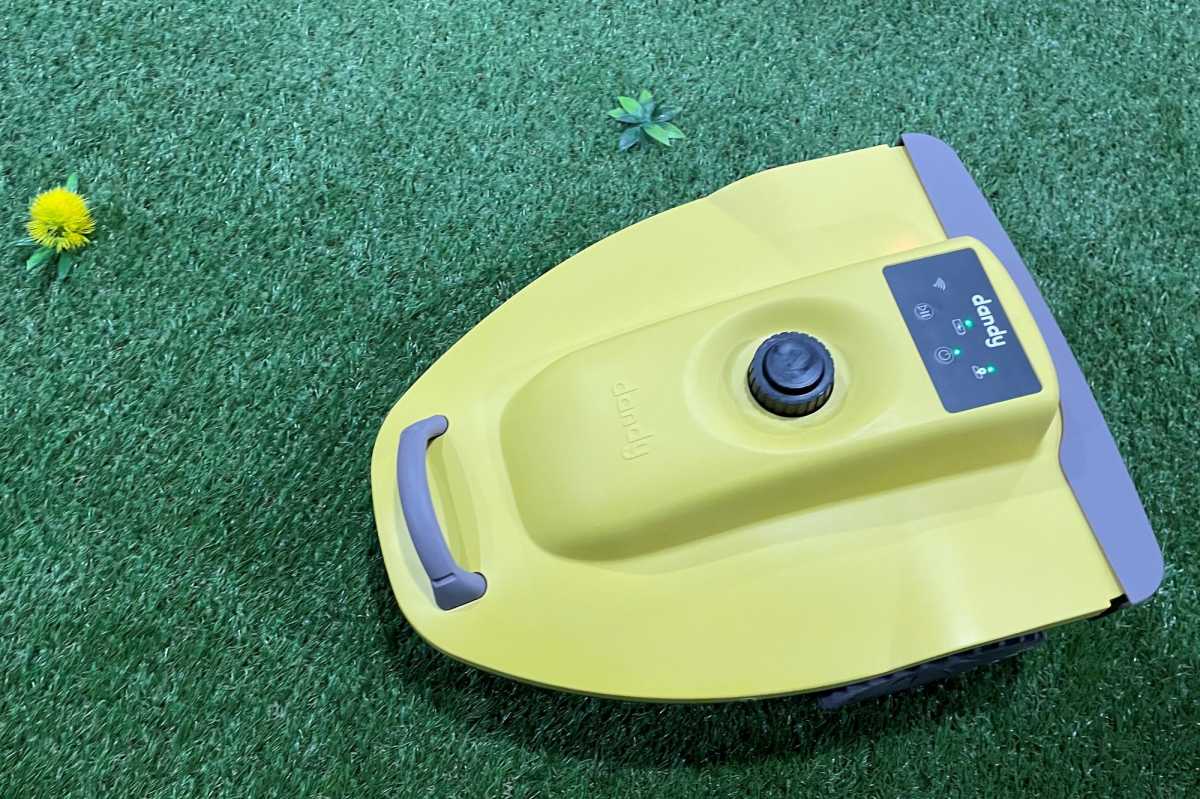 Michael Brown/Foundry
Weeds are the bane of anyone who wants a lush green lawn in their lawn, and they can be terribly difficult to get rid of. Crawling on your hands and knees to pull them out of the ground or bending over to spray them with herbicide is back-breaking labor. Broadcast solutions like spreading a granular weed-and-feed fertilizer dump a lot of chemicals into the ground, and because they're targeted at weeds, most of the herbicide component is wasted. Dandy Technology's innovative family of robots, the Dandy DT-01 ($700, for lawns up to 1/4 acre) and the larger DT01XL ($800, for lawns up to a full acre) roam your turf and hunt down broadleaf weeds like dandelions and spray them with an herbicide that kills the weed and leaves the surrounding grass unharmed. Still concerned about spraying chemicals on your lawn? Dandy recommends using an organic, iron-based solution containing FeHEDTA (you'll find several retail products on the market.
Davis Instruments WeatherLink Console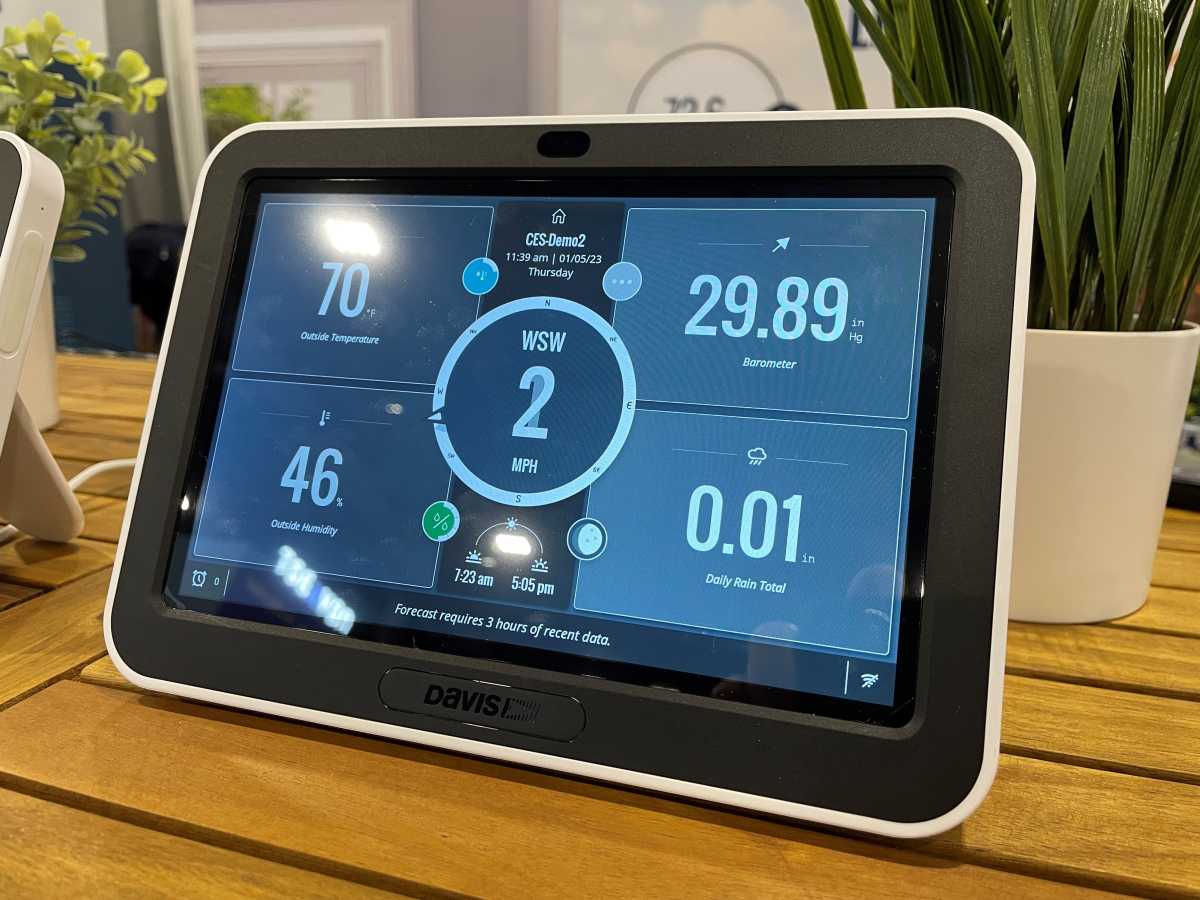 Michael Brown/Foundry
Go ahead, call us weather weenies. Davis Instruments has long made some of the most accurate, highest quality weather stations on the market. The one element that's been missing is an equally great console to display all the readings and data those stations collect. It looks as though the new WeatherLink Console will at long last be the missing link we've been looking for.
Displace TV
Michael Brown/Foundry
The Displace TV pitch kicked our BS detectors into overdrive: A 55-inch OLED TV devoid of wires—it doesn't even have a power cord because it runs on rechargeable batteries—that hangs on the wall without mounting hardware and can be scaled up to 8K resolution by tiling four panels so their bezels touch—again, without wires. Well, seeing is believing, as they say, and the Displace TV demo went a long way toward allaying our doubts. While we personally wouldn't pre-order one quite yet, the visit did leave us slack-jawed.
Dyson Zone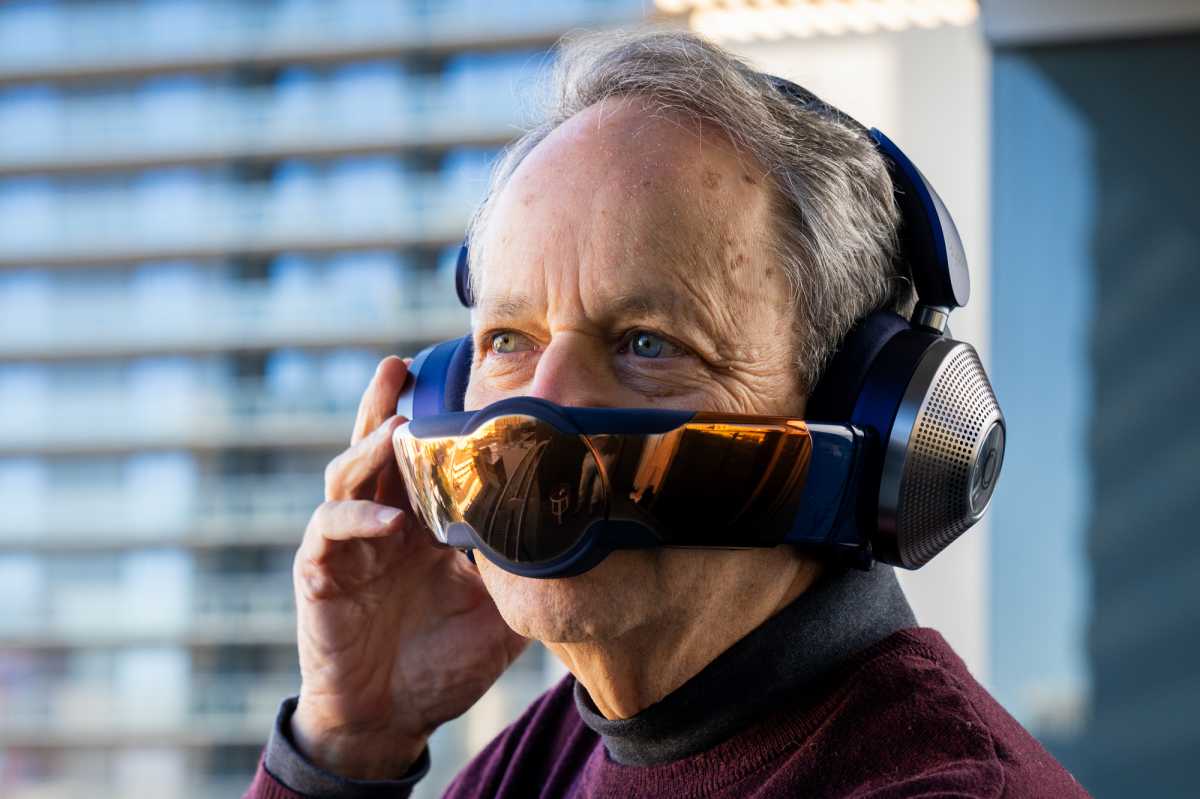 Dyson
Wearing the radical-looking Dyson Zone headphones might earn you a few stares–at least while you're using the air-purifying component that fits over your nose and mouth–but you can be confident that the air you're breathing is free from pollutants and illness-inducing viruses. We were impressed with its audio performance and comfortable fit during our one-on-one demo. We'll have a full, in-depth review as soon as the headphones are ready to ship.
FluentPet Connect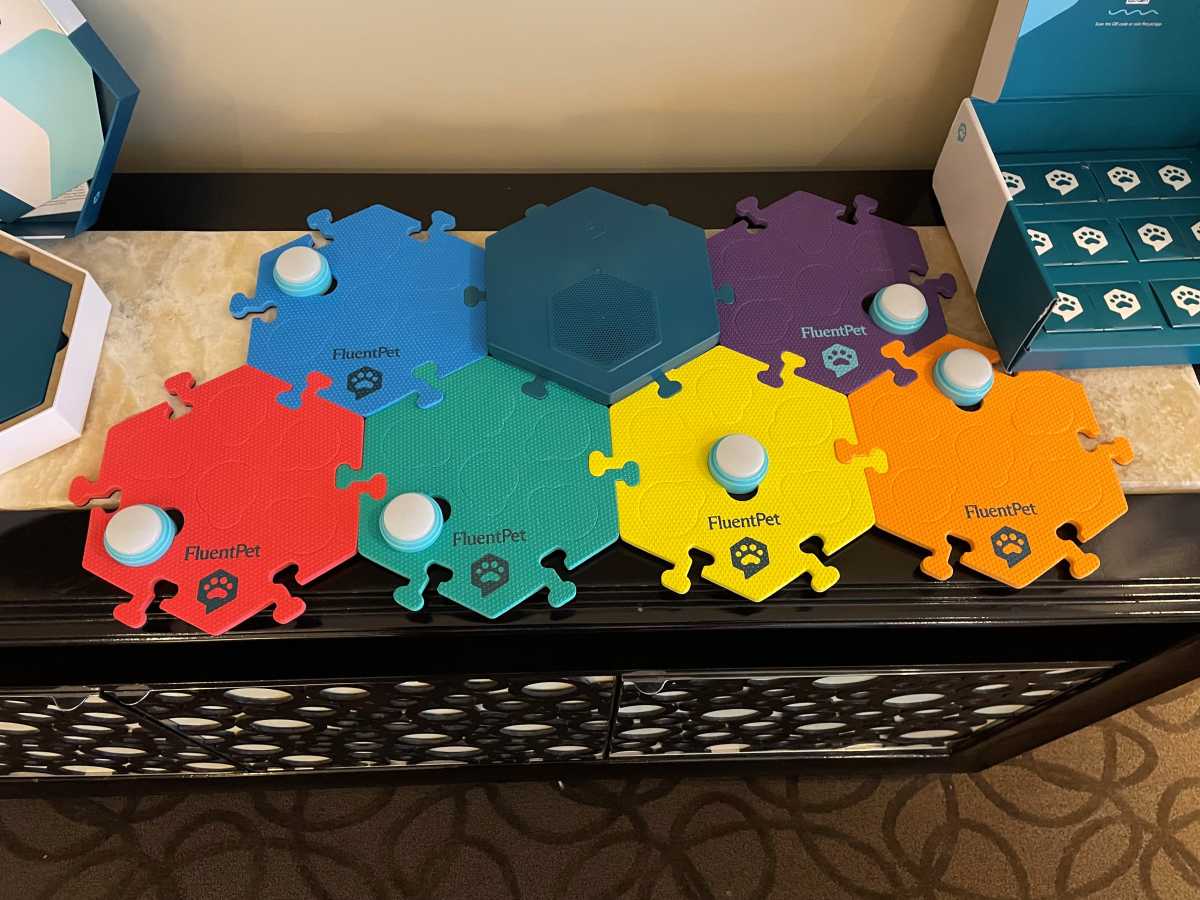 Michael Brown/Foundry
This fascinating system could be the next best thing to hiring Dr. Doolittle to talk to your animals. The idea is to train your pet to associate objects ("bone," "toy," "water") and activities ("outside," play") with buttons placed on interlocking colored tiles. Each time your pet presses a button with its paw, they'll hear your voice announcing the object or activity associated with that tile. Once trained, your pet will then touch the appropriate button to let you know what it wants or needs. FluentPet Connect's inventor tells us that some customers have reported pets combining button presses to express more complex messages. A dog, for example, learned to push the button for "water" followed by the one for "bone" to communicate its desire for an ice cube to chew.
JBL Tour Pro 2 earbuds
JBL
How many times have you been frustrated with your earbuds because you not only didn't realize their batteries were dead, but that the back-up battery in their charging case was also kaput? JBL aims to fix that problem with its JBL Tour Pro 2 earbuds, which feature a touchscreen display embedded in the case. What's more, you can use this 1.45-inch LED touchscreen to manage music playback, answer incoming calls, and scan messages and social media alerts, too.
Kohler Sprig shower infuser
Michael Brown/Foundry
High-end plumbing fixtures are fun to dream about, but given the cost of a complete remodel, that's about as far as many of us get. Price won't be too much of a barrier to a spa-like shower experience with Kohler's Sprig showerheads. Available in fixed and handheld configurations, you drop a pod containing essential oils into a compartment at the base of the Sprig and it will infuse your shower water with relaxing scents for several minutes. Kohler says it "Sleep" pod contains a mixture of lavender and vanilla to help you relax before going to bed; "Focus" combines clary sage and patchouli to help you concentrate; while "Relax" is a mix of chamomile and green tea and is perfect for an after-work shower. Kohler says its Sprig shower infusion system can be installed on existing plumbing and is an easy DIY project.
LG M3-series OLED TV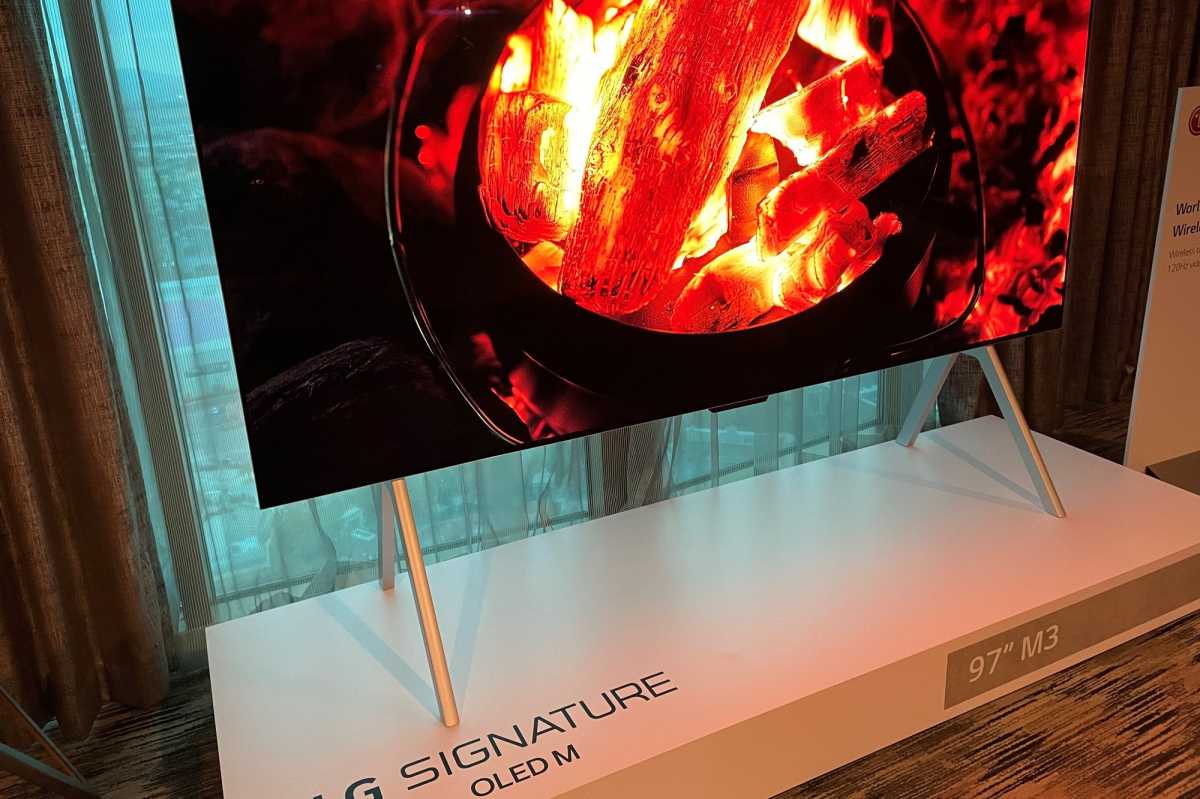 Michael Brown/Foundry
While not quite as ambitious as Displace TV's effort, LG is developing a wireless—well, mostly wireless—OLED TV of its own. The 97-inch LG M3 depends on an electrical cord for power, but you plug all our entertainment sources—Blu-ray player, gaming console, etc.—into a cube-shaped box that can be placed up to 30 feet from the TV. The box beams audio and video to the TV using a proprietary wireless protocol. The only cord you need to hide at the TV itself is that power code.
Lockly Flex Touch Pro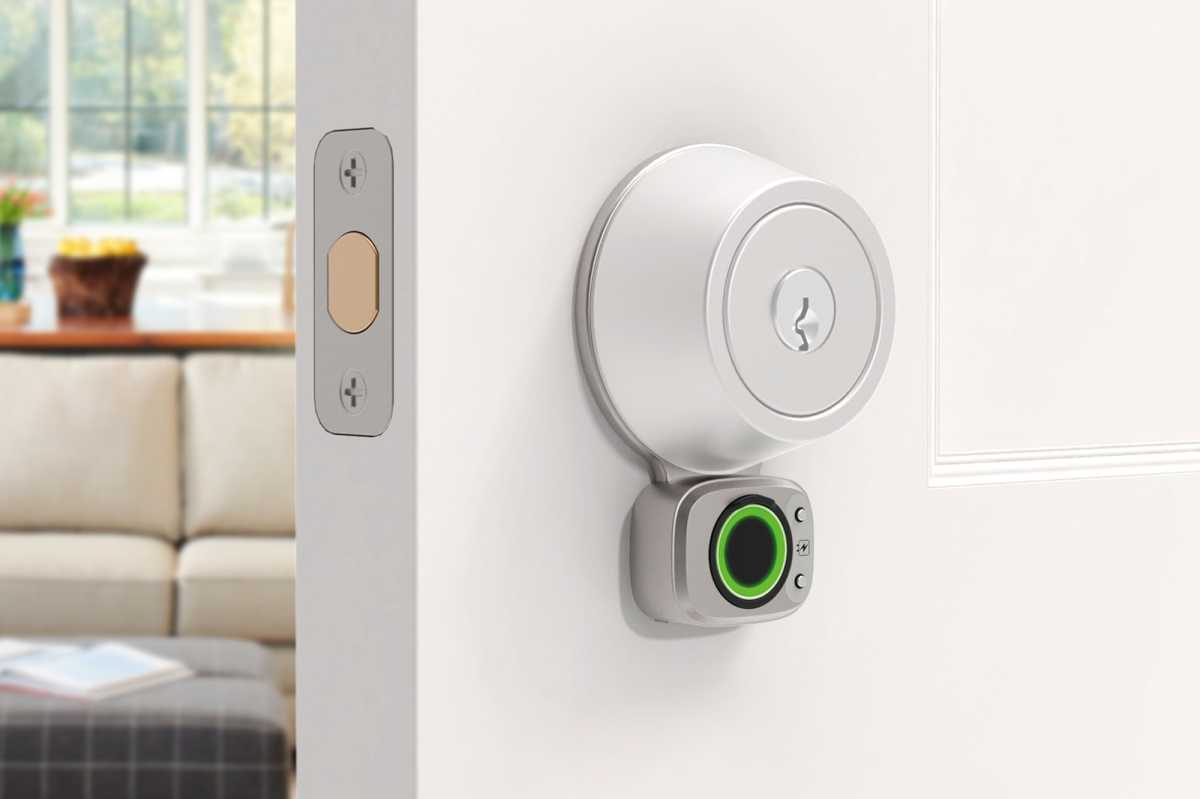 Lockly
Lockly builds some of the most sophisticated smart locks we've encountered, and now it's bringing that tech to the retrofit market with the Flex Touch Pro. This is the first we've seen that enables you to retrofit any deadbolt with a fingerprint reader, capable of recording up to 99 fingerprints. The lock connects to your Wi-Fi network and is compatible with Alexa and Google Assistant; it can also be operated remotely. The Flex Touch Pro will log each lock/unlock event and can operate on battery power for up to 9 months with regular usage. It's priced at $229.99 and will be available in the spring.
Masonite M-Pwr smart door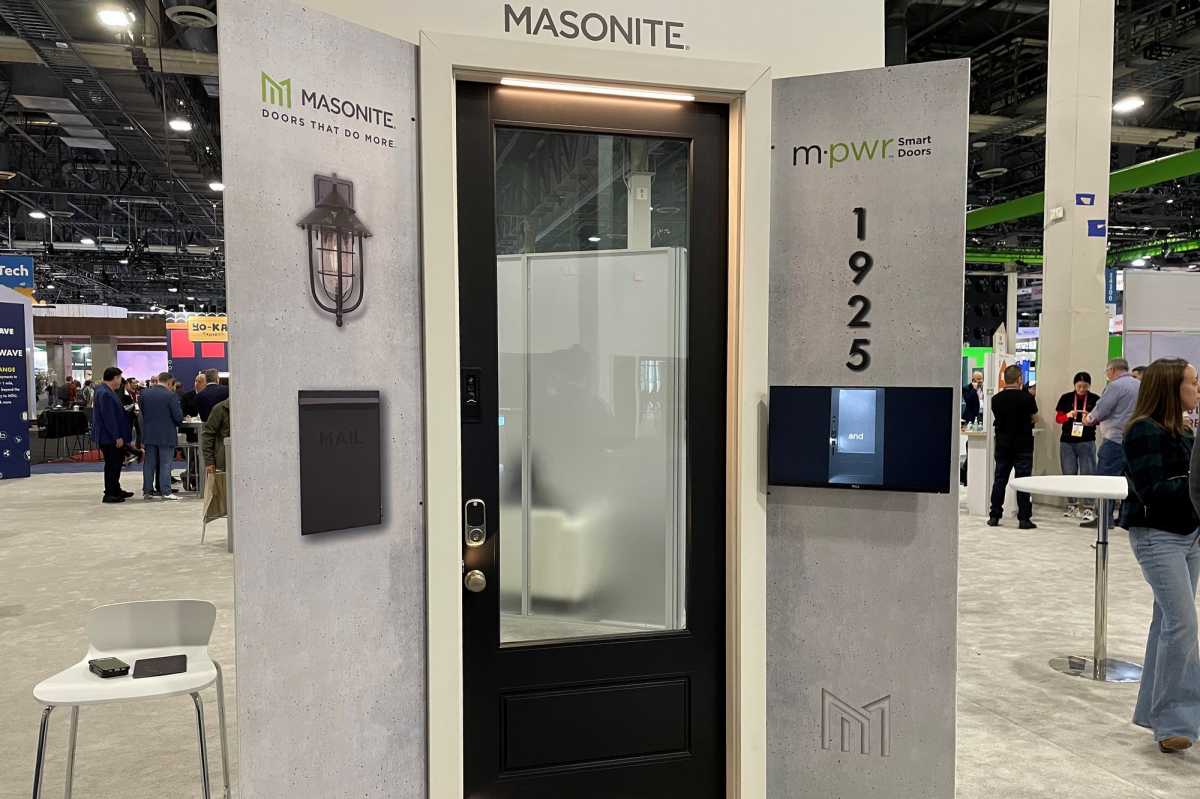 Michael Brown/Foundry
If you're replacing the front door to your smart home because it's worn out, drafty, or just plain ugly, take a look at the Masonite M-Pwr smart door. It's packed with every smart feature you can think of, including customized versions of a Yale smart deadbolt and a Ring video doorbell. How are they customized? The door connects to your home's electrical system and powers the lock and doorbell directly, so they don't need their own batteries. The door itself has a battery-backup in case of a power outage. Masonite also embedded LED downlights into the door's frame: A wide downlight at the top; a circular spotlight on the side, near the doorknob; and a second spotlight near the bottom of the frame that casts a pool of light on the threshold. The Masonite M-Pwr will be available in various sizes with or without a window from Home Depot and custom installers. Prices start at $6,500.
Moen Smart Sprinkler Controller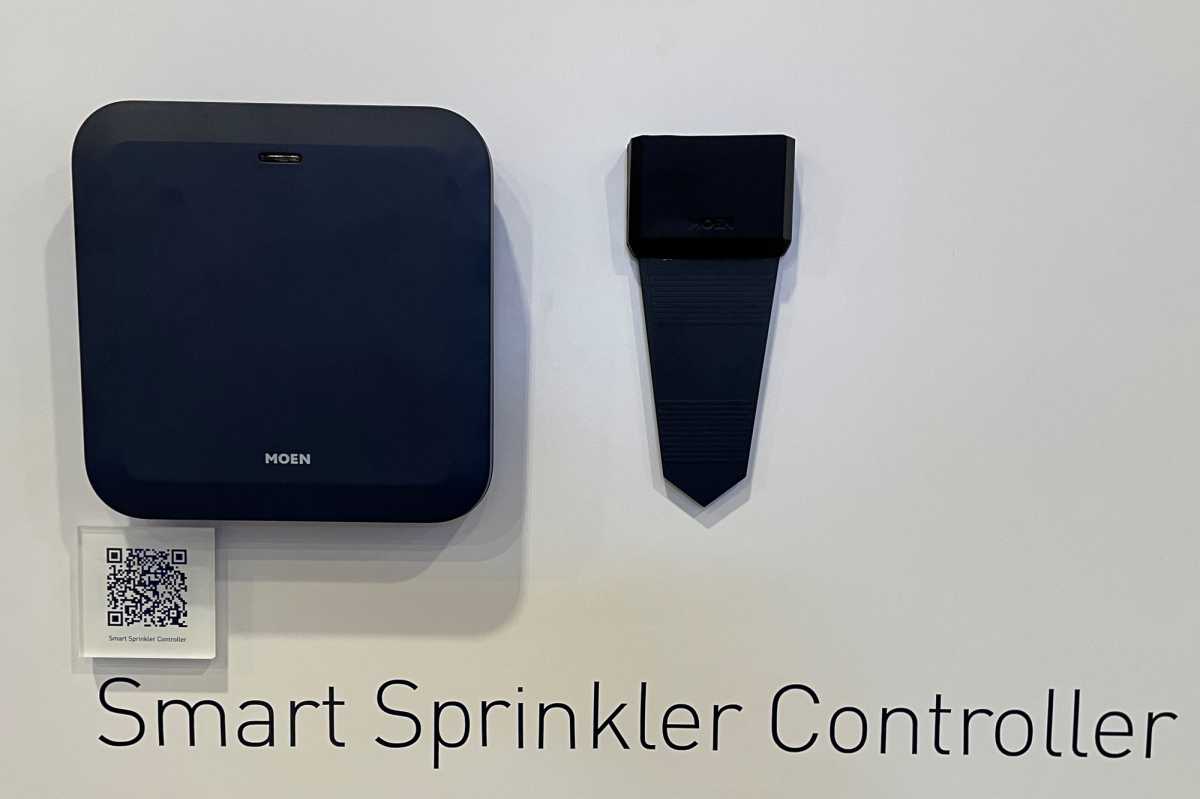 Michael Brown/Foundry
We've tested some pretty great smart sprinkler controllers, but Moen's product has a couple of features the competition doesn't. First, wireless soil sensors (you can place up to one per zone) monitor your soil's temperature and moisture content at several depths. Where a controller that takes the weather into account might postpone an irrigation session if rain is forecast, the Moen Smart Sprinkler Controller will determine if the soil is dry enough to need supplemental water in addition to rainfall. Second, Moen's device can communicate with the company's Flo Smart Water Monitor and Shutoff Valve, so that the latter product doesn't mistake an irrigation session for a leak and shut off your home's water supply.
Nakamichi Dragon soundbar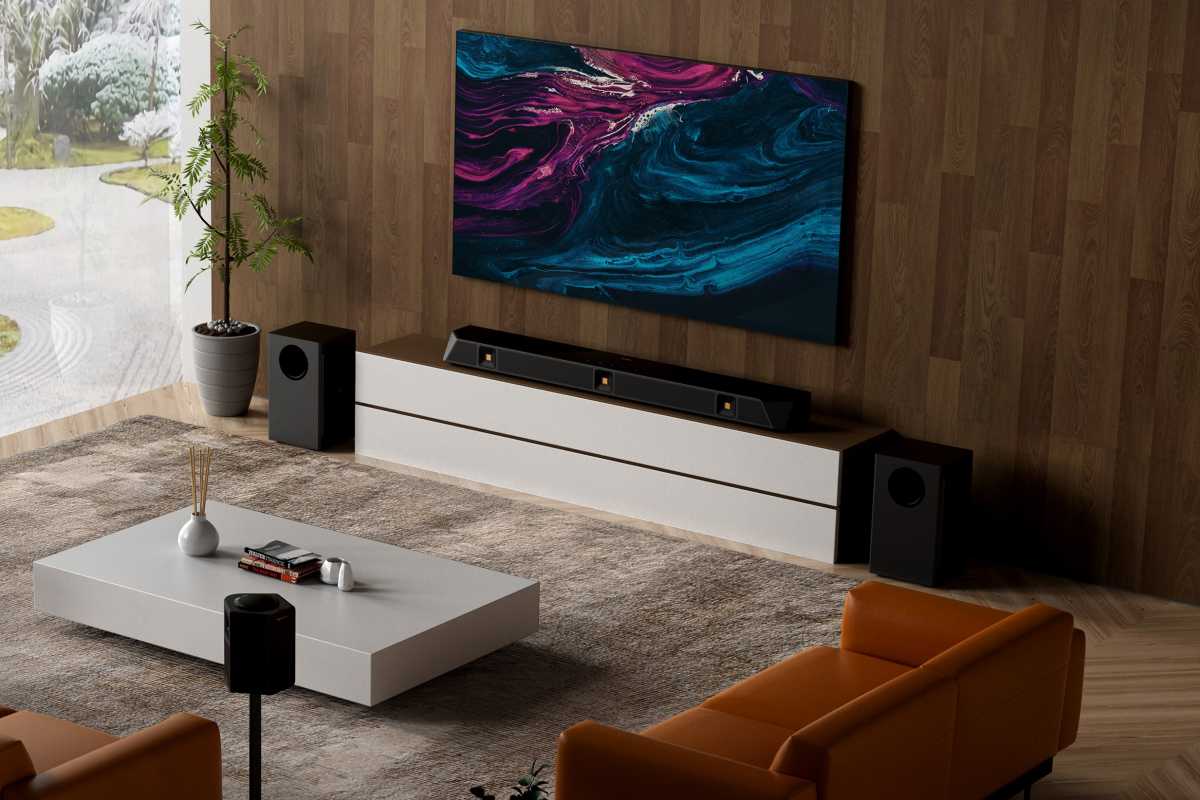 Nakamichi
The legendary Nakamichi audio brand is going big—really big—with its latest soundbar. The 58-inch-wide Nakamichi Dragon will arrive later this year with a whopping 31 drivers delivering 21 channels of audio in a room-filling 11.4.6 configuration, complete with two subwoofer cabinets packing two woofers each. The Dragon's upfiring drivers can be adjusted to match the physical characteristics of the room it's in, and the soundbar is the first of its kind to offer DTS:X Pro, an enhanced version of the object-based DTS:X immersive audio format that supports up to 32 connected speakers.
Nanoleaf Sense+ Controls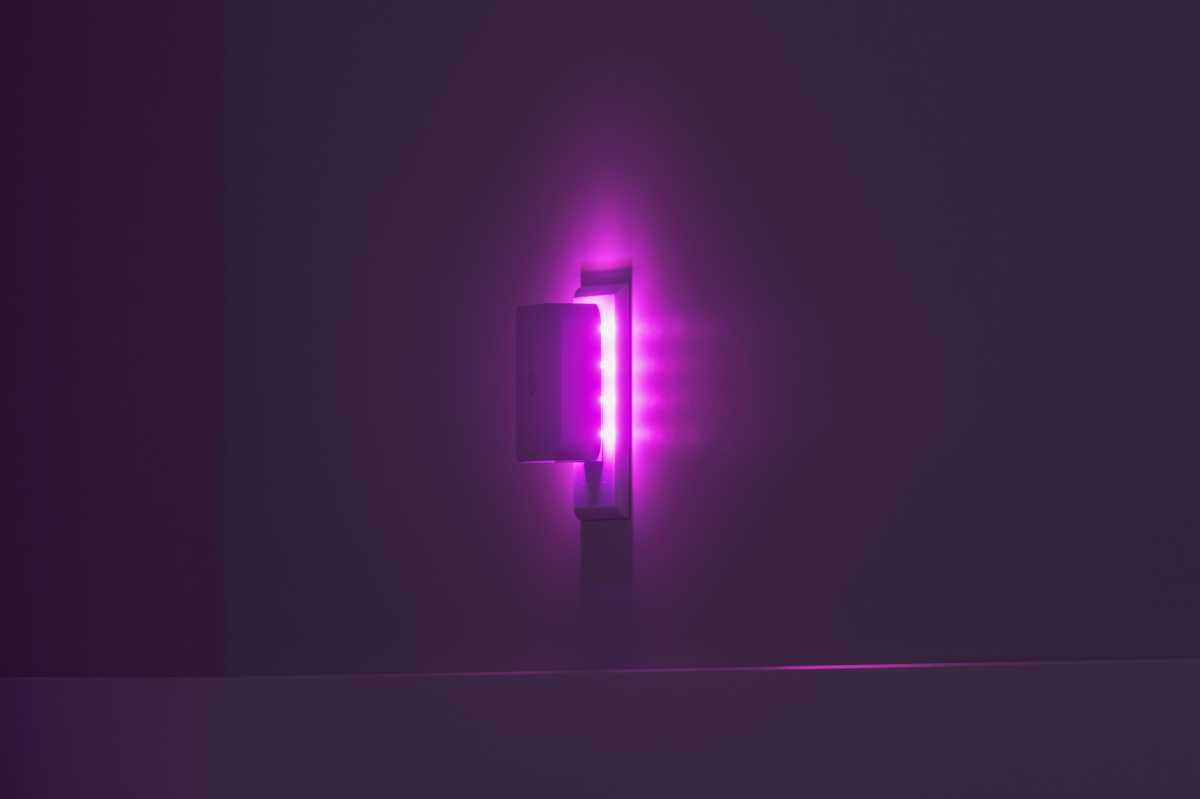 Nanoleaf
Nanoleaf has long complained that existing smart bulbs and light switches aren't all that smart, and now the company is putting its money where its mouth is with its new Sense+ Controls line. Powered by its Nanoleaf Automations Learning Assistant (Nala), Nanoleaf's Matter-compatible Sense+ Controls sensors can monitor your habits and create personalized automations that promise to bring smart lighting to the next level. Will the Nanoleaf Sense+ Controls line deliver? We'll find out this fall.
Ring Car Cam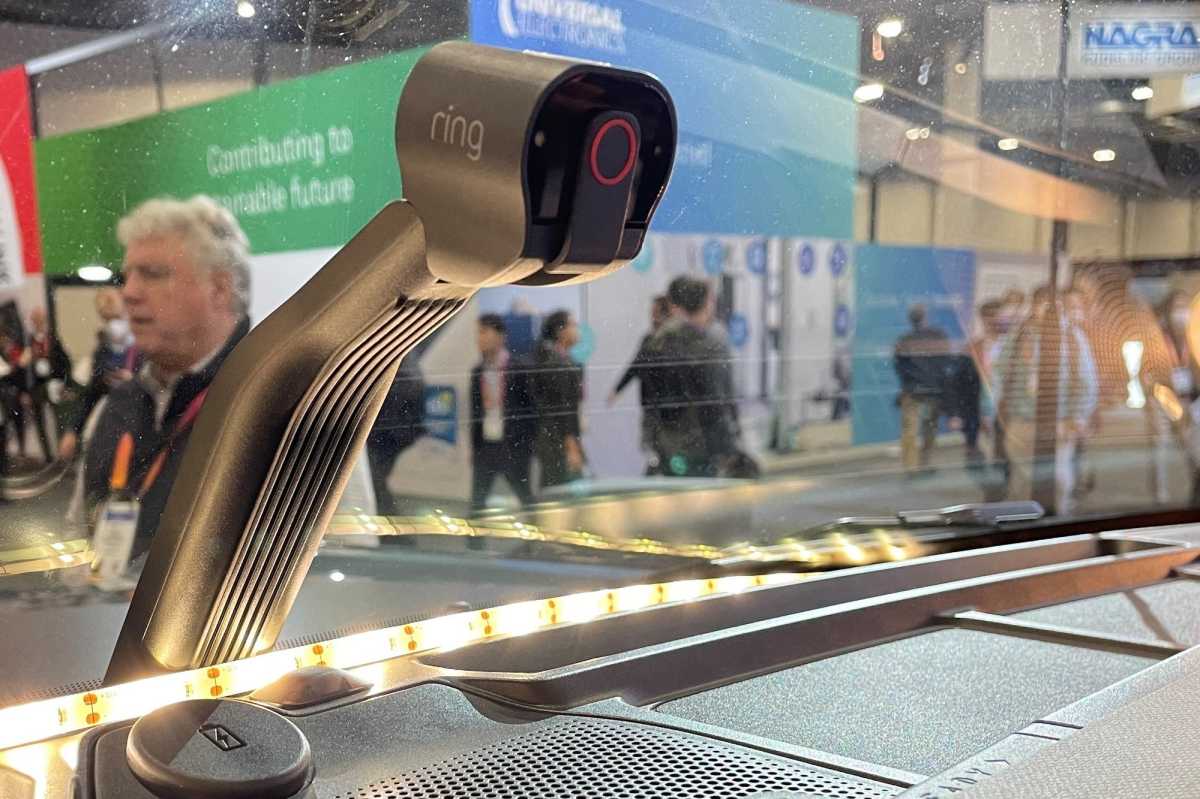 Michael Brown/Foundry
If you've deployed Ring security cameras all around your home, putting one inside your car is the next logical step. Once you've mounted the dual-facing Ring Car Cam on your vehicle's dashboard and windshield and plugged it into the car's OBD port, it will record what's going on both inside the cabin and in front of the car while the vehicle is in motion. Say "Alexa, record," and the camera will capture what's going on even when the car is still, which could be very reassuring if you're pulled over or get in a fender bender and need to exchange information with the other driver. If your car is parked and someone bumps or breaks into it, the camera will wake up and record that activity and then send a video clip to the Ring app on your phone. At that point, you can initiate a live stream to see just what's going on.
Roborock S8 Pro Ultra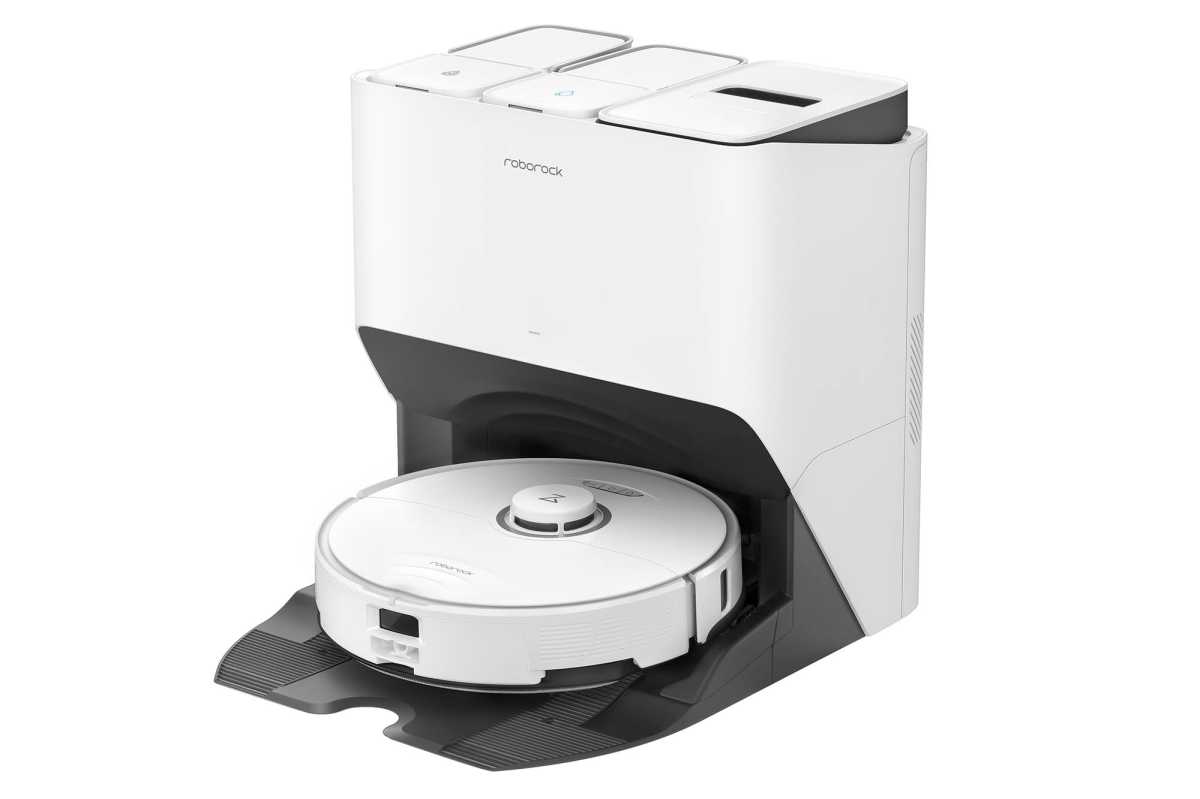 Roborock
Roborock frequently impresses us with the power and sophistication of its robot vacuum cleaners, but the Roborock S8 Pro Ultra takes the cake. This mop/vacuum hybrid comes with a base station that empties the vacuum's dustbin, refills the water reservoir for its mop, and cleans the mop pad while it's docked and charging its batteries. The vacuum can distinguish between hard flooring and rugs and carpets, and it will automatically lift its mop pad to prevent wetting the latter. The vacuum can even navigate around obstacles on the floor—shoes, electrical cords, children's toys, and the like—and it boasts an amazing 6,000Pa of suction power. Last but not least, it's outfitted with twin silicone rollers that won't get tangled with pet hair.
Samsung CX-series micro-LED TV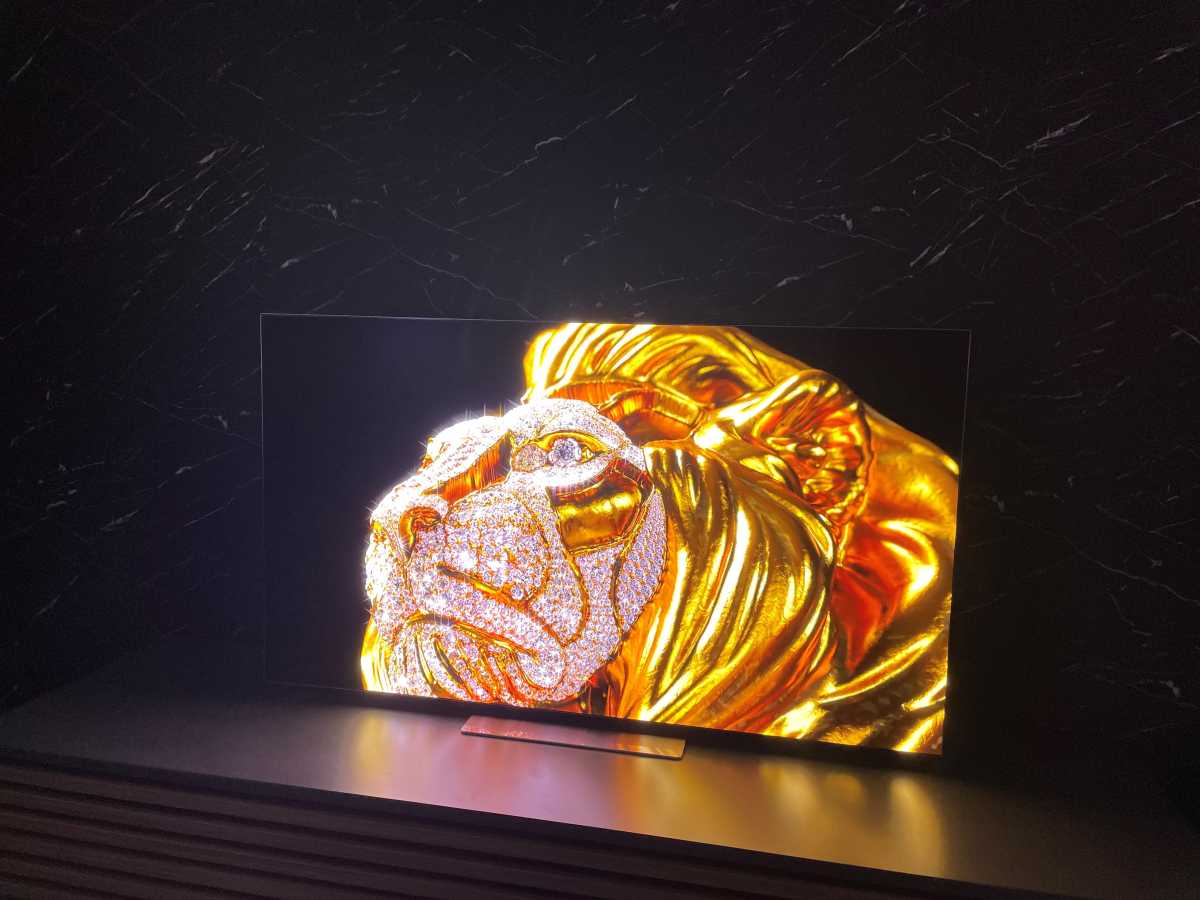 Michael Brown/Foundry
Samsung knocked our socks off in 2019 with demonstrations of its ginormous The Wall TV. The micro-LED technology that TV uses is capable of achieving perfect black levels because it can turn off individual pixels, just like an OLED. But micro-LED technology can achieve brightness levels OLED panels can only dream of. Everything is hunky dory until you start talking about prices, and that's when the nosebleeds start. And who really needs a 219-inch TV anyway? At CES this year, Samsung took the wraps off its CX series of micro-LED TVs, starting with the stunning 76-inch model pictured above. And while Samsung hasn't announced pricing, logic dictates that this much smaller TV will be a whole lot less expensive.
Updated January 6 to add Bird Buddy, Dandy, Masonite M-Pwr, Kohler Sprig, Lockly Flex Touch Pro, and the Masonite M-Pwr; updated January 8 to add Cleer Scene and Dyson Zone.