While other soundbar manufacturers are showing off compact all-in-one soundbars at CES 2023, Nakamichi is going the other way with the Dragon, a massive 11.4.6-channel soundbar system that serves up a bone-rattling 21 channels of audio.
Slated to arrive in the second quarter of 2023 with a lofty $3,499 price tag, the Nakamichi Dragon (which has already scooped up a CES Innovation award) dwarfs most of the other soundbars we've seen at CES this year, with a 58-inch-wide chassis that's best suited for 60-inch TVs and larger.
All told, the Dragon packs 31 drivers, including six upfiring drivers (four in the main soundbar unit, and two in the so-called "3D Omni-Motion Reference Surround" speakers) and four subwoofers (which are crammed into a pair of subwoofer cabinets in an isobaric configuration).
Nakamichi has some tricks up its sleeves with the Dragon's upfiring drivers. For starters, the four upfiring drivers in the main soundbar unit are angled at both 10 and 20 degrees (one each on either side) to better render "vertical and overhead sound objects at precise height levels," Nakamichi says.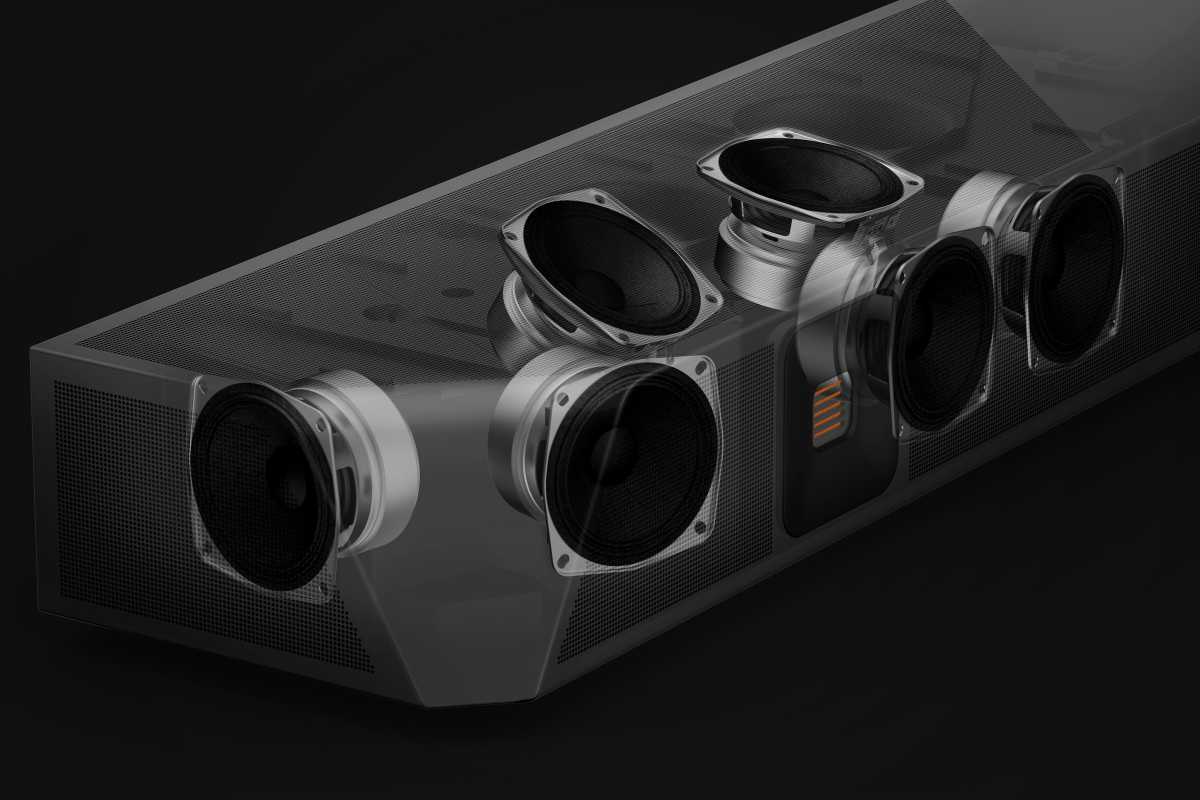 Nakamichi
Meanwhile, the upfiring drivers in the surround speakers can be rotated up to 180 degrees via the manufacturer's "PerfectHeight Mechanism" feature, allowing for the drivers to "accommodate any environment," no matter the shape of the room, according to Nakamichi.
Besides the upfiring drivers, the nine-pound, bipolar surround speaker cabinets also house four additional three-inch drivers (two in each speaker) for the rear and surround channels, along with a pair of "Air Motion Transfer" tweeters.
Nakamichi
The Dragon supports Dolby Atmos and Dolby Vision, and Nakamichi also says the soundbar is the first of its kind to offer DTS:X Pro, an enhanced version of DTS's Atmos competitor that supports up to 32 speakers, versus just 11 speakers for the standard version of DTS:X. While DTS:X Pro has already been making its way to high-end A/V receivers, this is the first time we've seen the format in a soundbar.
Finally, the Dragon will offer Qualcomm's aptX HD codec, which allows for high-resolution audio playback via Bluetooth.