After a year when movies and shows mysteriously disappeared from their streaming platforms (R.I.P. Westworld), perhaps it's time to reconsider the virtues of physical media. If you have a collection of silver discs, Hong Kong-based manufacturer Magnetar Audio's UDP 800 is a digital player that can handle pretty much any current or legacy format released on those sturdy 5-inch platters.
The Magnetar UDP800 ($1,599) announces itself as a 4K UHD Blu-ray player, which means it can also play Blu-ray discs and DVDs. The player uses the MediaTek MT8581 for processing and upscaling. It also supports both Dolby Vision and HDR10/HDR 10+ and all the audio formats you'd require, including all the forms of Dolby (e.g., Dolby TrueHD) and DTS (e.g., DTS-HD Master Audio), as well as the two most widely adopted immersive audio formations, Dolby Atmos and DTS:X.
Audiophiles will appreciate the dual Burr-Brown PCM 1795 DACs and XLR balanced audio outputs along with analog RCA. In addition to playing standard CDs, the UDP800 supports both high-resolution SACD (Super Audio CD) and the nearly extinct DVD-Audio, in both their stereo and surround-sound modes.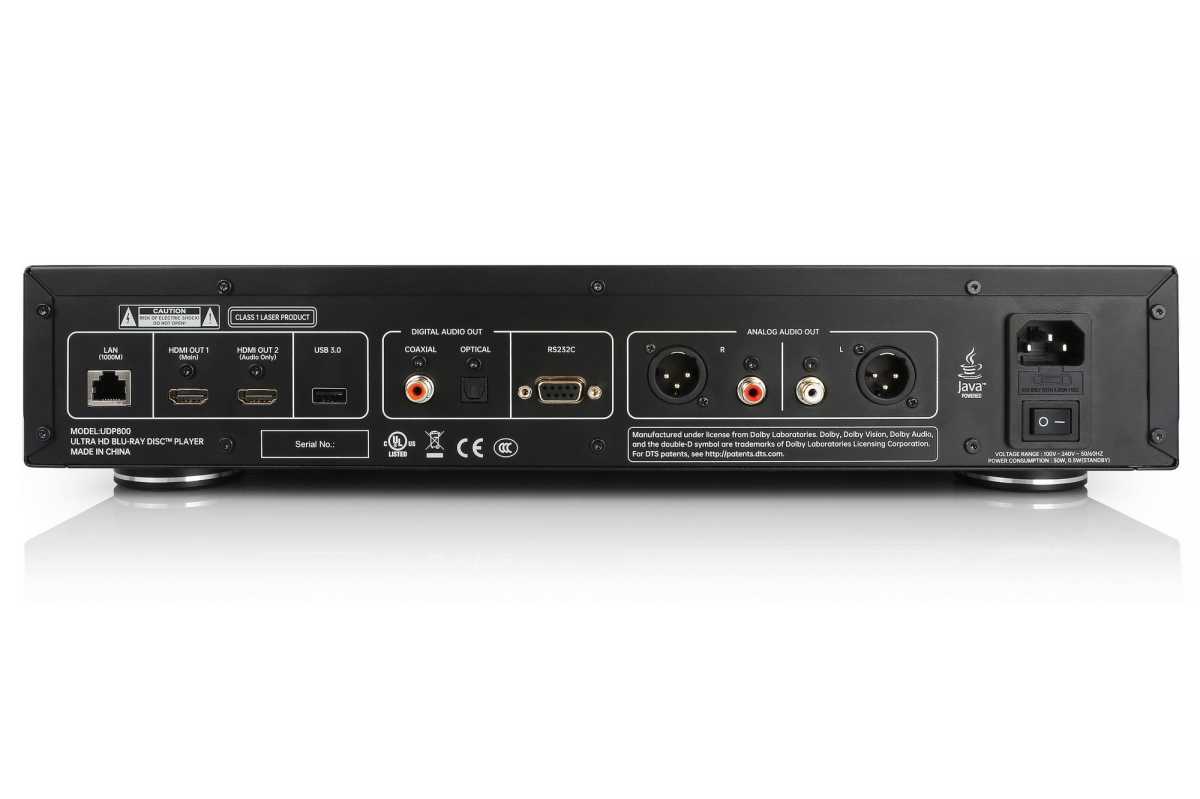 Magnetar
Speaking of nearly extinct formats, anyone who's sitting on a collection of Blu-ray 3D disks can play them back with the UDP 800. There's also support for AVCHD, Kodak Picture CD, CD-R/RW, DVD±R/RW, DVD±R DL, and BD-R/RE. The only thing missing is HD DVD, the Toshiba-developed format that lost out to Blu-ray early in the 21st century.
You can plug in up to a 16TB hard drive to play external movie files, and the unit offers local network support for DLNA and SMB media servers. If you're playing back audio files over your network, the UDP800 supports DSD64/128, multi-channel DSD64, and 24-bit/192kHz PCM formats with support for AIFF, ALAC, APE, FLAC, and WAV audio files.
Technical advantages come with physical media: Magnetar helpfully points out that streaming video is limited to an average bit rate between 10- and 26Mbps, with peaks of 41Mbps, while the 4K Ultra HD Blu-ray format offers an average bit rate of between 60- and 80Mbps, peaking at 128Mbps. More data, of course, means a better picture. The streaming services that promise Dolby Atmos use the compressed Dolby Digital+ format, while discs generally carry it in full Dolby TrueHD. At this moment, DTS:X does not exist on any streaming service.
Anyone who doesn't have a fiber internet connection in their home can testify that high-res video content can cause buffering when network use is at its peak. Pop a disk into the UDP800 and those problems go away. The UDP800 comes with a full-featured remote and Magnetar promises a smooth and easy-to-use onscreen interface. As long as the power grid is stable—or you have a hefty backup uninterruptible power supply—a collection of audio and video discs will be a reliable source of entertainment.
The Magnetar UDP800 4K UHD player promises to be a unit that can fulfill the needs of both serious movie fans and hardcore audiophiles.