There's no argument that mini-LED is currently the best backlighting system for LCD TVs, offering outstanding contrast while keeping bloom and other artifacts to a minimum. At CES on Wednesday, Hisense announced it will bring this technology to its entire 2023 TV lineup, including the entry-level U6. There's also a premium UX series with some astounding performance claims.
Affordable mini-LED
Technology-wise, the affordable U6 series boasts many of the features that other vendors are offering in their mid- to high-end TVs.
Available in 50- to 85-inch display sizes, there are 200-plus dimming zones, AMD FreeSync, quantum dot color, and Dolby Vision/HDR10/HDR10+ support. At 600 nits of peak brightness, you'll get the HDR effect, though not as saliently as with the pricier series. Alas, the U6 sets are only 60Hz, but given their entry-level status (the 50-inch version costs less than $600), that's to be expected.
Available in 55- to 85-inch display sizes, the U7 ups the mini-LED zone count to more than 500, while offering 1,000 nits of peak brightness and quantum dot color. The 120Hz (144Hz gaming) panel comes with the same wide HDR support as the U6 line, while adding FreeSync Premium Pro, WiFi 6E, and more advanced processing, plus 2.1 multi-channel sound.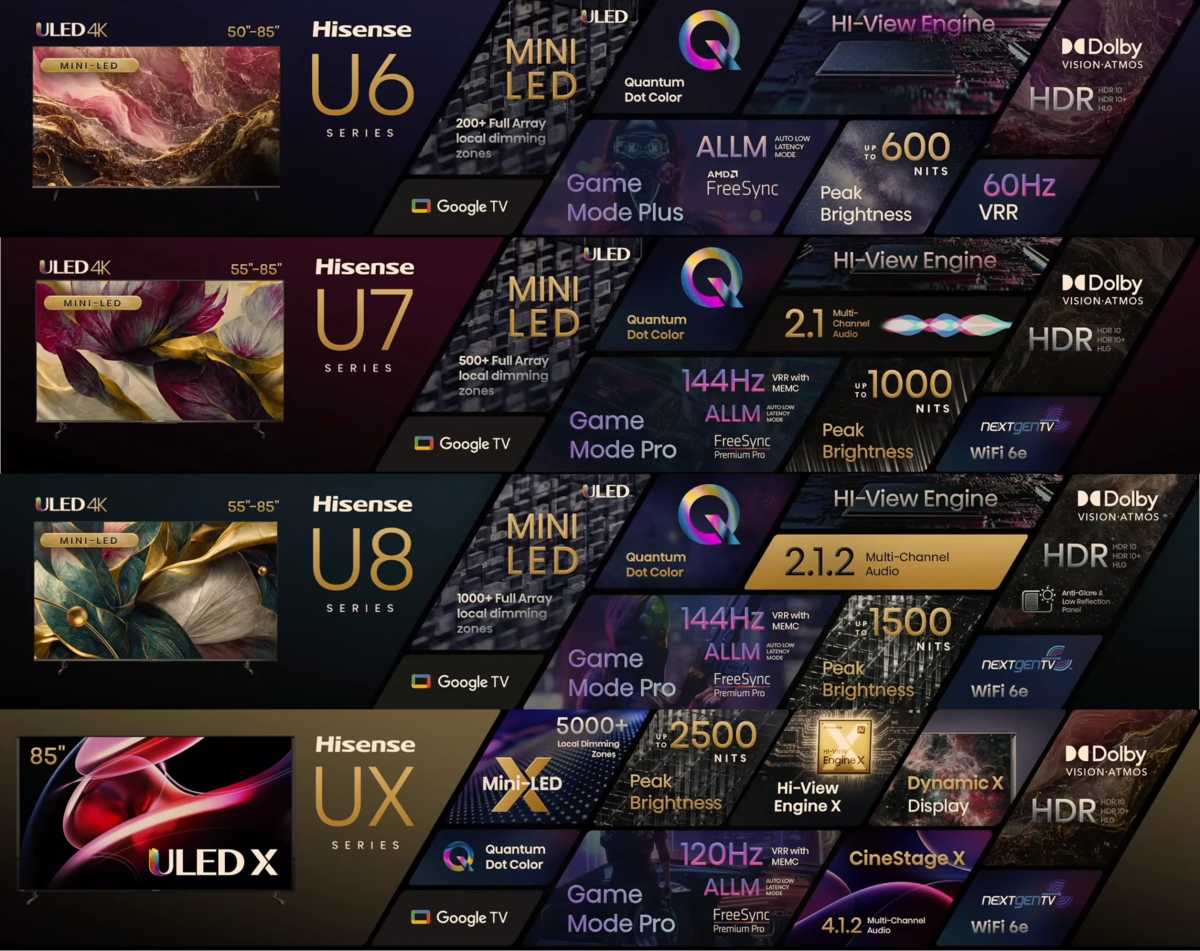 The U8, which used to be the big dog, builds on the U7 with 1000+ dimming zones, 2.1.2 multi-channel audio, and more than 1,500 nits of peak brightness.
ULED X and UX
The new top-of-the-Hisense line is the UX series, which mixes in 5000+ dimming zones, 2,500 nits of peak brightness, even more powerful video processing, and 4.1.2 multi-channel audio inside. Though not shown on the slide above, the UX series may be available in sizes up to 110 inches.
The UX's ULED X technology offers twice the dynamic range of OLED, according to Hisense (which OLED we can't say), plus up to 2,500 nits of peak brightness, 3x the environmental contrast of OLED, and a 150,000:1 contrast ratio. A 30-percent wider viewing angle is also touted.
Hisense is the top TV vendor in China in terms of shipments, and number two in the world as of this moment. Whatever the number of shipments, we've been very impressed with the company's past efforts, and we can't wait to get our hands on a UX for testing.