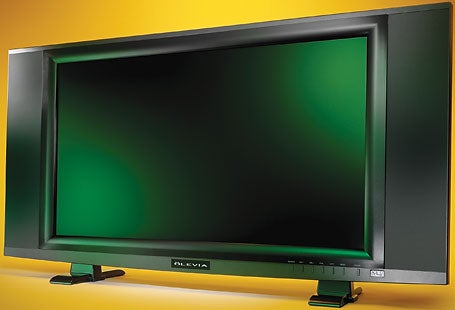 The most casual of HDTV shoppers know that prices fall each year, but price cuts over the past 12 months have finally brought large LCD and plasma models within reach for mainstream shoppers as the holiday-buying season gets into full swing.
Prices for LCD TVs have declined in part because of heavy competition from such budget brands as Syntax and Westinghouse, says Riddhi Patel, senior analyst for market research company iSuppli. In addition, LCD panel manufacturers are able to turn out more screens per day. David Naranjo, vice president at research firm DisplaySearch, says that new factories can output glass sheets large enough to make eight 32-inch panels, compared with the three-panel sheets previous-generation facilities produced.
This combination of efficiency and competition has roughly halved the average street prices of 32-inch LCDs in the past year, according to DisplaySearch. Still, prices continue to vary a good deal between brand-name and budget offerings. For example, U.S. market leader Sharp's LC-32GA5U model has a street price of about $1700, while the Olevia LT32HVE from relative newcomer Syntax goes for about $1100.
Good Starters
These 32-inch models make good HD starter sets for U.S. customers, Naranjo says, because images on their wide, 16:9-aspect-ratio screens are roughly the same height as those on a conventional 27-inch, 4:3-aspect-ratio CRT--today's most popular TV type.
As usual, shoppers willing to wait longer will likely save even more money. However, DisplaySearch predicts a more modest 38 percent price drop for 32-inch LCD TVs in 2006.
While LCD vendors are upping production of 40-inch-plus panels, plasma displays remain far better deals in that size range, with average prices of 42-inch high-definition panels falling by about 35 percent in 2005, DisplaySearch reports. Some price cuts have been greater: In 2004 Panasonic's TH-42PX25 listed at $6000; its current successor, the TH-42PX50, has a list price of $3000. In comparison, LG's 42-inch LCD, the 42LP1D, sells for $4800.
As with LCDs, efficiency gains have contributed to falling plasma prices. Panasonic's newest plasma-glass factory produces six 42-inch panels per sheet, compared with two panels per sheet at the previous-generation facility. Discount brands such as Akai, Maxx, and Norcent have not pushed prices down as much as their LCD counterparts have, but they're starting to. "I think they are getting more attention now that value brands in LCD have caught on," says iSuppli's Patel.
Plasma Closes In
Meanwhile, prices for digital rear-projection sets--DLP, LCD, and LCoS (liquid crystal on silicon) models--haven't dropped as much as prices for flat panels. For example, 50-inch digital rear-projection sets have dropped just 27 percent over the last year. As a result, plasma sets are starting to attract people who in years past might have opted for a rear projection model.
LG Electronics spokesperson John Taylor says that the company is focusing its rear-projection efforts on 50-inch or larger sets. But even here, rear projection is no longer markedly less expensive than plasma. For example, Panasonic's 56-inch DLP model, the PT-56DLX75, lists for $3300, while its 50-inch TH-50PX50 plasma set sells for just $700 more. In contrast, Panasonic's 50-inch DLP set, the PT-50DLD64, last year sold for $4000--half the list price of the company's 50-inch TH-50PX25 plasma set.
Flat Panels Drop the Most
LCD and plasma prices have fallen furthest in the past year; digital rear-projection price declines are now predicted to flatten.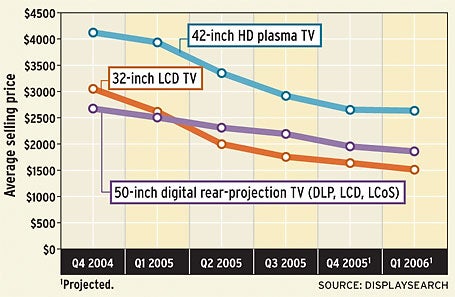 This story, "High Def, Low Cost: HDTV Prices Plunge" was originally published by PCWorld.