Panasonic's Powerful Digicam
At a Glance
Generic Company Place Holder Panasonic Lumix DMC-LX1 Compact Camera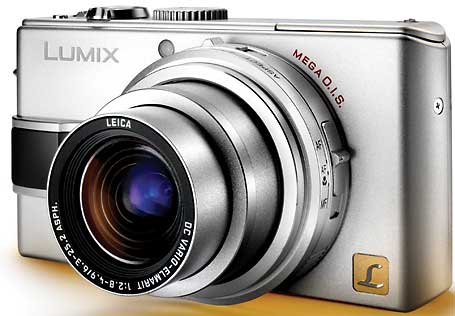 "Small and powerful" is no contradiction in terms with the latest point-and-shoot digital cameras. But Panasonic's $600 Lumix DMC-LX1S is even better equipped than most, starting with its amazing 8.4-megapixel CCD and wealth of advanced exposure controls.
The camera's most intriguing feature, though, is its array of three image aspect ratios: 4:3, the typical digital camera ratio; 3:2, a match for 35mm film and perfect for 4-by-6-inch prints; and 16:9, the standard for wide-screen displays.
Most cameras that offer a 16:9 aspect do so by trimming from the top and bottom of your photo, which means losing some resolution. The Panasonic gives you the full 8.4 megapixels at 16:9, and lower resolutions at the 3:2 and 4:3 settings (approximately 6 and 7 megapixels, respectively).
Notwithstanding my shipping unit's lack of an optical viewfinder, I found a lot to like in the camera's design. It's small enough to fit in a cargo-pants pocket, yet easy to hold. The 2.5-inch LCD is viewable in all light, and the optical image stabilization is handy for taking shots indoors without a flash. You can also shoot in RAW and TIFF formats.
Image quality was generally good in PC World tests: Photos appeared relatively sharp and well exposed, though our lab shot of a mannequin model, using the built-in flash, looked a little gray. A still life, shot with daylight-balanced floodlights, was a bit underexposed and had a slight greenish cast. My own outdoor test shots yielded accurate, though slightly muted, colors.
More than a run-of-the-mill point-and-shoot, the DMC-LX1S is for advanced users who want a small, light, and powerful camera.
Tracey Capen
Lumix DMC-LX1S
Panasonic
Great design and high-end features make this a good choice for serious photographers.
List: $600
Current Price (if available)
This story, "Panasonic's Powerful Digicam" was originally published by PCWorld.
At a Glance
Generic Company Place Holder Panasonic Lumix DMC-LX1 Compact Camera
Shop Tech Products at Amazon