Nikon's SLR for the Masses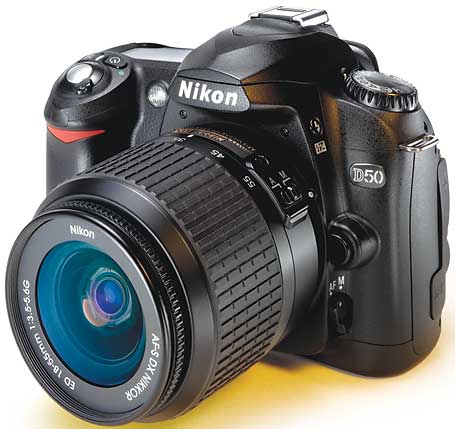 Nikon's 6.1-megapixel D50 digital SLR model is no photographic marvel, but it does fit nicely into the latest digital camera trend: making interchangeable-lens photography accessible to shooters who don't have deep pockets.
If you already have Nikon lenses from a film camera, you can use them with a D50 body, which sells for $750. Nikon also sells the D50 with an 18mm-55mm zoom lens for $900, a price a bit less than that of the D50's direct rival, Canon's 8-megapixel Digital Rebel XT, and about $400 less than the Nikon D70s.
The choice between the D50 and the 6.1-megapixel D70s is an interesting dilemma. (For more info on the Digital Rebel XT, the D70s, and other digital SLRs, see "Powerful Cameras, Lower Prices" in this month's issue.) The two Nikons are near twins in look (both have 2-inch LCDs), function, and megapixel count. The D50 is a bit smaller and lighter, though, and it accepts SD (Secure Digital) media cards exclusively (the D70s accepts CompactFlash).
The D50 also lacks some controls as compared with the D70s. You'll still get most of what a hobbyist photographer might look for, though, and intermediate photographers should find the D50 easier to use than the D70s.
A surprising difference between the two models: Shooting in automatic mode, our shipping D50's images were brighter and had livelier color. According to Nikon, this is by design: The D70s is biased toward underexposure by default, while the D50 is tuned for those photographers who want to minimize the time they spend tweaking their shots on a computer.
The D50 is a fine entry-level digital SLR--particularly if you own some Nikon lenses. Some may even prefer it to Canon's popular Rebel XT.
D50
Nikon
SLR speed and flexibility, along with an affordable price, make Nikon's least-expensive interchangeable-lens digital camera an enticing package.
Price when reviewed: $750 (body only), $900 (with lens)
Current prices
(if available)
This story, "Nikon's SLR for the Masses" was originally published by PCWorld.
At a Glance
A fine entry-level digital SLR--particularly if you own some Nikon lenses. It lacks some of the controls found on the D70s.
Shop Tech Products at Amazon