6 killer video-streaming apps for low-effort TV watching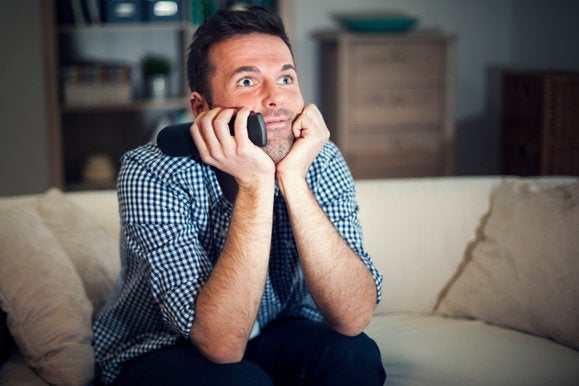 On-demand services like Netflix are great for when you know exactly what you want to watch. But sometimes you just want to play something the background while you cook dinner, play on your tablet, or read a book.
We'll call it lean-back, passive viewing—and it can be a challenge without a cable subscription, despite all the virtues of cord-cutting. Sure, over-the-air broadcasts will give you a steady stream of things to watch, but they're not much help when you want a break from network TV.
If you've got a Roku, Chromecast, Apple TV or other streaming device, then you already have access to some great lean-back TV apps. So check out the following if you want to watch streaming TV with minimal effort:
Pluto.TV
Pluto.TV does its best to imitate the classic cable channel guide, with hundreds of round-the-clock streaming stations that you can hop into at any time. Each channel is stitched together from Web sources, and topics range from broad ideas like Food and Travel to niche interests such as Kickboxing and Retro Movies. You can also login with a Pluto.TV account to create a list of favorite stations. It's worth checking out if you miss the channel-flipping experience, but don't want to pay big bucks for it every month. [Pluto.TV]
Devices: Amazon Fire TV, Android TV, Apple TV (via AirPlay), Chromecast, Web
CBSN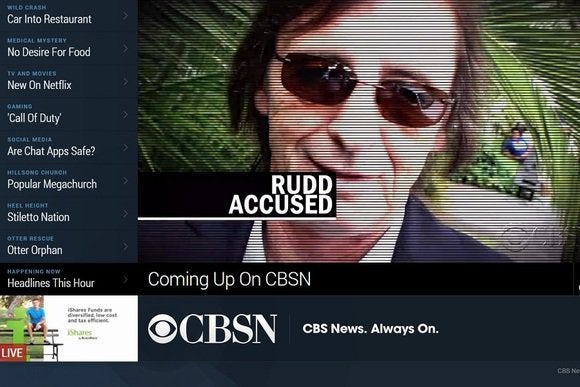 This newly launched online news network delivers a steady stream of stories along with 15 hours per day of live, anchored coverage. It's refreshingly light on the talking heads you get with cable news networks, and isn't overly obsessed with the crime beat like your local news affiliate. Tune in when you want to watch some actual news pieces from CBS's vast content empire. [CBSN]
Devices: Roku, Amazon Fire TV, Web
WatchUp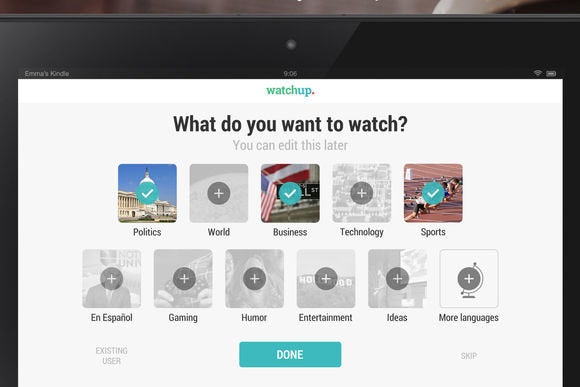 WatchUp is another option for continuously streaming the news, but with a wide range of sources personalized around your interests. You start by defining what types of stories you're interested in, and WatchUp delivers a daily newcast with dozens of stories lined up in a row. You can also tune into specific channels or categories, and up-vote or down-vote videos to help tweak the app's recommendations. [ WatchUp]
Devices: Amazon Fire TV, Apple TV (via AirPlay)
Vevo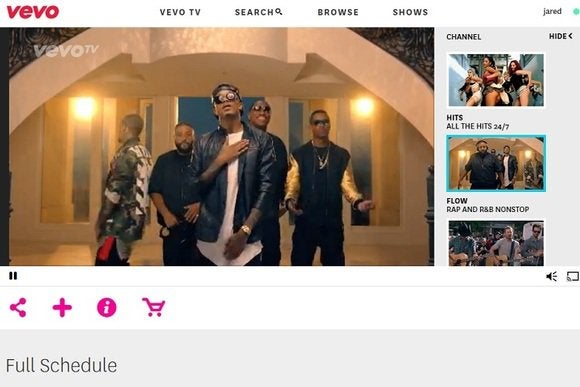 Tucked inside of Vevo's streaming music video app is a feature called "Vevo TV." It's a throwback to when MTV was all about the tunes, with a round-the-clock lineup of streaming music videos in three categories (Hits, Flow and Nashville). While we'd love a few more channels for rock and indie tunes, Vevo TV is a fine lean-back experience for anyone who's into chart-toppers. [Vevo]
Devices: Android TV, Apple TV, Amazon Fire TV, Chromecast, Roku, Xbox 360, Xbox One, Web
Stevie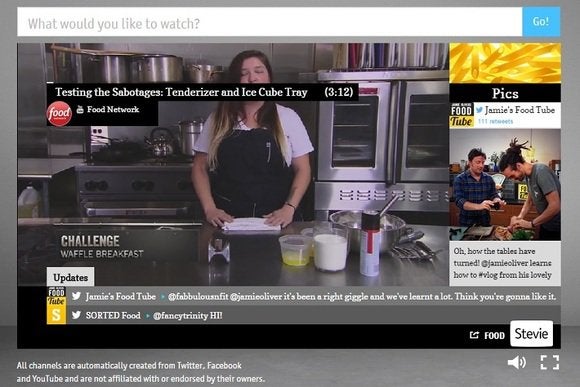 Not to be confused with the short-lived VH1 show of the same name, Stevie is a video service whose channels are based on trending content from Facebook, YouTube and Twitter. You can plug in your social media credentials for personalized stations, or choose from a list of topics. It's a nice way to leap straight into some videos, even if the busy array of surrounding tweets and images look a little like something out of Idiocracy. [ Stevie]
Devices: Chromecast, Apple TV (via AirPlay), Web
Animal Planet LIVE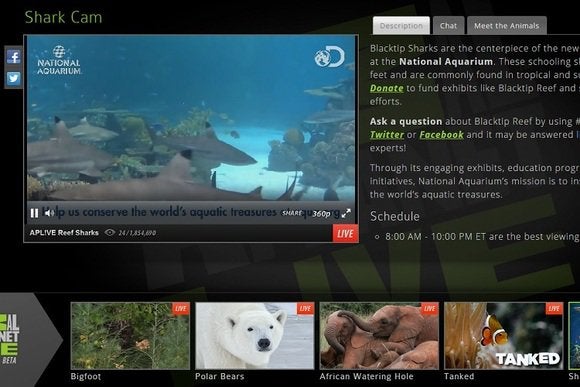 Animal Planet's streaming app offers two very different leanback experiences: The TV Highlights channel is a collection of video from the TV network. It's updated every week, and is focused mainly on reality shows like Pitbulls & Parolees and My Cat From Hell. But if you want some more relaxing fare, check out the live camera feeds from various aquariums, animal shelters and the great outdoors. (The shark tank at the National Aquarium in Baltimore is oddly therapeutic.) [Animal Planet LIVE]
Devices: Amazon Fire TV, Roku, Xbox 360, Web