capsule review
Control YouTube Video Viewing With Chrome Extension Magic Actions for YouTube
At a Glance
Generic Company Place Holder Magic Actions for YouTube
YouTube offers an endless supply of excellent videos, but its interface leaves much to be desired. There is no way to stop videos from automatically starting to play as soon as the page loads; if you want to watch a high-resolution version of a video, you must pick it from the video menu each and every time; and the page is full of distracting elements such as comments and video recommendations. Google Chrome extension Magic Actions for YouTube (free) lets you fix all this, and much more.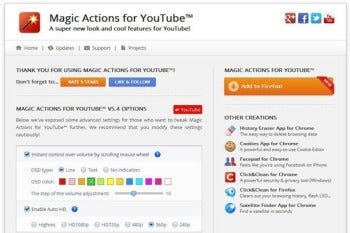 With Magic Actions for YouTube, you can customize just about any aspect of the YouTube experience. Stop videos from automatically playing as you load the page; automatically pick the highest resolution available, or a resolution of your choice; automatically use a wide player, and more. You can pick and choose customizations using a simple interface that consists mainly of checkboxes.
Magic Actions for YouTube also shows up as a bar under all videos on YouTube, so you can easily access its settings and see what percentage of the current video has buffered so far. It lets you hide page sections, too, so if you don't like the comment threads on YouTube you can simply make them all go away.
Note: The Download button takes you to the Chrome Web store, where you can install the latest version directly into your Chrome browser.
—Erez Zukerman
This story, "Control YouTube Video Viewing With Chrome Extension Magic Actions for YouTube" was originally published by PCWorld.
At a Glance
Generic Company Place Holder Magic Actions for YouTube
Shop Tech Products at Amazon