capsule review
LG 55LM6700 Review: Feature-Filled HDTV Is Frustrating
At a Glance
Generic Company Place Holder 55LM6700 55-Inch 3D LED HDTV

TechHive Rating
I had heard so many good things about LG's latest 3D HDTVs that I couldn't wait to try one myself. The 55-inch LG 55LM6700 (estimated $1650 street price as of 7/30/2012) is one of the company's new midrange LED edge-lit sets, offering a 120Hz refresh rate, passive-glasses 3D viewing, an impressive range of connected features, and a motion-controlled remote. It's also a pretty set to look at even when it's turned off, with a thin silver bezel that acts as an ultraslim frame for an edge-to-edge picture.
Alas, what I found when I reviewed the 55LM6700 was unexceptional image quality and a revolutionary remote control that caused more problems than it solved. I was left disappointed.
Lab Tests: Picture, Sound, and Energy Consumption
The five judges in the PC World Labs' image quality tests found that the 55LM6700 displayed good but not great pictures. In particular, the set had problems when those pictures moved quickly. In our motion test, in which a blueprint pans horizontally across the screen, the image was, in the words of one judge, "as clear as mud." In my capacity as a judge, I also noted minor problems with a brick wall in Mission Impossible 3 (on Blu-ray, chapter 7), in a building in The Dark Knight (Blu-ray, chapter 9), and with cars going around a bend in a NASCAR clip.
We also found the 55LM6700 somewhat lacking in accurate color, brightness, and contrast. One judge complained of overly bright images with drab colors.
The panel of judges found the set's 3D imagery acceptable, although it didn't fare particularly better than its competitors. I felt that foreground objects in a scene from Avatar didn't pop out as much as on other HDTVs, but I wasn't sure if that was a problem or was director James Cameron's intent. This set can also convert 2D to 3D. As usual with this feature, the results didn't impress me. Overall, on a scale of 1-5, we gave the 55LM6700's 3D imagery scores of 3.5 and 4.
I can't complain about the audio. Even with the volume turned all the way up (which was very loud, indeed), the silence that starts the 2004 version of Phantom of the Opera was truly silent. And when a singer hits an extended high note in chapter 2, I heard not the slightest distortion. The front sound stage was excellent, with a real sense of sound coming from the left, right, and center. I wasn't quite as impressed with the surround sounds from The Dark Knight (chapter 20); the audio definitely sounded as if it was coming from in front of me, not from behind or to the side.
That's a small nit to pick, however. No television can really recreate the audio experience of a modern movie soundtrack. That requires a full 5.1 or 7.1 home theater sound system and real speakers beside or behind you.
The 55LM6700 is as green as large televisions get. In the PCWorld Labs' power tests, it burned an astonishingly low average of 34 watts when on. For a 55-inch set, that's truly amazing. When off (more accurately referred to as standby mode), its power consumption didn't even register on our equipment.
Inputs, Basic Setup, and On-Screen Menus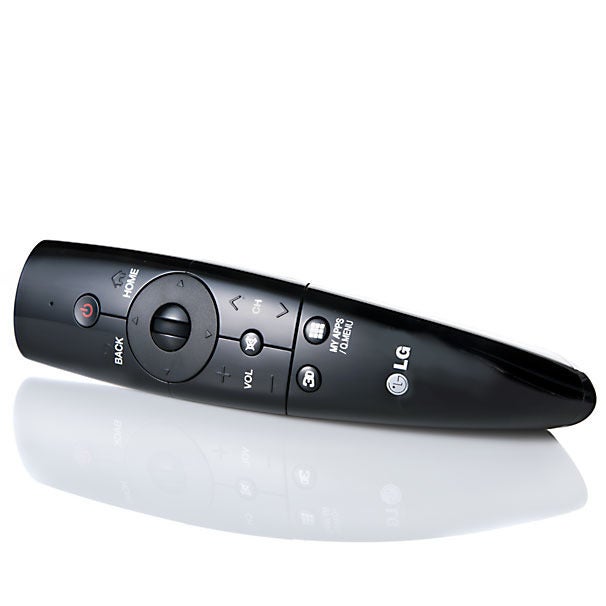 As with all current Energy Star HDTVs, the 55LM6700 runs a wizard the first time you turn it on. Unlike other sets, this wizard starts with a tutorial about operating the remote control. I've never seen anything like the 55LM6700's "Magic Remote." I can't discuss this television's ease of use (or lack thereof) without discussing this revolutionary but problematic remote.
It looks like some sort of high-tech shoehorn. Point it at the screen and move it, and a pointer appears onscreen. Move the remote, and the pointer moves like the one on your PC that you control with a mouse. Clicking the remote's OK button selects the option you're pointing at.
This should make it easier than a conventional remote for selecting on-screen options. However, that ease is marred by the device's learning curve and by some bad design. I found the OK button too high for comfortable clicking; as often as not, I would point to something onscreen and click Mute.
At least there is a Mute button. The 55LM6700's remote offers a bare-bones set of controls. There are no buttons on the remote for Pause, Play, Fast Forward, or Info. Instead, you access these features via on-screen pointing and clicking, but without dedicated buttons, they're not convenient. For instance, if you're watching a streaming video on Hulu Plus and the phone rings, you have to press OK, point to the onscreen Pause icon, and press OK again (assuming you don't accidentally press Mute).
On the plus side, entering text with this point-and-click method goes considerably faster than selecting letters with a conventional remote. That said, it's still more of a hassle than it would be with a small keyboard, which many remotes offer.
Press the remote's My Apps/Q Menu button, and you'll get a long row of options at the bottom of the screen. These include some of the set's streaming apps, as well as items that should have their own buttons on the remote, such as the ability to change input sources.
One of the on-screen menu options, Settings, brings up a reasonably easy interface for setting up image and sound quality, as well as other options. The menus are clear and readable, with bubble help popping up most of the time to tell you what you're fiddling with.
But the bubble help won't explain H. Sharpness, and worse, neither will the manual (it means horizontal sharpness). The 55LM6700 comes with no quick startup guide, and the 38-page manual lacks more than just H. Sharpness. Search for Bluetooth in the downloadable PDF version, and you'll find specs, but nothing practical about how to use them.
If you have an iPhone or iPad, you can download the LG Magic app. This app has a touchpad option, which can be a bit easier for pointing than the physical remote. However, although I tried this app in several text-entry situations, from Netflix searches to entering a Wi-Fi password, my iPad's keyboard never popped up.
Connected Features
On a positive note, the 55LM6700 offers excellent networking capabilities. It can connect via ethernet or Wi-Fi, and it offers all the major streaming services: CinemaNow, Hulu, Facebook, MLB.com, Netflix, Twitter, Vudu, and YouTube, among others. A special 3D section offers several stereoscopic streams, including some underwater footage that really shows off the technology (and the dolphins). You can access many of these apps via the remote's Home button, which brings up pages of options.
Not sure what services offer the show you want to watch? The 55LM6700 has a Search feature that, in theory, will help you find the best option. But it's not always reliable. For instance, it told me that I could view season 4 of Mad Men on the Vudu pay-per-view service, but it neglected to mention that I could also watch it on Netflix at no extra charge.
This TV even comes with a browser, providing access to services that LG doesn't directly support. The browser is slow, and the lack of a real keyboard can make it slower. However, it does allow you to watch videos that otherwise wouldn't be available.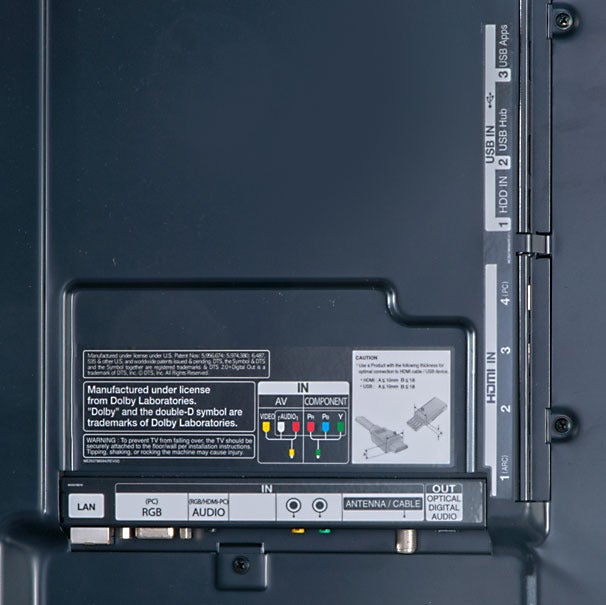 You can also enjoy your own videos, music, and photos, either via a flash drive plugged into one of the 55LM6700's three side-mounted USB ports, or over your local network. The latter requires your PC to be running DLNA server software, such as Windows Media Player. The 55LM6700's manual doesn't list supported media formats, but my tests showed that the TV plays .wma music files as well as .mp3s.
I had no complaints watching streaming videos or listening to streaming music on the 55LM6700 (other than the lack of a Pause button on the remote), but photo slideshows aren't ideal. When I tried playing music with a slideshow, the audio stuttered and paused to the point of annoyance. (LG could offer no explanation, and said they couldn't replicate the problem.)
Bottom Line
Outside of its streaming options and power consumption, the 55LM6700 leaves a lot to be desired. It offers a huge screen and a revolutionary remote control, all for a reasonable street price of $1650 (estimated on 7/16/12). However, the picture quality is disappointing, and the remote control can often be frustrating. The Magic Remote needs work. More importantly, so does the set's image quality.
This story, "LG 55LM6700 Review: Feature-Filled HDTV Is Frustrating" was originally published by PCWorld.
At a Glance
Generic Company Place Holder 55LM6700 55-Inch 3D LED HDTV

TechHive Rating

The LG 55LM6700 offers a big screen, great streaming options, and a revolutionary remote control. However, picture quality is disappointing, and the remote has major shortcomings.

Pros

Good 3D performance
Motion-controlled remote is good for some options
Streaming options include 3D content and browser
Exceptionally low power consumption
Good 3D performance
Motion-controlled remote is good for some options
Streaming options include 3D content and browser
Exceptionally low power consumption

Cons

Remote control is hard to use for some commands
Serious trouble displaying motion
Music stuttered in slideshow
Remote control is hard to use for some commands
Serious trouble displaying motion
Music stuttered in slideshow
Shop Tech Products at Amazon