capsule review
Samsung UN46D6000 Review: $1000 Set Has Great Features, Middling Video
At a Glance
Generic Company Place Holder UN46D6000 46-Inch LED HDTV

TechHive Rating
On paper, or on a website, the Samsung UN46D6000 looks like an all-around excellent HDTV, especially for a street price of around $1000 (as of 5/5/2012). While the UN46D6000 refreshes the screen at a rate of 120Hz, Samsung claims that the HDTV's "Clear Motion Rate" technology simulates the smoother motion you might see on a 240Hz set (more on that later). The set's sleek, easy-to-navigate Smart Hub feature provides access to your home network and the Internet. You can even control the set from your iPhone or Android device.
But you can't judge a television by its cover--or its stats. You can judge one by looking at the image quality, and here the UN46D6000 disappointed--especially in tests involving complex motion.
Lab Tests: Picture and Sound Quality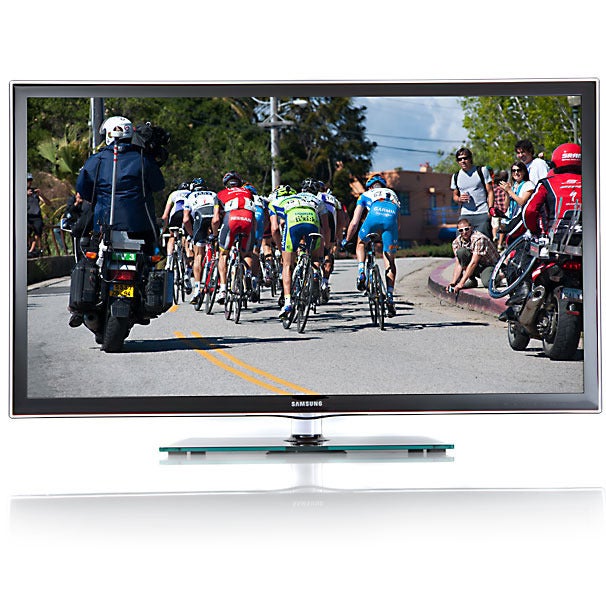 In the PCWorld Labs' subjective tests for image quality, all four judges noted motion problems in our Mission Impossible III and The Dark Knight tests. When the camera panned over a brick wall in Mission Impossible (chapter 7), judges disagreed on whether the visible distortion was trivial ("minor motion problems") or serious ("wall doing the wave"). But everyone agreed that when the camera approached a skyscraper in a helicopter shot from The Dark Knight (chapter 9), it looked like a disaster. The building vibrated badly, with bits of it going briefly black. It looked like it was having trouble beaming down from the USS Enterprise.
Fortunately (and illogically), these problems are fixable by disabling the UN46D6000's "Clear Motion Rate" feature. Samsung says "Clear Motion Rate" technology uses a combination of the set's refresh rate, response time, image-processing speeds, and LED backlighting to improve fast-moving images. With this "feature" turned off, the Dark Knight scene looked fine. PCWorld's policy is to test HDTV image quality with this and similar features left on their default setting, so my discovery did not improve the set's overall performance score.
With "Clear Motion Rate" turned on, the UN46D6000 performed reasonably well with less-lively video. Judges complained about minor skin-tone issues, contrast, and saturation. No one in our panel of judges was blown away by great-looking images, but no one was horrified, either.
Unfortunately, the set's built-in speakers didn't sound very good. With the volume cranked all the way up, distortion was horrible. On the other hand, the cranked-up volume was also way too loud, so you probably would never play it at that level anyway. At 60 percent of volume--a loud but reasonable setting for watching a movie at home--the distortion was still noticeable. Stereo separation in the front tracks was very good, but the set's faux-surround-sound feature was only moderately effective.
That said, the built-in speakers of even the best HDTVs can't recreate today's movie soundtracks. If you really care about audio, you'll need to invest in a separate home theater sound system.
Inputs, Basic Setup, and On-Screen Menus
Most of the inputs (including all four HDMI ports) are mounted on the side of the television, where they can be easily accessed. Unfortunately, the VGA, ethernet, and coaxial connectors are on the back and, even worse, face down. Depending on where you place your HDTV, you may need to be a contortionist to access them.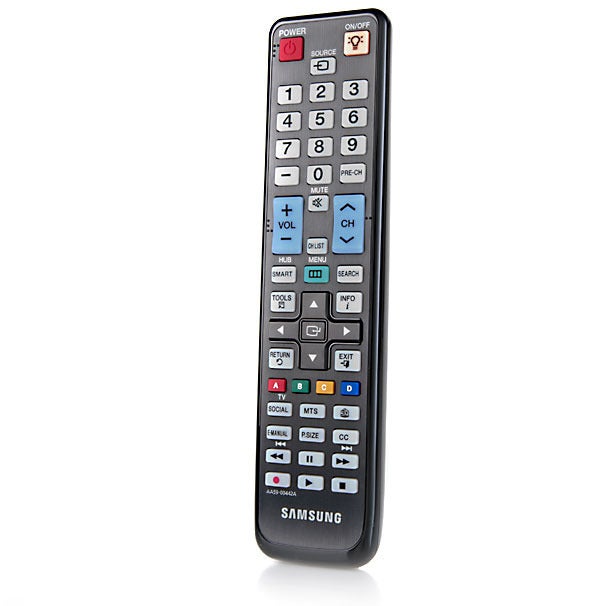 When you first turn on the UN46D6000, a wizard walks you through the initial setup. Its clear explanations help, for the most part, but not always. For instance, when you tell it to look for digital cable stations, it asks you to pick between STD, HRC, and IRC, with no on-screen explanation. You'd have to check the manual to discover that "Most cable systems use STD." Once you've set up the UN46D6000, you can launch the colorful, attractive, and--most important--helpful main menu to change settings. Every option is explained, sometimes with graphics.
A Tools button on the remote control brings up a mini-menu of options you may frequently want to set. The remote is large and somewhat boxy, but felt fine to my hand. The buttons are large and well-placed, with the ones you're mostly likely to use in easy thumb locations. Press the key in the upper-right corner, and all the other keys light up. But you can't program the remote.
If you have an iOS or an Android device, and it can access the same home network as the HDTV (more about networking below), you can control the UN46D6000 via the Samsung Remote app. But once you get past the "Oh, wow!" factor, a remote control phone app has only one advantage over a real remote control: text entry. The Samsung app will bring up your phone's keyboard for some of the UN46D6000's text screens, but not all of them. For instance, you can use it to log into the TV's Social app, but not to search for a movie in Netflix.
Internet-Connected TV, Mobile Sharing, and Documentation
Press the remote's Hub button, and you'll be taken to Samsung's "Smart Hub," a screen that gives you access to various entertainment sources coming to you via the Internet, your home network, or the television's USB port. The UN46D6000 doesn't come with built-in Wi-Fi; for network and Internet capabilities, you'll have to either plug in an ethernet cable or buy a separately sold wireless adapter.
Once you're connected to the Internet, the UN46D6000 brings you common streaming options such as Netflix, Hulu Plus, YouTube, and Pandora. The aforementioned Social TV gives you Facebook and Twitter access, although you have to sign in via a separate Samsung account (which is free).
But one enticing, Internet-based Smart Hub feature disappoints: search. In theory, you can search for a movie or TV show, and find out where you can watch it among your various streaming services. But it doesn't support two popular services that would likely bring up a lot of search results on Smart Hub: Netflix and Hulu Plus.
The network connection that brings the Internet to your TV can also bring content from your computer. If your PC is running DLNA server software, such as Windows Media Player, it can send videos, photos, and music to the UN46D6000. If the computer and server software are up and running, you can control everything else from the TV.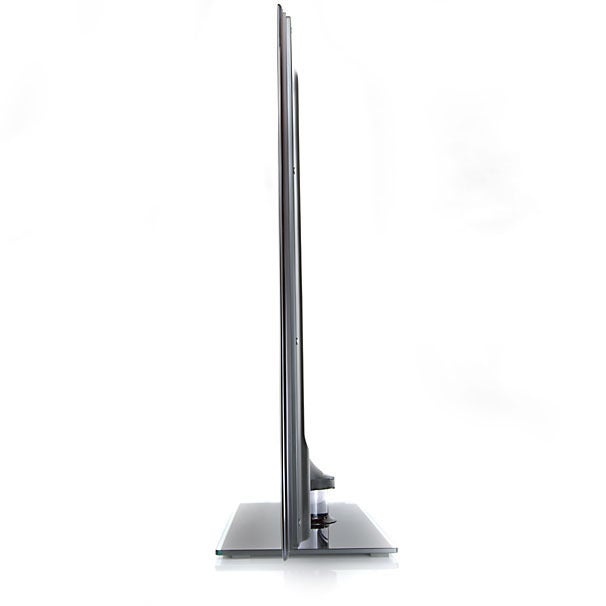 A new feature that you'll find in the Smart Hub, SwipeIt, allows you to view videos and photos that reside on your Android or iOS device. You'll need to install the SwipeIt app on your phone or tablet to do this, and as with the remote control app, the device must be connected to your home network via Wi-Fi. I found this feature reasonably easy to set up, but bringing a photo up on my phone didn't display it on the TV. The trick, implied by the feature's name but not really intuitive, is to swipe upward on your phone's or tablet's screen to send the image or video to the UN46D6000.
Of course, you can also simply copy your music, photos, and videos to a flash drive and plug that into the UN46D6000. This TV has an exceptional slideshow feature, with six transition effects, background music (with a shuffle option), and other settings. It supports a reasonably large selection of video formats (five of the seven I tested), but audio-file support is limited to .mp3. You'll find the list of video formats on page 219 of the large online manual.
Which brings us to documentation. The UN46D6000 comes with a thin, 24-page manual that doubles as a quick setup guide. It's well designed and gets you through the basics, but that's about it. You won't find the real details here. Fortunately, there's more documentation; it's just not on paper. Press the remote's E-Manual button, and you'll get a clear, menu-based help environment where you can probably find the information you need. The Try Now on-screen button will take you from the E-Manual to the right location in the television's menu to do what you've been reading about.
And if that doesn't do it for you, there's the massive, 303-page full manual that you can download as a .PDF from Samsung's site (click "See All Downloads" under the Downloads header on the linked page).
Bottom Line
The Samsung UN46D6000 has a lot of cool extras, including connected features, mobile apps, and slick menus for a very reasonable $1000 price. Motion handling is a weak spot, but some of the issues we encountered can be remedied by turning off the "Clear Motion Rate" feature. If it looked and sounded better, it would be a great TV. As it stands, it's still a pretty good deal for the price.
This story, "Samsung UN46D6000 Review: $1000 Set Has Great Features, Middling Video" was originally published by PCWorld.
At a Glance
Generic Company Place Holder UN46D6000 46-Inch LED HDTV

TechHive Rating

The Samsung UN46D6000 has almost all the right extras for a network- and Internet-savvy HDTV--especially one that costs only about $1000. However, image and sound quality disappoint.

Pros

Superb Smart Hub accesses sources and features
Views pictures and videos from a smartphone
Smartphone remote app with text-entry options
Excellent slideshow options
Attractive onscreen menus with useful explanations
Superb Smart Hub accesses sources and features
Views pictures and videos from a smartphone
Smartphone remote app with text-entry options
Excellent slideshow options
Attractive onscreen menus with useful explanations

Cons

Some inputs face down
Major problems tracking motion
Distorted audio at reasonably high volumes
Search tool is of minimal use
No Wi-Fi
Major problems tracking motion
Distorted audio at reasonably high volumes
Search tool is of minimal use
No Wi-Fi
Some inputs face down
Shop Tech Products at Amazon