Page 2 of 2
TV Shows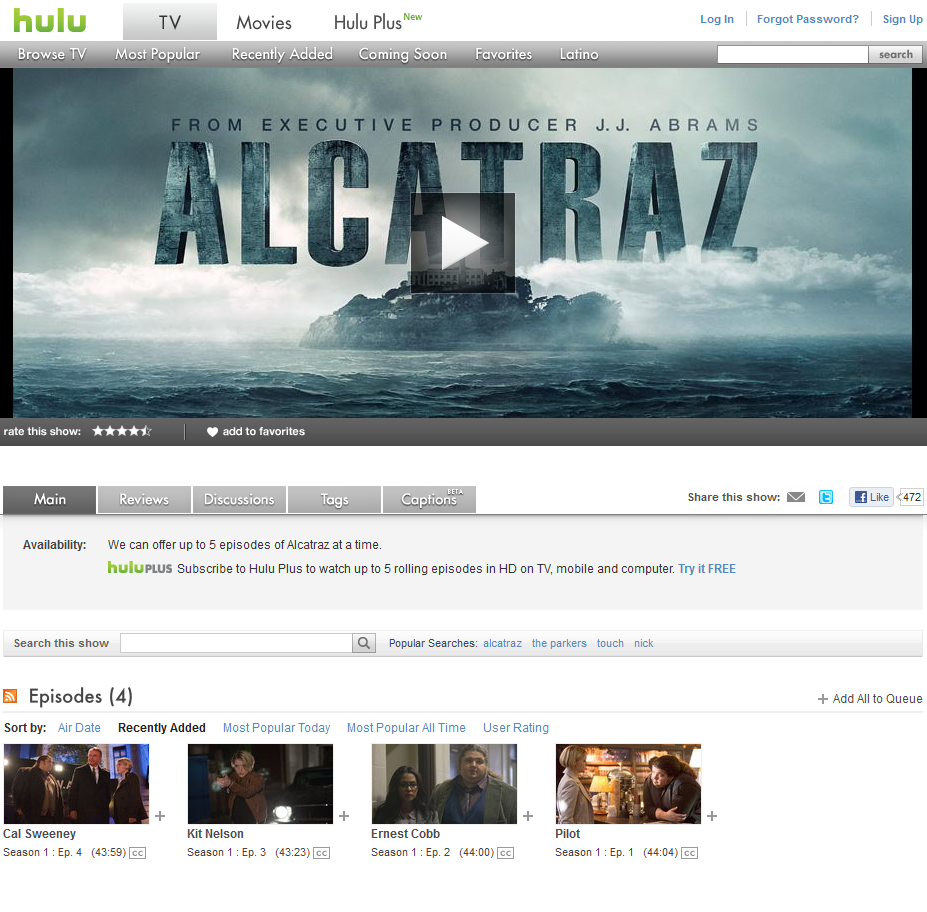 Netflix rules the roost when it comes to streaming TV shows, without commercials, for a low monthly subscription. But it's an ideal choice only if you're willing to wait a bit after a show comes out to see it.
If waiting a couple months doesn't appeal to you, get a Hulu Plus subscription for $8 per month. One big gripe that people have with Hulu Plus is that on top of your subscription fee you have to sit through commercials, but often this is the only way to legally watch very popular, recently aired shows online. Hulu Plus usually keeps up to four or five of the most recent episodes of popular TV shows from networks such as ABC, MTV, and Fox, and sometimes you can find whole seasons of series like The Office or Grey's Anatomy. Naturally, you should browse through Hulu Plus's offerings before you pay for a subscription, to make sure the service has the show you want to watch.
Also, don't forget that set-top boxes such as those from Roku and Boxee can port streamed content from apps to your television, so you aren't stuck watching shows on a cramped mobile device screen. Roku not only streams Netflix, Hulu Plus, and Amazon Prime Instant to your TV, but it also lets you watch NBC News, as well as feature-length movies on apps like Crackle. Boxee has Netflix, Major League Baseball, and Vudu movies covered, among other offerings. And if you have a Microsoft Xbox 360, a Nintendo Wii, or a Sony PlayStation3, you can access programming on the Internet and stream Netflix through a native app on your game console.
Another good option is to go to a particular channel's website to find episodes of your favorite shows. Often you'll be able to access recently aired episodes, and sometimes even complete seasons. For example, I'm usually busy on Sunday nights, but I've been able to catch Downton Abbey a day later on PBS.org for the past month. Although the stream's video quality is noticeably poorer than that of the TV broadcast, PBS gives me the option to buy and download each episode of its programming from iTunes in high definition. ABC and Fox offer similar options for many TV shows.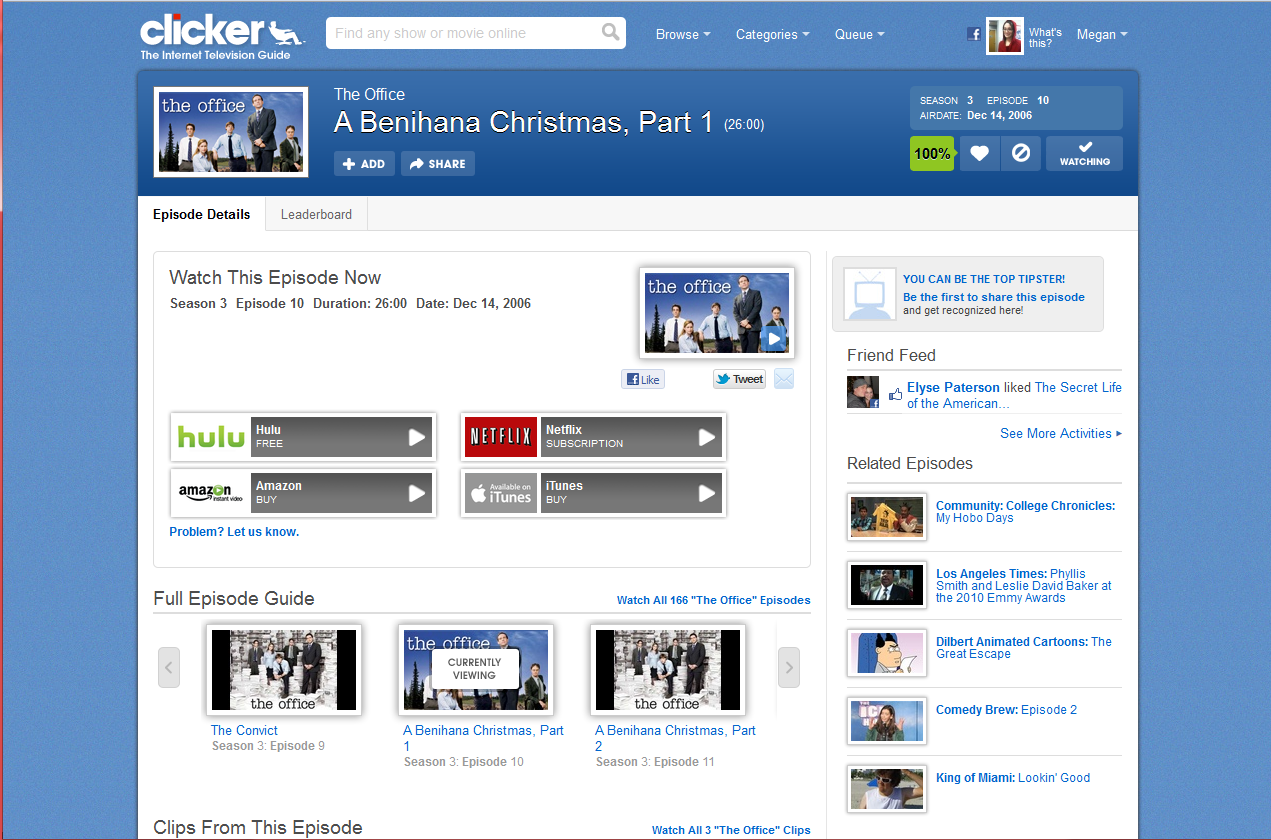 Still, finding what you're looking for among the mass of websites can be hard. That's where Clicker.com comes in: This website aggregates links to the legal video you want to see online, and then directs you to the provider's site, Hulu, Netflix, or iTunes. Not all of those options are free, but Clicker can save you time in trying to discover what shows are available. Even though going this route can sometimes leave you out of luck (no episodes of the first season of Modern Family are legally shown online, for example, so searching for those episodes returns nothing), you can use it to speed up your searches and rest assured that you're not violating any copyright law.
BBC iPlayer and iTV are two places to get British television online for free, but you have to be based in the United Kingdom to access them. One way to get around that requirement is to stream from a VPN using a server in the UK. (Several VPN providers can hook you up to a UK server; for general advice, check out our guide to using a VPN.)
General Programming
Several sites promise to show you streams of live television or hard-to-find programming. Of course, they involve some caveats: Some of the content on these sites may not be legal, and watching or downloading the content could land you in trouble. Some of the sites also include lots of dead links, and you may end up paying for an experience that's not worth the price.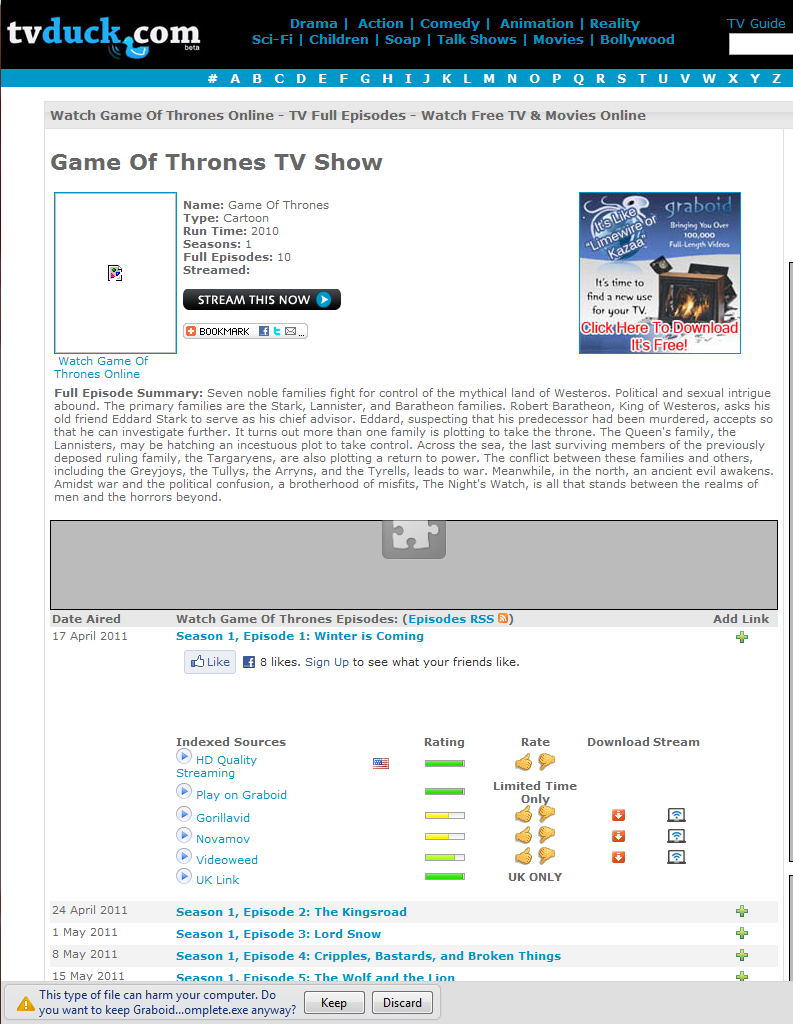 Tvduck.com finds all kinds of copies of specific shows online. Some of them are available for streaming only behind paywalls, some of them link to legal video on the producer's website, and some of them are illegally ripped copies of shows posted online.
Satellite Direct is another service that you've doubtless seen advertised on some of the less-reputable TV-streaming websites out there. For a one-time $50 fee, you download a media player onto your computer, and can use that to access "over 3500" channels from around the world (or so the company claims). The download was easy enough for me, but after I selected the United States as my country and started flipping through the channels, I quickly found that many of them were duds. Satellite Direct aggregates all streaming television channels--legal or illegal--into its program. But if the U.S. Immigration and Customs Enforcement agency were to discover and shut down the illegal ESPN stream, for instance, that would leave you with a dead stream.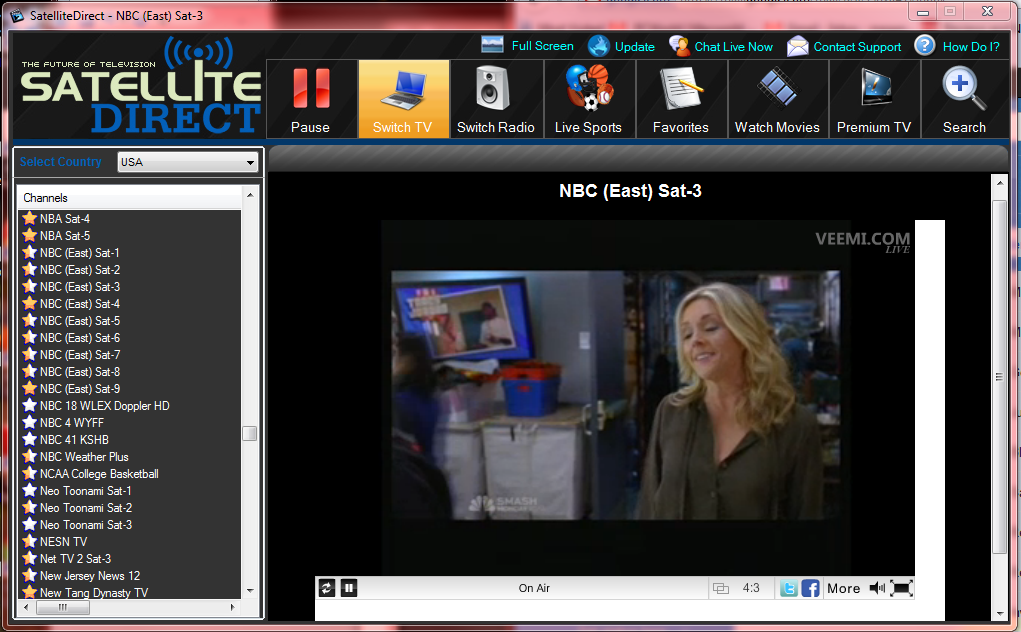 In my tests, I was able to watch MTV, VH1, MSNBC, and a Florida affiliate of NBC that was airing 30 Rock. But the quality of the video was usually poor, and for every channel showing 30 Rock there was an independent channel showing only ripped clips of Family Guy in Auto-Tuned Spanish on repeat. If you're not tied to any one type of programming, but you just need some background noise while you're working on a project, maybe Satellite Direct is for you. Otherwise, it isn't worth your $50.
Finally, lots of cord-cutters who want great programming at no cost download video through BitTorrent, a protocol for file transfer that is not in itself illegal, but allows peer-to-peer file sharing that may occasionally wander into copyright-infringement territory. BitTorrent clients such as Vuze or µTorrent allow you to build RSS feeds for specific shows.
With this list, you should be able to get started on breaking free of your cable company. If you're willing to watch shows a day later, or in poor resolution, you shouldn't have any problem leaving those hefty cable bills behind.
This story, "Cutting the Cord: How to Ditch Your Cable Company" was originally published by PCWorld.